California seems to take the prize when it comes to offering just about anything a visitor or resident could want to sample: a long coastline on the Pacific Ocean, rugged wilderness for hiking and camping, vineyards and wine galore, celebrity sightings, theme and adventure parks, culinary delights and so much more. It's called the Golden State for a reason: the economy is the largest sub-national economy in the world. Plus, golden sunshine provides plenty of fun in the sun opportunities.
Everyone who drives in California is required to have affordable car insurance. Read on to learn more about the rules for driving in California.
Quick Facts:
California has 27 million licensed drivers – the most in the U.S.
There were 3,606 traffic fatalities in 2019. Of those, 1,066 involved alcohol-impaired driving.
The 800-mile-long Interstate 5 is the most dangerous road in California – and 4th most dangerous in the nation.
How Much is Car Insurance in California?
The state average premium in California for full-coverage car insurance is $2,065 a year. Although higher than the national average, which is about $1,738, California premiums are not nearly the country's highest. The average annual cost for the state-required minimum liability policy is $733, which is quite a bit more than the national average cost at $480.
You probably won't be paying either of these amounts for your policy, since many individual factors drive California auto insurance rates. Having a clean driving record and driving a safe, inexpensive, mid-size car will most likely result in the lower rates.
What Is the Average Premium for Cheap Full Coverage Car Insurance in California?
The average price for full coverage policy  in California is $172 per month. It consists of liability insurance, plus comprehensive and collision insurance. If your vehicle is financed, you will be asked by your lender to carry full coverage auto policy. Otherwise, some drivers choose it since it offers much greater financial protection than the minimum coverage, which is basic liability.
How Much is it for Cheap Liability Insurance or the Minimum Required Car Insurance in California?
The average rate for mandatory minimum liability car insurance in California is $61 per month. At first, that sounds like a great deal. However, paying the least amount for the least coverage is a precarious situation for many drivers who don't have enough cash savings to cover themselves and others if they wind up in an accident.
Because California is considered an at-fault state, your basic liability coverage will go towards paying for the other driver's injuries, medical bills and damages if you caused the wreck. If someone else caused the crash, their liability (if they have it) will go towards your injuries and damages. Your own minimum liability coverage will never be used to pay for your expenses. That is why some drivers prefer to carry extra insurance in case there is an accident. If you're considered the at-fault driver and have no proper protection, it could mean spending a lot of money unexpectedly.
Some additional insurance to seriously consider is uninsured motorist coverage and/or underinsured motorist coverage. These optional car insurance packages will help pay for your costs if you are involved in an accident that is caused by a driver who either has no insurance, a hit and run driver or a driver who does not have enough insurance to cover your bills. When the insurance companies have finished paying the amount they are required to based on policy limits, whatever is left over has to come out of somebody's pockets.
How do Rates Compare across Major Cities in California?
California is the third-largest state, with many diverse and populated metropolitan areas like Los Angeles, San Diego, and Fresno and plenty of rural areas, too. Car insurance premiums will reflect your location. Here are some average monthly insurance cost comparisons of different California locations.
| City | Full Coverage Insurance | Liability Insurance Coverage |
| --- | --- | --- |
| San Jose | $174 | $51 |
| San Diego | $172 | $49 |
| Fresno | $176 | $53 |
| Bakersfield | $182 | $53 |
| Anaheim | $202 | $63 |
| Long Beach | $227 | $66 |
| Sacramento | $215 | $64 |
| Oakland | $231 | $59 |
| San Francisco | $233 | $64 |
| Los Angeles | $268 | $76 |
Unless otherwise specified, we use the following methodology to arrive at our average cost: male, age 30, lowest possible legal coverage allowed by state. Your rates will be determined by several factors, including your age, your gender and the amount of coverage you want to purchase.
Are There Good Driver Discounts in California?
Yes, good drivers rejoice! California drivers can benefit from the state's Good Driver Discount policy. If you are eligible, you can receive a 20% discount on your premiums. The qualifying requirements are:
You must have been a licensed driver living in California for the past three years.
You must have no more than one driving point on your record in the past three years.
You have not taken traffic school as a result of traffic violations.
You have not had an at-fault accident that caused injury or death. However, it is possible that not-at-fault accidents can still award you driving points that can prevent eligibility.
You have no DUIs or other alcohol-related convictions on record. A mark for DUI on your record remains for 10 years before being erased.
Safe driving discounts can make the difference between lower car insurance rates and going over your budget. Most insurance companies also have good driver discounts with their own eligibility guidelines, so be sure and ask your agent.
Getting a Free Auto Insurance quote with Freeway is easy!
California Car Insurance Laws
Ensuring drivers are safe on the road is the first concern of California car insurance laws. Only second to that is providing a fair pricing balance between providers and policyholders.
California drivers can feel protected by the law in many different ways. As mentioned above, the Good Driver Discount is significant, not just for your wallet but also for encouraging safe behavior. Additionally, as outlined below, there are mandatory policy requirements for everyone, so drivers are protected from other drivers.
However, it's not uncommon for drivers to violate California law and drive without insurance. By being responsible and informing themselves, drivers will know the limits of mandated protection and why everyone should follow the rules.
What are the Mandatory Car Insurance Requirements in California?
According to California's Department of Motor Vehicles, California's minimum required insurance is liability insurance.
Liability insurance is a type of car insurance that compensates a person other than the policyholder for personal injury or property damage in a covered event. Minimum liability insurance requirements in California are:
Sometimes being insured with the minimum liability can put you in a position of being underinsured. If you cause a car crash and the bills associated with the injuries and damages of the other people are more than your policy limits, you'll be responsible for paying these costs out of pocket. You may be sued for any amount not covered by your insurance. You can always increase your amount of liability coverage.
You can also purchase collision car insurance and comprehensive auto insurance. These types of car insurance will give you the most financial protection.
What is the Penalty for Driving Without Insurance in California?
Driving without proof of car insurance is never a good idea. Motorists who are caught driving without proof of car insurance in California face fines, license suspension, vehicle impoundment and more, depending on the severity and the number of times they are caught. Insurance companies are required by law to report new policies, lapsed policies and canceled policies in real time electronically to the DMV. In California, penalties for driving without insurance include:
First time – Fine of between $100 and $250, penalty assessments and possible vehicle impoundment
Second time – Fine of between $200 and $500 and penalty assessments, plus possible vehicle impoundment
Penalty assessments are up to the local official looking at your case, but they can be quite severe. For example, if your official is a real stickler for car insurance laws, your $100 fine could become $390 once the max penalty assessments are applied. You can learn more about penalty assessments here.
What Factors Does California Law Allow in Determining Your Premiums?
Drivers who want affordable car insurance  want to know how their premiums are calculated. If you know what goes into a calculation, you can work to control your costs.
There are many factors your insurance company may use when determining your car insurance rate. Below are some of the most common. Fortunately, for drivers in California, insurance providers may not use credit scores or gender. But insurance companies will consider your:
Age
Education & occupation
Marital status
Zip code
Car type
Driving history
Combined with shopping around and comparing car insurance quotes, you can improve your premium by switching insurance companies and looking for discounts.
Am I Required to Report an Accident in California to Authorities?
You are required to report a motor vehicle accident within 10 days to the California DMV if:
Anybody was injured or killed
There was damage of more than $1,000
That's a very low threshold, which means the DMV wants you to report all accidents except the smallest of fender benders. You'll be submitting an SR-1 form to the California DMV. You can find that form here.
Find an office near you to help with your auto insurance
What is Driving Like in California?
How Many Car Accidents Happen in California?
Sadly, car accidents are the leading cause of most unintentional deaths in California. According to the latest statistics, 3,316 fatal accidents were reported in 2019 (3,606 deaths occurred from those deadly accidents). Of those, 1,066 were related to alcohol impairment. There were 474 motorcycle fatalities and 164 teen motor fatalities. Pedestrian fatalities were 972 in 2019 and bicycle fatalities were 133.
Here is a look at 2019 California total accidents by county.
| County | Total Accidents |
| --- | --- |
| Los Angeles | 91,468 |
| Orange | 23,103 |
| San Diego | 21,534 |
| San Bernardino | 16,263 |
| Riverside | 15,551 |
How Many Uninsured/Underinsured Motorists are in California?
California reports that upwards of 15.2% of its drivers are on the road without insurance. Potentially 1 out of every 7 people driving on California roads next to you does not have insurance. Covering yourself with uninsured motorist insurance will help keep you protected.
California Insurance Resources
FAQs About California Car Insurance
I am a Low-Income Driver. What can I do About Getting the Cheapest Car Insurance in California?
California law requires that all drivers have insurance, but it may be too expensive for certain groups of people to get the mandatory minimum. In 1999, the California legislature established California's Low-Cost Automobile Program (CLCA) to help eligible people get affordable car insurance. CLCA liability policies sell at reduced premiums ($300-$500) and have coverage limits of 10/20/1.
Can an Undocumented Worker get Cheap Car Insurance in California?
Yes. California is one of the few states that allow undocumented workers to obtain a special driver's license. Generally, insurance companies cannot insure a person who does not have a driver's license. By obtaining the AB 60 driver's license, an undocumented worker can get a quote from an insurance provider.
Is it Possible to Get Low-Cost Car Insurance in California with a DUI Mark on my Record?
Yes. Although, in California having a DUI mark on your record makes you a high-risk driver who will need DUI Insurance in California. You will need to find insurance from an insurer that specializes in high-risk insurance policies and the insurer will need to provide an SR-22 form in California. If you cannot find insurance on the open market, the California Automobile Assigned Risk Plan (CAARP) is a non-standard insurance market that works with high-risk drivers.
Get an Affordable Car Insurance Quote Online in California Today!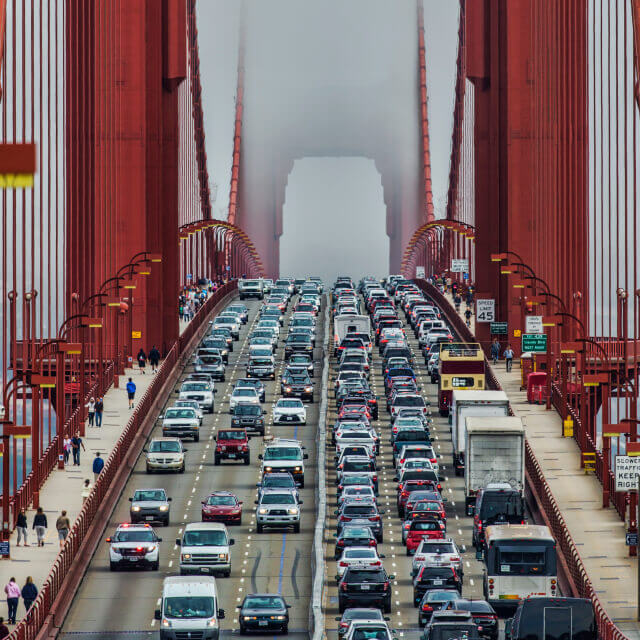 While driving under sunny skies in the Golden State, you'll need to have auto insurance or face fines and penalties.
Freeway Insurance agents are skilled in helping California drivers find the right coverage and the cheapest car insurance quote possible. You can get a fast and free online car insurance quote, call us at 800-777-5620 or visit a local California office near you.
Select a Product or Service to request a quote
Ready to Get a Quick Quote?