Modesto is nestled into beautiful farmland in the Central Valley of California. Spanish for "modest," this city has much to brag about. From its scenic views to the renowned Gallo Center for the Arts, Modesto is home to more than 200,000 residents.
Modesto is centrally located and within driving range of countless sites, including Yosemite National Park and San Francisco Bay. It should come as no surprise then that the numerous residents and ease of travel can lead to substantial motor vehicle traffic in the area.
Quick Facts
The average cost of car insurance in Modesto is $1,880 per year.
There are more than 3,000 vehicle accidents annually in and around Modesto.
How Much is Car Insurance in Modesto?
Are you wondering how much is car insurance in Modesto? California has earned a reputation for car insurance rates that are higher than the national average. The good news for Modesto residents is that the insurance rates in the city are some of the lowest available throughout the Golden State. For example, car insurance in Los Angeles could cost nearly $1,000 more each month. The average cost of car insurance in Modesto is $1,880 per year. You can request a quote online to learn about your California car insurance options for cheap auto insurance.
| City | Average Annual Premium |
| --- | --- |
| Glendale | $2,755 |
| Oakland | $2,243 |
| Riverside | $1,945 |
| Modesto | $1,880 |
Modesto Car Insurance Rates by Zip Code
You might be surprised to learn that your zip code plays a role in determining the auto insurance premiums you will pay each month. This is because insurance companies rely on zip codes to determine the likelihood of you being involved in a collision. In an area with more accident claims, drivers generally pay higher premiums. There are dozens of zip codes in and around Modesto, and each of them carries a different average insurance rate.
Modesto Car Insurance Rates by Age
Driver age is one of the most important factors when it comes to determining your average annual premiums. In general, these rates are the highest for young drivers, then drop dramatically for motorists in their 20's. The average insurance rates remain flat for most drivers throughout the years, although older motorists can see an increase in their annual premiums.
| Age | Average Car Insurance Rate |
| --- | --- |
| Teenagers | $7,186 |
| 20s | $2,636 |
| 30s | $1,817 |
| 40s | $1,765 |
| 50s | $1,678 |
| 60s | $1,678 |
| 70s | $1,932 |
Driving Conditions in Modesto
How Many Fatal Accidents Happen in Modesto?
Fatal car accidents are an unfortunate reality in Modesto and throughout the State of California. The number of fatal accidents varies from year to year. For example, there were 29 fatal accidents in 2018, while that number dropped to 14 in 2019.
Many of these accidents only involved one vehicle. For example, in 2019, there were a total of 19 vehicles involved with the 14 fatal accidents. In total, there were 15 fatalities that year in the city.
How are Road Infrastructure and Bridges in Modesto?
In General, California receives low marks for infrastructure throughout the state. The state has received a C- report in 2019 for the state of its roads, bridges, and transit networks.
Modesto is focused on improving infrastructure throughout the city using millions of dollars in grant money. According to the Modesto Bee, this includes improvements to the ACE rail and new bike paths.
Minimum Car Insurance Requirements in Modesto
Every state has minimum liability insurance coverage requirements for its drivers, and California is no different. While there are different types of car insurance, state law only mandates drivers to secure liability coverage and uninsured motorist coverage. Liability insurance is designed to protect you from third-party claims following an accident. In other words, this insurance will pay another driver when you are responsible for an accident. Uninsured motorist coverage protects you when an uninsured driver causes your accident. While there are minimum requirements for uninsured motorist coverage, you can waive this coverage. In Modesto, the minimum level of insurance includes:
Bodily injury liability coverage:

$15,000 per person / $30,000 per accident

Property damage liability coverage:

$5,000

Uninsured motorist bodily injury coverage:

$15,000 per person / $30,000 per accident

Uninsured motorist property damage coverage:

$3,500
Factors Allowed in Modesto Car Insurance Rates
While getting your own insurance quote is the best way to learn what you should expect from your premiums, it is helpful to understand the factors that go into determining your insurance rates.
Your driving record will play a part in determining the cost of car insurance in Modesto. For example, multiple wrecks or tickets are likely to increase your monthly payment. You can expect to pay substantially more for DUI insurance in California, as well.
Your age is also an important factor. Younger drivers typically face substantially higher premiums each month. These premiums generally drop as you get older, although other factors could still increase your costs. Other factors that go into the cost of your auto insurance include the zip code you live in as well as the type of car you drive.
Discounts for Car Insurance in Modesto
Good student discount
Military discount
Good driver discount
Anti-theft discount
Multi-policy discount
What are the Penalties for Driving Without Insurance in Modesto?
Driving without insurance is a traffic violation under state law. A conviction could result in fines and costs between $100 and $200 for a first offense. For multiple offenses, these amounts could go up substantially. You could also be required to carry SR-22 insurance after multiple convictions. SR-22 insurance in California is typically much higher than standard auto coverage.
Get a Quote for Car Insurance in Modesto Today!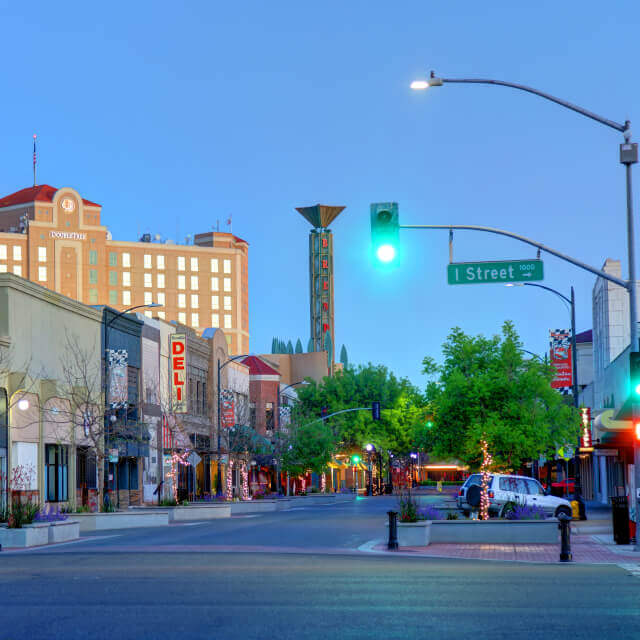 Not only is car insurance required under state law, but it can also protect you and your loved ones following a vehicle collision. Freeway Insurance is here to ensure that you get the right coverage at the right price. You can seek a quote online or visit a Modesto Office near you. Or call us at (800) 777-5620 for a quote.