Wisconsin is a state deeply immersed in diverse landscapes and thriving urban fare. Its two largest cities, Milwaukee and Madison, are well known for their breweries, the Harley-Davidson Museum, and several important historical and cultural attractions. It is also home to the world-renowned Dells of the Wisconsin River with its unique flora and ecosystem. Don't forget Door Country, one of Wisconsin's most beautiful natural reserves with sights of Lake Michigan and the rural countryside.
Like all states, Wisconsin drivers must carry car insurance. A real-time database informs the state of active and lapsed insurance coverage. Even one day of lapsed insurance coverage will have the state sending you a notice, so it is very important to find the right coverage and stay covered.
Quick Facts
There are over 200,000 registered vehicles in Wisconsin.
The three biggest cities in Wisconsin are Milwaukee, Madison, and Green Bay
Milwaukee is Wisconsin's largest city, with more than 600,000 residents.
Wisconsin is an an-fault insurance state, meaning whoever is deemed to be at fault in an accident will bear the brunt of paying for damages for all involved.
Motorists without proof of insurance in Wisconsin can expect to pay a fine up to $500, as well as a suspended license and vehicle registration.
How Much Is Car Insurance in Wisconsin?
The average cost of minimum car insurance in Wisconsin is $332 per year or $27 per month, which is lower than the U.S. national average of $47 per month.
Car insurance rates are determined by several factors, including your age, gender, credit score, claims record, and zip code.
It is simple. If you have one or more claims, then you should expect to pay higher insurance premiums than someone whose account is in good standing with a clean driving record. Even the smallest of infractions can cause your premiums to skyrocket.
What Is the Average Premium in Wisconsin for Full Coverage Car Insurance?
The average premium in Wisconsin for full coverage car insurance is $1,186 annual for full coverage.
Full coverage car insurance includes comprehensive, collision, and property damage liability. Comprehensive coverage covers losses caused by events outside of one's control, such as theft or extreme weather. Collision coverage repairs your car in the event it is part of a collision with another vehicle or object like a tree or telephone pole.
We highly recommend seeking full coverage. Full coverage gives you the highest level of protection for yourself, your family and your property. You can lower the cost of your premium by asking for a higher deductible. Full coverage provides greater peace of mind.
How Much Is It for Just the Minimum Required Car Insurance in Wisconsin?
If you are a driver with no history of claims or other imperfections on your driving record, if you fall into the right age category, if your credit history is good and you meet other desirable metrics you can get the minimum amount of insurance in Wisconsin for about $27 per month.
Although obtaining minimum car insurance coverage is legal, it will place you at higher risk in the event of an accident. Accident damage value can exceed limits, putting you on the firing line for out-of-pocket costs towards medical and legal bills. Be sure to have the right coverage for your needs.
How Do Rates Compare Across Major Cities in Wisconsin?
Rates vary considerably between different cities and towns in Wisconsin. For example, Milwaukee residents can expect to pay an average annual premium of $55 per month for minimal coverage, whereas residents in sparsely populated Neenah can expect to pay an average annual premium of $33 for the same coverage.
The reason for the disparity is simple. There is a higher claims history and riskier driving behaviors in larger metropolitan areas than sparsely populated areas, so the assumed risk is greater in the insurance company's eyes.
Here are Wisconsin's top 10 most populous zip codes and the minimum average coverage rates residents can expect to pay per month.
| City/Population | Zip Code | Average Monthly Rate |
| --- | --- | --- |
| Milwaukee (63,585) | 53215 | $55 |
| Beloit (48,784) | 53511 | $35 |
| Milwaukee (47,868) | 53209 | $59 |
| Madison (47,431) | 53711 | $37 |
| La Crosse (45,848) | 54601 | $32 |
| Madison (44,751) | 53704 | $37 |
| Neenah (43,731) | 54956 | $33 |
| Sheboygan (43,427) | 53081 | $34 |
| Eau Claire (43,337) | 54703 | $31 |
| Milwaukee (42,105) | 53204 | $56 |
Methodology: We use the following methodology to arrive at our average cost: male, age 30, lowest possible legal coverage allowed by state. Your rates will be determined by several factors, including your age, your gender and the amount of coverage you want to purchase.
Getting a Free Auto Insurance quote with Freeway is easy!
Is There a Good Driver Discount in Wisconsin?
Luckily, Wisconsin drivers may be eligible for car insurance discounts. Several factors go into determining discount eligibility, such as a clean driving record, anti-theft devices in the vehicle, and other factors that show drivers are making a concentrated effort to drive safely on the roads.
Here are some discounts available to Wisconsin drivers:
Defensive driving discounts
Discounts for automatic payments and paperless billing
Equipment-related discounts (e.g., anti-lock brakes, green/hybrid vehicles, and safety /restraint devices)
Be sure to call your insurance provider every six months to a year to determine if you qualify for any new discounts. Even obscure behaviors such as setting up auto-pay or enrolling in paperless billing can shave a few dollars off your monthly premiums.
Wisconsin Car Insurance Laws
Wisconsin car insurance laws are very strict. All insurance companies are required to report lapses in insurance coverage to the state. Even if your insurance coverage lapses for a few days, expect a letter from the state asking you to reinstate your policy right away.
What Are the Mandatory Car Insurance Requirements in Wisconsin?
All Wisconsin drivers are required to carry minimum liability coverage that protects themselves and other affected parties in the event of an accident. It is also an at-fault state, meaning the responsible party is responsible for paying all damages for everyone involved, even out-of-pocket costs due to inadequate insurance limits.
We highly recommend carrying appropriate coverage. See the list below for Wisconsin's minimum required insurance with bodily injury and property damage.
$25,000 bodily injury coverage per person
$50,000 bodily injury coverage per accident
$10,000 property damage per accident
All Wisconsin drivers are required to have proof of insurance. Even one day of lapsed coverage can cause the state to be notified and penalties assessed.
What Factors Does Wisconsin Law Allow in Determining Your Premiums?
Insurance companies use several criteria to determine your insurance rate. As a general rule, some age groups fare worse than others due to overall collective driving records and historical trends. For example, teens have a high incidence record in many cities and towns across the country, significantly higher than people in their mid-20s to mid-50s. As a result, the average auto premium paid is higher for younger demographics than older.
Here are some factors that Wisconsin uses to determine your auto insurance premiums:
Age
Gender
Zip code
Make/model of vehicle
Claims history
Credit score
Luckily, Wisconsin drivers can save on auto insurance with a few simple best practices. For starters, driving an older vehicle can lower your premiums. Look to maintain a clean driving record and take advantage of specialized discounts. For example, many auto insurers award a small discount for anyone with anti-theft devices installed in their vehicles. Other auto insurances reward drivers with energy-efficient vehicles.
What Is the Penalty for Driving Without Insurance in Wisconsin?
The penalties for driving without insurance in Wisconsin are very steep. For starters, first-time offenders can expect to pay a fine of up to $510, on top of a suspended registration and the need to file for SR-22 insurance. An SR-22 certificate is a legally binding document that proves a driver has the minimum required auto insurance for the state.
The SR-22 remains on file for three years. During those three years, your SR-22 must be active every month.
Am I Required to Report an Accident in Wisconsin to Authorities?
Wisconsin requires you to report car accidents to the police right away. Any accident that meets the following criteria must be reported at the scene of the accident.
Death or injury
Property damage exceeding $1,000
Governmental property damage of $200 or greater (excluding vehicles)
Find an office near you to help with your auto insurance
What Is Driving Like in Wisconsin?
How Many Car Accidents Happen in Wisconsin?
According to the Wisconsin Department of Transportation, there were 593 people killed in 540 fatal car crashes in 2020. The top seven zip codes by population in Wisconsin reported 187 fatalities in 2020.
| County | Number of Fatalities in 2020 |
| --- | --- |
| Milwaukee County | 101 |
| Rock County | 25 |
| Dane County | 33 |
| La Crosse County | 4 |
| Winnebago County | 10 |
| Sheboygan County | 4 |
| Eau Claire County | 10 |
How Many Uninsured/Underinsured Motorists Are in Wisconsin?
There are no official states that log the number of uninsured/underinsured motorists in Wisconsin. However, the Insurance Information Institute" provides an estimated percentage of uninsured motorists by state, with Wisconsin clocking in at 13.3 percent, making it the 19th biggest offender in the country.
To note, a large percentage of the population carries only the state minimum coverage, which means they may not be adequately covered in the event of a major accident.
We highly recommend carrying uninsured and underinsured motorists' coverage on your insurance policy. This gives greater peace of mind knowing that you will be covered for everything from small fender benders to serious collisions.
FAQs About Wisconsin Car Insurance
I Am a Low-Income Driver. What Can I Do About Getting Car Insurance in Wisconsin?
For starters, you will need at least the state minimum car insurance. However, there are other ways to save on car insurance, such as driving an older make/model vehicle, opting for high deductibles, or lowering your coverage limits.
Do not forget to speak to your insurance agent about all available discounts. There are many discounts available for drivers meeting special requirements (e.g., owning an energy-efficient vehicle, anti-theft device) and more.
Can an Undocumented Worker Get Car Insurance in Wisconsin?
Wisconsin drivers can apply for a Driver Authorization Card (DAC), which will allow them to operate a vehicle. It can also be used to obtain insurance. However, it is not meant to be a form of identification or granting of any type of legal status.
Is It Possible to Get Car Insurance in Wisconsin With a DUI Mark on my Record?
Yes, Wisconsin drivers with a DUI on record can get car insurance. However, a single DUI violation can skyrocket your annual car insurance costs by over 100%, which varies depending on any previous claims and your overall driving history. A DUI mark on your record is one of the single largest reasons for paying a high insurance premium.
Get a Wisconsin Car Insurance Quote Today!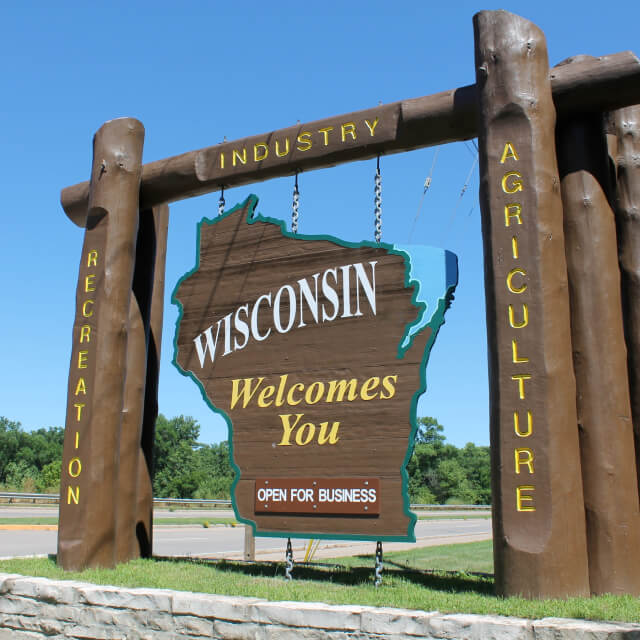 Finding the right amount of car insurance coverage is integral to maintaining peace of mind on Wisconsin's roads. Luckily, there are many options available. At Freeway Insurance, we can help you find discounted and cheap car insurance in Wisconsin.
Feel free to get started with a free quote online, visit us at a Wisconsin office near you, or call us at (800) 777-5620 for a quote today.
Auto Insurance Info by City
Select a Product or Service to request a quote
Ready to Get a Quick Quote?