Pretty much everybody has heard of the Grand Canyon – Arizona's main claim to fame. But did you know that Arizona has much more to offer residents and visitors than the beautiful 6,093-ft. canyon?
 For those seeking a mystical experience, Sedona is celebrated for its transforming vortex energy fields. Phoenix, also known as the Valley of the Sun, is sunny, hardly ever rains and is home to 200 golf clubs. For those who don't mind the heat, you can drive into the Sonoran Desert to view the famous saguaro cactus, which grows nowhere else in the world.
Arizona is hot and dry most of the time, so you'll most likely need a car with air conditioning. You'll also need to have low cost car insurance, since all Arizona drivers are required to carry it while on the roads.
Quick Facts
How Much Is Car Insurance in Arizona?
Full coverage car insurance in Arizona costs an average of $1,810 per year, while the state-required minimum liability auto insurance comes in at an average of $587 per year. These costs are slightly lower than the average cost of auto insurance for the nation ($2,014 full coverage and $622 minimum liability).
Your car insurance cost in Arizona depends on many factors, especially your driving history and age. Everybody pays a different amount, since car insurance quotes are based on unique qualities. The cheapest rates in Arizona are reserved for those with blemish-free driving records who are old enough to be considered responsible and who take advantage of discounts. 
What Is the Average Premium for Cheap Full Coverage Car Insurance in Arizona?
The average premium for the cheapest full coverage car insurance in Arizona is around $159 per month. The quote for your vehicle may differ based on factors like your driving history, number of claims, and the area where you live. If you have a less-than-perfect driving history, then rates can be higher, while your rates can be lower if you have a good driving history and some discounts applied to your premium. Costs can also be higher for high-risk drivers, such as young drivers, due to their limited driving experience and higher risk of accidents. 
Full coverage car insurance consists of liability, collision and comprehensive insurance. If your vehicle is financed, your lender will require you to carry full coverage to protect their interest.
To know exactly how much you would pay, you should give as much information as possible to an auto insurance agent. Also, anything extra like a tire hazard protection program will make your premium higher in exchange for better on-the-road protection. While online forms can give you a good estimate of what you can pay, an in-person consultation will be able to assist you with additional discounts and options that you may miss when searching alone.
How Much Is It for Cheap Liability or the Minimum Required Car Insurance in Arizona?
For the cheapest minimum required liability auto insurance in Arizona, the most affordable rates are around $64 per month. These limits are lower than what a driver typically needs to be protected on the road in Arizona. Damages can easily exceed these costs, so it's wise to ask for higher limits. 
Since Arizona is an at-fault state, if you cause an accident your insurance will pay for injuries and damages caused to the other people in the at-fault accident – up to your insurance policy limits. It won't pay anything for your injuries and damages. Since car repairs and medical bills are much higher today, if your insurance does not cover all the bills, you will be left paying out of pocket for the remainder – plus your own costs.  
It's also important to get protection against uninsured drivers with uninsured motorist insurance. Since one-fifth of Arizona drivers don't carry auto insurance, this type of policy will protect you even when the at-fault driver is uninsured. In this case, spending more per month can save you money if you ever get into this type of situation.
How Do Rates Compare Across Major Cities in Arizona?
Rates across major cities in Arizona differ. Some cities are considered riskier due to the higher percentages of incidents that happen there per year, plus the number of personal injury lawsuits filed there every year. Your rates will reflect the risk factors of your location. Here are the average monthly rates in the state's top cities.
| City | Full Coverage Insurance | Liability Insurance Coverage |
| --- | --- | --- |
| Phoenix | $216 | $73 |
| Tucson | $163 | $54 |
| Scottsdale | $164 | $57 |
| Sedona | $135 | $39 |
| Flagstaff | $125 | $38 |
| Mesa | $171 | $60 |
| Chandler | $165 | $57 |
| Tempe | $171 | $60 |
| Gilbert | $165 | $58 |
| Prescott | $122 | $39 |
| Glendale | $216 | $73 |
| Kingman | $113 | $36 |
| Surprise | $157 | $55 |
| Goodyear | $156 | $51 |
| Sierra Vista | $120 | $38 |
| Buckeye | $160 | $51 |
Unless otherwise specified, we use the following methodology to arrive at our average cost: male, age 30, lowest possible legal coverage allowed by Arizona. Your rates will be determined by several factors, including your age, your gender and the amount of coverage you want to purchase.
Are There Good Driver Discounts in Arizona?
Yes, there are good driver discounts in Arizona. Drivers who haven't made claims in a certain number of years, usually three years, may qualify for a reduced car insurance premium.
Seniors aged 55 and older may get a reduction in auto insurance rates by taking an online Arizona Mature Driver Course. Different insurance providers honor different types of good driver discounts, as well as other car insurance discounts, so shop around and ask to find the cheapest car insurance deals for your driver profile.
Getting a Free Auto Insurance quote with Freeway is easy!
Arizona Car Insurance Laws
Arizona car insurance laws generally align with those of other states. It's illegal to drive without auto insurance and all drivers need to carry at least the minimum liability requirements on their policy. Arizona is a comparative at-fault state that can allocate different percentages of responsibility to both parties if there is a fault at both ends in the event of a car wreck. Like other states in the country, DUIs and driving without insurance are met with serious penalties such as fines and license suspensions.
What Are the Mandatory Car Insurance Requirements in Arizona?
The mandatory car insurance requirements in Arizona are 25/50/15, which represent $25,000 for bodily injury/death for one person, $50,000 for bodily injury/death for two or more people, and $15,000 for property damage.
Though these low minimums are affordable, they often don't provide enough coverage for the typical car accident in Arizona. Bodily injury is a type of car insurance that can easily exceed $25,000 when it comes to medical bills. Not to mention, there is no protection against uninsured drivers or random acts of nature such as fallen trees or hitting debris on the road. Many drivers choose to add collision car insurance and comprehensive car insurance coverage for the significant benefits that often outweigh the cost.
What Is the Penalty for Driving Without Insurance in Arizona?
The penalty for driving without insurance in Arizona gets steeper with each repeat offense. It typically involves a fine, license and registration suspension, and mandatory SR-22 insurance to re-obtain car insurance and driving privileges. The fines and suspension periods increase if you continue to get caught driving without auto insurance.
First offense: A fine of $500 and a three-month driver's license and registration suspension. An SR-22 certificate of financial responsibility is also required for two years.
Second offense: A fine of $750 and a six-month driver's license and registration suspension. An SR-22 certificate of financial responsibility is also required for two years.
Third offense: A fine of $1,000 and a one-year driver's license and registration suspension. An SR-22 certificate of financial responsibility is also required for two years.
What Factors Does Arizona Law Allow in Determining Your Premiums?
Arizona law allows car insurance companies to determine premiums based on their discretion. Factors like where you live, marital status, homeownership, educational institution affiliation, credit score, and employment affiliation can be part of the equation. Drivers can also find additional policy, driver, and vehicle discounts specific to the auto insurance company's offerings. 
To not miss any of these discounts, tell your insurance agent everything that could benefit you, such as your good driving history, any association memberships, driving classes, and more. Also, don't settle for just one quote either, but shop around and compare car insurance quotes to get the best deal for your dollar.
Am I Required to Report an Accident in Arizona to Authorities?
You are not required to report a motor vehicle accident in Arizona, but you should call 911 once you are safely situated. If certain thresholds are met, the responding law enforcement agency will file the report.
Anybody was injured or killed
There was damage of more than $1,000
Anyone received a citation
However, you must remain at the scene of an accident until law enforcement arrives. Leaving can result in a felony charge and suspension of your license.
Find an office near you to help with your auto insurance
What Is Driving Like in Arizona?
Driving in Arizona includes some of the most incredible road trip sights in the country. From beautiful desert landscapes to lush forests and mountainous terrain, having the freedom to drive in Arizona opens up many adventures. There are also flash floods, dust storms, and highways that are considered some of the nation's riskiest.
How Many Car Accidents Happen in Arizona?
In 2021, there were 121,345  car crashes in Arizona with 1,063 being fatal. Arizona, as with the rest of the nation, struggles with motorists who drive distracted or under the influence. Of that total number of crashes, 4,506 were alcohol related. Of the 1,063 fatal crashes, 181 were alcohol related.
Here is a look at some of the 2020 crash numbers relating to specific places in Arizona.
| City | Number of Accidents | Number of Fatal Accidents | Number of People Killed | Alcohol Related |
| --- | --- | --- | --- | --- |
| Tolleson | 289 | 1 | 1 | 15 |
| Tempe | 4,153 | 17 | 17 | 216 |
| Williams | 80 | 0 | 0 | 4 |
| Phoenix | 35,274 | 207 | 220 | 1,189 |
| Flagstaff | 1,035 | 4 | 4 | 73 |
| Glendale | 4,642 | 43 | 47 | 189 |
| Show Low | 315 | 3 | 3 | 10 |
| Cottonwood | 297 | 3 | 3 | 21 |
| Sedona | 128 | 1 | 1 | 0 |
| Kingman | 474 | 2 | 3 | 18 |
| Avondale | 1,157 | 3 | 3 | 37 |
| Prescott | 528 | 4 | 4 | 26 |
| Chandler | 2,813 | 14 | 17 | 131 |
| Scottsdale | 2,963 | 19 | 20 | 197 |
Car insurance rates go up or down with the level of risk posed in each location. There are also different average rates for zip codes within a select city.
How Many Motorists Are Uninsured/Underinsured in Arizona?
Around 20% of Arizona motorists are uninsured. The state average is higher than the national average of 13%. Arizona minimum liability car insurance will not cover you if you get hit by an uninsured driver.  
When you have a one-fifth chance of encountering an uninsured motorist at the scene of an accident, it's higher than the probability of rolling a specific number on a six-sided die. Though it's not as bad as a coin flip, it's a high enough chance to not risk on the road. When your finances, health, and assets are at stake, get coverage and protection against others who can put you at risk.
FAQs About Arizona Car Insurance
I Am a Low-Income Driver. What Can I Do About Getting the Cheapest Car Insurance in Arizona?
If you are a low-income driver, you can do a few things to get affordable car insurance in Arizona. Follow these tips to get cheap car insurance:
Drive a car that costs less to insure, like a safe used car that is known for affordable repairs.
Ask about auto insurance deals such as good driver or anti-theft device discounts.
Increase your deductible to lower your monthly payment.
Drop optional car insurance coverages and stick to just the minimum liability limits.
Carpool to reduce your daily mileage.
Pay your premium upfront for a discount.
These options can reduce your premium and make operating your vehicle more affordable. Overall, avoid insuring a risky vehicle like a sports car or a brand-new experimental vehicle. The more familiar the market is with a car's safety ratings and advantages, the easier it is to find affordable insurance rates for it.
Can an Undocumented Worker Get Car Insurance in Arizona?
Yes, an undocumented worker can get car insurance or a driver's license in Arizona — but they must have a work permit and be protected from deportation. Under Arizona state law, a worker can only get a state-issued driver's license if they can prove that they have permission to be in the country.
Right now, only 17 states or districts officially allow undocumented people to have drivers' licenses: Washington D.C., California, Colorado, Connecticut, Delaware, Hawaii, Illinois, Maryland, Nevada, New Jersey, New Mexico, New York, Oregon, Utah, Vermont, Virginia, and Washington, but they still require some proof of identity and evidence of residency in the state.
Is It Possible to Get Car Insurance in Arizona With a DUI Mark on My Record?
Yes, it is possible to get car insurance in Arizona with a DUI mark on your record. However, you will need to use a restricted license and obtain an SR-22 certificate of financial responsibility. Your insurance agent must file this document with the DMV. SR-22 insurance is a high-risk insurance plan that not all insurance companies will handle. The costs of DUI insurance can be manageable when you work with an agent and explore your payment options.
Though it higher rates than standard plans, it's better than losing your license altogether. An SR-22 will enable you to drive to work, school, the hospital, and to get basic amenities without needing to depend on others for a ride. This freedom is worth the cost, which can be temporary if you abide by the rules.
Get an Affordable Car Insurance Quote Online in Arizona Today!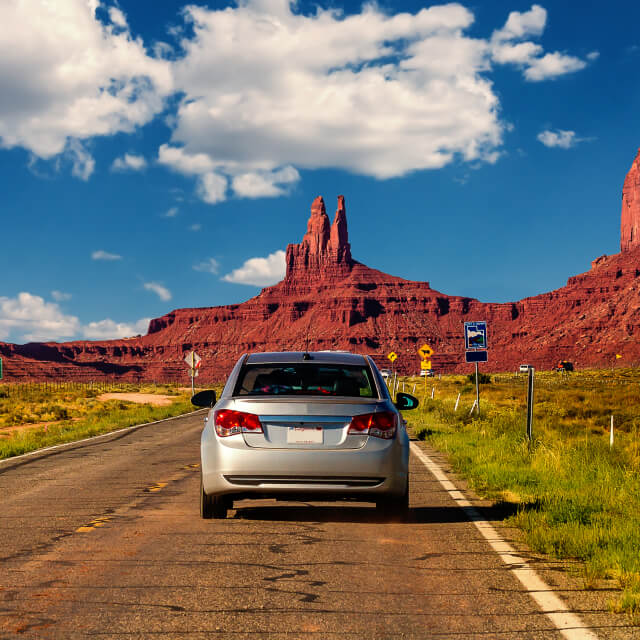 Finding Arizona car insurance is simpler than ever when you work with an insurance agent who can make all the cost comparisons for you. Whether you need comprehensive coverage, minimum liability, or SR-22 insurance after a DUI, Freeway Insurance can show you all the plans available to you in your area. Get back on the open road in Arizona and drive safely and legally with coverage that will give you peace of mind.
You can get a fast and free online car insurance quote, visit us at an Arizona office near you, or call us at 800-777-5620 for a quote today!
Auto Insurance Info by City
Select a Product or Service to request a quote
Ready to Get a Quick Quote?