Lake Havasu City is a nature-lover's dream. Proud to boast over 300 days of sunshine a year, it offers endless mountain and desert-trekking opportunities along with 400 miles of breathtaking coastline, 60 miles of navigable waterways, and endless hiking opportunities with hundreds of miles of trails. No wonder Lake Havasu City is called "Arizona's Playground."
In nearby Kingman, Arizona also provides exploration opportunities. Known as the "Heart of Historic Route 66," Kingman is home to memorable sites such as the White Cliffs Wagon Trail, Bonelli House, and the Kingman Railroad Museum, which dates back to 1907.
Quick Facts
The average monthly cost of car insurance in Lake Havasu City is $34 for the state-required minimum and $108 for full coverage.*
In 2020, there were five reported fatal accidents in Lake Havasu City and two in Kingman. Nine people were killed.
How Much Is Car Insurance in Lake Havasu City-Kingman, Arizona?
On average, car insurance in Lake Havasu City-Kingman costs $1,296 a year or $108 a month for full coverage and $34 a month for the basic state-required minimum. This is much lower than the U.S. national average of $1,674 and higher than the state average of $1,180.
Note, the Lake Havasu City-Kingman area does not have a large population, so you can expect to see lower costs than more populated cities like Phoenix and Scottsdale. Your exact Arizona car insurance cost depends on several factors, including your age, gender, claims history, and zip code of residence. Here are a few Arizona cities for comparison.
| City | Average Monthly Cost for Full Coverage |
| --- | --- |
| Apache Junction | $158 |
| Flagstaff | $125 |
| Phoenix | $177 |
| Mesa | $171 |
| Scottsdale | $191 |
| Tucson | $162 |
Factors that go into determining car insurance cost include your zip code, age, driving history, and the car you own.
Be sure to seek enough insurance to cover your needs in the event of an accident. Arizona is an at-fault state, meaning you are on the hook for all damages if it is determined that you are at fault for the accident. If you carry the state-required minimum, you'll most likely be paying for a large chunk of your own medical bills and property damage out of pocket – and maybe even some of the driver's expenses, if you are found to be at fault.
Low-Cost Car Insurance Rates by Zip Code in Lake Havasu City-Kingman
The zip code in which you reside is something insurers look at carefully when determining the amount of car insurance you pay. In short, some zip codes have car accidents and thefts occur more frequently than other zip codes, resulting in hiked premiums.
Lake Havasu City-Kingman has five zip codes. Here are the average monthly rates for each zip code:
Zip Code
Average Monthly Car Insurance Rate For
Full Coverage/State Minimum
86401
$113/$36
86403
$108/$34
86404
$109/$35
86406
$115/$37
86409
$110/$35
Lake Havasu City-Kingman Affordable Car Insurance Rates by Age
Age range is a heavy factor when calculating how little or how much in auto premiums Lake Havasu City-Kingman residents pay.
Keep your premiums low by investing in a safe driving record and taking advantage of discounts whenever possible.
Here is a breakdown of the average monthly rate by age in Lake Havasu City:
| Age | Average Monthly Car Insurance Rate for Full Coverage/Minimum |
| --- | --- |
| 18 | $404/$131 |
| 20s | $241/$76 |
| 30s | $108/$34 |
| 40s | $106/$34 |
| 50s | $101/$32 |
| 60s | $97/$32 |
| 70s | $107/$37 |
*Unless otherwise specified, we use the following methodology to arrive at our average cost: male, age 30, lowest possible legal coverage allowed by state. Your rates will be determined by several factors, including your age, your gender and the amount of coverage you want to purchase.
Driving Conditions in Lake Havasu City-Kingman
How Many Fatal Accidents Happen in Lake Havasu City-Kingman?
In 2020, there were five reported fatal accidents in Lake Havasu City and two fatal accidents in Kingman. Nine people were killed in these accidents. None of the accidents involved drunk persons. There were a reported 485 total crashes in Lake Havasu City and a total of 474 in Kingman in 2020.
How Are the Road Infrastructure and Bridges in Lake Havasu City-Kingman?
Road infrastructure in Lake Havasu City and Kingman regularly sees renovations to improve access and design by its Public Works department. For example, as of this writing, a current project sees a $1.2M pavement rehab project for McCulloch Boulevard. Other public works projects focus on maintenance of street lighting, traffic signals, pavement management, and contract street maintenance.
Get a Quote for Car Insurance in Arizona Today!
Minimum Car Insurance Requirements in Lake Havasu City-Kingman
Arizona is an at-fault state, meaning drivers in Lake Havasu City-Kingman are on the hook to pay for damages if they are determined to be at fault.
Here are the state minimum car insurance requirements in Arizona:
Bodily Injury Liability per Person: $25,000
Bodily Injury Liability per Accident: $50,000
Property Damage per Accident: $15,000
Do not forget finance companies. If you lease a vehicle, your finance company may require you to apply for select coverages, at times higher than the state minimums. Before leasing a new vehicle, be sure to consult with your finance company regarding these requirements.
Factors Allowed in Lake Havasu City-Kingman Car Insurance Rates
Many factors affect how low or how high your premiums are. Generally, insurers look to your age, gender, and driving record/claims history. They also look at the make and model vehicle you drive, as some vehicles are more expensive to repair than others. To a lesser extent, they may also consider marital status, credit score, and other policies under your plan, which may qualify you for a multi-line discount.
Here are some factors that may affect your Lake Havasu City-Kingman car insurance rates:
Driving record and claims history
Physical location
Gender
Age
Marital status
Type of vehicle
Credit score
Discounts for Car Insurance in Lake Havasu City-Kingman
Thankfully, there are many ways to save money on car insurance in Lake Havasu City-Kingman. These include discounts falling across several categories, including loyalty discounts (for staying with an insurer for a predetermined number of years), driver safety, usage-based, and niche discounts such as good student and military.
Some discounts include:
Bundling

Military

Full premium payment up front

Defensive driving course

Improve credit score

Lower mileage (WFH)
Above all, it's important to keep an account in good standing by filing no claims. Even a single claim could cause your premiums to skyrocket.
Be sure to call your insurance provider to see what discounts, if any, you are eligible for. A single 20-minute call can save $10 off your monthly bill.
What Are the Penalties for Driving Without Insurance in Lake Havasu City-Kingman?
Driving without car insurance is a serious affair. A single accident could put you on the hook for thousands of dollars in administrative fees, court costs, reinstatements, and even a rental car replacement. All Arizona insurance companies are required to report policy cancellations, renewals and new policies to the Arizona Motor Vehicles Department. If your insurance company sends a notice to the MVD, you will get a letter asking you to verify your insurance status.
All Arizona drivers caught driving without insurance may receive a suspension of their driver's license and/or their car registration for up to a year, on top of a $35 fee and fines up to $1,000. If you have previous offenses on your record, you can expect to pay more. For example, a second offense will increase the fine to $750 from $500.
In addition, you may have to file for SR-22 insurance to ensure proof of financial responsibility, which will remain on your file for three years.
Get a Lake Havasu City-Kingman Cheap Car Insurance Quote Today!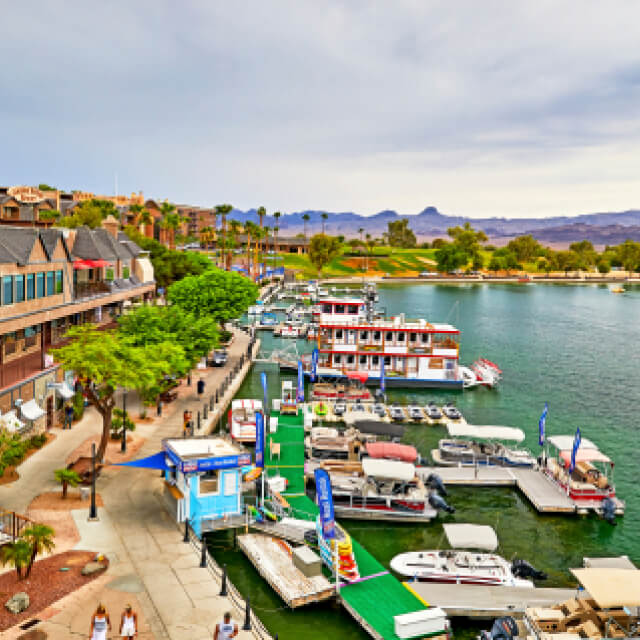 State law in Arizona requires that you obtain state minimums for car insurance. For peace of mind after an accident, it is important to seek a full comprehensive, collision, and property damage policy. Luckily, there are many affordable options in Lake Havasu City-Kingman.
To find the best car insurance for you in Lake Havasu City-Kingman, contact Freeway Insurance online, visit us at a Lake Havasu City-Kingman office near you, or call us at (800) 777-5620 for a free, no-obligation quote.
Select a Product or Service to request a quote
Ready to Get a Quick Quote?