Are you a driver on the lookout for the best cheap car insurance in Delaware options? Finding reliable coverage that fits your budget can be a challenging task, but we've got you covered. 
In this blog, we'll explore the top choices for affordable car insurance in state of Delaware, including average rates paid, ways to save money on car insurance, and how Freeway Insurance can help find the best rate for you and your family, so you can make an informed decision and ensure you get the protection you need without breaking the bank. 
Flying under the radar, Delaware is known for various historical, cultural, and entertainment attractions. One of the smallest states in the country (and least populated), it was also one of the first states to offer no state sales tax. Delaware is known for more than 350 miles of beautiful shoreline.
Our favorite Delaware attractions include Bellevue State Park, Bethany Beach, Dover International Speedway, and Rehoboth Beach. Known as the "Nation's Summer Capital," it is popular with folks from nearby Washington DC. It also has a rich history with Native Americans, English, and Dutch settlers calling it home.
Whether you're a new driver or simply looking to save on your premiums, our comprehensive guide will provide you with valuable insights and tips to find the best auto insurance that suits your driving needs.
Quick Facts
Delaware is the second smallest state in the country.
The Dover International Speedway hosts two NASCAR races every year.
There is no state sales tax in Delaware.
Delaware roads are considered especially dangerous for pedestrians.
How Much Are Car Insurance Rates in Delaware?
In Delaware, the average cost of full coverage car insurance is $1,775 per year. This is slightly higher than the national average of $1,674.
The state-required minimum liability car insurance averages $787 annually, quite a bit higher than the national average of $565.
Rates vary considerably depending on the city and zip code you reside in. For example, Rehoboth Beach offers one of the lowest average monthly rates ($100) compared to Townsend ($160). This is due to the collective driving record of everyone in the region. The higher the reported thefts, moving violations, and people with poor driving records in general, the higher the insurance premiums.
What Is the Average Premium for Cheap Full Coverage Car Insurance in Delaware?
The average monthly premium for full coverage car insurance in Delaware is $148.
We highly recommend obtaining full coverage car insurance over the state's minimum required coverage, as it offers greater protections by combining liability with collision and comprehensive insurance. Collision car insurance gives you financial protection in the event of a car crash, no matter who is at fault. Comprehensive auto insurance protects against damages caused by non-collision events such as theft, vandalism, and hail.
Remember, rates vary from person to person based on your age, gender, driving history, zip code, and claims history.
How Much Is It for Cheap Liability Insurance or the Minimum Required Car Insurance in Delaware?
The average cost of the cheapest car insurance in Delaware is $66 per month.
This state-required minimum liability car insurance gives you liability insurance in the form of bodily injury/death insurance and property damage insurance. Also required and included in your basic Delaware car insurance is Personal Injury Protection (PIP).
As the cheapest type of car insurance available, even a single-car accident could exceed your property damage liability coverage, forcing you to go out of pocket to pay the difference. Many drivers choose to purchase the required liability package and then increase the policy amounts to provide better peace of mind.
How Do Rates Compare Across Major Cities in Delaware?
In Delaware, different cities pay different rates. Insurance companies use geographical areas as one basis for their insurance premiums. If you live in an area with a high rate of car accidents, car theft and/or personal injury lawsuits, unfortunately you may pay a higher premium. Additionally, people in congested cities tend to pay more than people who live in rural areas.
For a breakdown of the average monthly rates paid in different Delaware cities, keep reading below:
| City | Full Coverage Insurance | Liability Insurance Coverage |
| --- | --- | --- |
| Wilmington | $120 | $41 |
| New Castle | $125 | $54 |
| Newark | $173 | $77 |
| Selbyville | $134 | $58 |
| Smyrna | $172 | $70 |
Methodology: To arrive at our average rate, we used the following demographic profile: 30-year-old male with the state's minimum required insurance limits. Rates vary from person to person depending on age, gender, zip code of residence, and more than a dozen other factors.
Are There Discounts for Good Drivers in Delaware?
Yes, there are! Good driver discounts are extended to Delaware drivers who show proof of a safe driving record. This means no active claims within the last three to five years. A claim-free driving history should gradually lower your rates or keep them steady over time.
To find out what car insurance discounts you qualify for, simply call your insurance agent. Here are some example discounts offered:
Defensive driving courses

Enrollment in autopay/paperless billing

Bundling (e.g., auto and homeowners insurance)

Driving less than 7500 miles a year
You may also lower insurance bills by reducing coverage limits and increasing deductibles.
Getting a Free Auto Insurance quote with Freeway is easy!
Delaware Car Insurance Laws
All Delaware drivers must carry car insurance. Failure to provide proof of insurance at a traffic stop (if stopped by a police officer) will result in fines and a license suspension until proof of insurance is provided.
What Are the Mandatory Car Insurance Requirements in Delaware?
All Delaware drivers must carry the following minimums of liability car insurance:
Bodily injury liability coverage: $25,000 per person
Bodily injury liability coverage: $50,000 per accident
Property damage liability coverage: $10,000
Personal Injury Protection (PIP): $15,000 per person
Personal Injury Protection (PIP): $30,000 per accident
Personal injury protection helps pay for medical costs for you and your passengers in the event of an accident, no matter who is at fault.
What Factors Does Delaware Law Allow in Determining Your Premiums?
There are many factors insurance carriers consider when determining how high or low the insured pay in premiums. Some of these factors include but are not limited to:
Age
Gender
Driving record
Claims history
Zip code
Marital status
Make/model of vehicle
Credit score
What Is the Penalty for Driving Without Insurance in Delaware?
Driving without insurance in Delaware will lead to severe consequences.
For starters, first offenders are subject to a $1,500 fine. Subsequent offenses increase penalties to $3,000. All instances will also result in a vehicle registration suspension. Additional fees include a $100 fee for any lapse in insurance coverage and $50 for an out-of-date registration.
Repeat offenders will lose their driver's license for 6 months.
Am I Required to Report an Accident in Delaware to Authorities?
According to Delaware Code Section 4203, an accident must be reported by all Delaware drivers if the accident results in injury/death or results in property damage worth $500 or more (when on a public highway) or property damage of $1000 or more (non-public highway).
Drivers must also report accidents if anyone is under suspicion of being under the influence of alcohol and/or drugs.
If you fail to report an accident, expect a fine of up to $75 for the first offense and a fine up to $95 for repeat offenses.
Find an office near you to help with your auto insurance
What Is Driving Like in Delaware?
How Many Car Accidents Happen?
According to Delaware's Annual Traffic Statistical Report (2020), there were 29,150 traffic crashes, resulting in 117 people killed and 7,254 people injured. It also estimates that accidents have resulted in economic loss to the state of over 1.1 billion dollars.
The most common car crashes were "motor vehicles in transport," parked/stopped vehicles, and collisions with fixed objects.
For more information on Delaware 2020 crash statistics with special sections on general crashes, alcohol-related crashes, and state police statistics, visit Delaware Annual Traffic Report.
See our breakdown below for the number of fatalities by county in Delaware in 2020:
| County | Fatal Car Accidents in 2020 |
| --- | --- |
| New Castle | 55 |
| Kent | 17 |
| Sussex | 33 |
How Many Uninsured/Underinsured Motorists Are in Delaware?
There are no official stats on the exact number of uninsured and underinsured motorists in Delaware. However, we can count on the Insurance Information Institute, which estimates that 8.5 percent of Delaware drivers are uninsured (2019). According to the organization, this stat is "measured by the ratio of uninsured motorists (UM) claims to bodily injury (BI) claims frequencies."
Most drivers choose to add uninsured motorist coverage to their car insurance policy. This inexpensive type of car insurance can provide invaluable resources if you are hit by an uninsured or hit-and-run driver.
For more information on the estimated percentage of uninsured motorists by state (2019), visit Estimated Percentage Of Uninsured Motorists By State, 2019.
FAQs About Delaware Car Insurance
I Am a Low-Income Driver. What Can I Do About Getting the Cheapest Car Insurance in Delaware?
Luckily, low-income Delaware drivers can qualify for discounts in many ways. Two of the most popular ways include applying for state minimum liability coverage and maintaining a clean driving record.
Complement your clean driving record with opt-in discounts like autopay/paperless billing enrollment, driving an older vehicle, participating in a defensive driving course, and bundling your auto and homeowner's insurance policy. You can also raise your deductible to get lower monthly payments. Just be sure that you can come up with that money if necessary.
Can an Undocumented Worker Get Affordable Car Insurance in Delaware?
Fortunately, undocumented workers can get car insurance in Delaware.
Here are all the states that allow driver's licenses for undocumented workers:
California
Colorado
Connecticut
Delaware
District of Columbia
Hawaii
Illinois
Maryland
New Jersey
New Mexico
New York
Nevada
Oregon
Utah
Vermont
Washington
We highly advise that all undocumented workers start the process of becoming legal residents for additional protections under the law.
Is It Possible to Get Low-Cost Car Insurance in Delaware with a DUI Mark on my Record?
Yes, drivers can obtain DUI car insurance in Delaware.
However, be ready for the prospect of skyrocketing insurance rates for the next three to five years, depending on your carrier. It is not uncommon for rate hikes to exceed 100% ($1000+ increase in annual car insurance costs). For perspective, the average increase for yearly rates for a DUI in Delaware is $2,829 versus $2,556 for the United States.
Outside of rate hikes, first-time DUI offenders can expect to serve up to six months in jail, pay up to $1,500 in fines, and need mandatory installation of an ignition interlock device. The second DUI offense in Delaware faces even stiffer penalties, including up to 18 months in jail and up to $2,500 in fines.
Delaware's blood alcohol concentration limit is 0.08% (or 0.04% or higher for commercial drivers).
If you've been convicted of DUI in Delaware, you can find affordable DUI solutions.
Get an Affordable Car Insurance Quote Online in Delaware Today!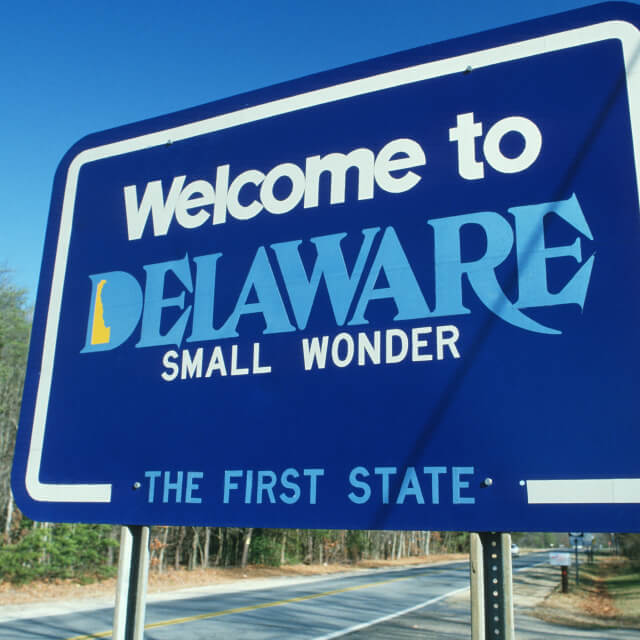 All Delaware drivers can take advantage of affordable, low-cost insurance through Freeway Insurance. As a result, you will be adequately covered in a motor vehicle collision.
If you are interested in learning more about Freeway Insurance policies, feel free to request a car insurance quote online, locate a Delaware office near you, or speak with one of our friendly agents at 800-777-5620 for a free, no-obligation quote.
Auto Insurance Info by City
Select a Product or Service to request a quote
Ready to Get a Quick Quote?