This stunning western state is the perfect place for outdoor enthusiasts to relocate to or just to visit. Whether you want to ski down a mountain, hike through a forest, repel down a canyon wall, or whitewater raft down a river, the Centennial State has it all.
With so many mountain roads to drive on in Colorado, you'll want to make sure you have low cost car insurance required by Colorado state law.
Quick Facts
There are 4,299,447 licensed drivers in Colorado.
Almost 16% of Colorado drivers are uninsured or underinsured.
In 2021, there were 543 fatal car crashes in Colorado with 583 people killed.
The most dangerous road in Colorado is U.S. Route 160 which runs east to west and comes in Colorado from San Juan County, N.M. and exits the state through Walsh, CO.
How Much is Car Insurance in Colorado?
The average annual cost of full coverage car insurance in Colorado is $2,016, which is about $300 more than the national average of $1,738. The state-required minimum liability car insurance averages $518 per year in Colorado, putting it just slightly higher than the national minimum at $480.
There are many factors that can affect what you will pay for car insurance in Colorado.
For example, the average cost of insurance premiums can differ depending on where you live in Colorado. Drivers in Denver pay the highest car insurance rates in the state, with average costs at $2,424 per year for full coverage. Meanwhile, in Fort Collins, drivers pay an average cost of $1,716 per year for full coverage car insurance.
It has to do with how many claims are filed for things such as accidents, crime and personal injury lawsuits in an area. All drivers in a specific area may pay higher premiums based on the actions of others who live in that area.
What Is the Average Premium in Colorado for Cheap Full Coverage Car Insurance?
On average, Colorado drivers pay $168 per month for full coverage. Full coverage consists of liability, plus collision car insurance and comprehensive car insurance. If your car is financed, your lender will require you to carry full coverage insurance in order to protect its ownership stake until you pay off the vehicle.
Car insurance premium rates vary depending on the deductible amount, the amount of coverage included, age, driving history and much more.
How Much Is It for Cheap Liability Insurance or the Minimum Required Car Insurance in Colorado?
The average cost for the cheapest car insurance in Colorado is $43 per month. This is for people who are driving a car that is considered safe and cheap to repair, have an excellent driving history and are of an age that is considered more responsible, such as late 30s through 60s. Savvy drivers can lower this even further by adding car insurance discounts.
Keep in mind that the minimum liability coverage means that you have no financial protection for your own injuries and damages if you cause an accident. Your cheap liability insurance will go towards paying for the other involved parties' costs. And with the cheapest level of car insurance possible, there may not be enough to cover everything after your insurance company has paid their share, leaving you with out-of-pocket costs.
How Do Rates Compare Across Major Cities in Colorado?
Most Colorado residents live in three main cities: Denver, Colorado Springs, and Aurora. Over 749,000 people live in and around Denver. Here is a look at the monthly cost of auto insurance in some Colorado cities.
| City | Full Coverage Insurance | Liability Insurance Coverage |
| --- | --- | --- |
| Denver | $202 | $63 |
| Colorado Springs | $188 | $56 |
| Aurora | $193 | $62 |
| Boulder | $146 | $48 |
| Fort Collins | $143 | $46 |
Unless otherwise specified, we use the following methodology to arrive at our average cost: male, age 30, lowest possible legal coverage allowed by state. Your rates will be determined by several factors, including your age, your gender and the amount of coverage you want to purchase.
Is There a Good Driver Discount in Colorado?
Colorado drivers could save up to 30% on their car insurance through a Good Driver Discount if they have a clean driving record with no speeding tickets or at-fault accidents for three years.
Other discount programs in Colorado can help bring down the cost of your car insurance premiums. Some of these discounts include:
Good Student Discounts: Young drivers who maintain a "B" average or higher in school can receive up to a 20% discount.
Continuously Insured Discount: If you've been insured for six months or more and haven't let your policy lapse, then you may be eligible for this discount.
Driver Education: Drivers over age 50 qualify for a discount on their car insurance if they complete a defensive driving course.
Vehicle Safety Discount: You could be eligible for a discount if your car has certain vehicle safety equipment such as anti-lock brakes, airbags, and anti-theft devices.
Colorado is one of several states that prohibits insurance companies from offering customer loyalty discounts that reward customers for not switching companies.
Getting a Free Auto Insurance quote with Freeway is easy!
Colorado Car Insurance Laws
In Colorado, it's illegal to drive without the minimum 25/50/15 liability car insurance. Uninsured motorist insurance and underinsured motorist coverage is optional in Colorado.
As an "at fault" state, Colorado drivers who cause a traffic accident must pay expenses from injuries or property damage caused in the accident.
What Are the Mandatory Car Insurance Requirements in Colorado?
Colorado law mandates that all drivers have liability coverage. The minimum liability coverage is a type of car insurance that Colorado drivers are required to have is:
Drivers in Colorado must carry proof of insurance in their vehicles at all times.
What Is the Penalty for Driving Without Insurance in Colorado?
Driving without the minimum liability coverage mandated by state law can result in some serious penalties in Colorado. The offense is considered a Class 1 misdemeanor, which could get you $1,000 or more in fines, a year in jail, a suspended driver's license for up to eight months, and up to 40 hours of community service.
Drivers without insurance will also get four points on their driver's license. Accumulating points on your driver's license can lead to the suspension of your license. To have your driving privileges reinstated after being suspended, you'll have to file an SR-22 or Certification of Financial Responsibility, which shows that you have obtained legal insurance coverage.
What Factors Does Colorado Law Allow in Determining Your Premiums?
When looking for cheap car insurance in Colorado, it's important to know what factors insurance companies look at to determine your pay rate. Things you don't have control over, such as your age and gender, can impact your car insurance rates just as much as things you can control, like your driving record and credit score.
In Colorado, the factors car insurance companies can look at when determining your rates are:
Age
Gender
Marital status
Credit score
Vehicle make, model, and year
Insurance history
Driving record
Location
Driving frequency
Am I Required to Report an Accident in Colorado to Authorities?
Colorado law requires that drivers report to law enforcement any accidents that result in injury or property damage. According to Colorado law, failure to report traffic accidents is a Class 2 misdemeanor that could lead to 10 to 90 days in jail and $150 to $300 in fines.
If the police are already on the scene of the accident, then you may not have to report the accident because they will report it.
Find an office near you to help with your auto insurance
What Is Driving Like in Colorado?
How Many Car Accidents Happen in Colorado?
The Colorado Department of Transportation's Strategic Transportation Safety Plan aims to reduce accident fatalities by 15% between 2020 and 2023. In 2020, there were 545 people killed in 502 fatal accidents on Colorado roadways. About 34% of those fatal accidents were due to drivers under the influence of alcohol or drugs.
How Many Motorists Are Uninsured/Underinsured in Colorado?
In 2019, almost over 16% of Colorado drivers were uninsured, ranking the state 13th in having the highest number of uninsured motorists, according to the Insurance Information Institute.
Uninsured and underinsured motorist coverage on your car insurance policy is not required in Colorado. But it's a good idea to consider adding it to protect yourself if you are ever in an accident with someone who doesn't have the proper insurance coverage. Uninsured and underinsured motorist coverage will reimburse you if you get in an accident or hit-and-run with a driver who doesn't have the required liability coverage.
FAQs About Colorado Car Insurance
I Am a Low-Income Driver. What Can I Do About Getting the Cheapest Car Insurance in Colorado?
By getting the minimum 25/50/10 liability coverage required by Colorado law, you can save yourself money you would have to pay in fines, penalties, and high-risk insurance coverage if you were ever pulled over by law enforcement without the required insurance coverage. Talk to your insurance agent about possible discounts you may qualify for on your car insurance in Colorado. If you're driving an older vehicle but maintain safety equipment such as brakes and airbags, you could also save money on your insurance coverage.
Can an Undocumented Worker Get Car Insurance in Colorado?
Colorado is one of 10 states in the U.S. where residents can apply for a driver's license regardless of their immigration status. Undocumented workers can get a driver's license, so they can get car insurance coverage.
Is It Possible to Get Low-Cost Car Insurance in Colorado With a DUI Mark on My Record?
If you are arrested for driving under the influence (DUI) in Colorado, you can expect to pay a hefty price in car insurance premiums. Car insurance rates can jump up by almost 70% for drivers with a DUI.
On average, drivers with DUIs in Colorado will have to pay about $2,834 per year for car insurance. Although that is less than the national average of $3,336 per year, it is still a pretty significant increase that may make you reconsider getting behind the wheel after having a few drinks.
Get an Affordable Colorado Car Insurance Quote Online Today!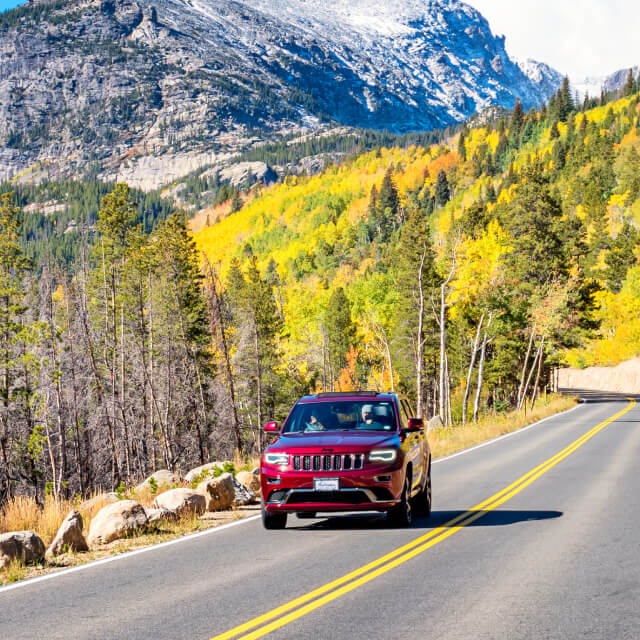 Car insurance in Colorado will cost considerably less than the fines and penalties you will face if you don't have insurance. That doesn't include the costs you could face if you or one of your passengers is injured in an accident.
You can get a fast, no-obligation online car insurance quote, call us at 800-777-5620 or visit a local Colorado office near you.
Select a Product or Service to request a quote
Ready to Get a Quick Quote?