Maryland is one of the oldest states with centuries of history behind it. But modern residents will need good Maryland car insurance if they want to experience its history.
For example, maybe you want to go to the birthplace of the National Anthem. Or take stunning photos of the Chesapeake Bridge. Or visit a seafood restaurant on the water and order a tasty plate of blue crabs.
However, experiencing all of this requires a car, which requires car insurance. To make sure you have enough money to enjoy your road trip, use this guide to save money on your Maryland car insurance.
Quick Facts
The average cost of full coverage car insurance in Maryland is $1,877 per year
There were 475 fatal crashes in 2021
How Much Is Car Insurance in Maryland?
The average cost of full coverage car insurance fin Maryland is $1,877 per year. That is actually cheaper than the national average cost of car insurance, which is about $1,935 per year.
Of course, the rate you pay may be higher or lower than the state average. This is because your premium is calculated based on different factors that include your zip code. How much insurance you have also affects your premium, with full coverage car insurance being the most expensive, but also the highest level of protection.
What Is the Average Premium in Maryland for Full Coverage Car Insurance?
Full coverage insurance is the best protection for your vehicle, but it is also the most expensive. In Maryland, the average cost of full coverage car insurance is $1,877 per year. This means the average driver with full coverage insurance pays $156 per month.
Full coverage car insurance refers to having three different types of coverage. This includes liability insurance (which pays for damage you cause during an accident), collision (which helps pay for damage to your car during an accident), and comprehensive (which helps pay for damage to your car from things other than accidents).
Chances are that this is higher (maybe much higher) than what you currently pay. But compared to the cost of repairing or replacing a car if you only have liability insurance and an accident is your fault, the cost of higher coverage may just pay for itself.
How Much Is It for Just the Minimum Required Car Insurance in Maryland?
On average, drivers pay $64 a month for liability coverage in the state. Keep in mind, though, that liability insurance only pays out when you are at fault in an accident, and it only pays to cover damage to the other driver's person and property.
One very popular question we get is, "how much insurance should I get?" It is up to each driver to figure this out for themselves for the most part. However, every state establishes a minimum level of insurance coverage that each driver must have on their vehicle.
In other words, should you end up causing an accident, this minimum coverage will not pay anything towards repairing or replacing your car. For peace of mind, we recommend adding collision coverage so that your vehicle will be adequately protected.
Another factor to consider is that the minimum requirements are generally not enough when today's vehicles are damaged in an accident. You could very well be left owing money out of pocket after your insurance company has settled with the other driver.
How Do Rates Compare Across Major Cities in Maryland?
As we indicated before, where you live can have an impact on how much you pay for car insurance. In some cases, there may be large variations within the same state. To help you understand how this works, we have a breakdown below of the average monthly car insurance prices across different Maryland cities.
| City | Full Coverage | State-Required Minimum or Liability Coverage |
| --- | --- | --- |
| Baltimore | $229 | $118 |
| Bethesda | $135 | $68 |
| Gaithersburg | $158 | $80 |
| Ridgely | $124 | $55 |
| Silver Spring | $153 | $78 |
Unless otherwise specified, we use the following methodology to arrive at our average cost: male, age 30, lowest possible legal coverage allowed by state. Your rates will be determined by several factors, including your age, your gender and the amount of coverage you want to purchase.
Is There a Good Driver Discount in Maryland?
Yes, there is a good driver discount in Maryland. Every car insurance carrier (including the one you have now) offers special discounts for different things. And one of the most popular discounts is the good driver discount.
The exact requirements and exact discount may vary from carrier to carrier, but you can typically shave at least 10% off your monthly premium if you have a clean driving record with no claims.
The only way to know which discounts are offered by your current insurance company is to contact them and ask. You may already qualify for certain discounts without knowing it, including good student discounts, customer loyalty discounts, car safety feature discounts, and insurance bundling discounts.
Getting a Free Auto Insurance quote with Freeway is easy!
Maryland Car Insurance Laws
Previously, we referred to the minimum car insurance requirements in Maryland. The state can enforce these requirements because insurance companies report which cars are covered and which are not to the state.
Due to their real-time insurance database, Maryland is strict if you let your insurance lapse. Every insurance company must report which vehicles are covered and which are not. The state knows right away if your insurance lapses or if you are not maintaining coverage on a registered vehicle.
It's important to maintain the minimum mandatory car insurance in Maryland.
What Are the Mandatory Car Insurance Requirements in Maryland?
As noted before, the minimum mandatory car insurance in the state of Maryland is to have liability coverage. Furthermore, it's not enough to simply have any form of liability coverage: you must meet the minimum coverage amounts.
The state minimum requirements for Maryland are:
$30,000 for bodily injury per person
$60,000 for bodily injury for two or more people
$15,000 for property damage.
What Is the Penalty for Driving Without Insurance in Maryland?
One of the reasons we advise people to get more coverage than just liability insurance is because an accident can be financially devastating. If there is a bad accident and you are at fault, then you will end up having to replace your entire car. In other words, trying to save a few bucks by getting the minimum possible insurance can be very costly in the long run.
But there is something else that can be very costly: not having insurance at all! If you are caught driving without any car insurance in Maryland, then you potentially face very stiff penalties.
For the first offense, you may get 5 points on your license, a fine of up to $1,000, and jail time is even a possibility. If you commit a second offense, you may get an extra 5 points on your license, a fine of up to $2,000, and up to two years in jail.
Considering that even the first offense can land you in jail, it's important to always have proper insurance coverage when driving in the state of Maryland.
What Factors Does Maryland Law Allow in Determining Your Premiums?
Before, we noted that where you live affects the insurance premium that you pay. Specifically, your insurance carrier looks at your zip code, so even moving to different areas within the same city can affect your price.
However, you should know that this is only one of several different factors your carrier will consider. Below, we have a breakdown of all the various elements that insurance carriers in Maryland are legally allowed to consider when setting your insurance premium:
Driving record and claims history
Your zip code and address
Gender
Marital status
Age
Type of vehicle
Credit score
It's important to update your insurance carrier when something changes. For example, if you improve your credit score or move to a safer neighborhood, this might have a positive impact on the cost of your monthly premium.
Am I Required to Report an Accident in Maryland to Authorities?
There are many different kinds of car accidents. These range from minor "fender benders" to major accidents that cause heavy property damage and even loss of life. Because there are so many types of accidents, you may find yourself wondering whether you have to report your own accident to the authorities.
The short answer is that it depends on the accident. In Maryland, both drivers are expected to report any accidents that cause bodily injury or death. And they have 15 days to report the accident to Maryland's Motor Vehicle Administration.
If the accident doesn't result in injury or death, though, then no report is required. So don't feel like you have to let the state know about a minor fender bender!
Find an office near you to help with your auto insurance
What Is Driving Like in Maryland?
How Many Car Accidents Happen in Maryland?
If you're still worried about whether or not you have enough insurance coverage, then there is a simple way to answer that question. You simply need to determine how safe it is to drive in your area.
One of the easiest ways to do this is to discover how many car accidents happen each year. In Maryland, 475 fatal crashes in 2021 resulted in 507 fatalities.
As you might expect, some areas of Maryland experienced more car accidents than other areas. The table below shows the fatal car accidents by county for the top four counties in 2021.
| County | Fatal Car Accidents in 2021 |
| --- | --- |
| Prince George's | 110 |
| Baltimore | 67 |
| Montgomery | 36 |
| Anne Arundel | 33 |
How Many Uninsured/Underinsured Motorists Are in Maryland?
The reason that Maryland requires drivers to have liability insurance is that it will help pay for accidents that they cause. But what if a driver causes an accident and he or she doesn't have any insurance or simply doesn't have enough?
It's a very real threat. In fact, the Insurance Information Institute estimates that 14.1% of Maryland drivers in 2019 were uninsured!
You should consider adding uninsured/underinsured motorist coverage to your existing insurance plan to protect yourself from such drivers.
FAQs About Maryland Car Insurance
I Am a Low-Income Driver. What Can I Do About Getting Car Insurance in Maryland?
We always recommend that drivers get more than the minimum level of insurance. However, most who get the minimum insurance coverage do so because they don't have much money and need to save where they can. And that brings us to the next question: what should low-income drivers do about getting car insurance in Maryland?
The single best thing you can do is to shop around and get quotes from different insurance carriers. Most drivers pay for their insurance by the month, which means nothing is keeping you from switching to a different carrier. And by getting multiple quotes before you make the switch, you can maximize your odds of getting better rates.
When you are getting quotes from different carriers, it's also good to ask about any discounts they have available. You may get lucky and find a carrier with one or more discounts that you already qualify for to help lower your rate.
Finally, you should be selective in which types of insurance you get and how much coverage you take out. There is a world of difference between minimum liability coverage and full coverage. With a bit of time and effort, you can find a balance between types of coverage, coverage limits, and the price you are willing to pay.
Can an Undocumented Worker Get Car Insurance in Maryland?
Sometimes, it's difficult for undocumented workers to navigate the world of car insurance. That is because most insurance carriers require a driver's license to get insurance coverage, and undocumented workers can't get a license in certain states.
Fortunately, Maryland is a state where undocumented workers can get a driver's license. Once they have obtained a license, such workers should be able to pursue car insurance.
Is It Possible to Get Car Insurance in Maryland with a DUI Mark on my Record?
A DUI is one of the worst things you can have on your record. It can affect everything from your licensure status to your insurance. And because of this, some drivers wonder whether or not they can even get car insurance in Maryland after they get a DUI.
The good news is that a DUI will not keep Maryland drivers from getting car insurance. The bad news is that such insurance may be costly.
That is because once you have a DUI, you'll need to file an SR-22 with the state. And as long as you file the SR-22 (usually for a minimum of three years) with the state, you'll pay a higher rate. As usual, we recommend that you shop around to get the best possible rate.
Get a Maryland Low-Cost Car Insurance Quote Online Today!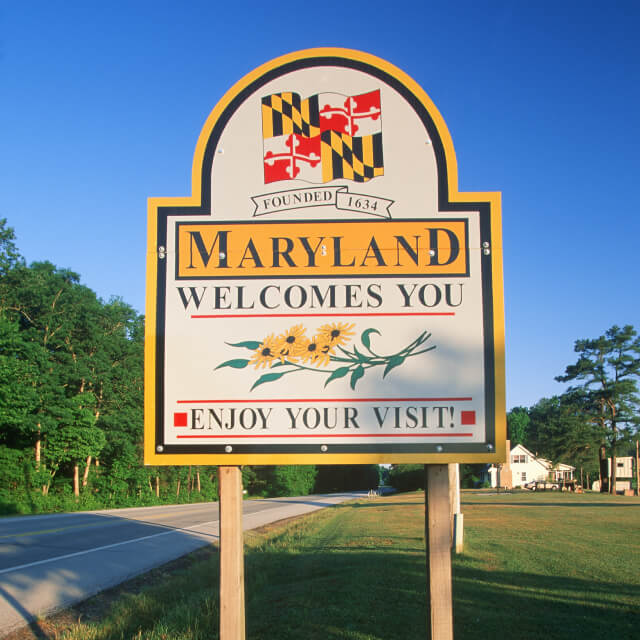 It's important to contact multiple insurance carriers to get the best rate. But what if you could get quotes from multiple carriers with a single click of a button?
Here at Freeway Insurance, we make it easy for you to get the most competitive car insurance rates right away. Get started with a quote online or visit us at a Maryland office near you. You can also call us at (800) 777-5620 for a quote. Contact us today!
Auto Insurance Info by City
Select a Product or Service to request a quote
Ready to Get a Quick Quote?