Alaska is one of the most intriguing states in the nation. Located in the far northwest, it offers a splendid array of lodges, glaciers, and narrow-gauge railroads that are a sight to behold. Some of the most popular Alaska attractions include the White Pass & Yukon Route Railway, charming downtown Juneau, and the Aurora Ice Museum with its Northern Lights viewing room and observation tower. Do not forget its national parks, with Denali, Gates of the Arctic, and Katmai all calling it home.
Every Alaska driver must carry car insurance to legally drive in the state.
Keep reading to learn more about Alaska car insurance, including the average monthly rates paid in major cities, discounts you may be eligible for, and how insurance companies determine rates.
Quick Facts
Alaska is the largest state in the country by area.
Dalton Highway, nicknamed the "loneliest road in America," is considered the most dangerous road in Alaska.
There are only 518,872 licensed drivers in Alaska, the third least in the US.
There were 53 fatal crashes in Alaska in 2020.
How Much Is Car Insurance in Alaska?
The average annual cost of full coverage car insurance in Alaska is $1,559, a little lower than the national average ($1,674). The state-required minimum liability car insurance will set drivers back on average by $373 per year, lower than the national average of $565.
Basic liability is the cheapest auto insurance in Alaska and it consists of bodily injury/death liability and property damage liability.
Expect rates to vary depending on where you live. For example, Anchorage residents pay an average of $154 a month for full coverage versus $105 in sparsely-populated Angoon. Other factors affecting your premiums include age, driving record, gender, coverage level, the type of vehicle you drive and more.
What Is the Average Premium for Cheap Full Coverage Car Insurance in Alaska?
The average monthly premium for full coverage car insurance in Alaska is $130.
Full coverage policies offer greater financial protections than minimum coverage, as it includes liability, plus collision car insurance and comprehensive auto insurance. Collision will help you repair your car, even if you are at fault in an accident, while comprehensive protects you against other losses.
Our full coverage figure is based on $100,000 bodily injury liability per person, $300,000 bodily injury liability per accident, and $100,000 property damage liability per accident.
How Much Is It for Cheap Liability Insurance or the Minimum Required Car Insurance in Alaska?
All Alaska drivers that carry the state-required minimum car insurance should expect to pay on average $31 per month.
Although a minimum required car insurance policy will put more money in your pocket, it can cause greater repercussions. For example, one accident could easily exceed your bodily injury/death liability insurance and property damage liability insurance, forcing you to go out of pocket to pay for damages incurred.
Alaska is an at-fault state, meaning the liability car insurance of the at-fault driver in a car crash is expected to pay for the other parties' losses, but nothing for their own.
How Do Rates Compare Across Major Cities in Alaska?
Each city in Alaska pays different rates depending on the collective driving record of all of its residents.
See our breakdown below for the monthly average premiums across several major cities in Alaska.
| City | Full Coverage Insurance | Liability Insurance Coverage |
| --- | --- | --- |
| Anchorage | $154 | $54 |
| Fairbanks | $138 | $36 |
| Wasilla | $137 | $37 |
| Juneau | $106 | $31 |
| Kodiak | $120 | $36 |
Methodology: We used the following demographic profile to determine our monthly average rates: 30-year-old male with Alaska's state-required minimum insurance. Age, gender, zip code, and driving record are some of the most important factors when determining the cost of car insurance from person to person.
Are There Good Driver Discounts in Alaska?
Yes, all drivers with a clean driving record (no claims made within the last three to five years) enjoy lower rates thanks to their safe profile in the eyes of insurers. Expect safe driver discounts to exceed 20%, depending on the insurer and your driving record.
These days, points are assessed on everything from moving violations to DUI, resulting in higher insurance premiums. Do not be surprised if your monthly rates triple after a first offense, especially if you live in a problematic zip code.
Other ways Alaskan drivers can save on car insurance is by completing/asking for the following car insurance discounts:
Enrollment in autopay and paperless billing

Multi-policy discounts (e.g., bundling auto and homeowners insurance)

Driving less than 7500 miles per year
We highly recommend calling your insurance provider every six months to learn what discounts you are eligible to receive. Then, take advantage of every opportunity to lower your rate.
Getting a Free Auto Insurance quote with Freeway is easy!
Alaska Car Insurance Laws
All Alaska drivers must carry car insurance. Expect steep fines, a suspended license, and other court hassles immediately after failing to provide proof of insurance after a traffic stop.
What Are the Mandatory Car Insurance Requirements in Alaska?
All Alaska drivers must carry the following state minimum liability coverage:
Bodily injury liability coverage: $50,000 per person
Bodily injury liability coverage: $100,000 per accident
Property damage liability coverage: $25,000
We highly recommend adding other types of auto insurance to your plan. These coverage types protect against collisions with other vehicles and non-collision-related incidents (e.g., theft, hail, or vandalism). Depending on the type of comprehensive coverage, you may also be reimbursed the actual cash value for your vehicle if it is stolen. There are other optional car insurance choices that may also provide financial security.
In short, the higher your coverage limits and the lower your deductibles, the greater peace of mind you will have of being fully covered in an accident.
What Factors Does Alaska Law Allow in Determining Your Premiums?
When you are searching for the cheapest auto insurance in Alaska, keep in mind that insurance carriers take into account factors specific to you when giving a premium quote. For example, younger drivers are considered riskier, since, as a group, they tend to have less experience and have more accidents. Therefore, they will be paying high-risk car insurance prices until they grow older.
Likewise, if you have a spotty driving record, drive an expensive car that costs a lot to repair or have lapses in your car insurance history, you may be looking at higher premiums. Age and gender are not factors you can control, but keeping a clean driving record and choosing a safe car to drive will help.
Insurance carriers consider these factors when determining the cost of auto insurance:
Age
Gender
Driving record
Zip code
Marital status
Make/model of vehicle
Credit score
Don't forget that your policy structure influences premiums. Increasing your deductible will get you lower premiums. A deductible is the amount of money paid out of pocket before your insurance company kicks in its part. Depending on the policy, deductibles can be as low as $250 and as high as $1,000.
What Is the Penalty for Driving Without Insurance in Alaska?
Penalties for driving without insurance in Alaska come with plenty of aggravation.
To begin, first-time offenders can expect to pay a $500 fine and receive a 90-day license suspension until proof of insurance is shown. Before your license is reinstated, you must have an insurance company file an SR22 certificate on your behalf for three years, proving you have at least the state-required minimum car insurance. This will cause your car insurance premiums to increase significantly.
Second offenses will result in a 1-year driver's license suspension, and any subsequent offenses may bump that up further. Your SR22 insurance will reset for another three years.
Note: Alaska drivers can provide proof of insurance within 30 days of being pulled over to avoid having their licenses suspended. This 30-day grace period still applies with a second offense.
Note: Alaska's state minimum required liability requirements are $50,000 for bodily injuries per person, $100,000 for bodily injuries per accident, and $25,000 for property damage.
Am I Required to Report an Accident in Alaska to Authorities?
According to Alaska Statute Title 28, Chapter 35, Article 2, Section 28.35.080, all Alaskan drivers must report an accident in a timely manner, provided that the accident has resulted in injury and/or death or $2,000 or more in property damage. All reports must be completed within ten days after an accident to the local police department of the Department of Administration by yourself or a police officer.
For more information on how to report an accident to authorities in Alaska, visit Alaska Driver Self Report – Transportation Data Programs – Department of Transportation & Public Facilities – State of Alaska
You will also find forms for accident self-reporting and to obtain a certificate of insurance used to collect policy information after an accident.
Find an office near you to help with your auto insurance
What Is Driving Like in Alaska?
How Many Car Accidents Happen in Alaska?
According to the Insurance Institute for Highway Safety (2019), there were 33,244 fatal motor vehicle crashes in the country.
Of these crashes, Alaska accounted for only 62 of them. Only Vermont and the District of Columbia had less. For every 100 million vehicle miles traveled in Arizona, this translates to 1.14 deaths.
In 2020, there were 53 fatal crashes in Alaska. For more information on Alaska car traffic accidents, visit 2020 Annual Traffic Report.
How Many Uninsured/Underinsured Motorists Are in Alaska?
According to the Insurance Information Institute (2019), 16.1 percent of Alaskan drivers are thought to be underinsured or uninsured. This places the state in 14th place. For perspective, Mississippi leads the nation in the highest percentage of underinsured/uninsured motorists (close to 30%), and New Jersey has the lowest rate of underinsured/uninsured motorists at 3.1 percent.
Uninsured motorist coverage is not required in Alaska, but it is fairly inexpensive and will give you a greater peace of mind, as well as more financial protection in case you are hit by a driver with no insurance, not enough insurance or a hit-and-run driver.
FAQs About Alaska Car Insurance
I Am a Low-Income Driver. What Can I Do About Getting the Cheapest Car Insurance in Alaska?
Low-income Alaska drivers can benefit from making sure they find the best car insurance available for them. Take advantage of car insurance discounts and consider raising your deductible to lower your monthly payment.
We highly recommend carrying the appropriate coverage for greater peace of mind. Even a single-car accident can blow past your property damage minimums, resulting in exorbitant out-of-pocket expenses.
Can an Undocumented Worker Get Cheap Car Insurance in Alaska?
Is It Possible to Get Low-Cost Car Insurance in Alaska with a DUI Mark on my Record?
Yes, drivers in Alaska can still obtain DUI insurance coverage. Shop around and compare car insurance quotes to find the best rates and most affordable DUI solution coverage.
If you have been convicted of DUI, expect to see your annual car insurance premium rise by an average of $531. You may also be fined $1,500, jailed for at least 72 hours, and have your license suspended for a minimum of three months. You will also need to install an ignition interlock device (IID) to operate your vehicle and you'll need to file SR22.
If you commit second or third offenses, you may also face up to 120 days in jail, steeper fines (~$10,000), and a three-year minimum license suspension. In addition, you may also need to perform up to 80 hours of community service.
Get an Affordable Online Alaska Car Insurance Quote Today!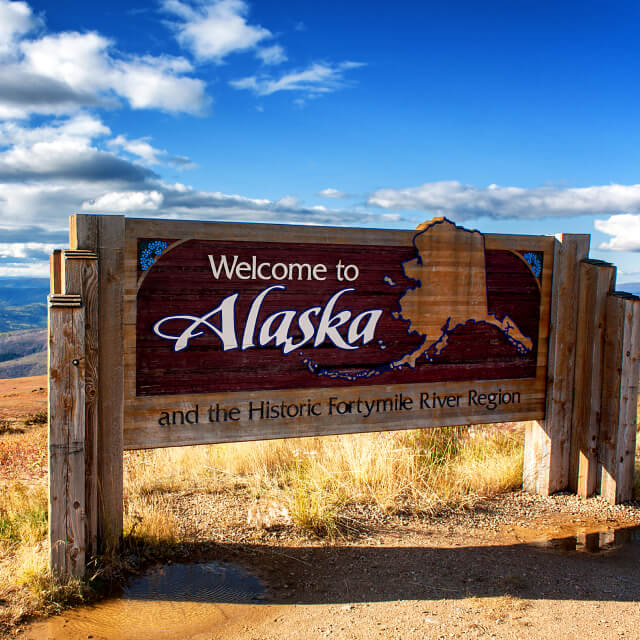 To drive legally in Alaska and avoid fines and a suspended license/ registration, an affordable car insurance policy from Freeway Insurance is the way to go. Fortunately, Freeway Insurance is ready to help you and your family find an appropriate policy. To get started, request a car insurance quote online, visit an Alaska office near you, or call one of our friendly agents at 800-777-5620 to explore all of your options.
Select a Product or Service to request a quote
Ready to Get a Quick Quote?