How Much is Auto Insurance for My Nissan Sentra?
The average annual premium for a Nissan Sentra is $541 for minimum and $1,745 for full.
Since most states require their drivers to carry car insurance, you'll need to decide how much you need, how much you can afford and how much protection you want. If you have financed or leased, you'll most likely be required to carry full coverage. If you own outright, you can start with the state minimum and go up from there, if you desire.
Caring Freeway agents are on hand to walk you through the choices and help you make the right selection to protect you and your loved ones. Speak with one of our representatives today to learn how to find the best cheap car insurance.
Getting a Free Auto Insurance quote with Freeway is easy!
Comparing Costs for Your Sentra to Other Vehicles
There are many reasons why costs differ from other models like the Pathfinder, Rogue, Altima, and Titan. In addition, the make has an impact when it comes to the cost of parts, labor, and the reliability record.
| Make/Model | Annual Full Premium |
| --- | --- |
| Nissan Sentra | $1,745 |
| Toyota Corolla | $1,695 |
| Honda Civic | $1,773 |
| Chevrolet Cruze | $1,642 |
| Mazda 3 | $1,668 |
Types of Car Coverage for Sedans
There are many types of policies to choose from, so unless you are locked into full coverage due to financing or leasing, your only requirement is to purchase the state minimum. From there you can add a variety of protections that ensure you feel confident behind the wheel.
Freeway offers all drivers several options for policies, including full coverage or state minimum liability.
Full Coverage
We are big fans of full coverage policies, which include comprehensive and collision, since these offer a higher level of financial protection. You can add rental car reimbursement, roadside assistance, new car replacement coverage or a variety of other types, as you see fit.
Remember, you may also increase the limits on your policies for added value.
State Minimum Liability
All states but two require their drivers to meet minimum car insurance requirements. A state minimum liability policy consists of three parts — bodily injury liability per person, bodily injury liability per accident, and property damage liability per accident, typically shown as numbers, e.g. (60/30/25)
For example, all California drivers must carry liability limits of 15/30/ 5. In turn, Georgia motorists must meet liability limits of 25/50/25. However, some states, especially no-fault ones, require more of their residents. Minnesota has 30/60/10 for liability, plus 25/50 for uninsured motorist coverage and $40,000 for personal injury protection (PIP).
Even if your state does not require these, you may consider them since plenty of people drive around with no insurance at all.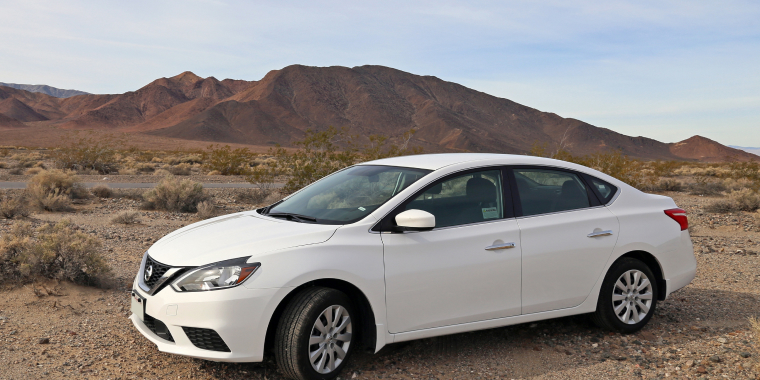 How Does a DUI Affect Rates for a Nissan Sentra?
Expect big rate hikes with DUI convictions. A DUI could double or even triple your annual cost, even if you had a spotless driving record free of claims and moving violations before.
How much more your rates will increase after a DUI depends on several factors, such as your driving record and the lookback window. Some insurers look back three years, while others gfo back up to five years. In addition, others may restrict your ability to be eligible for good driver discounts up to 10 years after your first DUI conviction.
In the most severe cases, a carrier may opt not to renew your policy altogether. Fortunately, there are ways motorists with DUI convictions can save with DUI solutions. These include increasing your deductible, lowering your liability limits, and shopping for different rates upon policy renewal. Do not be surprised if one carrier offers a 30% premium cut over a competing company, as each treats drivers with DUI convictions differently.
What Are Some Insurance Discounts for My Sentra?
There are many ways you can save on your next policy via discounts.
Some of the most popular discounts are safety, which reward you for excellent driving habits. Others are taking a defensive driving course, remaining accident free and low mileage. Others include:
Policy-based

. These are awarded based on how you structure your

policy—for

example, bundling boat and homeowners or paying your bill in full before renewal periods could cut a percentage off your premium. Some even reward you for enrolling in auto pay and electronic billing.

A

ffiliation-based

. Being a member of the military or eligible professional/trade organization could also be advantageous.
We recommend calling your insurance company regularly to ensure you get the latest discounts. A simple phone call could cut 10% off of your next bill. Not bad for 5-10 minutes of work.
Find an office near you to help with your auto insurance
What Are Some of the Characteristics of the Sentra?
It's a vehicle in the compact segment. It comes in three trim levels: S, SV, and SR. All trims come with one engine – a 149-horsepower 2.0-liter four-cylinder, continuously variable automatic transmission (CVT) engine with front-wheel drive.
The base S includes a 7-inch touch screen and a slew of standard safety features, including forwarding collision warning, blind spot monitoring, automatic emergency braking, and a rearview camera.
It last underwent significant updates in 2020 with a fully redesigned interior/exterior and 25 additional horsepower to its engine.
Main competitors are the Honda Civic, Mazda Mazda3, Hyundai Elantra, Kia Forte, and Toyota Corolla.
Find the Best Car Insurance Rates for Your Sentra Online Today
Freeway is ready to help all drivers with their auto insurance. Requesting a quote is easy. Visit us online, call us at 800-777-5620, or stop by one of our locations. Get in touch with us today!