Florida is known as the "Sunshine State" of America. And many of its residents view that sunshine from their car: the state has 14.6 million licensed drivers stretching from Northwest Florida down to Ernest Hemingway's old stomping grounds in Key West. Visitors and residents alike will enjoy the longest coastline in the US, with many of the famous white sand beaches. There are more than 9,000 miles of hiking, biking and horse-rising trails in Florida. Golfing, water sports and even forests dot the landscape. Home to sun and fun, well-known theme parks, great food and more, you may be hearing Florida calling your name.
But if you plan to drive while you are in Florida, don't forget to carry car insurance. It's required in this coastal state.
Quick Facts
Florida is a no-fault state and only requires Personal Injury Protection and Property Damage liability insurance.
Florida had more than 400,000 reported car accidents in 2021 and 3,433 of those were fatal crashes.
20.4% of Florida drivers are on the road without insurance.
How Much Is Car Insurance in Florida?
Full coverage car insurance in Florida will cost an average of $2,364 per year, one of the most expensive in the nation, which has an average of $1,738. The state-required minimum liability insurance averages $1,101 – very expensive for a state that tried to make it's car insurance cheaper by becoming a no-fault state. The national average for the basic liability insurance is a meager $480 in comparison.
What Is the Average Premium in Florida for Cheap Full Coverage Car Insurance in FL?
On average, you can expect to pay $197 per month for full coverage car insurance in Florida. This is significantly more expensive than the national average cost of $144. This relatively high cost makes it especially important for you to shop around to get different quotes.
Full coverage car insurance consists of type of car insurance that includes liability, collision car insurance and comprehensive auto insurance. If your car is financed, you will be required by your lender to carry full coverage. Additionally, many drivers choose to carry full coverage since there is not much protection under Florida's minimum liability requirements.
How Much Is It for Cheap Liability Insurance or the Minimum Required Car Insurance in Florida?
For this cheapest car insurance in Florida, the cost on average is $92 per month, fairly high compared to the national average of $40 per month. And that cheap car insurance rate is reserved for drivers who have a stellar driving record, drive a fairly inexpensive and safe car and fall into the "mature and responsible" age range of roughly late 30s to 60s. In addition, to find even cheaper quotes for Florida car insurance, many drivers find out if they qualify for car insurance discounts.
Long story short? By getting quotes from multiple carriers, you can get more than the minimum liability coverage in Florida at a very competitive price. Many drivers find out each year that the "minimum" is not truly enough coverage once they are involved in an accident.
How Do Rates Compare Across Major Cities in Florida?
Those who first move to Florida are often taken aback by the diversity of the cities. These range from small beach communities in cities like Destin to major metropolitan areas such as Jacksonville, Miami and Tampa. By comparing the average monthly cost of insurance across major cities throughout the state, you can get a better idea of how much you may end up paying in different places.
| City | Full Coverage Insurance | Liability Insurance Coverage |
| --- | --- | --- |
| Jacksonville | $177 | $67 |
| Miami | $277 | $97 |
| Tampa | $256 | $99 |
| Orlando | $177 | $70 |
| St. Petersburg | $210 | $79 |
| Hialeah | $278 | $119 |
| Port St. Lucie | $179 | $69 |
| Cape Coral | $158 | $63 |
| Tallahassee | $154 | $57 |
| Fort Lauderdale | $221 | $83 |
Unless otherwise specified, we use the following methodology to arrive at our average cost: male, age 30, lowest possible legal coverage allowed by state. Your rates will be determined by several factors, including your age, your gender and the amount of coverage you want to purchase.
Is There a Good Driver Discount in Florida?
The answer is both yes and no. While the state does not have any officially mandated good driver discounts, insurance companies throughout Florida typically offer discounts for good driving as well as other positive habits.
Drivers with clean records can usually get a discount ranging from 10% to 30% off the typical cost. Those who install certain safety features (including daytime running lights, multiple airbags, and anti-lock brakes) can net you a discount of up to 30%. On a related note, installing certain anti-theft devices may result in a discount of up to 25%.
A more modern option offered by some carriers includes the driver consenting to devices or apps monitoring their driving behavior, with safe drivers able to get a discount of up to 30%. We recommend that you ask multiple carriers about the discounts they offer before you finalize your decision.
Getting a Free Auto Insurance quote with Freeway is easy!
Florida Car Insurance Laws
Most of Florida's car insurance laws are fairly straightforward. Below, our guide will walk you through things like mandatory car insurance requirements, penalties for driving without insurance, and when you are required to report an accident to the authorities.
Be sure to study these sections carefully. It's easy to violate Florida insurance law if you don't know all of the specifics. And in Florida, like any other state, ignorance of the law will not serve as a good defense in court!
What Are the Mandatory Car Insurance Requirements in Florida?
The state-required car insurance in Florida is:
Like most states, Florida's minimum required insurance is liability insurance. Because Florida is a no-fault state, you'll be required to carry a certain amount of no-fault car insurance, otherwise known as personal injury protection (PIP). In a no-fault state, each person involved in a car wreck uses their own car insurance to cover their own injury and damage costs.
What is the Penalty for Driving Without Insurance in Florida?
You could lose your ability to drive or register a car for up to three years if you are caught driving without insurance in Florida. You'll also be required to pay stiff fees to reinstate these privileges.
What Factors Does Florida Law Allow in Determining Your Premiums?
It's one thing to know what the average cost of car insurance premiums is in Florida. However, many drivers are naturally curious about another question: How are these premiums actually determined?
The truth is that everybody's insurance policy is unique. And to determine your exact premium, Florida relies on common data points insurance providers use throughout the country:
Age
Gender
Credit score
Education & occupation
Marital status
Zip code
Car type
Driving history
Find an office near you to help with your auto insurance
What Is Driving Like in Florida?
Unfortunately, car accidents are a regular way of life throughout Florida. While careful driving will keep you relatively safe, you should be aware of the number of car accidents that occur throughout the state each year.
How Many Car Accidents Happen in Florida?
Florida had more than 400,000 reported car accidents in 2021 and 3,433 of those were fatal crashes. As a result, 3,734 people died in these fatal crashes. Bicycle fatalities accounted for 182 fatalities, while 586 motorcyclists died in 2021. Pedestrians accounted for 844 fatalities and there were 310 hit and run fatalities.
Of the more than 400,000 Florida car accidents, 329 were directly linked to an impaired driver and 299 people died.
Here are the 2021 statistics concerning car accidents/fatalities throughout the state.
| County | Total Car Accidents in 2021 | Fatal/Fatalities |
| --- | --- | --- |
| Miami-Dade County | 62,388 | 343/372 |
| Broward County | 41,375 | 244/263 |
| Palm Beach County | 24,850 | 188/207 |
| Hillsborough County | 28,021 | 255/272 |
| Orange County | 27,411 | 206/221 |
How Many Uninsured/Underinsured Motorists Are in Florida?
One of the biggest threats to drivers in Florida comes from uninsured and underinsured motorists. An estimated 20.4% of Florida's drivers are uninsured, which is one of the highest rates in the country!
Part of the reason Florida became a no-fault state was so that people who are hit by an uninsured/underinsured or hit-and-run driver would be able to use their own insurance to pay for their damages. However, with today's repair bills and hospital costs, increasing your coverage is a good idea.
FAQs about Florida Car Insurance
I Am a Low-Income Driver. What Can I Do About Getting the Cheapest Car Insurance in Florida?
It's easy to discuss buying comprehensive car insurance when you have a lot of disposable income. But what can you do about getting car insurance in Florida when you are a low-income driver?
Unfortunately, the state doesn't offer any specific programs to help low-income drivers pay for their insurance. In a pinch, you can always save money by getting only the minimum amount of insurance required by the state.
Generally, the best bet for low-income drivers is to contact multiple insurance carriers and get as many quotes as possible. By taking a little extra time to do this research, low-income drivers can find the sweet spot between the coverage they desire and the coverage they can afford. Always check for car insurance discounts.
Can an Undocumented Worker Get Cheap Car Insurance in Florida?
Florida has more undocumented workers than many other states. These workers still need to drive from place to place, especially with the lack of decent public transportation in the south. And that brings us to an important question: Can undocumented workers get car insurance in Florida?
The short answer is no. While there are 15 states (plus Washington, D.C.) that allow undocumented workers to get car insurance, Florida is not one of them.
Is It Possible to Get Low-Cost Car Insurance in Florida with a DUI on My Record?
Yes, you can find car insurance you can afford, even with a DUI on your record. Your car insurance will be more expensive than it was in the past as you are now considered to be a high-risk driver, but you still have options.
If you are convicted of a DUI while driving in Florida, you probably have questions concerning your insurance. And the most basic question is simply this: Is it still possible to get insurance?
After being convicted of either a DUI or DWI in Florida, the only kind of car insurance you can get is FR-44 insurance. Strictly speaking, this is not a separate kind of insurance type. Instead, the FR-44 is a type of endorsement that is added to your insurance after you have been convicted, but it is often referred to as DUI Insurance. It is similar to an SR-22 certificate in other states.
This is usually enough to drive your insurance costs up quite a bit. While it is up to the state on how long you must have an FR-44 on file, you can usually count on a minimum of three years. And this needs to be at least three years of consistent coverage: If you have any lapses on your coverage, it effectively starts that three-year counter over again.
Another factor that adds to the cost is that once you have an FR-44, you typically need to pay for your insurance for at least six months at a time. And this can be a difficult transition if you are used to paying month to month.
Get an Affordable Florida Car Insurance Quote Online Today!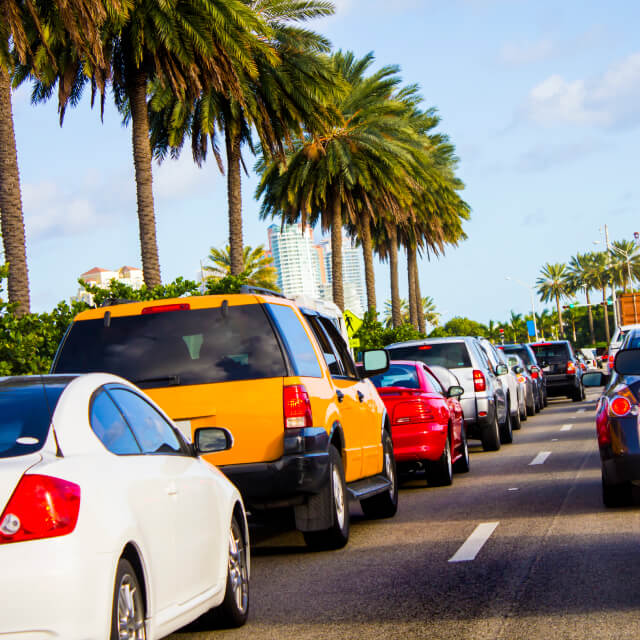 Buying car insurance will keep you in compliance with Florida state laws. More importantly, the right insurance plan can help you protect yourself every time you get behind the wheel. However, it can be difficult to find Florida car insurance that meets your needs without emptying your wallet. And if you're not careful, you might end up with insufficient coverage and run the risk of major repair bills and hospital bills.
The good news is that finding the right quote is really just a click or a call away. At Freeway Insurance, we are happy to help you get started with a fast and easy quote for car insurance online. You can also visit the nearest Florida office that is convenient to you. Or if you'd like to get the info you need while speaking to one of our professional representatives, all you have to do is call us at 800-777-5620 for a quote today!
Select a Product or Service to request a quote
Ready to Get a Quick Quote?