Car insurance is an essential consideration when owning a car in Cape Coral, a large and stunning city located between Tampa and Naples known for its abundant navigable waterways. From visiting the beach to playing golf or touring museums and studios, a reliable car is a must-have for residents and visitors. Owners must ensure that their car is fully covered with insurance to protect its value.
To ensure you get the right coverage, you need to be informed. We've compiled all the important tips for securing full coverage car insurance in Cape Coral that takes into account the value of your car.
Quick Facts
In 2019, there were 15 traffic-related fatalities in Cape Coral.
The average cost of car insurance for the city is $160.58.
How Much Is Car Insurance in Cape Coral?
Let's cut to the chase: how much will car insurance in Cape Coral cost you? The average cost of auto insurance for the city is $160.58. That is better than the average cost of car insurance for Florida, which is $187.97. But the cost of insurance in Cape Coral is more expensive than the national average cost of car insurance, which is $135.29.
As you can already tell, the average cost of car insurance can vary quite a bit across different cities and states. Below, we have a brief breakdown of average car insurance costs in different Florida cities:
| City Average | Monthly Rate |
| --- | --- |
| Fort Lauderdale | $224.34 |
| Jacksonville | $175.48 |
| Miami | $272.22 |
| Orlando | $202.57 |
| Tampa | $255.29 |
Cape Coral Car Insurance Rates by Zip Code
As our chart above proves, someone moving to different cities in Florida may end up paying very different amounts for their car insurance. Interestingly, though, the same thing may happen to someone simply moving from one part of Cape Coral to another!
That is because different home zip codes have different average car insurance rates. Below, we have a breakdown of average automobile insurance prices in various Cape Coral zip codes.
| Zip Code | Average Monthly Rate |
| --- | --- |
| 33904 | $146.90 |
| 33909 | $159.94 |
| 33910 | $215.61 |
| 33914 | $160.71 |
| 33990 | $170.46 |
| 33991 | $172.17 |
| 33993 | $156.46 |
Cape Coral Car Insurance Rates by Age
Because car insurance prices can vary by location, moving can influence your monthly premium either up or down. But one thing stays consistent no matter where you go: your age! Unfortunately young drivers usually pay a higher price, since they can be considered as high-risk drivers. 
No matter where you live, your age plays a role in how much you will pay for car insurance. Below, we have info about the average prices residents of Cape Coral pay based on their age:
| Age | Average Car Insurance Rate |
| --- | --- |
| Teenagers | $299.52 |
| 20s | $202.03 |
| 30s | $154.40 |
| 40s | $140.79 |
| 50s | $120.95 |
| 60s | $123.08 |
| 70s | $145.70 |
Driving Conditions in Cape Coral
How Many Fatal Accidents Happen in Cape Coral?
In 2019, there were 15 traffic-related fatalities in Cape Coral. Overall, 23 vehicles were involved in fatal collisions that year.
It's always important to consider life insurance services to alleviate financial expenses and be prepared in case the unthinkable happens.
How Are the Road Infrastructure and Bridges in Cape Coral?
For the most part, the infrastructure in Cape Coral is in good condition. The city regularly paves the roads to make for smoother travel. And the city's Utilities Extension Project is devoted to installing new water lines, sewer lines, and irrigation lines. Honestly, many residents' biggest infrastructure concern is the lack of affordable housing, but the actual roads are in excellent condition.
Get a Quote for Car Insurance in Florida Today!
Minimum Car Insurance Requirements in Cape Coral
We have been pretty consistent in our message to drivers: you should have more than the minimum required insurance coverage to protect yourself and your vehicle. However, you can't exceed the minimum coverage if you don't know what it is.
The state of Florida requires a minimum of liability insurance in the following amounts:
Factors Included in Cape Coral Car Insurance Rates
By now, you've probably figured out that many different factors influence how much you pay for car insurance. We've already mentioned location and age, but below, we have a breakdown of all the factors that may affect your bottom line:
Driving record
Credit score
Marital status
Age
Gender
Education
Some of these things may change over time. If that happens, it may be worth contacting your carrier and seeing if they can lower your premium. Otherwise, one of the best ways to get a better premium is to ask your carrier about special discounts.
Discounts for Car Insurance in Cape Coral
Insurance premium discounts are not mandated or regulated by the state. Instead, different insurance carriers are allowed to establish special discounts for drivers who meet certain conditions.
Here are some common discounts:
Because carriers set their own discounts, you will not know what your own carrier has to offer until you contact them and ask about it.
What Are the Penalties for Driving Without Insurance in Cape Coral?
In Florida, driving without insurance is a very big deal. And you may be wondering what will happen if you are caught driving without insurance.
When you are initially caught, you will have three days to obtain insurance and provide proof that you are sufficiently covered. If you cannot provide such proof, your license, plates, and registration will be suspended for three whole years. After you get properly insured, reinstatement will cost $150.
Should you commit a second violation within three years, you'll have the same penalties, but the reinstatement fee is now $250. Should you commit a third offense within three years, your reinstatement fee will now be $500. This is why a car insurance on time is always a good idea.
Get a Cape Coral Car Insurance Quote Today!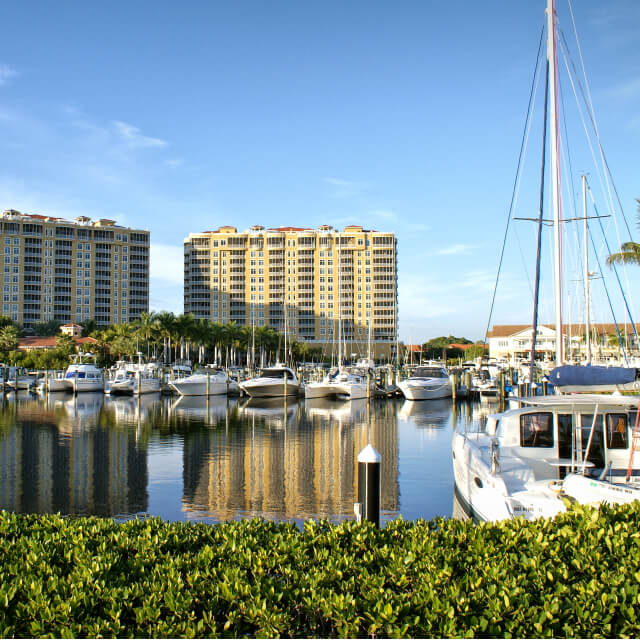 Cape Coral is one of the greatest planned communities in the state of Florida. But you and your family can't really enjoy living there until you have a "plan" to get an affordable auto insurance. You can find insurance companies offering different  options. But how to choose the insurance agency that meets your specific needs? 
The good news is that Freeway Insurance is here to help Cape Coral drivers get competitive automobile insurance quotes. Get started with a quote online, ask for our insurance policies, or visit us at an office near you. You can also call one of our agents at  the phone (800) 777-5620 for information, specific questions, or to get a free quote.