Protect Yourself with Affordable Snowmobile Insurance
While many see the winter months as a time to stay inside under a blanket, those who love snowmobiles see it as a time for adventure. There is nothing quite like getting out in the white wilderness and creating experiences you will never forget.
Those adventures could come to an end early if your vehicle gets damaged or you – or someone else – gets hurt. That's why it's important to get the protection you need for peace of mind.
At Freeway, we love to have adventures, too. Our agents are skilled at finding the right level of protection at a price you can afford.
How Does Snowmobile Coverage Work?
This works similarly to your automobile coverage. You can pick and choose from a variety of coverage plans and then decide how much you actually need. As with most policies, it works by providing you financial protection in return for a monthly premium.
For example, it's possible to get liability coverage to help pay for any damage you may cause while operating the "sled". Getting "only" this type of protection will result in the cheapest possible plan. However, this basic form of coverage offers little in the way of protection for you, your passengers, or your vehicle. And once you own instead of just getting a rental, that protection is very important.
Once you understand the different plans that are available, you can better determine how you wish to protect your investment.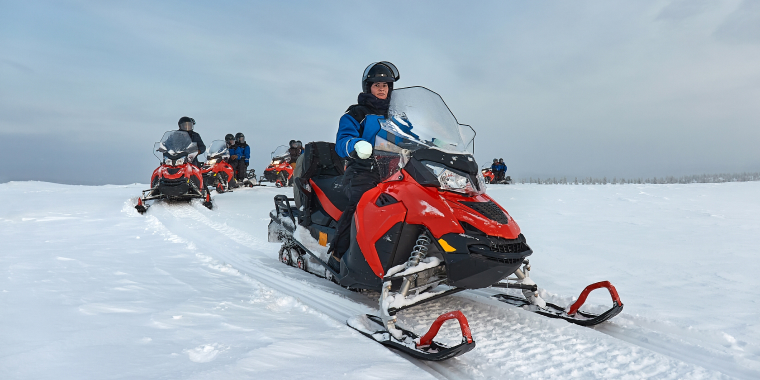 Are You Legally Required to Have Insurance?
It is mandatory in certain states and not in others, so it's important to check your state guidelines before selecting coverage. Additionally, if you purchased the vehicle with the financial assistance of a lender, the lender may insist that you get covered because they wish to protect the asset while you are still paying it off.
Even though you may not be legally required to get covered, we highly recommend it in order to protect yourself and your vehicle. At the end of the day, a snowmobile is a major investment, and getting it properly insured is the best way to protect that investment.
How Much Does Snowmobile Insurance Coverage Cost?
It may range from as low as $80 per year to $400 or even more. Exactly how much you will pay depends on the type of policy you take out.
At first glance, it may be tempting to get the cheapest possible plan in order to save money. However, getting only liability coverage means you are only insured against damage you cause to people or property. It won't pay anything to help you repair or replace your sled if you get into an accident.
In other words, going for the cheapest plan may end up being more expensive after an accident. It's best to understand the different kinds of policies and find the best balance between saving money on your premium and properly covering the vehicle itself.
What Is Covered?
You can get liability, collision, comprehensive, and accessory coverage. You can also get medical payments and uninsured/underinsured motorist coverage, as well as roadside assistance.
As we detailed above, liability helps pay for property damage and bodily injury you cause while operating the sled. For example, if you crash into someone else's property, this plan helps pay for the damages. It also helps pay for the medical bills of anyone you accidentally hurt.
Collision pays for damage to your vehicle if you collide with another driver and this pays out regardless of who was at fault for the accident. So even if you cause an accident with another driver, you'll have a way to repair or even replace your snowmobile.
Comprehensive protects your vehicle when you aren't behind the wheel. This type of coverage is perfect if you are worried about your property getting stolen, vandalized, or even destroyed when you aren't using it.
Uninsured/underinsured motorist policies provide enhanced protection in the event of a collision caused by another driver who does not have a policy – or not enough. If they cause an accident and don't have enough liability coverage to cover your damages, or perhaps no coverage at all, this will help pay for the rest of the damage.
Medical payments coverage provides additional help paying for medical bills. This applies to you and any passengers.
At Freeway, we can help you navigate through the choices and decide what's best for you. We'll save you time, as well, by researching all available options, so you can pick the one that's the best fit.
How Much Snowboarding Insurance Should You Take Out?
How much protection you need depends on how old your vehicle is and your preferences. For example, those with older models may opt for only liability coverage because, quite frankly, they may wish to go ahead and replace it entirely if it gets damaged in an accident.
Those with newer models should definitely consider collision and comprehensive coverage. This helps you pay for damage to a newer vehicle that would otherwise be expensive to pay out-of-pocket.
If you frequently take passengers riding with you, you should get medical payments coverage. Finally, if you use your vehicle in a crowded area, it may be worth getting uninsured/underinsured motorist coverage.
Are There Any Discounts?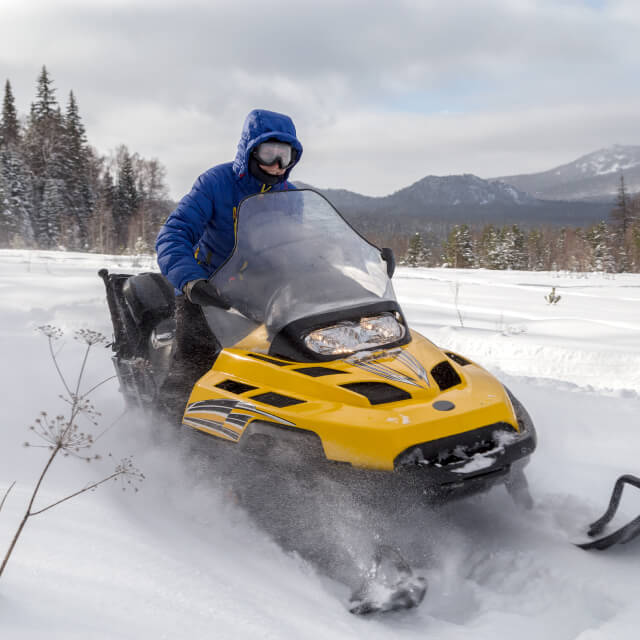 It's possible to get discounts on your policy in several ways.
You may qualify for a discount if you complete a safety course. In addition, you can get a discount if you are willing to install anti-theft devices. Finally, you can save money if you insure multiple vehicles or bundle multiple policies together.
Top Safety Tips for Snowmobile Fun
Playing in the snow is always fun and riding your snowmobile in the white, fluffy stuff is exciting and exhilarating. But it is considered a risky sport, so be sure and take a few precautions to make the experience fun – and safe.
Take a course – Everyone can benefit from some expert instruction in the proper way to maneuver through the snow. It's especially critical for young operators.
Keep an eye on conditions – Winter conditions can change quickly. Always check the forecast, as well as information about your planned routes, in advance.
Dress appropriately – Wear cold weather gear, including a snow suit or insulated coveralls. Use a DOT-approved helmet and wear googles to protect your eyes. Protect your hands and feet from frostbite with winter boots and gloves.
Have a first-aid kit – As part of your equipment, make sure you can handle emergencies.
Supervise young operators – Anyone under the age of 16 should be supervised at all times while operating any equipment.
Stay sober – Don't operate your equipment under the influence of alcohol or drugs. Keep in mind that, contrary to how it makes you feel, alcohol actually contributes to hypothermia.
Take a buddy – Having a friend along for the fun can be a lifesaver if you run into trouble.
Let someone know where you will be – Always stay on the trail and let people know your planned route.
Get a Quote for Cheap Snowmobile Insurance Today
Now that you are ready to celebrate winter by jumping on the snowmobile for some fun, make sure you have the protection you need first. Get a free online quote, give us a call at 800-777-5620 or stop by one of our convenient locations.