One of the smallest states in the country, New Jersey does not fall short on rich cultural and entertainment opportunities. Its claim to fame is the Atlantic Coast, home to Atlantic City, with its famous four-mile-long Boardwalk and countless casinos dotting the coastline. For a quieter time, take a trip to the southernmost tip of the state and visit Cape May, a bustling resort town that is home to the Cape May Point Lighthouse and the antique Emlen Physick Estate.
For something close to New York, another option is Liberty State Park, with views of Upper New York Bay, Liberty Island, and the Statue of Liberty. More than 1,200 acres of trails, tidal salt marshes, and nature preserves also exist within this ecosystem. It is also one of the best-preserved environments in the state, with plenty of picnic and sports opportunities.
Drivers are required to have car insurance in New Jersey. Read on to learn more about the rules for driving in New Jersey.
Quick Facts
There were 549 fatal crashes in New Jersey in 2020 that resulted in 587 deaths.
New Jersey is a no-fault state, meaning your own insurance provider covers the cost of your medical bills and other income-related losses regardless of who is at fault.
How Much Is Car Insurance in New Jersey?
The average cost of full coverage car insurance in New Jersey is $1,757 per year, which is slightly higher than the U.S. national average of $1,674. The average cost of state-required minimum liability car insurance is $847 annually. Your age, gender, driving history, claims record, and more than a dozen other qualifiers help determine the price of premiums you pay.
Finding the cheapest car insurance in New Jersey isn't hard. Be sure and find several insurance quotes to compare when shopping for auto insurance.
Even a single claim on your record can skyrocket your premiums by over 100%, which can stick for the next three to five years. Be sure to practice safe driving habits and make no claims to remain in an insurer's good graces.
What Is the Average Premium for Cheap Full Coverage Car Insurance in New Jersey?
New Jersey drivers pay an average monthly rate of $146 a month for full coverage car insurance. Full coverage insurance is a combination of liability car insurance, comprehensive insurance and collision coverage. Comprehensive liability covers non-collision-related events, such as theft, hail, vandalism, and fallen objects on your vehicle. Collision liability pays for your vehicle and other affected vehicle damage if you get into a wreck, even if you are at fault.
Most lenders will require you to carry full coverage until your vehicle is paid for to protect their interest.
How Much Is It for Cheap Liability Insurance or the Minimum Required Car Insurance in New Jersey?
The state-required minimum or liability car insurance in New Jersey is roughly $71 a month. This is the cheapest car insurance in New Jersey.
For greater peace of mind, we highly recommend seeking more than the minimum required car insurance. A single accident can set you back several years, resulting in absurdly high out-of-pocket costs and endless headaches.
How Do Rates Compare Across Major Cities in New Jersey?
New Jersey rates vary from city to city. For example, the city of Burlington sees an average monthly rate of $150 for full coverage versus the city of Orange, which sees an average monthly rate nearly double that ($247). Here are some other New Jersey cities and their average monthly insurance costs.
| City | Full Coverage Insurance | Liability Insurance Coverage |
| --- | --- | --- |
| Newark | $254 | $107 |
| Paterson | $244 | $108 |
| Elizabeth | $242 | $105 |
| Trenton | $207 | $93 |
Rates in different cities are variable based on factors such as population and incident numbers. Those who live in rural areas will likely pay less than those who live in a congested city – the possibility of an accident (and a claim) diminishes if you don't meet a lot of other people out driving.
Unless otherwise specified, we use the following methodology to arrive at our average cost: male, age 30, lowest possible legal coverage allowed by state. Your rates will be determined by several factors, including your age, your gender and the amount of coverage you want to purchase.
Are There Good Driver Discounts in New Jersey?
Many car insurance discounts are available to New Jersey residents. They usually fall into four categories: defensive driving, accident-free, safe driver, and low mileage discounts.
Defensive driving discounts reward drivers who attend classes to be a better driver. Accident-free (also referred to as good driver discounts) drivers may be rewarded if their record is accident-free anywhere from three to five years. Low mileage discounts cover drivers with lower-than-average annual mileage rates, with discounts kicking in for drivers driving 7,500 or fewer miles a year.
Other discounts exist for:
Members of select professional organizations
Be sure to consult with your insurance company regularly to see if you qualify for any discounts. One phone call could mean the difference between an unmanageable monthly expense and a walk in the park.
Getting a Free Auto Insurance quote with Freeway is easy!
New Jersey Car Insurance Laws
New Jersey car insurance laws require that all drivers carry the state-required minimum insurance limits. Any lapse in insurance will force insurance companies to pass that information to the state, which may impose fees and penalties.
New Jersey offers two options that meet the state-required minimum, standard and basic, to its residents. Most people choose the standard option since it offers more protection at just a little more cost.
What Are the Mandatory Car Insurance Requirements in New Jersey?
Here are the state minimum liability coverage requirements for New Jersey under the basic and standard options.
Basic:
Standard:
Bodily injury liability insurance per person/accident: $15,000/$30,000
Property damage liability insurance per accident: $5,000
Personal injury protection per person or accident: $15,000
New Jersey is a no-fault insurance state, meaning auto insurance carriers for each affected party are responsible for paying damages up to coverage limits, regardless of who is at fault. This is in stark contrast to at-fault states, where the driver determined to be at fault is expected to pay for the other driver's damages.
We highly recommend liability coverage well above state minimums for greater peace of mind. State minimums may not be enough to pay for all damages incurred in a severe accident.
What Factors Does New Jersey Law Allow in Determining Your Premiums?
New Jersey sets insurance rates for companies, but the law allows insurance companies to determine the amount of premiums you pay based on several factors. Some of the most important factors include your age, gender, zip code of residence, and claims record.
Other factors determining how much a person pays for auto insurance include enrollment in defensive driving courses, paperless billing/auto-pay, credit score, marital status, and the make and model of the vehicle you drive.
Note, premiums are also affected by coverage. To qualify for lower premiums, opt for state minimums or higher deductibles and higher coverage limits.
Luckily, there are many ways drivers can qualify for lower auto insurance premiums including:
Maintaining a clean driving record
Opting for higher deductibles
Lower coverage limits while meeting minimum state liability requirements
What Is the Penalty for Driving Without Insurance in New Jersey?
Penalties for driving without insurance in New Jersey are very high, even for first-time offenders. First-time offenders can expect a suspended license (up to one year) and a fine of at least $300. Subsequent offenders face higher fines not exceeding $5,000, as well as a mandatory jail term of 14 days. In addition, the New Jersey Motor Vehicle Commission requires paying a surcharge of $750, split into three annual payments.
With regards to points, a first offense does not add points to your record. However, a second offense can add nine points, skyrocketing your insurance premiums.
Note, all police officers can tell if your vehicle is not insured by running your license plate number during a traffic stop.
Am I Required to Report an Accident in New Jersey to Authorities?
It depends. New Jersey requires all drivers to report car accidents based on certain conditions. These conditions include any accident resulting in injury/death and damages over $500. Written accident reports must be filed at the nearest police station within 10 days following the accident.
To corroborate your case, be sure to take in all possible evidence, including photos and videos. Failing to report an accident can result in a suspended license, vehicle registration, fines, and court costs.
How Many Car Accidents Happen in New Jersey?
According to the New Jersey Department of Transportation, there were 549 fatal crashes in 2020, which resulted in 587 deaths. Of the fatalities, 29.1 had consumed alcohol.
This represents a modest increase over 2019, which saw 524 fatal crashes and 558 fatalities.
For more information on NJSP fatal accident statistics, visit NJSP Fatal Accident Statistics.
How Many Uninsured/Underinsured Motorists Are in New Jersey?
Although there are no official records as to the exact number of uninsured and underinsured motorists in New Jersey, the Insurance Information Institute estimates that New Jersey has the lowest percentage of uninsured drivers in the nation (2019) at only 3.1%. Compared to the highest percentage state for uninsured drivers (Mississippi at close to 30% and Michigan at 26%), 3.1% is an exceptional figure.
Note, any drivers who are caught driving without insurance are subject to stiff penalties, including revocation of driver's licenses and registration, steep fines, and plenty of headaches facing administrative work and court costs.
Find an office near you to help with your auto insurance
FAQs about New Jersey Car Insurance
I Am a Low-Income Driver. What Can I Do About Getting the Cheapest Car Insurance in New Jersey?
Low-income drivers can choose to purchase the basic plan. One way to reduce premiums is to seek the state's minimum insurance requirements, drive an older vehicle, and take advantage of discounts. These discounts include loyalty discounts (remaining in good standing for three to five years), defensive driving discounts, installation of anti-lock brakes and anti-theft devices, and administrative-related discounts (enrollment in paperless billing and autopay).
If you are a low-income driver, we highly recommend finding out what discounts you may qualify for by calling your insurance company every six months to a year. A quick phone call may shave $50 off your monthly rate.
Can an Undocumented Worker Get Cheap Car Insurance in New Jersey?
New Jersey undocumented workers cannot apply for a driver's license. No driving privileges are available for undocumented workers. However, in recent years many state legislatures have advocated for driving privileges laws to extend to undocumented immigrants.
For example, since 2010, the District of Columbia and 16 states passed into law driving privilege licenses and IDs for undocumented workers.
Is It Possible to Get Car Low-Cost Car Insurance in New Jersey With a DUI Mark on My Record?
Yes, you can, although it may not be as cheap as you paid in the past. New Jersey has one of the stiffest attitudes toward drivers with a DUI on record in the nation. Although New Jersey drivers can obtain DUI car insurance, it operates under a 10-year "step-down " provision, where any second DUI offense is treated as if it were the first offense if more than 10 years have passed between the first and second offenses.
First-time DUI offenders can expect revocation of driver's license for three months, fines up to $400, fees up to $504, and jail time of up to 30 days, depending on severity. Second and third offenses within 10 years of the first offense can increase penalties (e.g., higher fines/fees, revocation of driver's license for two years, and jail time up to 90 days).
In addition, New Jersey drivers with a DUI on record may be required to attend alcohol education programs.
Get an Affordable Car Insurance Quote Online in New Jersey Today!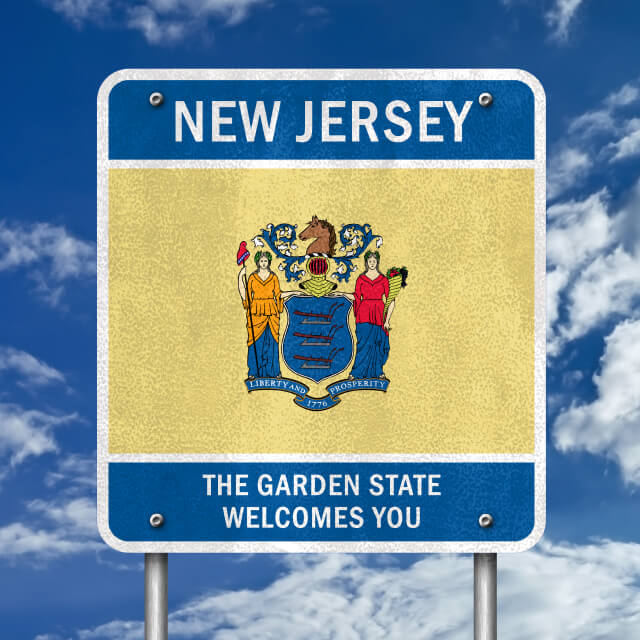 Affordable car insurance in New Jersey is very possible through Freeway Insurance. Let us help you find the appropriate coverage for you and your family.
Whether abiding by state minimums or purchasing higher comprehensive, collision, and property damage limits, Freeway Insurance can work with you to evaluate your needs and pair you up with any applicable discounts.
You can easily get a free no-obligation car insurance quote online, visit us at a New Jersey office near you, or call 800-777-5620 to speak to one of our friendly agents.
Auto Insurance Info by City