One of the most popular tourist destinations on the east coast, Atlantic City combines beautiful beaches with exciting, casino-centric nightlife. Atlantic City is more than just a tourist destination however, as it is home to more than 40,000 full-time residents. As with any location, it's important to consider various factors such as auto insurance rates.
Walking on the boardwalk might be the preferred method of transportation in Atlantic City, but there are plenty of motor vehicles as well. Atlantic City drivers are required to carry liability car insurance to protect them financially should they cause an accident. Looking for the best and most affordable car insurance* package for your family is recommended as you navigate the streets.
Quick Facts
The average cost of car insurance in Atlantic City is $90 per month
There were four traffic-related fatalities in Atlantic City in 2019
*We use the following methodology to arrive at our average cost: male, age 30, lowest possible legal coverage allowed by state. Your rates will be determined by several factors, including your age, your gender and the amount of coverage you want to purchase.
How Much is Car Insurance in Atlantic City?
On average, car insurance in Atlantic City is $90 per month. This rate is higher than a number of New Jersey cities, however. While the average cost of New Jersey car insurance is important information, your rate will be determined by a set of specific factors.
| City | Average Monthly Premium |
| --- | --- |
| Atlantic City | $90 |
| Brigantine | $84 |
| Longport | $85 |
| Northfield | $85 |
The cost of car insurance in Atlantic City is impacted by several factors. In addition to your driving record, your rate is based on things like your age and the type of car you drive.
No matter the cost of your car insurance, having the right coverage is important. If you are involved in an accident, your full coverage insurance could protect you from claims filed by other drivers.
Atlantic City Car Insurance Rates by Zip Code
The zip code that you live in could increase or decrease your insurance rates. There is research that shows that drivers living in zip codes with a high number of accidents are more likely to be involved in a collision.
There are four zip codes that cover parts of Atlantic City, N.J. Each of these zip codes could have different car insurance rates.
| Zip Code | Average Monthly Car Insurance Rate |
| --- | --- |
| 08401 | $98 |
| 08402 | $85 |
| 08403 | $85 |
| 08404 | $98 |
Atlantic City Car Insurance Rates by Age
Age is another important factor when it comes to determining the cost of liability insurance. Teenage drivers tend to pay more, with their rates eventually dropping as they get older.
| Age | Average Monthly Car Insurance Rate |
| --- | --- |
| Teens | $357 |
| 20 Years | $175 |
| 30 Years | $98 |
| 40 Years | $97 |
| 50 Years | $96 |
| 60 Years | $94 |
| 70 Years | $80 |
Driving Conditions in Atlantic City
How Many Fatal Accidents Happen in Atlantic City?
In 2019, there were a total of four fatal accidents in Atlantic City, New Jersey. One of those accidents involved an intoxicated driver. In total, there were 10 individuals and four vehicles involved in these fatal crashes.
How are Road Infrastructure and Bridges in Atlantic City?
Road construction is a constant factor in Atlantic City. The city is aggressively pursuing infrastructure updates to popular roadways like Pacific Avenue and the Venice Park Bridge.
In New Jersey, the story of infrastructure has not been a positive one. The state has received a grade of D+ on the infrastructure report card. The report found one out of every 11 bridges in New Jersey to be structurally deficient.
Minimum Car Insurance Requirements in Atlantic City
New Jersey is a "no-fault" insurance state, meaning that drivers must first rely on their own car insurance in many cases before they can seek monetary compensation from the other driver. Because of this approach, drivers must maintain both personal injury protection as well as liability insurance. New Jersey offers two choices for required auto insurance minimum. You can choose from the Basic package, which mandates you carry:
$5,000 in property damage per incident
$15,000 in personal injury protection (PIP)
You may also choose the Standard policy, which includes:
$15,000 in bodily injury liability coverage per person (max allowed for a single person's in juries)
$30,000 in bodily injury liability coverage per accident (max allowed for injuries to multiple people)
$5,000 in property damage liability coverage per accident
Most people choose the Standard policy because it offers more protection.
As always, you are free to add more protection into any insurance policy you purchase.
Get a Quote for Car Insurance in New Jersey Today!
Factors Allowed in Atlantic City Car Insurance Rates
Car insurance companies can use a variety of factors when setting your premium rates. While the most common factor is your driving history, there are other important things to consider that could raise or lower your premiums. Some examples include:
Age
Gender
Marital status
Zip code
Credit score
Level of education
Job title
Discounts for Car Insurance in Atlantic City
Discounts are an important part of keeping the price of car insurance down. While keeping a clean driving record is the best way to save money on car insurance in Atlantic City, getting a price break for driving behavior, safety devices and bundling policies are other ways to keep costs down. Some of the most popular decreases include:
Military discount

Good student discount

Paperless billing discount

Anti-theft discount

Good driver discount
Talk to your Freeway agent to learn about discounts you might qualify for.
What are the Penalties for Driving Without Insurance in Atlantic City?
There are serious consequences that can come with driving in Atlantic City without insurance coverage. Having a history of convictions for driving without a license may seriously impact your ability to operate a vehicle.
For first time offenders, the fine for a conviction is between $300 and $1,000. There are also DMV surcharges and community services requirements in addition to the suspension of driving privileges.
Second and subsequent offenses carry steeper penalties. A conviction could lead to up to 14 days in jail, 30 days of community service, and a two-year license suspension. All offenders could be required to carry SR-22 insurance as well.
Get an Atlantic City Car Insurance Quote Today!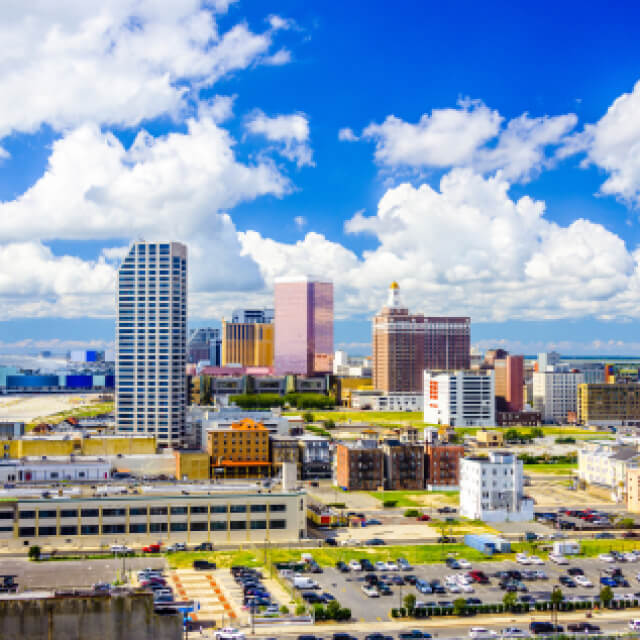 If you are on the hunt for cheap car insurance in Atlantic City, Freeway Insurance is here to help. PIP and liability coverage are not just required by law, but they also are in your best interest every time you get behind the wheel. The appropriate level of insurance coverage could protect you from financial hardship after an accident.
Let Freeway Insurance help you find the best coverage for the cheapest price in Atlantic City, New Jersey. Get started with a quote online or visit an office near you. You can also call us at (800) 777-5620 to get started.