Oklahoma is one of the most beautiful states in the nation. It is part sprawling plains and part natural wonder, boasting some of the nation's most picturesque lakes, long prairie stretches, and nationally renowned preserves, such as the Tallgrass Prairie Preserve and its large buffalo population.
Another reason to visit Oklahoma is Route 66, a 400-mile stretch that pays tribute to the old west with popular attractions such as the Old Round Barn and the Catoosa Blue Whale. Known as "America's Highway," it offers some of America's most rustic and wistful scenery.
Keep reading to learn more about car insurance in Oklahoma, including the average monthly premiums paid, mandatory car insurance requirements, percentage of uninsured motorists, and much more.
Quick Facts
Oklahoma's nickname is the "Sooner State"
There are more than 2.6 million licensed drivers in Oklahoma (2020)
The counties with the highest crash rates (2020) were Oklahoma and Tulsa counties
In 2020, there were an average of 169 daily crashes and 1.8 fatalities
How Much Is Car Insurance in Oklahoma?
The average monthly cost of full coverage car insurance in Oklahoma is $156. It is higher than the national average at $138. The average monthly cost for the basic state-required minimum liability car insurance is $35, which is slightly lower than the national average at $40.
Car insurance rates vary considerably depending on your zip code and other factors. There are numerous reasons for the disparity, including population density, number of theft-related claims, and demographics. Do not be surprised if urban residents pay significantly higher average premiums than rural residents.
What Is the Average Premium in Oklahoma for Full Coverage Car Insurance?
The average annual premium for full coverage car insurance premium in Oklahoma is $1,873. This coverage consists of comprehensive, collision and liability car insurance.
Collision coverage protects against accident-related damages and comprehensive coverage protects against things outside of your control, such as theft, vandalism, and weather-related incidents.
Expect premium rates to vary depending on several factors, including the amount of liability coverage, deductible amount, and add-ons such as uninsured/underinsured motorist coverage, personal injury protection, and rental car reimbursement if your vehicle gets sent to the shop after an accident. In some states, some of these coverages are mandatory and some are considered optional car insurance.
Note that lower deductibles and higher liability limits result in higher premiums. If you have a less-than-stellar driving history, expect your rates to be higher, versus lower rates for drivers with no reported claims for the last three years.
How Much Is It for Liability Insurance or the Minimum Required Car Insurance in Oklahoma?
The average minimum cost of car insurance in Oklahoma is $423 annually. It is a great deal compared to the national average of $480. For that price, drivers on average will get the state-required minimum liability of $25,000 per person, $50,000 per accident, and $25,000 for property damage (25/50/25).
Keep in mind not everyone pays the same rate for minimum insurance. Premiums vary depending on one's age, gender, zip code, driving record, and dozens of other factors down to your marital status and credit score.
Generally, we do not recommend opting for the minimum required insurance. Damages in an accident can easily exceed your liability limits, resulting in out-of-pocket costs and a blow to your finances.
Additionally, do not forget to apply for uninsured driver insurance. A good percentage of Oklahoma drivers do not carry auto insurance, so this type of policy will provide additional protection if you encounter an uninsured at-fault. In our opinion, a few extra dollars per month is worth the peace of mind.
Without an active insurance policy, expect fines, reinstatement fees, a suspended driver's license/registration, and the possibility of a lawsuit from opposing drivers.
How Do Rates Compare Across Major Cities in Oklahoma?
Expect to pay different rates when moving from city to city in Oklahoma, since premiums are calculated based on factors such as collective claim rates in different parts of the state.
See our breakdown below for the monthly average premium drivers in four major cities in Oklahoma pay:
| City | Full Coverage Insurance | Liability Insurance Coverage |
| --- | --- | --- |
| Oklahoma City | $174 | $49 |
| Tulsa | $179 | $48 |
| Norman | $156 | $42 |
| Shawnee | $157 | $38 |
Unless otherwise specified, we use the following methodology to arrive at our average cost: male, age 30, lowest possible legal coverage allowed by state. Your rates will be determined by several factors, including your age, your gender and the amount of coverage you want to purchase.
Are There Good Driver Discounts in Oklahoma?
Yes, there are many good driver discounts available to you. You can be rewarded on everything from installing anti-lock brakes to maintaining a clean driving record with no claims history for the last three years.
On top of safe driving discounts, you can also bundle insurance (combining auto and homeowners insurance), enroll in auto safety courses, and switch to an older make and model vehicle that is cheaper to insure.
Getting a Free Auto Insurance quote with Freeway is easy!
Oklahoma Car Insurance Laws
To legally drive in Oklahoma, you must have auto insurance. Even a single lapsed day of coverage can cause your insurance company to report it to the state, which may impose fines and suspensions in return.
What Are the Mandatory Car Insurance Requirements in Oklahoma?
When driving in Oklahoma, you must carry the following minimums:
Bodily injury liability coverage: $25,000 per person/ $50,000 per accident
Property damage liability coverage: $25,000
At a minimum, all Oklahoma car insurance policies include liability auto insurance, which goes towards the medical bills and the cost of repairs to property, including automobiles and buildings. Since Oklahoma is an at-fault state, your liability coverage pays for injuries and damages resulting from an accident you cause.
In many accidents, the minimum liability requirements are not enough to cover the bills resulting from an accident, leaving you with out-of-pocket costs. This is why you should explore adding additional coverages, such as collision car insurance and comprehensive car insurance. At the least, you should consider raising the limits of your liability coverage. The higher your coverage, the less likely you will experience severe out-of-pocket costs paying for damages on your own.
What Factors Does Oklahoma Law Allow in Determining Your Premiums?
When determining the cost of auto insurance, insurance providers consider many factors. Some of the more critical ones include:
Age
Gender
Driving record
Claims history
Zip code
Marital status
Make/model of vehicle
Credit score
Outside of the above factors, insurance companies also factor in the type of coverage and the amount of your limits and deductibles. Limits pertain to the maximum amount your policy will cover towards a loss, whereas the deductible is what you pay for a covered loss before insurance pays the rest.
What Is the Penalty for Driving Without Insurance in Oklahoma?
Driving without insurance in Oklahoma is not a good idea. For starters, it is classified as a misdemeanor, with first offenders paying a fine up to $250. On top of penalties, expect your license and registration to be suspended for one year or until you provide proof of insurance.
Other reinstatement requirements include a $275 reinstatement fee, a $125 administrative fee, and a $175 modified driver's license fee.
If you are involved in an accident when you're caught driving without insurance, you may also serve a 30-day jail sentence and be held liable for all accident-related costs.
Unlike many states, Oklahoma does not require filing an SR-22 certificate.
Am I Required to Report an Accident in Oklahoma to Authorities?
Yes, you must file an accident report with the Department of Safety if there is an injury/death or more than $300 worth of damages to property. Accident reports are filed through the State Highway Patrol office, sheriff's office, or local police department. You must also remain at the accident scene until a law enforcement officer arrives and takes details.
When filing a report on your own with the Department of Public Safety, you will be asked for a lot of information, such as personal and insurance information of all affected parties. If another driver in an accident does not cooperate in collecting this information, do not hesitate to get the police involved. Also, filing a car crash report in Oklahoma may be subject to new rules and regulations every now and then. If you have any doubts, be sure to refer to the Oklahoma Department of Public Safety for the latest word. You may also contact a traffic attorney.
Do not forget that you must be insured with at least the state minimum required coverage to avoid fines, penalties, and a suspended driver's license and registration.
Find an office near you to help with your auto insurance
What Is Driving Like in Oklahoma?
How Many Car Accidents Happen in Oklahoma?
According to the Oklahoma Highway Safety Office, there were 61,739 total crashes in the state (2020). Of these accidents, there were 602 fatalities. The majority of these, 134, occurred on city streets and 324 involved one vehicle.
See our breakdown below for the number of fatalities for some of the counties in 2020.
| County | Fatal Car Accidents in 2020 |
| --- | --- |
| Oklahoma | 73 |
| Tulsa | 75 |
| Cleveland | 26 |
| Comanche | 14 |
How Many Uninsured/Underinsured Motorists Are in Oklahoma?
No official data exists on the number of uninsured and underinsured motorists in Oklahoma. However, the Insurance Information Institute estimates 13.4 percent of motorists are uninsured (2019). This estimate is calculated based on the ratio of uninsured motorist claims versus bodily injury claims.
Oklahoma's 13.4 percent places it 18th in the nation. For perspective, Mississippi ranks last in the country in the percentage of uninsured motorists (29.4 percent), whereas New Jersey ranks first at 3.1 percent.
FAQs About Oklahoma Car Insurance
I Am a Low-Income Driver. What Can I Do About Getting Car Insurance in Oklahoma?
Low-income Oklahoma drivers can enjoy the state minimum required coverage or higher liability limits depending on their age, gender, zip code, and driving record.
Low-income drivers can also take advantage of discounts to save on car insurance, including military discounts, paperless billing discounts, and automated billing discounts. Another popular method is driving an older vehicle and bundling, which combines your auto and homeowners policies into a single plan.
Another important note to make is that not all discounts are related to your driving record. You can also earn discounts based on how you manage your policy. Automatic payment discounts deduct your premium from your bank account each month, ensuring no late fees (assuming you have enough funds in your bank account). Another popular "administrative" style discount is paid-in-full discounts, which earns drivers discounts for paying a policy upfront. These typically cover six months to a year.
Do not forget paperless billing. Switching to electronic statements and foregoing a monthly paper bill could give you a small discount.
Be sure to explore all of your discount options with your insurance provider. Life circumstances change all of the time, which calls for lower rates.
Can an Undocumented Worker Get Car Insurance in Oklahoma?
Is It Possible to Get Car Insurance in Oklahoma with a DUI Mark on my Record?
Although DUIs increase the cost of annual auto insurance premiums by several hundred dollars, they should not prohibit you from finding a policy meeting the state-required minimums. Be sure to shop around and compare providers. It is not uncommon for a single provider to offer annual rates up to 50% lower than that of another provider.
Remember, anyone caught with a blood alcohol concentration of 0.08% or higher (0.04% or higher for commercial drivers) will see several penalties, including a $25 license reinstatement fee, up to $1,000 in fines, six-month license suspension, and anywhere from 10 days to one year in jail, depending on the offense.
Get a Low Cost Oklahoma Car Insurance Quote Online Today!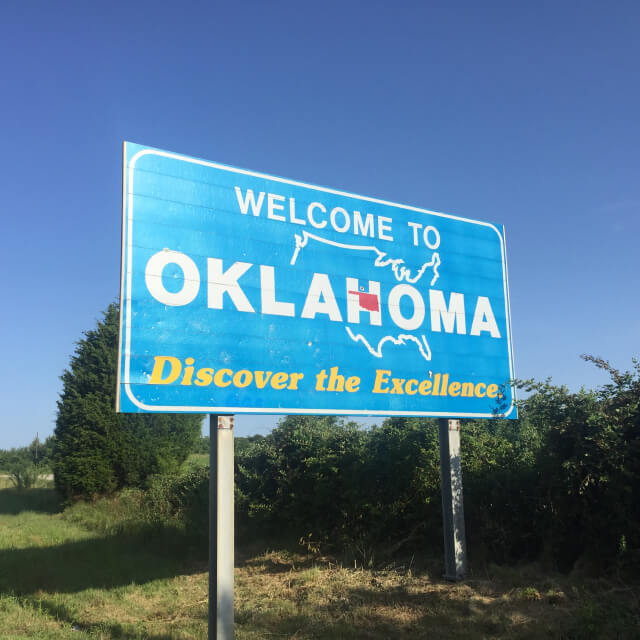 In Oklahoma, not carrying auto insurance will result in hefty fines and penalties.
Freeway Insurance is ready to help all Oklahoma drivers find the right coverage for their needs. To get started, request a fast and free car insurance quote online, locate an Oklahoma office near you, or call us at 800-777-5620 for a free, no-obligation quote.
Auto Insurance Info by City
Select a Product or Service to request a quote
Ready to Get a Quick Quote?