North Dakota offers some of the most breathtaking sights in the country. From lush woodland settings to never-ending roads, it is home to popular places such as the 32-mile Enchanted Highway with rich, giant sculptures, the Theodore Roosevelt National Park, the Scandinavia Heritage Association, and historic Medora with its Old West roots and Cowboy Hall of Fame. Do not forget the Fort Totten Sioux Indian Reservation, one of the country's most prominent 19th-century military forts.
Keep reading to learn about car insurance in North Dakota, including average rates paid in its largest cities, average costs for state minimums and full coverage, and ways low-income drivers can save on their next auto insurance bill.
Quick Facts
Dakota means "friend" in the Sioux language.
North Dakota is the

least-visited

state in the country.
The most dangerous road in North Dakota is the mostly

two-lane

U.S. Highway 85, a north-south artery dubbed "Oil Patch Highway." Accidents and fatalities are common on this road that is heavily traveled by oil and gas equipment trucks.
In 2021, there were 85 fatal crashes in North Dakota, with 101 people killed.
How Much Is Car Insurance in North Dakota?
The average monthly cost of full coverage car insurance in North Dakota is $1,264 per year, an outstanding deal compared to the national average of $1,674. The state-required minimum liability auto insurance is similarly cheap at $285 per year, compared to the national average of $565.
Insurers use many factors to calculate premiums, including your age, gender, driving record, and other assorted items, such as car insurance discounts. Rates also vary between cities and rural areas. Since rural areas tend to see fewer auto insurance claims from wrecks and crime, rates there are often the cheapest car insurance in North Dakota.
What Is the Average Premium in North Dakota for Cheap Full Coverage Car Insurance?
The average annual full coverage car insurance cost in North Dakota is $105 per month.
This insurance consists of liability, plus comprehensive car insurance and collision auto insurance.
We highly recommend seeking collision and comprehensive insurance, which offers added protection against vehicle-to-vehicle collisions and damage due to a non-accident incident, respectively.
Outside of collision and comprehensive insurance, you may also decide to go for other types of car insurance that offer more protection, including guaranteed asset protection (GAP) insurance (good if your newer vehicle gets stolen), roadside assistance, and other optional car insurance coverages that offer greater peace of mind.
How Much Is It for Cheap Liability Insurance or the Minimum Required Car Insurance in North Dakota?
The cost for the minimum required car insurance in North Dakota is a paltry $24 per month, which pays for a minimum of $25,000 per person (bodily injury/death liability insurance), a minimum of $25,000 per accident (bodily injury/death liability insurance), and $25,000 in property damage liability insurance.
Note: The minimum required liability car insurance rates vary between people and cities. Cities with a larger population typically pay higher premiums than sparsely populated cities. Another key factor in determining auto insurance premiums is age, with younger drivers paying more on average than older drivers due to a higher risk profile.
How Do Rates Compare Across Major Cities in North Dakota?
Different cities in North Dakota pay different rates. Each city offers a risk profile to the insurer, more or less depending on the number of claims, moving violations, and demographic composition of the area.
Check out the table below to see what drivers in five North Dakota cities pay in a monthly average of car insurance.
| City | Full Coverage Insurance | Liability Insurance Coverage |
| --- | --- | --- |
| West Fargo | $113 | $39 |
| Grand Forks | $114 | $39 |
| Fargo | $113 | $39 |
| Minot | $132 | $39 |
| Bismarck | $127 | $38 |
Unless otherwise specified, we use the following methodology to arrive at our average cost: male, age 30, lowest possible legal coverage allowed by state. Your rates will be determined by several factors, including your age, your gender and the amount of coverage you want to purchase.
Getting a Free Auto Insurance quote with Freeway is easy!
Are There Good Driver Discounts in North Dakota?
North Dakota drivers can take advantage of good driver discounts, saving hundreds of dollars a year.
All car insurers designate accounts in good standing as claims-free, traffic violation, and infraction-free for the past three to five years. But, of course, the number of years depends on the insurer, as each operates proprietary risk management systems that classify risk for every insured person.
With most insurance companies, drivers can expect to be rewarded with car insurance discounts, such as:
Driving older and make model vehicles are also a good bet to save a little every month since they are generally cheaper to repair than newer models.
North Dakota Car Insurance Laws
North Dakota is a large state by area, but a small state by population. Even though North Dakota is in place 47 for population out of 50, all drivers must carry an active car insurance policy to drive legally.
What Are the Mandatory Car Insurance Requirements in North Dakota?
North Dakota is a no-fault state. What that means for its drivers is more legally-required car insurance protection than most at-fault states. Here are North Dakota's state minimum requirements:
Drivers in no-fault states turn to their own insurance company for repairs and medical costs, regardless of who caused the accident.
What Is the Penalty for Driving Without Insurance in North Dakota?
Driving without insurance in North Dakota is considered a class B misdemeanor, punishable by fines up to $5000, suspended driver's license /registration, and the possibility of jail time. You will also need to apply for SR-22 Insurance, which guarantees you meet the states' minimum liability requirements. As a result, expect your premiums to increase sharply and maintain the level for the next three years.
What Factors Does North Dakota Law Allow in Determining Your Premiums?
Many factors are considered by North Dakota car insurance companies when evaluating the cost of insurance. Some of these factors include but are not limited to the following:
Age
Gender
Driving record
Zip code
Make/model of vehicle
Claims history
Every driver is different. Your car insurance premium will be determined by factors unique to you. If you are looking for the cheapest car insurance in North Dakota, keep a clean driving record and ask for discounts.
Am I Required to Report an Accident in North Dakota to Authorities?
Under the guidance of North Dakota Vehicle Code § § 39-08-09, all North Dakota drivers must report an accident that results in an injury, death, or total property damage of $1,000 or more. Your accident record must include a description of the crash, name, insurance information, names of witnesses, and photo/video evidence.
Do not hesitate to file a police report shortly after a car accident.
Find an office near you to help with your auto insurance
What Is Driving Like in North Dakota?
How Many Car Accidents Happen in North Dakota?
According to the North Dakota Department of Transportation 2020 stats, there were 8,844 total traffic crashes in North Dakota with 100 fatalities. In 2019, there were 14,221 traffic crashes in the state, resulting in 4,258 injuries and 100 fatalities.
For even more perspective on North Dakota traffic activity, every 37 minutes saw one motor vehicle crash, every two hours saw one person injured in a crash, and every four days saw one death in a crash.
Over the last ten years, the most fatalities occurred in 2012. Over the past decade, the state had had a fatality rate per 100 million vehicle miles higher than the national average.
See our breakdown below for the percentage of motor vehicle crashes in the top five North Dakota counties (2019):
| County | Car Crashes in 2019 |
| --- | --- |
| Cass | 3,749 |
| Burleigh | 2,624 |
| Grand Forks | 1,393 |
| McKensie | 520 |
| Morton | 661 |
For a comprehensive North Dakota crash summary, including details on the North Dakota Vision Zero Plan, visit here
How Many Uninsured/Underinsured Motorists Are in North Dakota?
According to the Insurance Information Institute (2019), 13 percent of North Dakota drivers are uninsured. This stat places it in 21st place in the country, with the lowest percentage state being New Jersey (3.1 percent) and the highest percentage state being Mississippi (29.4%).
With no official states on the exact number, this estimate is calculated based on the ratio between uninsured motorist claims to bodily injury claims made in the state.
For more information on the estimated percentage of uninsured motorists by state, along with a list of all coverage limits by state, visit Insurance Information Institute: Facts + Statistics: Uninsured motorists.
FAQs About North Dakota Car Insurance
I Am a
Low-Income

Driver. What Can I Do About Getting the Cheapest Car Insurance in North Dakota?
There are many ways low-income North Dakota drivers can save on car insurance.
For starters, consider the level of coverage you receive. Obtaining a policy with the state minimum required coverage will cost you much less than full coverage. This number varies depending on your driving record and other factors.
Other ways to lower car insurance costs include removing miscellaneous coverage options, for example, rental car reimbursement and modifying your policy to bundle auto and homeowners insurance. Drivers with accounts in good standing for the past three to five years can also expect rates to drop over time.
Do not hesitate to call your insurance company to request discounts, especially as your life circumstances change.
Can an Undocumented Worker Get Affordable Car Insurance in North Dakota?
North Dakota does not allow undocumented workers to apply for driver's licenses or insurance policies.
For more information on legislative efforts by state, including a helpful color-coded country map indicating which states allow and do not allow undocumented workers to obtain driver's licenses, visit States Offering Driver's Licenses to Immigrants.
Is It Possible to Get Low-Cost Car Insurance in North Dakota With a DUI Mark on my Record?
Getting a DUI in North Dakota is not a good idea.
First-time DUI offenders can expect a $2,000 fine and rising insurance premiums – as much as 89% annually after a DUI conviction, a suspension of your driver's license/registration, and fines based on your BAC levels at the time of your arrest. For example, if your BAC exceeds .16, you can expect a 180-day suspension and an addiction evaluation.
You may need to shop around for DUI car insurance as not every insurer handles this type of high-risk car insurance.
Second and third offenses within seven years will increase fines and time served, including more than a year in prison if you accumulate four or more DUIs within 15 years.
Get an Affordable Car Insurance Quote Online in North Dakota Today!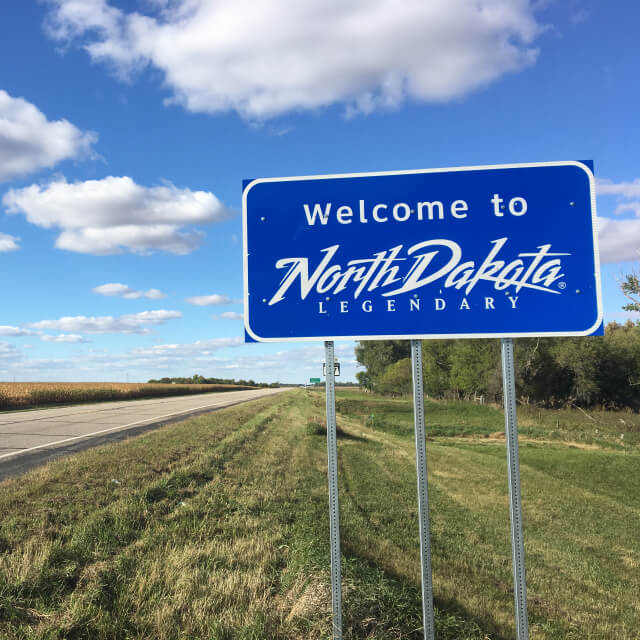 Freeway Insurance is ready to help you find the right policy with the state minimum required coverage or a full one with collision and comprehensive insurance.
To learn more about your insurance options, do not hesitate to request a fast and free car insurance quote online, visit a North Dakota office nearby, or call 800-777-5620 to speak with one of our friendly representatives. Reach out to us today!
Auto Insurance Info by City
Select a Product or Service to request a quote
Ready to Get a Quick Quote?