Underrated South Dakota is one of the most intriguing states in the country. Home to Mount Rushmore, it is most known for its sprawling nature reserves and park systems. South Dakota's most popular attractions include Badlands National Park, Custer State Park, and Needles Highway. We are also big fans of the Mammoth Site, an active paleontological dig site collection with some of the most impressive collections of mammoth bones you will ever see.
This guide will cover all aspects of car insurance in South Dakota, including average monthly rates paid in major cities, traffic data, and ways you can save on your car insurance policy.
Quick Facts
The largest city in South Dakota is Sioux Falls.
South Dakota has the 5th lowest population density in the US.
The Lakota, Dakota, and Nakota tribes call South Dakota home.
The most dangerous road in South Dakota isn't the infamous Needles Highway, it's Iron Mountain Road with an amazing 314 curves and 14 switchbacks.
In 2020, there were 17,599 traffic crashes. A total of 141 people died in crashes, while 24.7 percent of drivers in fatal crashes had been drinking.
How Much Is Car Insurance in South Dakota?
The average annual cost of full coverage car insurance in South Dakota is $1,642, which is very comparable to the national average rate of $1,674. The state-required minimum liability insurance comes in at an average of $275 annually, which is much cheaper than the national average of $565.
Car insurance premiums vary widely among people, since insurance companies take many factors into consideration. Your rate will not be the same as the next driver. If you are looking for the cheapest car insurance in South Dakota, you'll want to shop around and compare car insurance quotes from different companies.
What Is the Average Premium in South Dakota for Cheap Full Coverage Car Insurance?
In South Dakota, drivers pay roughly $137 per month for full coverage car insurance.
Full coverage refers to the basic liability insurance, plus collision and comprehensive coverage. Collision car insurance coverage covers damages (repair or replacement costs) due to vehicle-to-vehicle, vehicle-to-object, and rollover collisions. Comprehensive auto insurance coverage focuses on a broader range of scenarios outside of your control, such as theft, hail, and vandalism.
Outside of your driving record, expect the amount of liability coverage you carry, deductible amount, and add-ons such as rental car reimbursement to play a significant role in the insurance rates you pay. With higher coverage limits, the insurer assumes more risk, which results in a higher premium. On the same side of the coin, if you choose a higher deductible, your insurance company pays less, so you'll have a smaller premium.
How Much Is It for Cheap Liability Insurance or the Minimum Required Car Insurance in South Dakota?
The average cost of minimum car insurance in South Dakota is $23 per month. This includes liability car insurance, which is part bodily injury/death liability insurance and part property damage liability insurance. The other required insurance in South Dakota is uninsured motorist coverage.
Every state has its own minimum level of car insurance coverage that drivers must have. Getting minimum car insurance is a great way to save money on your auto insurance premium each month. However, you may be at a real disadvantage if there is an accident and you only have minimal insurance protection. If the bills are more than the insurance coverage you have, you could be left having to pay out of pocket.
Do not consider driving your purchased or leased vehicle in South Dakota without an insurance policy. A state minimum policy can be very affordable with a clean driving record.
How Do Rates Compare Across Major Cities in South Dakota?
Each city in South Dakota pays different rates depending on how many accidents and other types of claims come from the area.
For the monthly average premium in five major cities, check out the statistics below:
| City | Full Coverage Insurance | Liability Insurance Coverage |
| --- | --- | --- |
| Mitchell | $127 | $27 |
| Brookings | $120 | $27 |
| Sioux Falls | $126 | $36 |
| Rapid City | $140 | $31 |
| Spearfish | $144 | $29 |
Unless otherwise specified, we use the following methodology to arrive at our average cost: male, age 30, lowest possible legal coverage allowed by South Dakota. Your rates will be determined by several factors, including your age, your gender and the amount of coverage you want to purchase.
Getting a Free Auto Insurance quote with Freeway is easy!
Are There Good Driver Discounts in South Dakota?
Many good driver discounts apply to South Dakota drivers. To qualify, you must have a clean driving record free of moving violations and other offenses within the last 3-5 years, depending on the insurer.
Other car insurance discounts factor in driving behaviors as well as other items, including:
To find out what car insurance discounts you qualify for so you can get the cheapest car insurance in South Dakota, ask your agent.
South Dakota Car Insurance Laws
All South Dakota drivers must carry car insurance to drive on the roads.
What Are the Mandatory Car Insurance Requirements in South Dakota?
South Dakotas' state minimum liability requirements are as follows:
Bodily injury liability coverage: $25,000 per person
Bodily injury liability coverage: $50,000 per accident
Property damage liability coverage: $25,000
Uninsured motorist coverage: $25,000/$50,000 per person/accident
What Is the Penalty for Driving Without Insurance in South Dakota?
Driving without insurance in South Dakota is a serious offense classified as a Class 2 misdemeanor, punishable by a fine of up to $500, suspended driver's license/registration, and the possibility of 30 days in jail. On top of that, expect to pay reinstatement and application fees and file for SR-22 insurance for three years.
During this period, you can expect your premiums to double or even triple, depending on your driving history and claims record.
What Factors Does South Dakota Law Allow in Determining Your Premiums?
Many factors go into determining the premiums drivers in South Dakota pay. Some of them include but are not limited to:
Age
Gender
Driving record
Zip code
Make/model of vehicle
Credit score
Claims history
You can enjoy discounted insurance by driving an older make and model vehicle. In addition, older cars are much cheaper to insure due to inexpensive parts and less intensive mechanic labor versus today's models in many cases.
Am I Required to Report an Accident in South Dakota to Authorities?
According to South Dakota statute Motor Vehicles § 32-34-7, the police must be notified of an accident resulting in injury, death, damaged parked vehicle with no owner to contact, unattended property with unidentifiable owners, property damage of $1,000 or more to any person, or property damages valued at $2,000 or more.
With all reports, be sure to include a description of the crash, full names/insurance information for all involved drivers, names of witnesses, and photos and videos of the accident scene, along with any corresponding eyewitness accounts.
Find an office near you to help with your auto insurance
What Is Driving Like in South Dakota?
How Many Car Accidents Happen in South Dakota?
According to the South Dakota Department of Public Safety, there were 5,485 total crashes in the state from January 1, 2022 – to June 16, 2022. Some of the most popular contributing factors include failing to yield to a vehicle, animal hits, following another vehicle too closely, and speeding.
See our breakdown below for the top five counties by number of crashes for the period.
| County | Car Accidents from January 1, 2022 – June 16, 2022 |
| --- | --- |
| Minnehaha | 2,057 |
| Pennington | 814 |
| Lincoln | 367 |
| Codington | 215 |
| Lawrence | 181 |
For more information on South Dakota traffic, including the percentage of crashes where seat belts were used and types of vehicles involved in crashes, visit South Dakota Crash Analysis Tool.
How Many Uninsured/Underinsured Motorists Are in South Dakota?
The Insurance Information Institute projects that 7.4 percent of all South Dakota drivers are driving uninsured. To make this estimate, the Insurance Information Institute assesses the ratio between uninsured motorist claims to bodily injury claims, as no official stats are kept with the exact number since it is challenging, if not impossible, to report.
To learn how states compare against each other with an official ranking of the estimated percentage of uninsured motorists by state, visit Estimated Percentage Of Uninsured Motorists By State, 2019.
FAQs About South Dakota Car Insurance
I Am a Low-Income Driver. What Can I Do About Getting Cheap Car Insurance in South Dakota?
South Dakota drivers can perform a few tricks to get cheap car insurance.
One of the best ways is to maintain a clean driving record. Insurers classify someone with a clean driving record as being free of infractions and claims for the past three to five years. Some insurers prefer the 3-year mark, and others edge towards the end of the 5-year mark.
Exploring discounts is a second way to keep auto insurance costs low. Call your insurer every six months to learn what you can get. For example, you can save a few dollars each month by enrolling in defensive driving records, being a member of an educational or professional organization, and installing anti-theft devices in your vehicle.
Lastly, change the way your policy is constructed for savings. For example, you can raise your deductible to get a lower monthly premium or pay up front or sign up for auto-pay.
Can an Undocumented Worker Get Low-Cost Car Insurance in South Dakota?
South Dakota does not allow undocumented workers to apply for a driver's license.
For more information on the latest legislation and which states allow and do not allow undocumented workers to obtain driver's licenses, visit States Offering Driver's Licenses to Immigrants.
Is It Possible to Get Cheap Car Insurance in South Dakota With a DUI Mark on my Record?
Finding affordable DUI auto insurance policy becomes much harder if you have a DUI conviction on your record. In addition to other financial hits, you now have a new status as a high-risk driver, complicating things.
Expect to see your rates increase dramatically. For example, the average premium in South Dakota goes up 65% after a DUI conviction, potentially even greater if you have past traffic infractions, moving violations, and claims on your record.
All drivers caught with a .08 blood alcohol level will be charged with a DUI. If convicted, you will be searching for an insurance company that offers DUI solution coverage.
Get an Affordable Car Insurance Quote Online in South Dakota Today!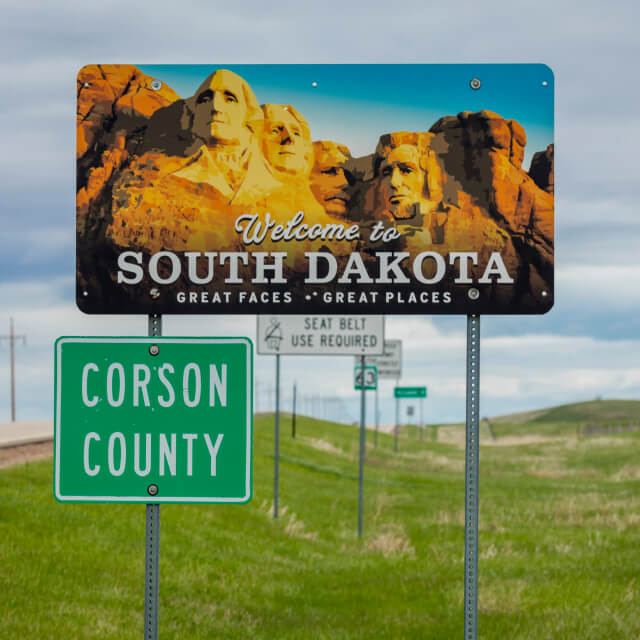 If you drive in South Dakota, you must maintain the minimum level of insurance required by law.
Freeway Insurance is ready to help you find the right policy at an affordable price. To get started, request a car insurance quote online, visit us at an office near you, or call us at 800-777-5620. Reach out to us today and save!
Auto Insurance Info by City
Select a Product or Service to request a quote
Ready to Get a Quick Quote?