Iowa offers a rich topography flush with rolling plains and cornfields, making it an excellent place for scenic (albeit stoic) drives. It is also home to national historic landmarks like the Amana Colonies, a cluster of seven villages known as one of the oldest communal societies in the United States. Another top attraction is Pikes Peak State Park, complete with 500-foot bluffs and majestic views of the Mississippi and Wisconsin rivers.
All drivers in Iowa are required to carry car insurance. This mandate offers protection if you or fellow motorists are involved in an accident. Keep reading to learn more about car insurance in Iowa, including average monthly rates paid in major cities, Iowa's car insurance laws, penalties for driving without insurance, and ways to save on your next insurance bill.
Quick Facts
Iowa's nickname is the "Hawkeye State".
The most dangerous stretch of road in Iowa is Interstate 80, which runs across the country from New Jersey to California.
In 2020, there were 310 fatal crashes in Iowa and 343 people were killed as a result.
How Much Is Car Insurance in Iowa?
The average cost of full coverage car insurance in Iowa is $1,264 per year, well below the national average rate of $1,674. The state-required minimum liability car insurance costs an average of $252 per year, way below the national average of $565.
Remember, car rates vary from driver to driver. For example, one driver may have a DUI mark and several moving violations, whereas another driver may have a spotless 5-year driving record with no moving violations and qualify for the cheapest car insurance in Iowa. Note: a single-car accident could cause your premiums to skyrocket two or three-fold, depending on the offense and your driving record.
What Is the Average Premium for Cheap Full Coverage Car Insurance in Iowa?
Iowans pay an average monthly full coverage car insurance premium of $105. Full coverage insurance consists of liability, collision car insurance and comprehensive auto insurance. If your vehicle is financed, you are likely paying for full coverage at the behest of your lender.
Iowa is an at-fault car insurance state, which means your liability insurance is meant to help pay for the other drivers costs if you cause an accident. Since your liability will not pay anything towards your own costs, having full coverage protects you on several fronts, including paying for your vehicle repairs regardless of who is at fault or if the other driver doesn't have enough insurance to cover your costs. If your car is stolen or damaged by hail or other weather, comprehensive will step in to help pay for the damage or loss.
How Much Is It for Cheap Liability Insurance or the Minimum Required Car Insurance in Iowa?
The average cost of state-required minimum liability car insurance in Iowa is $21 per month. This is the cheapest car insurance in Iowa and consists of bodily injury/death liability insurance and property damage liability insurance.
We highly recommend not opting for minimum liability car insurance coverage. One reason is its low property damage liability ($15,000) which is well below the cost of a new vehicle. One collision could cause $45,000 in property damage, forcing you to absorb out-of-pocket costs and wreck your budget.
We recommend increasing your coverage limits to $100,000 bodily injury liability per person, $300,000 bodily injury liability per accident, and $50,000 property damage liability per accident.
How Do Rates Compare Across Major Cities in Iowa?
In Iowa, different cities pay different rates depending on many factors, including age/gender distribution, collective risk profile, claims history, and whether the town is sparsely populated or densely populated.
See our breakdown below for the average monthly average premiums five Iowa cities pay.
| City | Full Coverage Insurance | Liability Insurance Coverage |
| --- | --- | --- |
| Burlington | $106 | $28 |
| Mason City | $100 | $27 |
| Marion | $105 | $31 |
| Clinton | $110 | $31 |
| Storm Lake | $106 | $26 |
Unless otherwise specified, we use the following methodology to arrive at our average cost: male, age 30, lowest possible legal coverage allowed by state. Your rates will be determined by several factors, including your age, your gender and the amount of coverage you want to purchase.
Are There Good Driver Discounts in Iowa?
Yes, there are plenty of good driver discounts in Iowa.
Drivers with a clean driving record for the last three to five years have the greatest chance of saving on car insurance. In this case, insurers have classified you as low-risk profile, awarding discounted rates as a prize. However, every insurer classifies drivers differently. Some require a clean driving record for the three years, while other insurers may inch closer to the 5-year mark.
You can lower your insurance costs by paying higher deductibles, driving an older make and model vehicle, and bundling your auto and homeowners insurance policy under the same insurer. Also, do not forget about low mileage discounts offered to drivers who drive slower than the average number of miles in their region each year. Other car insurance discounts include:
Current or former military discount

Discount for installing vehicle safety features, such as anti-theft devices

Paperless billing or autopay discount
Getting a Free Auto Insurance quote with Freeway is easy!
Iowa Car Insurance Laws
All Iowa drivers are expected to carry a car insurance policy to drive legally. Even one day of lapsed coverage can force insurance companies to let the state know. So do not be surprised if you receive a letter of lapsed coverage with instructions to reinstate it as soon as possible.
What Are the Mandatory Car Insurance Requirements in Iowa?
All Iowa drivers must carry the following minimums:
$20,000 of bodily injury coverage (per person)
$40,000 of bodily injury coverage (per accident)
$15,000 property damage liability (per accident)
We always recommend opting for more coverage to better protect yourself, your passengers, and your vehicle in case of collision. Go for comprehensive and collision insurance whenever possible, protecting against theft, hail, vandalism, and other mishaps.
What Factors Does Iowa Law Allow in Determining Your Premiums?
In Iowa, some factors that may affect your insurance rates include but are not limited to the following:
Age
Gender
Zip code
Claim history
Credit score
What Is the Penalty for Driving Without Insurance in Iowa?
All Iowa drivers are required to show financial responsibility when pulled at a traffic stop.
Penalties for driving uninsured in Iowa may net you a short community service term or a $250 fine and an up-to-12 month registration and license suspension. In addition, to reinstate your driving privileges, you will need to file an SR-22 which is proof of financial responsibility on top of a $15 administrative fee, $2,000 civil penalty, and a $20 license renewal fee.
Your citation will be waived if you file an SR-22 within 30 days after the incident. To reinstate your license and registration, you will also be required to complete a vision screening, written test, and driving exam.
In the aftermath, expect your monthly rate to jump as well. Rate hikes are assessed to drivers who end up with a high-risk profile, such as being required to file an SR-22.
Am I Required to Report an Accident in Iowa to Authorities?
All Iowa drivers must file a police report for any accident that results in injury, death, or property damage of $1,500 or more. These reports can be filed using and Iowa Accident Report Form to the Iowa Department of Transportation, completed within 72 hours of the incident to avoid having your driving privileges suspended.
Iowa drivers also reserve the right to request a copy of the officer's report. To request a copy of the accident report, send a written request using the following form – Request for Copy of Investigating Officer's Report of an Accident, form #431007 to the Iowa Department of Transportation Systems & Administration Bureau.
Find an office near you to help with your auto insurance
What Is Driving Like in Iowa?
How Many Car Accidents Happen in Iowa?
According to the Iowa Department of Transportation's 2021 figures, there were 354 traffic fatalities in the state. This figure represents a 5.99% change increase from last year and a 3.81% increase from the 5-year average.
In 2020, there were 310 fatal crashes which killed 343 people. Of those wrecks, 129 had some alcohol impairment component and 76 were related to drugs.
For more information on Iowa's traffic numbers, including the number of traffic fatalities by county from 2009-to 2018, visit Iowa DOT Motor Vehicle Statistics and Research Studies
To learn the number of fatalities in each of the top four leading counties (2018), see our list below:
| County | Fatal Car Accidents in 2018 |
| --- | --- |
| Johnson | 7 |
| Benton | 7 |
| Black Hawk | 10 |
| Linn | 13 |
How Many Uninsured/Underinsured Motorists Are in Iowa?
The Insurance Information Institute estimates that 11.3% of all Iowa motorists are uninsured. This percentage places Iowa in 27th place. On the opposite end, New Jersey and Massachusetts enjoy the lowest rate of uninsured motorists at 3.1% and 3.5%, respectively.
Purchasing uninsured motorist coverage can go a long way to protecting you against drivers who are uninsured or hit-and-run drivers. This type of car insurance is not expensive for the peace of mind and financial protection it offers.
To learn additional stats on the estimated percentage of uninsured motorists by state (2019), visit Insurance Information Institute: Facts + Statistics: Uninsured motorists.
FAQs About Iowa Car Insurance
I Am a Low-Income Driver. What Can I Do About Getting the Cheapest Car Insurance in Iowa?
Even with a tight budget, low-income drivers in Iowa can benefit from affordable car insurance.
One way is to carry the state-required minimum car insurance. A state minimum policy costs several hundred dollars less annually than full coverage options. You may choose to raise your car insurance deductible. Just keep in mind that this is the amount you will need to come up with out of pocket if you file a claim. You can also make sure that you are carrying the best car insurance policy for your circumstances.
Another way to get a lower premium is to switch car insurance carriers.
Can an Undocumented Worker Get Cheap Car Insurance in Iowa?
Is It Possible to Get Low-Cost Car Insurance in Iowa With a DUI Mark on my Record?
If you have a DUI mark on your record, it should not affect your ability to obtain DUI car insurance.
However, obtaining an affordable policy will be much more complicated. With a DUI, annual car insurance premiums can increase by as high as $600, a sizable rate hike for lower-income households. Additionally, many insurance companies do not offer DUI solution coverage.
If your BAC reads 0.10% or higher, you will also be required to install an interlock ignition device.
In Iowa, all drivers are tested for blood alcohol concentration levels after a DUI stop. The allowable BAC limit is 0.08% or less if you drive a standard vehicle. Commercial drivers are measured at 0.04% or higher, and drivers younger than 21 are measured at 0.02% or higher.
Get an Affordable Car Insurance Quote Online in Iowa Today!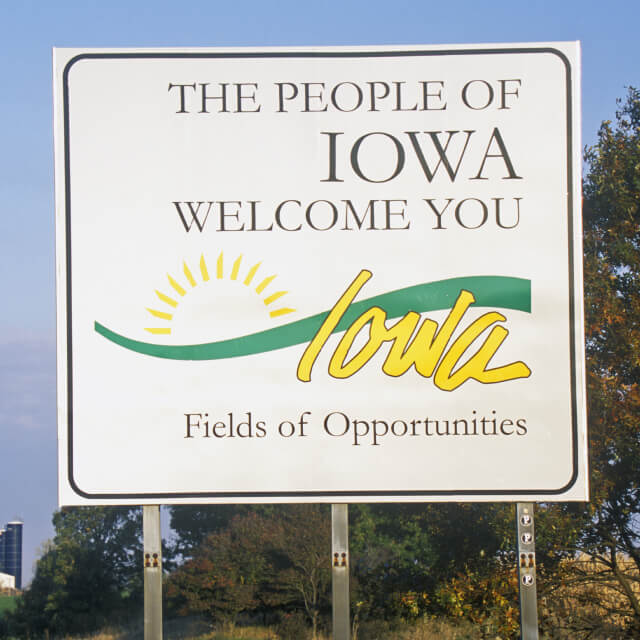 With thousands of daily car accidents across the country, getting caught without car insurance in Iowa may result in unmanageable out-of-pocket costs after a motor vehicle collision. However, anyone with a valid driver's license can get low-cost car insurance through Freeway Insurance.
Get started with a Freeway Insurance car insurance quote online, go to an Iowa office near you, or call 800-777-5620 for a quick and easy quote by one of our expert agents.
Auto Insurance Info by City
Select a Product or Service to request a quote
Ready to Get a Quick Quote?