Everything You Need to Know About Auto Insurance in Iowa
Home to Iowa State University and just 30 miles north of Des Moines, the city of Ames has got all the charm of a quaint college town. Of its 66,422 residents, 42% are university students, with many enrolled in agriculture, design, engineering, and veterinary medicine programs — all among the top offered in the U.S.
The U.S. Department of Energy has its national laboratory on the university campus in Ames. The U.S. Department of Agriculture (USDA) has several centers here, too.
All this growth has made Ames the ninth largest city in Iowa — not bad for a city that got its start as a station stop on the Cedar Rapids and Missouri railway line in 1864.
Under Iowa state law, every driver in Ames needs to have some form of auto insurance coverage. If you're caught driving without proof of insurance, you could face fines and fees and even have your license suspended. Keep reading to learn more about car insurance in Iowa, including the average monthly rates based on age and zip code and the minimum state-mandated coverage requirements.
How Much Does Car Insurance Cost in Ames, Iowa?
On average, Ames drivers pay a premium of around $23 every month for state-required minimum liability auto insurance. That's $4 more than the Iowa state average of $19 and $29 less than the U.S. national average of $52.
Ames drivers pay around $160 a month for full auto coverage, which is $50 more than the state average of $110 and $8 less than the national average of $168.
What Does it Mean if Iowa Is an At-Fault State?
Iowa is an at-fault state, which means a driver who causes a crash is financially responsible for all the losses and damages they cause. The driver must pay to medically treat anyone who was hurt in the crash. They are also accountable for crash-related deaths and property damage.
Getting a Free Auto Insurance quote with Freeway is easy!
Affordable Car Insurance Rates Comparison by Cities in Iowa
This chart shows how much Ames drivers pay on average in monthly auto coverage premiums compared to those in nearby Iowa cities.
| City | Full Coverage Insurance | Liability Insurance Coverage |
| --- | --- | --- |
| Ames | $160 | $24 |
| Des Moines | $122 | $31 |
| Cedar Rapids | $109 | $27 |
| Omaha | $179 | $43 |
| Sioux City | $122 | $29 |
Affordable Ames Car Insurance Rates by Zip Code
The streets, roads, and highways you frequently drive influence how much you'll pay for auto coverage, and so does your neighborhood. Drivers living in denser urban areas that experience more traffic congestion and higher risks of crashes, theft or vandalism typically pay more for an auto policy than those who live in less populated areas.
Here's a look at how much Ames residents living in zip code area 50010 pay for a full auto coverage policy and state-required liability compared to drivers in other Iowa zip codes.
| Zip Code | Full Coverage Insurance | Liability Insurance Coverage |
| --- | --- | --- |
| 50010 | $160 | $24 |
| 50301 | $122 | $31 |
| 52402 | $109 | $27 |
| 52241 | $150 | $25 |
| 51104 | $122 | $29 |
| 50657 | $116 | $24 |
| 52806 | $111 | $29 |
| 51031 | $112 | $24 |
| 51351 | $110 | $23 |
Low-Cost Car Insurance Rates by Age in Ames
Age is among the factors that agencies use to determine how much you'll have to pay for an auto policy. Teen drivers cost more to insure, given their lack of experience on the road.
This chart lists average monthly auto coverage premiums in Ames based on age.
| Age | Full Coverage Insurance | Liability Insurance Coverage |
| --- | --- | --- |
| Teenagers | $311 | $91 |
| 20s | $115 | $27 |
| 30s | $96 | $23 |
| 40s | $89 | $22 |
| 50s | $83 | $21 |
| 60s | $83 | $22 |
| 70s | $98 | $28 |
Our city and zip code average rates are based on the following methodology: male, age 30, lowest possible legal coverage allowed by Iowa.
Driving Conditions in Ames
How Many Fatal Accidents Happen in Ames?
According to the National Highway Traffic Safety Administration, the city of Ames averages around one fatal accident per year. NHTSA statistics show that Ames has not had a fatal crash resulting in two or more deaths since 2011.
How Are the Road Infrastructure and Bridges in Ames?
The City of Ames Public Works Department has an engineering division that oversees roads and bridges. This division also designs, contracts, and supervises capital improvement projects involving city streets, paths, and sidewalks. It also manages transportation systems throughout the city.
Minimum Car Insurance Requirements in Ames
Under Iowa law, Ames drivers and those living in other cities across the state must meet minimum liability requirements. That means that an Iowa-issued auto policy must include:
$20,000 for the bodily injury or death of a person involved in a crash caused by the driver, with up to $40,000 of coverage if two or more people are hurt or die in the crash, and
$15,000 to cover any property damage the driver causes in a crash.
What Are the Penalties for Driving Without Insurance in Ames, Iowa?
If an Ames police officer stops you and you do not have proof of insurance, you'll be subject to penalties under Iowa state law. These penalties may include a $250 fine and the suspension of your vehicle registration and driver's license for up to a year. Be aware that, depending on the circumstances, you may also face jail time.
Reinstating your driving privileges involves filing an SR-22 — or a Certification of Financial Responsibility form, which serves as proof of financial responsibility. You must also pay a $15 administrative fee, a $2,000 civil penalty, and a $20 license renewal fee.
Your citation will be waived 30 days later after the SR-22 is filed. You will have to complete a vision screening, written test, and driving exam to have your license and registration reinstated.
If all of that wasn't enough, you can expect your monthly premium to spike, too. That's because a driver who is required to file an SR-22 is considered a high risk on the road. The new rate will remain high for at least three years, which is when your driving record will clear.
Find an office near you to help with your auto insurance
Factors Allowed in Ames Car Insurance Rates
While your age and location play important roles in determining your monthly auto coverage premium, other factors are also considered. Companies calculate your rate by also taking into account your:
Driving history
Vehicle type
Education
Deductible amount
Coverage amount
Auto Insurance Rates for Young Drivers vs. Older Adults in Ames, Iowa
Auto coverage rates for teenagers tend to be highest in Ames, with a monthly cost of around $311 for full coverage and around $91 for minimum liability insurance. Because teen drivers are the least experienced behind the wheel, they tend to be the most risky — and this is what makes them the most expensive to ensure, no matter where you live in the U.S.
Age brings wisdom and know-how on the road but also increases risk. Insurers follow statistics in determining premiums, and statistics have shown that many drivers in their 70s don't react as quickly on the road as younger ones do. This lag in response increases the risk of crashes among these drivers, so they're expected to pay a bit more in premiums — though never as much as teen drivers. In Ames, a 75-year-old adult pays monthly premiums of around $98 for full coverage and $28 for minimum liability insurance.
What Are the Best Discounts for Car Insurance in Ames, IA?
Auto insurance discounts help drivers save money, and if you live and drive in Ames, you're likely eligible for more than one.
Some of the more popular discounts available to drivers in Ames include:
Bundling your policies is another great way to save money on auto insurance. This is when you buy more than one type of coverage from the same company, like auto and renters insurance.
Get an Online Quote for Car Insurance in Ames Today!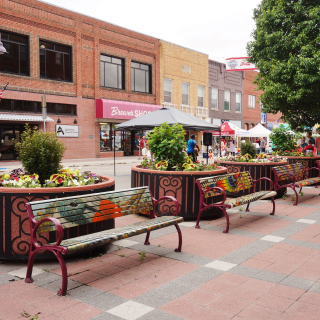 Drivers living in Ames must have auto insurance coverage that meets Iowa's minimum liability requirements. Freeway Insurance can help you find the best coverage plan available at a great price.
Get started with a quote online, visit us at an Iowa office near you, or call us at (800) 777-5620 for a quote.
Select a Product or Service to request a quote
Ready to Get a Quick Quote?