How Much is Auto Insurance for My Toyota Corolla?
The average annual premium for a Toyota Corolla is $531 for minimum coverage and $1,695 for full coverage. The amount you will pay for car insurance depends on many factors, such as how much you purchase, where you live, your age and your driving history. All states but two require at least a minimum, which typically includes liability.
Getting a Free Auto Insurance quote with Freeway is easy!
Comparing Insurance Costs for Your Corolla to Other Makes and Models
There are many reasons why insurance costs are different between your ride and others like the Highlander, Prius, RAV4, and Sienna. Other makes similar to yours also come in at slightly different rates. These factors include you're the model year, the inclusion of safety features, reliability record, and the cost of repair and replacement parts. Here are some comparisons.
| Make/Model | Annual Insurance |
| --- | --- |
| Toyota Corolla | $1,695 |
| Mazda 3 | $1,668 |
| Honda Civic | $1,773 |
| Chevrolet Cruze | $1,642 |
| Nissan Sentra | $1,745 |
Types of Car Coverage for Compact Cars
Depending on where you live, you can probably choose between the minimum your state requires and full coverage – or any number of other amounts and options.
An independent Freeway agent can help you find cheap car insurance.
Full Coverage
This type of policy includes first-party benefits such as collision and comprehensive. It's more expensive than the minimum, but it also offers better peace of mind. Deductibles can be as low as $100 and as high as $2000, depending on the carrier. The higher your deductible, the lower your premium.
You can add additional items, such as personal injury protection (PIP), which pays for your medical bills, although some states require this protection. With PIP, you do not have to wait for another driver's insurance company to cover medical damages while carriers battle out who is responsible.
Other helpful additions include roadside assistance (optional) and uninsured motorist coverage (UIM), although this may be required in your state.
If you can afford it, you should opt for this over state minimum liability thanks to its substantially greater protection. You may also be required to have it by your lender or lease company, which could demand better protection to protect "their" vehicle's value over the length of your term.
State Minimum Liability
State minimum liability is the amount required by your state. Liability amounts vary depending on the state. For example, all Louisiana drivers must carry liability limits of $15,000 for bodily injury (per person), $30,000 for bodily injury (per accident), and $25,000 for property damage.
In turn, drivers in Texas must carry liability limits of $30,000 for bodily injury (per person), $60,000 for bodily injury (per accident), and $25,000 for property damage.
Some states, such as Kansas, require UIM and PIP, in addition to liability.
If you opt for the state minimum, you can choose additional protection, such as rental vehicle reimbursement and roadside assistance.
How Does a DUI Affect Rates for a Toyota?
DUI convictions and insurance rates do not go hand in hand. Expect your rates to double or triple after a DUI conviction, depending on the severity of the offense, the date of your most recent DUI conviction, and your driving record.
How much more you'd pay after a DUI conviction depends on many things, including the normal factors such as age and claims history, but more importantly, the egregiousness of your DUI. Your auto insurer may even cancel your policy outright, especially with two or more DUI convictions within a short period.
Fortunately, there are ways drivers with DUI convictions can save, including raising deductibles, lowering liability limits, enrolling in defensive driving courses, and bundling two or more policies with the same insurer are all fair game. Comparing quotes for cheap DUI insurance is a good move. However, you should not expect the same rates as people with a clean driving record.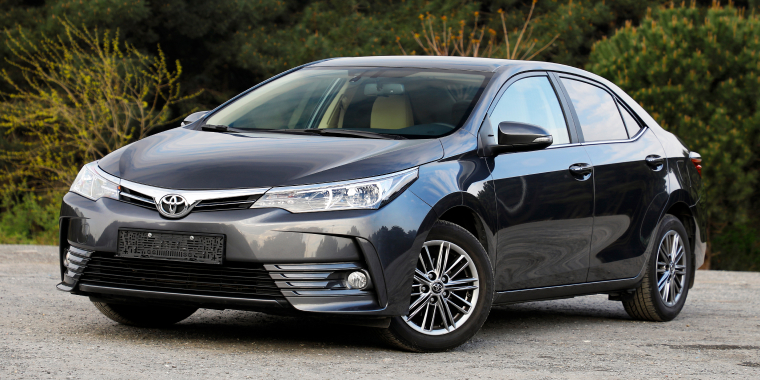 What Are Some Auto Discounts Available?
There are many ways you can maximize your savings with car insurance discounts.
One of the best discounts you can get is a good driver. To qualify, you must have a clean driving record free of claims and moving violations for the past three to five years. Some insurers award this discount closer to the 3-year mark, while others prefer it closer to the 5-year mark. Other discounts include:
Another popular option is bundling. Carrying multiple policies with the same auto insurer (e.g., homeowners and boat insurance) could save you a percentage off each one.
Others extend to how you structure or pay. For example,

paid-in-full

rewards you for paying your entire premium

up-front

instead of in monthly installments. Select companies are also willing to offer diminishing deductibles or one that automatically lowers the longer you go without a filed claim up to a maximum amount.
Lastly,

usage-based

discounts are a big deal. In exchange for installing a telematics device

in-vehicle

(or via

in-app

monitoring) to monitor driving behavior, you may qualify. Don't forget low mileage discounts, typically awarded to drivers who drive less than 10,000 miles a year.
Find an office near you to help with your auto insurance
What Are Some of the Characteristics of the Corolla Sedan?
It's in the compact vehicle segment. It comes in five trim levels: L, LE, XLE, SE, and XSE, along with the choice of two engines – a 139-horsepower 1.8-liter four-cylinder and a 69-horsepower 2.0-liter four-cylinder engine with front-wheel drive and continuously variable automatic transmission (CVT)
The base L trim comes with a 7-inch touch screen, Apple CarPlay/Android Auto availability, and the Toyota Safety Sense 2.0 suite with adaptive cruise control, automatic emergency braking, automatic high beam headlights, lane departure warning, and other comparable safety features.
Main competitors include the Honda Civic, Mazda Mazda3, Hyundai Elantra, Kia Forte, and Nissan Sentra.
Find the Best Car Insurance Rates for Your Toyota Corolla Online Today
Ready to find an affordable policy? Requesting a quote is easy. You have three options – visit us for an online quote, stop by one of our Freeway locations, or call 800-777-5620 for a free, no-obligation quote from one of our friendly agents. Contact us today!