Ohio is a unique cross-section of America. There are swathes of rural farmland throughout the state, but Ohio is also home to major cities like Cleveland and Cincinnati. With over 11 million residents, it is the seventh-largest state in the nation.
Historic small Ohio towns like Lebanon (a train ride with Santa) and Marietta (a tour of lights) really throw out the welcome mat during the holiday season. Ohio has amusement and water parks, a thriving brewery scene, museums and nightlife on tap for everyone. There's an African Safari Wildlife Park in Sandusky and a tour of the Anthony-Thomas Candy Company for those with a sweet tooth.
In short, Ohio has a wide variety of things to see and do! With so much to explore in Ohio, having reliable auto insurance can give you peace of mind on the road and help protect you and your vehicle.
Quick Facts
There are more than 4.65 million vehicles in Ohio.
Ohio has more than 8 million licensed drivers.
In 2020, there were 1,154 fatal accidents in Ohio.
Interstate 71 in Columbus is the most dangerous highway in the state.
How Much Is Car Insurance in Ohio?
The average cost of full coverage car insurance in Ohio is $1,034. This amount is relatively low, as it lands at approximately 27% below the national average of $1,674. Like in many states, the rates are often higher in cities compared to rural areas.
Of course, the amount you will pay for your car insurance can vary based on many different factors. These factors include your age, driving history, and even your zip code. Your driving history is especially important. If you have numerous accidents or tickets, you can expect to pay more for your auto insurance.
What is the Average Premium in Ohio for Full Coverage Car Insurance?
It depends on a variety of factors, but the average annual amount is $1,034.
Some drivers choose full coverage car insurance, and they do so for a good reason. This insurance coverage not only provides you with protection from third-party liability claims but also covers your own damages as well. That means that you recover compensation for your injuries no matter who caused the crash.
Full coverage car insurance can take many forms. A policy with an annual payment of $1,034 could include $100,000 in bodily injury coverage per person, $300,000 in bodily injury coverage per accident, and $100,000 in property damage coverage per accident.
How Much Is It for Just the Minimum Required Car Insurance in Ohio?
The state-required minimum or liability car insurance is $328 annually. Not every driver will choose additional coverage beyond the mandatory minimum requirements. Remember: state law only requires that you purchase a minimum level of liability coverage in order to drive. You have the option of either increasing that amount or selecting other types of coverage too.
If you are carrying the minimum level of coverage required by Ohio law, your policy will cost an average of $328 annually. While that sounds like a bargain, remember that you will be paying the cost of your repair bill and medical expenses on your own if you are injured in an accident. In the long run, selecting the minimum level of coverage could put you in a tough position financially.
If you are involved in an accident, and you only have the minimum level of liability coverage, you could also be on the hook for the other driver's damages. It is not uncommon for accidents to result in damages that far exceed the minimum level of liability coverage. You are personally responsible for any damages you cause that exceed your policy limit.
How Do Rates Compare Across Major Cities in Ohio?
While there are a number of large cities in Ohio, the population of the state is distributed fairly evenly between cities and smaller towns. The cost of car insurance also varies from one town to the next. This is because accidents are often more likely to occur in certain areas. The average cost of full coverage across major cities includes:
| City | Average Annual Premium |
| --- | --- |
| Youngstown | $1,368 |
| Cleveland | $1,452 |
| Toledo | $1,476 |
| Cincinnati | $1,392 |
When calculating the average lowest insurance rates, our methodology is based on comparing rates for a 30-year-old male driver. The different factors in your life could increase or decrease the cost of insurance compared to that average.
Getting a Free Auto Insurance quote with Freeway is easy!
Are There Driver Discounts in Ohio?
There are numerous types of discounts on your auto insurance that could be available in Ohio. Insurance companies incentivize a variety of healthy behaviors by offering discounts for many different reasons. One of the most popular discounts is for safe driving. If you have avoided any tickets or accidents in recent years, a safe driver discount could greatly help you find cheap auto insurance.
There are other discounts to be aware of as well. These include:
Loyalty discounts for renewing a policy
Discounts for paperless billing or automatic payments
Good student discounts for younger drivers
Bundled discounts for multiple cars or other policies
Reduced races for limited driving
It can be hard to keep track of all the discounts that might be available to you. If you fail to apply for all the discounts you qualify for, you could wind up paying too much for car insurance. Be sure and ask your agent.
Ohio Car Insurance laws
The laws of the State of Ohio related to auto insurance are strictly enforced. This includes the requirement that drivers maintain a minimum level of liability insurance at all times. The failure to maintain this insurance could result in penalties and put you at risk if you are ever in an accident.
What Are the Mandatory Car Insurance Requirements in Ohio?
The minimum level of liability insurance coverage is set by the Ohio Bureau of Motor Vehicles. Like all states, Ohio requires that drivers maintain this minimum level of liability coverage in case they are involved in an accident. Liability coverage does not pay your own damages following a crash. Instead, your policy will pay for any claims another driver makes against you up to your coverage limit. This could prevent you from facing a civil lawsuit. The minimum coverage levels in Ohio include:
$25,000 for injury/death of one person
$50,000 for injury/death of two or more people
$25,000 for property damage in an accident
Following an accident, you must provide the other driver with your insurance information. This insurance documentation is also necessary when you register your vehicle in Ohio for the first time. There is not a grace period, meaning you cannot register until your coverage is in place.
What Factors Does Ohio Law Allow in Determining Your Premiums?
Many different factors could go into the cost of your insurance premiums. For that reason, looking at the average cost of car insurance in your area might not always give you a clear picture of what your policy might cost. These factors include:
Your age
The type of vehicle that you drive
Your credit score
Your marital status
Your gender
Your address
Your zip code
Your history of accidents or tickets
Your history of insurance claims
While it is true that some of these factors could increase the cost of your insurance policy, it is also helpful to remember there are steps you could take to bring that price back down. These include everything from keeping your record clean to choosing an older vehicle.
What is the Penalty for Driving Without Insurance in Ohio?
You could face a wide range of penalties if you are caught driving in Ohio without insurance coverage. In addition to the potential for fines and administrative fees, you could also lose your driver's license.
The specific penalties you face for driving without insurance depend on your history. If you have been ticketed for driving without insurance before, the penalties will increase on a second or subsequent conviction.
For a first-time offender, you will see your license suspended and your plates seized until you comply with Ohio's mandatory insurance requirements. To get your license back, you will have to pay restoration fees to the state.
For a second offense, you could face all of the same consequences in addition to a substantially higher restoration fee. What's more, your license will be suspended for an entire year. You do have the right to ask the court for limited driving privileges after 15 days have passed from the date of your conviction.
For third and subsequent offenses, your license will be suspended for three years, and your restoration fees will be almost six times what it costs for first-time offenders. You have the chance to seek limited driving privileges, but only after 30 days.
Find an office near you to help with your auto insurance
What is Driving Like in Ohio?
How Many Car Accidents Happen in Ohio?
The statistics related to fatal car accidents are tracked by the Ohio State Highway Patrol. According to their records, there were 1,154 fatal crashes with 1,230 people killed in Ohio in 2020. This was an increase in the number of fatal crashes compared to the year prior.
How Many Uninsured / Underinsured Motorists Are in Ohio?
Drivers that fail to maintain car insurance face steep consequences. Chief among these is the suspension of driving privileges. Despite these penalties, there are numerous drivers across Ohio that operate their vehicles without carrying the required level of auto insurance.
According to the Insurance Information Institute—or III—approximately 13 percent of Ohio's drivers do not maintain liability insurance coverage. The state is ranked 21st when it comes to the percentage of uninsured drivers. Without liability insurance, the chances are good that these drivers will not have the assets needed to pay for another party's injury claims.
Due to the significant financial impact that can come with having an accident without proper insurance coverage, it is vital that you maintain the necessary level of coverage. This often goes beyond the minimum level of liability coverage required by law. You could increase your liability coverage and also select other types of policies that will cover your own damages in case you are involved in a collision. While you cannot control what other drivers do after an accident, you could put yourself in a position to secure fair compensation from your own policy.
FAQs about Ohio Car Insurance
I Am a Low-Income Driver. What Can I Do About Getting Car Insurance in Ohio?
The fact that you are living with a reduced income should not prevent you from having the ability to drive legally. By making smart choices regarding your insurance coverage, you could ensure that the liability policy you need is affordable.
While other types of coverage are beneficial, you are only required to carry the minimum level of liability coverage required by state law. This coverage could cost you far less than a full coverage policy. Driving an older vehicle could also allow you to skip out on full coverage and save money.
One of the most important ways to ensure that you are able to stretch your budget and secure appropriate insurance coverage is by taking advantage of discounts. You might be surprised at all of the insurance discounts you are entitled to recover.
Researching insurance discounts on your own can be complicated, as carriers might not always advertise the discounts they are offering. The good news is that your insurance agent can help you find all of the discounts you might be entitled to use when you sign up for your policy. If your driving record is clear, your discounts could be steep enough to ensure you can afford the coverage that you need.
Can an Undocumented Worker Get Car Insurance in Ohio?
There are a handful of states that allow undocumented workers to obtain a driver's license. This is a necessary step toward securing car insurance, as insurance companies will only sell policies to motorists with a valid license. Ohio is not one of the states that allow this option, however.
In fact, Ohio has pursued aggressive measures to curb undocumented workers and their families from gaining licenses in the past. According to Cleveland.com, courts have struck down a rule that required U.S. citizens under the age of 18 to provide proof that their parents had lawful immigration status before they could obtain a license.
Is it Possible to Get Car Insurance in Ohio with a DUI Mark on my Record?
The fact that you have a prior conviction for drunken driving on your record will not automatically prevent you from ever securing car insurance in the future. However, it is important to remember that if your license is suspended due to a DUI conviction, you could be barred from having a license at all. In that case, you will find yourself unable to purchase car insurance as well.
If your active suspension related to your DUI conviction is complete and you have reinstated your license, your prior DUI conviction should not prevent you from obtaining car insurance. That said, having a DUI on your record could result in other challenges—namely, a steep increase in the cost of your auto insurance.
What's more, you can expect the state to require an SR-22 from your insurance company. This document is proof from the insurance company that you have secured the appropriate amount of coverage needed for a high-risk driver.
The cost of insurance following a DUI conviction might be high, but thankfully, there are ways you could bring your premiums back down again. It is important to let your insurance agent know about your DUI to ensure you get an accurate quote.
Get an Ohio Cheap Car Insurance Quote Today!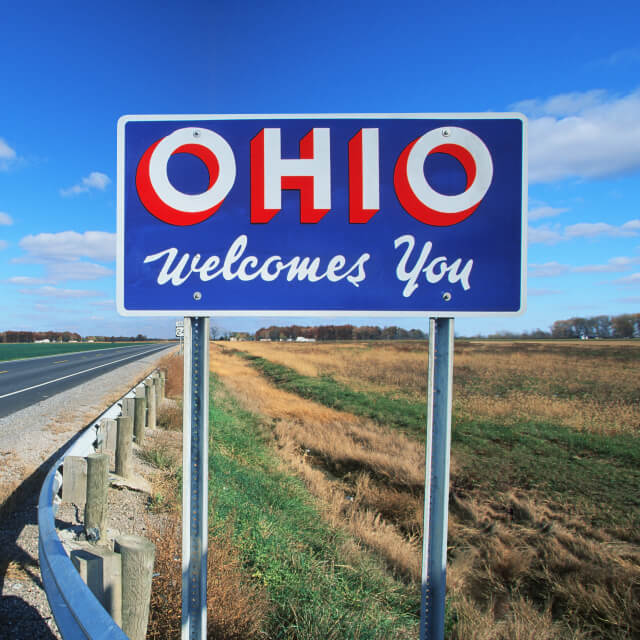 There is no doubt about it: you need auto insurance to drive in the State of Ohio. Having the right coverage is more than just a good idea. It is required by law. That said, your interests could best be served by maintaining a higher level of insurance than what is mandated by the state.
If you are ready to talk about great insurance at the right price, Freeway Insurance is here to help. You can get started with a quote online or visit us at an office near you. You can also call us at (800) 777-5620 for a quote. Contact us today!
Auto Insurance Info by City
Select a Product or Service to request a quote
Ready to Get a Quick Quote?