Located on the western tip of Lake Erie, Toledo's main claim to fame is the 'Glass Capital of the World' thanks to its strong glass-making tradition. It is also home to lush greenery with more than 10,000 acres of metro parks. Our favorite spots include the Secor Metropark, the 493-acre Wildwood Preserve Metropark, and the Glass City Metropark, with more than 300 acres of riverfront space and multi-use trails.
All Toledo drivers are required to carry auto insurance. Keep reading to learn about car insurance in Ohio, including average rates paid by zip codes and discounts Toledo residents can apply for to bring that premium down.
Quick Facts
The Toledo Zoo attracts more than 1 million visitors every year and is named the top zoo in the U.S.
The Toledo Mud Hens are one of the few "famous" minor league baseball teams in the country.
Toledo is home to the Chrysler Toledo Complex, which manufactures Jeep Wranglers and Cherokees.
How Much Does Car Insurance Cost in Toledo, Ohio?
Toledo drivers pay a monthly average rate of $46 for the state-required minimum liability car insurance. That's very close to the national average of $47 and higher than the average for Ohio overall, which comes in at $28.
The minimum liability is the cheapest auto insurance available in Toledo. Most people will not get this attractive rate, since individual factors such as age, driving history and zip code play a part in underwriting decisions.
The average monthly cost of full coverage in Toledo is $120. This is lower than the national average of $147, but higher than the average in Ohio at $100
Those who either owe money on their vehicle or just want more protection typically have full coverage auto coverage. This begins with the required liability and then adds comprehensive coverage and collision insurance.
Getting a Free Auto Insurance quote with Freeway is easy!
Low-Cost Car Insurance Rates Comparison by Cities
For a comparison, the average monthly premium paid by other cities in Ohio is below.
| City | Full Coverage Insurance | Liability Insurance Coverage |
| --- | --- | --- |
| Toledo | $120 | $46 |
| Cincinnati | $116 | $43 |
| Cleveland | $118 | $41 |
| Columbus | $115 | $41 |
| Dayton | $110 | $40 |
Affordable Car Insurance Rates by Zip Code in Toledo, Ohio
Specific zip codes pay higher premiums than other zip codes, thanks to theft, vandalism, and claim incidence rates.
See our breakdown below for the average monthly premium paid by Toledo residents by zip code.
| Zip Code | Full Coverage Insurance | Liability Insurance Coverage |
| --- | --- | --- |
| 43315 | $96 | $32 |
| 43601 | $119 | $44 |
| 43604 | $120 | $46 |
| 43605 | $119 | $46 |
| 43606 | $113 | $42 |
| 43607 | $123 | $47 |
| 43608 | $126 | $47 |
| 43609 | $120 | $46 |
| 43610 | $125 | $47 |
| 43611 | $116 | $45 |
| 43612 | $119 | $46 |
| 43613 | $117 | $45 |
| 43614 | $114 | $46 |
| 43615 | $106 | $40 |
| 43617 | $105 | $41 |
| 43620 | $123 | $46 |
| 43623 | $110 | $43 |
| 43657 | $126 | $47 |
| 44306 | $113 | $41 |
Low-Cost Car Insurance Rates by Age in Toledo, Ohio
Younger drivers generally pay higher premiums than older drivers, thanks to a collective tendency to have more claims. Not to mention, they have little to no real experience behind the wheel.
See our breakdown below for the average monthly premium paid by Toledo residents by age.
| Age | Full Coverage Insurance | Liability Insurance Coverage |
| --- | --- | --- |
| Teenagers | $498 | $207 |
| 20s | $177 | $69 |
| 30s | $120 | $46 |
| 40s | $114 | $45 |
| 50s | $106 | $42 |
| 60s | $109 | $44 |
| 70s | $116 | $47 |
Unless otherwise specified, we use the following methodology to arrive at our average cost: male, age 30, lowest possible legal coverage allowed by Ohio. Your rates will be determined by several factors, including your age, your gender and the amount of coverage you want to purchase.
Driving Conditions in Toledo, Ohio
How Many Fatal Accidents Happen in Toledo?
In 2019, there were 22 fatal road traffic accidents in Toledo. Of these, there were a total of 40 vehicles involved and 55 people, including six pedestrians.
How Are the Road Infrastructure and Bridges in Toledo, Ohio?
The city of Toledo has an active Public Worek department that focuses on essential construction projects throughout the city. This includes the removal of rough pavement patches, seal coating streets, repairing asphalt, and replacing pedestrian curb ramps at crossings.
Its website has a list of all past and current Construction Projects.
For more information on Toledo's ongoing construction projects by streets, avenues, and roads, visit City of Toledo – 2022 Construction Projects.
Minimum Car Insurance Requirements in Toledo, Ohio
Bodily Injury Liability per Person: $25,000
Bodily Injury Liability per Accident: $50,000
Property Damage Liability Per Accident: $25,000
Keep in mind Ohio's minimum liability requirements account for liability-only coverage, which is cheaper than full coverage with first-party benefits. All full coverage policies include collision and comprehensive insurance for additional protection against vehicle-to-vehicle, vehicle-to-object, and rollover collisions and events outside your control, such as theft, falling objects, and vandalism.
Getting a Free Auto Insurance quote with Freeway is easy!
What Are the Penalties for Driving Without Insurance in Toledo, OH?
Driving without insurance in Toledo, or anywhere in Ohio, is a terrible idea.
If caught driving without insurance, penalties for a first offense include $160 in reinstatement, compliance, and registrar service fees. On top of that, you will be required to file an SR-22 (Certificate of Financial Responsibility), which stays on file for up to five years. Depending on the severity of the offense, expect premium rate hikes as high as 300%.
Second, third, and subsequent offenses will see increased punishment with one, two, or five-year license suspensions and restoration fees topping $660. Additionally, your vehicle may be impounded and sold.
Remember, the Ohio Bureau of Motor Vehicles requires that all drivers carry minimum liability coverage of $25,000 for injury/death of one person, $50,000 for injury/death of two or more people, and $25,000 for property damage per accident.
Car Insurance Factors Allowed in Toledo, OH
Each state issues mandates and regulations affecting how auto insurers determine premiums.
In Toledo, factors used by auto insurance companies to determine your rates include (not an all-inclusive list):
Age
Gender
Marital status
Driving record
Job title
Level of education
Changes to one or more of these factors may result in a lower or higher premium. Even just moving from one zip code to another could have an impact.
Discounts for Car Insurance in Toledo, Ohio
As your life circumstances change, we recommend calling your insurance provider to ask for discounts or policy adjustments. Not all insurers automatically apply discounts. Many are extended based on a driver's initiative, such as installing anti-theft devices, driving an older make and model vehicle, or enrolling in defensive driving courses to cut points off their record. An open line of communication with your auto insurer works!
Get an Online Quote for Low-Cost Car Insurance in Toledo, Ohio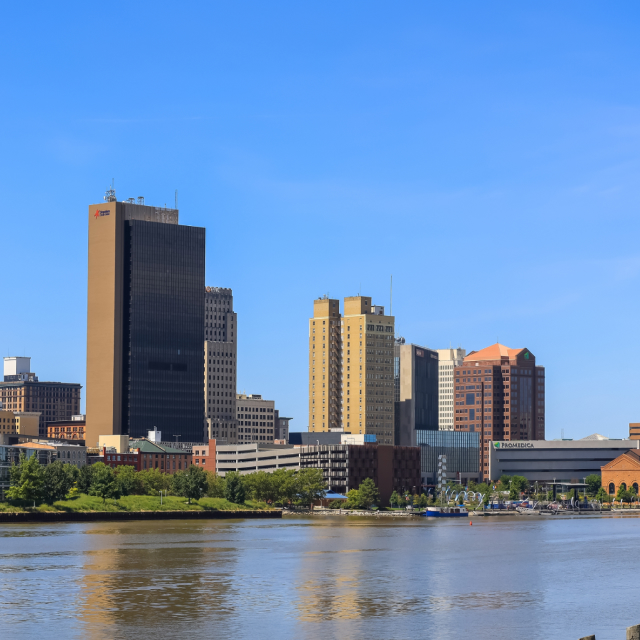 Now that you're familiar with everything there is to know about Toledo auto insurance, let Freeway Insurance help you find an affordable state minimum liability or full coverage policy.
Ready for a quote? Let Freeway Insurance know by requesting a quote online, visiting a Toledo location near you, or calling 800-777-5620 to discuss your options with one of our friendly agents.
Select a Product or Service to request a quote
Ready to Get a Quick Quote?