How Much is Auto Insurance for My Ram Truck?
The average annual premium for a Ram is $527 for minimum and $1,697 for full. There are reasons why motorists would choose one or the other for their truck and Freeway Insurance has agents who can help you decide the best auto insurance coverage for you.
Although the state minimum may be the cheapest, it may leave you high and dry if something happens and you are found to be at fault. Every driver pays a different amount since no two people have the exact same background and circumstances. Since pickups are generally considered a safe choice, it may come down to your age and driving or claims history, among other things.
Getting a Free Auto Insurance quote with Freeway is easy!
Comparing Costs to Other Makes and Models
There are many reasons why the rates for your truck are different than other makes and models, such as the Ford F-150, Chevy Silverado and GMC Sierra. These reasons include make/model year, safety features, reliability record, and the cost of parts and labor for each model.
| Make/Model | Annual Full Coverage |
| --- | --- |
| Ram Truck | $1,697 |
| Ford F-150 | $1,442 |
| Chevy Silverado | $1,682 |
| GMC Sierra | $1,662 |
Types of Truck Policies
Freeway offers all Dodge drivers different types of car packages, including the state minimum liability, full and plenty of other options.
Full Coverage
Full coverage policies go above and beyond state minimum liability with the inclusion of additional protections in the event of an accident or other covered instance. One of those added is comprehensive coverage. This can provide financial relief if your truck is stolen, it becomes damaged in a hail storm or other events, such as you hit a deer.
The other additional protection is collision coverage.  Whether you cause a wreck or someone else is at fault, your collision will kick in to help pay for repairs if the liability levels are not enough to pay for the total.
Unlike state minimum liability, full covers your own repair costs, not just those of opposing drivers and property.
The Average Cost of Full Coverage
Not surprisingly, full policies cost substantially more than state minimum policies. The average for your truck will be $1,697 annually. Keep in mind it could be more or less depending on factors such as your age, your driving record, where you live and how much deductible you are willing to pay.
State Minimum Liability
State minimum liability is the minimum amount required by each state, consisting of bodily injury (BIL) and property damage (PDL). Depending on what state you live in, you may also be required to add other protections, such as uninsured motorist coverage (UM) and Personal Injury Protection (PIP).
Different states have their requirements. For example, all Louisiana drivers must carry liability limits of $15,000 BIL per person, $30,000 BIL per accident, and $25,000 PDL. However, Kentucky drivers must purchase $25,000 BIL per person, $50,000 BIL per accident, and $25,000 PDL, plus $10,000 PIP.
Regardless of whether your state requires UM, it's cheap for the value it provides if you get hit by someone who is uninsured. If you live in a no-fault state, your property damage liability pays for your damages, regardless of who is at fault. If you live in an at-fault state, your bodily injury and PDL go to the other parties involved if you are at fault.
State Minimum Average Cost
The lowest you'll pay, on average, is $527 annually. This rate is reserved for a mature driver with a clean history who lives in a place where there is a low incidence of claims, wrecks and lawsuits.
Find an office near you to help with your auto insurance
Optional Coverages for the Ram Truck
If you want to ensure your pickup – and you – are covered for almost any eventuality, you have many optional protections to choose from, including:
Gap – Guaranteed Asset Protection means if your new truck is stolen or totaled, you won't have to pay the difference between the value and what you owe. In many cases, your vehicle depreciates faster than your monthly payments add up to – meaning you could still owe several thousand dollars after your loss.
Roadside Assistance – Roadside assistance is there to help you when you are stuck, such as a flat tire (spare is also flat), locked yourself out, left your lights on (battery dead) and much more.
Your Freeway agent can walk you through the variety of packages available so you'll be able to pick the one that best fits your budget and needs.
How Does a DUI Affect Rates for My Truck?
If you are a Ram truck driver with a recent DUI conviction, expect it to significantly increase your premiums. Many first-time DUI offenders can see their premiums double or triple, staying elevated for three to five years.
On top of elevated premiums, expect heavy state penalties, a suspended driver's license/registration and possible jail time, depending on the severity of the offense. You may also need to file an SR-22 certificate, which signifies that you are considered a high-risk driver.
Fortunately, there are ways those with DUI convictions can save over time. One of the best ways is to restructure your policy to increase deductibles and lower limits to the state-required minimum. However, this offers substantially lesser protections than a full policy with comprehensive and collision liability.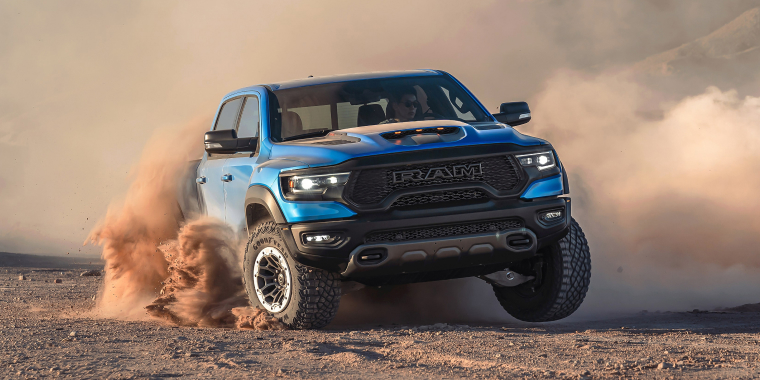 What Are Some Truck Discounts?
If you drive a Dodge and have a clean driving record, expect to save on auto insurance with plenty of discounts.
Discounts typically fall under four categories: policy, driver behavior, vehicle-based, and affiliation-based discounts.
Policy-based discounts are awarded based on how you structure your policy. For example, bundling (purchasing two or more policies from the same insurer) can save you a percentage off each one. Other

policy-based

discounts include renewals, paying your premium upfront, and enrolling in autopay and paperless billing.
Driver behavior discounts are awarded based on driving history. If your driving record is free of claims and moving violations within the last three to five years, expect your insurer to classify you as a

low-risk

driver, earning you lower premiums.
Other discounts are awarded for installing

anti-theft

and telematics devices in your vehicle to monitor driving behavior, driving less than 7,500 miles a year, and completing defensive driving courses.

Higher-risk

groups like teenagers and seniors can significantly benefit from defensive driving course discounts.
To stay on top of the latest discounts, we highly recommend comparing quotes from at least three or four insurers upon policy renewal. It is also a good idea to call your auto insurer every six months (or as your life circumstances change) to learn which discounts, if any, are available.
What Are Some of the Characteristics of My Pickup?
This is a vehicle in the full-size pickup segment. It is available in eight trims – Tradesman, Tradesman HFE, Big Horn, LaRamie, Rebel, Limited Longhorn, Limited, and TRX.
It also has several powertrain options, including a base 305-horsepower 3.6-liter V6, 395-horsepower 5.7-liter V8, 260-horsepower 3.0-liter V6 diesel, and a 702-horsepower supercharged 6.2-liter V8.
It also offers the choice of two-sized beds – a 5-foot-7-inch and a 6-foot-4-inch version.
This truck's best off-road performers are the Recel and TRX trims, with additional features like locking differentials and skid plates for greater rocky terrain protection.
Main competitors are the Ford F-150, GMC Sierra 1500, Chevrolet Silverado 1500, and Toyota Tundra.
Find the Best Truck Insurance Rates Online Today
In an accident, be fully protected with a policy from Freeway. Ready to request a quote? You are welcome to visit us online, stop by one of our offices, or call us at 800-777-5620. Get in touch with us today!