Located in the midwest, Nebraska is a topographical wonder, full of some of the most impressive scenic byways in the nation. Popular routes include the historic Gold Rush route — a 131-mile stretch on US 385 between Chadron and Sidney. To explore the quaint and charming downtowns Nebraska has to offer, we also recommend the Heritage Byway, which takes you through ten counties from Brownsville (population 150) to Edison.
Other attractions Nebraska offers include the Strategic Air and Space Museum with its stunning Cold War aircraft collection and the 130+- acre Omahas Henry Doorly Zoo and Aquarium, home to the largest indoor rainforest and the largest indoor desert in the country.
All Nebraska drivers are required to have car insurance. Keep reading to learn more about Nebraska car insurance, including average costs, how to save money on car insurance, a rate comparison between some of Nebraska's biggest cities, and much more.
Quick Facts
In 2019, there were 342 pedestrian crashes in Nebraska, resulting in 20 deaths.
Nebraska is an at-fault state, passing on the costs of medical bills and property damages resulting from a car accident to the driver ruled to be at fault.
There are almost 1.5 million licensed drivers in Nebraska.
How Much Is Car Insurance in Nebraska?
Nebraska drivers pay an average monthly rate of $128 for full coverage car insurance, slightly lower than the national average of $138. On the other end, drivers in Nebraska pay $28 monthly for the state-required minimum liability car insurance, again lower than the national average of $40.
Many factors help determine your rate, including your age, gender, zip code of residence, coverage level, and the make and model of the vehicle you drive.
In short, having a problematic driving and claims history, combined with other factors, may make your premiums higher.
What Is the Average Premium in Nebraska for Full Coverage Car Insurance?
Nebraska full coverage car insurance cost an average of $1,530 a year, which is below the national average of $1,650.
Although $1,530 for full coverage is significantly higher than the average of $340 for the minimum required liability car insurance, it will provide considerably more protection in the event of an accident. Even a somewhat minor fender bender on a luxury vehicle could eclipse Nebraska's $25,000 minimum property damage limit, resulting in high out-of-pocket costs and plenty of headaches.
The difference between a minimum and full-coverage plan, which is anywhere from $50 to $100 per month, could be worth your peace of mind.
How Much Is It for Just the Minimum Required Car Insurance in Nebraska?
Nebraska drivers with the state-required minimum car insurance in Nebraska should expect to pay an average of $340 per year. Keep in mind that this rate is subject to change based on your age, gender, driving history, zip code, and claims history.
Since Nebraska is an at-fault state, the insurance company of the at-fault driver in a car wreck will pay for injuries and damage up to the policy limit of the other people involved in the accident. If you are that at-fault driver, your insurance company will not pay anything for your injuries and damages with the minimum liability coverage. If the bills of the other driver(s) are higher than your coverage limits, you'll be left paying for that additional out of pocket, plus your own costs.
This is why many people choose to upgrade their liability coverage, as well as purchase more coverage in the form of collision car insurance and comprehensive car insurance.
How Do Rates Compare Across Major Cities in Nebraska?
In Nebraska, rates change from city to city. Car insurance companies look at a variety of factors when determining your car insurance premium, including where you live. Residents of cities that have a higher density of drivers, leading to more accidents, and a high number of crime and vandalism statistics will most likely see higher premiums than their neighbors in rural areas.
See our breakdown below for the monthly average rate drivers in five cities in Nebraska pay.
| City | Full Coverage Insurance | Liability Insurance Coverage |
| --- | --- | --- |
| Lincoln | $116 | $43 |
| Omaha | $121 | $43 |
| Bellevue | $119 | $44 |
| Grand Island | $114 | $34 |
| Kearney | $116 | $32 |
Unless otherwise specified, we use the following methodology to arrive at our average cost: male, age 30, lowest possible legal coverage allowed by state. Your rates will be determined by several factors, including your age, your gender and the amount of coverage you want to purchase.
Are There Good Driver Discounts in Nebraska?
Nebraska drivers with clean driving records can save money on car insurance by applying for discounts. Some discount categories include low mileage, safe driving, defensive driving, and policy discounts.
Other discounts apply to select professional organizations, military members, seniors, and good students.
To get the most out of your policy, contact your agent for new discounts every six months to a year, especially if your life circumstances change (e.g., switching vehicles or moving to another location).
Getting a Free Auto Insurance quote with Freeway is easy!
Nebraska Car Insurance Laws
To drive legally in Nebraska, you must have car insurance. All insurance companies are required by law to relay lapses and cancellations in insurance coverage to the state, which may drop the hammer down with fines, penalties, and reinstatement fees to those who choose to drive uninsured.
What Are the Mandatory Car Insurance Requirements in Nebraska?
All Nebraska drivers must carry liability coverage, covering bodily injuries and property damages for all injured parties in an accident you are determined to be at fault for. Uninsured/underinsured motorist coverage also covers medical bills and lost wages for you and your passengers with an uninsured at-fault driver.
The minimum auto liability insurance limits in Nebraska are:
$25,000 for bodily injury per person
$50,000 for bodily injury per accident
$25,000 for property damage per accident
Bodily injury $25,000 per person (uninsured/underinsured coverage)
Bodily injury $50,000 per accident (uninsured/underinsured coverage)
We highly recommend seeking auto insurance coverage above state-mandated limits for greater peace of mind.
What Factors Does Nebraska Law Allow in Determining Your Premiums?
Insurers consider several factors when determining how much you pay for car insurance. Obviously you cannot change your age, so if you are in your teens and early 20s, you'll be paying a hefty amount for car insurance since this group of drivers tends to have higher rates of accident and tickets. However, the things that are in your control can favorably affect your insurance costs, including showing responsibility by paying your bills on time and maintaining a safe driving record.
Here are some of the most important factors:
Age
Gender
Claims history
Zip code of residence
Credit history
Type of vehicle
What Is the Penalty for Driving Without Insurance in Nebraska?
In Nebraska, driving without insurance is classified as a Class II misdemeanor. For a traffic stop, expect to be served with a "No Proof of Insurance" citation, followed by a suspension. To reinstate their license, offenders need to submit a Letter of Verification to the Department of Motor Vehicles.
Any reinstatement of your driver's license will be followed by a $50 fee and providing proof of financial responsibility by filing for an SR-22. An SR-22 is a certificate of insurance that proves you meet the state's minimum liability coverage limits, which stays on file for three years from the date of the offense.
Am I Required to Report an Accident in Nebraska to Authorities?
In Nebraska, all vehicle crashes need to be reported to the Department of Transportation Highway Safety Office within ten days if they result in injury, death, or property damage exceeding $1,500.
Nebraska is an at-fault ("tort") state. At-fault states require drivers at fault for an accident to pay for other drivers' bills through their insurance carrier. Each driver is assigned a percentage of responsibility, with payouts awarded accordingly.
Find an office near you to help with your auto insurance
What Is Driving Like in Nebraska?
| County | Fatal Car Accidents in 2019 |
| --- | --- |
| Douglas | 46 |
| Hall | 7 |
| Dodge | 8 |
| Cass | 6 |
How Many Uninsured/Underinsured Motorists Are in Nebraska?
Although there are no official stats on the number of uninsured and underinsured motorists in Nebraska, the Insurance Information Institute's 2019 figures estimate that 9.3% of Nebraska's drivers are uninsured. This percentage puts it in 34th place out of all states. This projection is made possible by measuring the ratio of uninsured motorist claims to bodily injury claims in the state.
FAQs About Nebraska Car Insurance
I Am a Low-Income Driver. What Can I Do About Getting Car Insurance in Nebraska?
Although there are no dedicated low-income programs for Nebraska drivers, they can save on car insurance in many ways.
One of the best ways is to apply for discounts. Discounts fall into several categories, including safe driver, policy, and vehicle discounts. Driver discounts are based on characteristics such as age, gender, and zip code of residence, driving behaviors and driving habits.
Policy discounts extend to customer loyalty, auto-pay, paperless billing and bundled policies. For example, combining your auto and homeowners insurance can offer savings up to 25% on each one. Lastly, vehicle discounts apply to low-income drivers who install auto safety technology in their vehicles, such as anti-lock brakes and anti-theft devices.
Can an Undocumented Worker Get Car Insurance in Nebraska?
Fortunately, Nebraska does allow undocumented workers to apply for driver's licenses. This allows them to apply for car insurance.
Is It Possible to Get Car Insurance in Nebraska with a DUI Mark on my Record?
Nebraska drivers who have been convicted of DUI are eligible for car insurance upon filing for an SR-22 certificate, proving the minimum liability insurance. An SR-22 must remain on file for three consecutive years after a DUI conviction.
Those who have been required to file an SR-22 with the state are considered high-risk drivers. Note, high-risk car insurance policies are generally more expensive. Therefore, we highly recommend shopping around and comparing car insurance rates, as premiums can vary wildly between carriers.
Get a Nebraska Car Insurance Quote Online Today!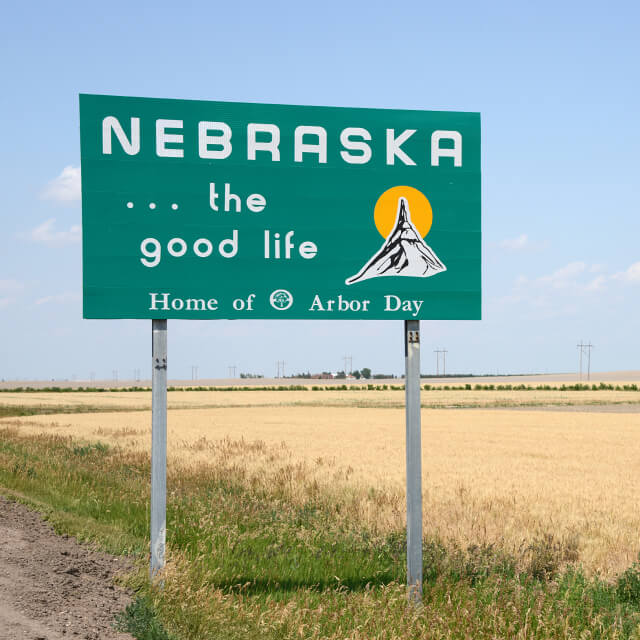 Staying covered with an affordable car insurance policy is essential to avoid fines and suspended license and registration in Nebraska. Even undocumented and low-income workers can benefit from low-cost car insurance.
Get started with an insurance quote online, or visit us at a Nebraska office near you or call us at 800-777-5620 for a quote.
Auto Insurance Info by City
Select a Product or Service to request a quote
Ready to Get a Quick Quote?