Kansas has long been considered America's heartland. It is home to some of the nation's most vibrant attractions, including the Kansas State Capitol in Topeka, the Wild Wild West-themed Boot Hill in Dodge City, and one of the most iconic tallgrass prairies in the country with the Tallgrass Prairie National Preserve. With a dynamic combination of historical sites, nature reserves, and all-out urban fare, Kansas is a great place to explore.
In Kansas, auto insurance is required. A real-time database of all active and lapsed insurance policies exists. In the event your auto insurance lapses, Kansas officials will let you know very quickly.
Quick Facts
Based on 2019 data, there were 947,148 vehicles in the state of Kansas.
According to the Kansas Department of Transportation, there were 361 fatal traffic crashes with 410 fatalities in Kansas in 2019, out of a total of 64,935 crashes.
Kansas is a "no-fault" state, meaning your insurance company will cover your medical expenses up to the amount allowed by your policy, regardless of who is at fault.
How Much Is Car Insurance in Kansas?
The average cost of car insurance in Kansas is $410 per year for the state required minimum, which is lower than the U.S. national average of $564. How much you pay for car insurance depends on several factors, including your claims history, driving record, age, gender, zip code residence, and elections such as lower or higher deductibles.
Some zip codes pay higher auto premiums than other zip codes due to collective driving records and area crime statistics, including car theft. Likewise, age groups with a notably higher number of claims will pay a higher average premium than age groups with a lower number of claims.
What Is the Average Premium in Kansas for Full Coverage Car Insurance?
On average, Kansas drivers pay $142 per month for full coverage. Full coverage car insurance comprises three key coverage types. The first is liability, which covers your medical bills for accidents up to your policy amount. The second is collision coverage, which covers the cost of repairs to your vehicle in the event of a collision with another vehicle or object. The third is comprehensive coverage, which covers losses because of theft, falling objects, animals, fire, and extreme weather.
With full coverage, you have a much higher level of protection for yourself, your family and your property. Opting for the higher premium with more generous deductibles and coverage limits allows for greater peace of mind in the event of an accident.
How Much Is It for Just the Minimum Required Car Insurance in Kansas?
On average, the annual premium for the minimum amount of car insurance required by the state is $410. This will give you a limited amount of protection in the event of a crash or other incident where you are injured or your property is damaged. In many cases, you will still wind up paying for some of the costs out of pocket, since car crashes can result in high medical and property damage bills.
Quite simply, full auto insurance coverage offers greater protections in the event of an accident. Although most states have minimum car insurance requirements, you have full control over the deductible amount and amount of collision and comprehensive coverage.
How Do Rates Compare Across Major Cities in Kansas?
Car insurance rates can vary from town to town and city to city. Some sparsely-populated rural areas may not experience the same number of car crashes and vehicle crime as their more populous neighbors – leading to lower car insurance premiums for those residents. Below is a list of average monthly rates for 10 cities in Kansas.
| City | Average Monthly Rate for Minimum Coverage |
| --- | --- |
| Garden City | $39 |
| Overland Park | $48 |
| Kansas City | $52 |
| Wichita | $47 |
| Olathe | $38 |
| Shawnee | $47 |
| Hutchinson | $39 |
| Lawrence | $43 |
| Topeka | $43 |
| Leavenworth | $44 |
*We use the following methodology to arrive at our average cost: male, age 30, lowest possible legal coverage allowed by state. Your rates will be determined by several factors, including your age, your gender and the amount of coverage you want to purchase
Is There a Good Driver Discount in Kansas?
Yes, there are many good driver discounts Kansas drivers can take advantage of. Some discounts include, but are not limited, to:
Accident and claims-free discounts
Automatic bill pay discounts
Anti-lock brake and anti-theft device discounts
New vehicle discounts
Paid-in-full discounts (annual premiums paid at once)
There are also a limited number of green driving incentives available, including alternative fuel tax credits for companies, eco-friendly discounts (e.g., for hybrid or alternative fuel vehicle drivers), and federal tax credits for all-electric and plug-in hybrids. Policies with these specialized discounts are subject to change and may not be available at this moment in time.
We highly recommend calling your insurance provider every year to check your eligibility for available discounts. If your situation changes, for example you begin working from home, check to see if the reduced mileage on your vehicle translates into savings on your car insurance premium.
Getting a Free Auto Insurance quote with Freeway is easy!
Kansas Car Insurance Laws
A real-time database ensures that the state and insurance companies know which vehicles are insured and which vehicles are not insured. All insurance companies must report this information to the state. If your coverage lapses, your insurance company is required to report this to the state.
What Are the Mandatory Car Insurance Requirements in Kansas?
All Kansas drivers are required to have minimum liability coverage. Kansas is a "no-fault" state, which means your insurance company covers your expenses up to policy limits, regardless of who caused the accident. Note, minimum coverage may not cover all expenses.
Here are Kansas' minimum coverage requirements:
$25,000/$50,000 bodily injury per person/accident
$25,000 per accident for property damage
$25,000/$50,000 for uninsured/underinsured motorist coverage per person/accident
$4,500 Personal Injury Protection
To register your vehicle in Kansas, you will need to present proof of insurance.
What Factors Does Kansas Law Allow in Determining Your Premiums?
The amount of premiums paid by Kansas drivers depending on several factors, most notably where you live, your age, and driving record.
Other factors include:
Gender
Marital status
Make/model of vehicle.
Credit score
To take advantage of cheaper premiums, drivers can opt for driving an older vehicle, seeking minimum coverage requirements, increasing deductibles, and excluding miscellaneous coverage items such as car rentals in the event of an accident. Note that the average annual premium in Kansas for full coverage is lower than the national average.
What Is the Penalty for Driving Without Insurance in Kansas?
The penalties for driving without insurance can be severe. With a real-time database tracking lapsed coverage, you may be subject to penalties as soon as it is determined you are not covered.
For a first offense, expect to be served with a Class B misdemeanor, which could result in fines up to $1,000 and jail time depending on the situation. For second and third offenses/habitual violations, fines increase to as high as $2,500 with the possibility of imprisonment for up to two years. Driving privileges are also revoked with a license and registration suspension until proof of insurance is offered and up to three years for third/habitual convictions.
Even reinstating your insurance can be a hassle. Expect to pay a $100 fee and file for an SR-22 certificate for three years, with higher fees for second and third offenses/habitual violations. SR-22 insurance vouches for your financial responsibility and typically equates to a much-higher cap insurance premium. Insurance companies generally consider drivers who are required to file an SR-22 certificate as "high-risk" drivers.
Am I Required to Report an Accident in Kansas to Authorities?
Kansas drivers are required to report an accident to authorities depending on certain conditions. For starters, accidents do not need to be reported if a police officer arrives at the scene to file a report.
If a police officer does not arrive at the scene, there are three conditions under which an accident should be reported. The first is if property damages are estimated to be $1,000 or more. The second is if the accident results in serious injury/fatalities and the third is if one or more affected persons are not at the scene to collect the first driver's contact information. All accidents must be reported immediately. The Kansas Division of Vehicles may also require you to file a written accident report.
Note, Kansas requires you to report car accidents to select authorities that have the power to oversee such matters, such as the Kansas Highway Patrol or the nearest town's police department.
Find an office near you to help with your auto insurance
What Is Driving Like in Kansas?
How Many Car Accidents Happen in Kansas?
Below is a table containing the number of fatal car accidents for some of Kansa's larger cities.
| City | Fatal Car Accidents in 2019 |
| --- | --- |
| Topeka | 8 |
| Wichita | 38 |
| Olathe | 6 |
| Lawrence | 3 |
| Kansas City | 18 |
How Many Uninsured/Underinsured Motorists Are in Kansas?
According to the Insurance Information Institute, roughly 10.9 of Kansas motorists were uninsured in 2019, ranking in 28th place out of all 50 states.
It is required that you carry uninsured and underinsured motorists' coverage, in case an uninsured motorist hits your vehicle.
FAQs About Kansas Car Insurance
I Am a Low-Income Driver. What Can I Do About Getting Car Insurance in Kansas?
At the very least, opt for minimum car insurance. You will also be able to save on auto insurance premiums if you drive an older make and model vehicle, which are typically cheaper to insure than newer models or higher priced vehicles.
Also, regularly check in with your insurance agent to see if you qualify for any discounts. There are a variety of discounts available, including those available to the military, hybrid, and alternative fuel vehicles, etcetera.
Can an Undocumented Worker Get Car Insurance in Kansas?
Yes, illegal immigrants in Kansas are eligible to apply for a driver's license using a Driver Authorization Card (DAC). Note that this is not intended to show proof of citizenship.
Is It Possible to Get Car Insurance in Kansas With a DUI Mark on my Record?
Those with a DUI on record are still eligible for auto insurance, provided you submit an SR-22 form. High-risk drivers are subject to higher premiums due to an active claim history. Premiums can increase by as much as 46% or up to $1,000 added to your annual bill.
Kansas drivers that are convicted of driving with the following blood alcohol concentration (BAC) levels will face strict penalties. Expect the strictest penalties for minors who register a BAC at close to double that of the legal limit for 21-year-olds (.08%+)
+04%+ for people under 21 years old
+08%+ for people ages 21 and up
.04%+ for commercial vehicle drivers
In addition, car insurance will not cover drunk driving accidents if it is determined you are inebriated at the time of the crash. Please review your policy's Product Disclosure Statement (PDS) so you understand what you are covered for and what you are not.
Avoid the hassle of driving with a DUI at all costs. Filing a petition with the court to get DUIs expunged can be a very time consuming and costly process. A first conviction can have you complete up to 100 hours of community service on top of a one or two-day jail sentence along with enrollment in drug and alcohol education classes. You may also need to install an ignition interlock device to prevent you from driving under the influence in the future.
Make sure you let your insurance agent know of your complete driving record and claims history to get the most accurate rate possible.
Get a Kansas Car Insurance Quote Today!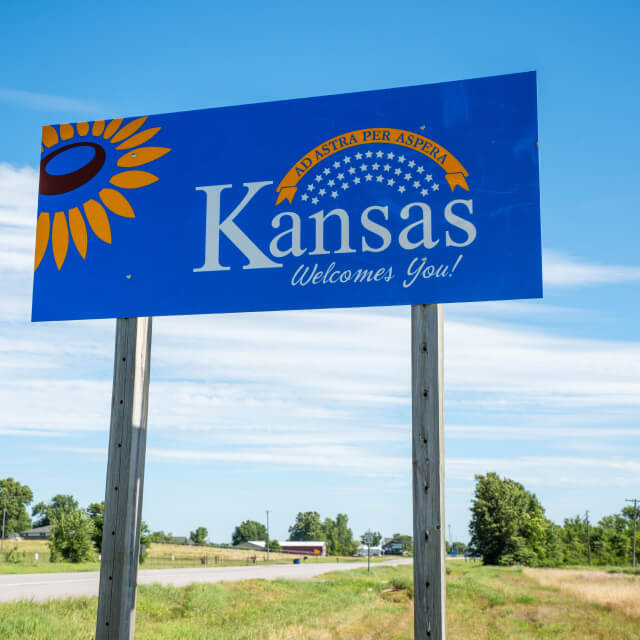 At Freeway Insurance, our agents will help you find the best and cheapest car insurance in Kansas, so you, your family and property will be protected – and legal.
Get started with a quote online or visit us at a Kansas office near you. You can also call us at (800) 777-5620 for a quote. Contact us today!
Auto Insurance Info by City
Select a Product or Service to request a quote
Ready to Get a Quick Quote?