How Much Is Auto Insurance for a Nissan Altima?
The average annual premium is $526 for minimum and $1,788 for full.
Most drivers in the U.S. are required to carry some car insurance. Drivers who have financed will need full coverage at the minimum to protect the lender's investment. Those who own will have the option of carrying different types of auto insurance. Everybody has to purchase at least the state-required minimum, which varies greatly from state to state.
Getting a Free Auto Insurance quote with Freeway is easy!
Comparing Costs for Your Sedan to Other Makes and Models
There are many reasons why costs are different between other makes and models of sedans. These factors include the model year, the cost of parts/labor and the inclusion of safety features like high beam light assist and blind spot detection.
| Make/Model | Annual |
| --- | --- |
| Altima | $1,323 |
| Pathfinder | $1,204 |
| Rogue | $1,492 |
| Toyota Camry | $1,267 |
| Dodge Charger | $1,447 |
Types of Car Coverage for the Nissan
All drivers are required to carry the minimum their state requires. In addition, some will need more, as well. There are also a number of different types that may be required depending on where you live, as well as some optional additions that are worth a look. Your independent Freeway agent can help you find cheap car insurance.
Full coverage
It costs more than a liability-only policy, thanks to comprehensive and collision. This covers additional types of damage, including rollover collisions, as well as damage such as theft and storm damage.
Full policies do not include extras like rental car reimbursement, roadside assistance, or new car replacement. They are considered optional and applied separately.
Average Cost of Full Coverage
The cost averages $1,323 per year. Expect these policies to cost two or three times as much as state minimum liability.
Although not all states require full coverage, you should opt for it over state minimum liability, as it protects your property and injuries, not just those of other drivers.
State Minimum Liability
In at-fault states, if you cause an accident, your liability-only helps pay for expenses incurred by the other people. No protections are extended to you. In a no-fault state, your liability policy will help pay for your damages, regardless of who caused the wreck. In many cases, liability limits are not enough to cover all the costs associated with a bad accident. Therefore, many  drivers choose to increase their liability limits.
State minimums may also include uninsured motorist coverage (UM) and either personal injury protection (PIP) or medical payments (MedPay).
Liability-only policies consist of bodily injury and property damage liability. Each state sets its liability requirements. For example, all Louisiana drivers must carry liability limits of $15,000 for bodily injury (per person), $30,000 for bodily injury (per accident), and $25,000 for property damage. However, Massachusetts is a no-fault state and requires much more, including $20,000 bodily injury or death per person, $40,000 bodily injury or death two or more persons; $5,000 property damage; $20,000 uninsured per person, $40,000 uninsured two or more persons; and $8,000 PIP.
State Minimum Average Cost
Expect state minimum costs to average around $585 annually.
How Does a DUI Affect Rates for a Nissan Altima?
DUI convictions have a detrimental effect on rates. It is not uncommon to see a driver with a recent DUI pay double or even triple the annual premium as a driver in good standing. Drivers who are convicted of DUI are seen as high-risk drivers and many insurers will not cover such drivers.
How much more drivers pay after a DUI conviction depends on several factors, such as age, type of make and model, driving record, and date of most recent DUI conviction. In some cases, an insurer may decide not to renew your policy. Your state may require you to file an SR-22.
Fortunately, there are ways drivers with DUI convictions can save, including shopping around for cheap DUI insurance.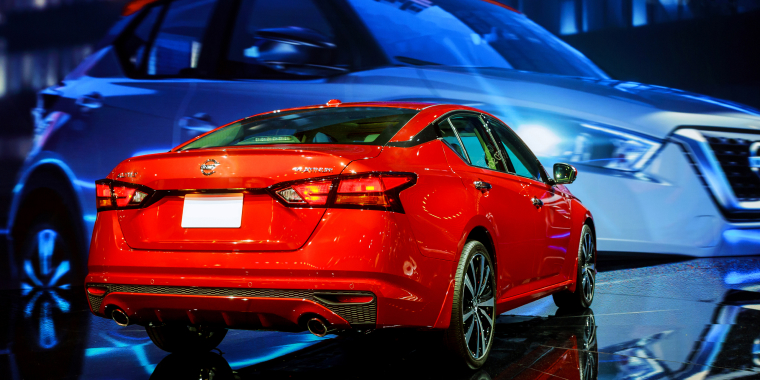 What Are Some Auto Discounts for Nissan?
There are many ways drivers can save on auto insurance.
One of the best discounts  drivers can have is a good driver discount. Good driver discounts are awarded to drivers with records free of claims and moving violations for the past 3-5 years. The actual discount percentage varies by amount and by the carrier.
Other discounts include driving less frequently (e.g., less than 5,000 miles a year) and installing

in-auto

telematic devices provided by the insurer to track mileage and positive driving behaviors.
Popular discounts include autopay discounts and being a senior driver or a former or current military member.
Don't forget the best discount of all: Bundling your policies together with one insurer will have a significant impact on your premium.
Each insurer sets its own savings percentage for each type of discount. To ensure you get the latest discounts, do not forget to call your carrier every few months to see if you qualify for any new discounts.
Find an office near you to help with your auto insurance
What Are Some of the Characteristics of the Altima?
It is a midsize sedan segment. It comes in five trim levels: SS, SV, SR, SL, and Platinum, along with the choice of two engines: a 188-horsepower 2.5-liter four-cylinder and a 248-horsepower 2.0-liter turbo-four with continuously variable automatic transmission (CVT).
The base S trim comes with a 7-inch touch screen, NissanConnect infotainment system, and optional Driver Assist package, which includes blind spot monitoring and a surround-view parking camera system. Its highest level trim, the Platinum, comes with all-wheel drive and advantaged safety features like Pedestrian Detection with auto braking and a Driver Attention Assist Monitor.
Main competitors are the Honda Accord, Hyundai Sonata, Kia K5, and Toyota Camry.
Find the Best Car Insurance Rates Online for Your Nissan Altima Today
All drivers are required to carry auto insurance. Freeway can help you get there with a full or a state minimum liability policy. Ready to request a quote? You can get a fast quote for auto insurance online, call us at 800-777-5620, or stop by one of our offices. Contact us today!