Get a Quote for the Best Boat Insurance Today
Looking for the best boat or personal watercraft (PWC) coverage? Spending time on the water is a great way to relax, whether you enjoy fishing or just want to get away from it all. But there are many things that can potentially cause damage and lead to some costly repairs and liability.
At Freeway Insurance, we're just a phone call away or you can get a quote online. Let us help you find the best plan to protect your investment so that you can go out on the water with peace of mind!
What is the Difference Between Boats and Personal Watercraft?
Boats are categorized as 26' or less, yachts are 27' and larger and PWC are less than 13'. Yachts typically require a more specialized type of insurance than boats and PWC.
Water jet-pump-driven PWC include Jet skis, Sea Doos, Wave runners and more. PWC come in many sizes and can now easily accommodate four people. In addition, many personal watercrafts can pull a skier. PWC are subject to the same laws governing the operation of motorboats of the same size.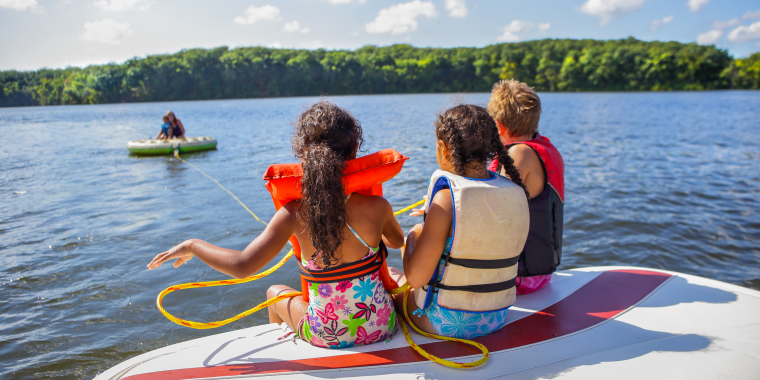 How Does Watercraft Insurance Work?
A good watercraft policy helps protect your boat and PWC, whether it's in the water or not. That's why we offer both freshwater and open-water policies to protect your vessel and its accessories, as well as enhanced protection via winter storage protection plans.
Ultimately, one of the best things about having a watercraft is that you can go where you want to go, allowing you to turn every weekend into an adventure. But you don't know what could happen on these aquatic adventures, so it's important to have the right protection before you get started.
How Much Does Boat Insurance Cost?
The cost of your policy may range from $75 per year to $500 per year or more. Different factors concerning your vessel, where you use it, and how it is made can impact the overall cost.
Vessel size is a primary factor. It is far cheaper to insure a jet ski than a much larger craft. In addition to the size of the vessel itself, the size of the motor may influence how much you have to pay.
Sometimes, your state of residence affects how much you pay. Finally, whether the craft is primarily operated inland or on open water influences the overall cost.
Ready to Get a Quick Quote?
Is My Boat or PWC Covered?
Affordable coverage includes:
PWC
Open ocean
Freshwater
Accessories
Are There Any Discounts for Boat Policies?
Discounts are available, including special loyalty discounts and discounts for owners who have completed special boating safety courses. Other discounts include:
Learn more about the discounts you may qualify for by talking to your Freeway Insurance agent.
Find an office near you to help with your auto insurance
What is Covered by Watercraft Policies?
Watercraft policies include liability, collision, and comprehensive coverage to help protect your watercraft even when you aren't using it.
Liability is important because there is always the possibility of somebody getting injured, whether on your vessel or as a result of a crash. If they blame you for the injury, they may sue you, and even successfully defending yourself in court could leave you in major debt. With liability, you can pay for the injured party's medical bills (making them less likely to sue) and, if needed, pay for your legal defense in court.
Liability also extends to any damage you cause while controlling the vessel. This may include accidentally colliding with someone else's craft or even causing damage to docks and piers. Such damage can be expensive to repair, and liability helps pay those bills.
As with an automobile, collision is there to help pay for repairs to your craft regardless of who is at  fault. For example, if someone else collides with your vessel, their liability policy will pay for it. But if they don't have enough coverage, your collision policy can help pay for additional repairs. And if you were liable for causing the accident, collision will help pay for repairing or replacing your craft.
Finally, comprehensive helps protect your watercraft when it's not in use. For instance, let's say you own a Jet Ski that gets damaged, vandalized, or stolen when you aren't using it. As long as you have comprehensive, you'll be covered.
Protect Yourself and Your Watercraft with Affordable Boat Insurance Online Today
Now you know the most important things about boat policies and how they can save you time, money, and stress. But do you know where to get the kind of coverage your vessel deserves? Here at Freeway, we specialize in offering amazing coverage at even better prices. Get started with a quote online, visit us at an office near you, or call us at 800-777-5620 for a quote today!
Frequently Asked Questions about Boat Insurance
How Much Can I Insure My Boat For?
You cannot get coverage that exceeds the cost of your craft. This ensures that you can potentially replace your boat while ensuring you cannot make a profit off its loss. Learn Morein or FAQ's page
Is Insurance Necessary for Inexpensive Boats?
It may be tempting to skip this type of coverage if you have a small craft that would be relatively cheap to repair or replace in the event of an accident. However, we still recommend getting it because there is the possibility of your passengers or others getting hurt in an accident, just as there is the risk of property getting damaged. Learn Morein or FAQ's page
Should I Cancel Coverage During the Winter Season?
If you aren't taking your vehicle out on the water during the winter, it can be tempting to temporarily cancel your policy. However, we recommend keeping your plan because your boat may be at risk of things like fire and theft while on land. By maintaining your watercraft insurance policy throughout the year, you can ensure your craft has the protection it deserves. Learn Morein or FAQ's page