Located in New England, Rhode Island offers plenty of breathless charm, offering a nice mix of quaint towns, water activities, and beaches. The big three beaches of Newport, Narragansett, and Block Island provide tons of surfing, fishing, and hiking opportunities. It also has more than 350 miles of coastline, with 20 public beaches, making it one of the premier beach destinations in the country.
All Rhode Island drivers must have car insurance to drive in the state legally. Keep reading to learn more about car insurance in Rhode Island, including average rates paid by zip codes and ways to save on your insurance policy.
Quick Facts
Rhode Island is the smallest state in the United States.
The most dangerous road in Rhode Island is arguably

I-295

South. Ice and snow aren't the only issues, there were 7 fatalities in the summer months between 2015 and 2017.
There are 731,715 licensed drivers in Rhode Island in 2020. The estimated percentage of uninsured drivers in Rhode Island is 16.5.
How Much Is Car Insurance in Rhode Island?
The average annual cost for full coverage car insurance in Rhode Island is $2,018. That is substantially higher than the national average of $1,674. The average to purchase the cheapest car insurance in Rhode Island, the state-required minimum liability insurance is $749 annually. Still considerably higher than the national average at $565.
Car insurance rates are higher in Rhode Island due to the density of population – more congestion equals more car accidents and other events that lead to car insurance claims. It is the second-most densely populated state after New Jersey.
Insurance premiums vary considerably depending on the driver. Each driver has a unique combination of age, gender, driving record, and coverage selections. Even your zip code influences what you pay for car insurance.
What Is the Average Premium in Rhode Island for Cheap Full Coverage Car Insurance?
In Rhode Island, drivers pay an average of $168 per month for full coverage car insurance.
Full coverage is a term that means the driver has at least the state-required minimum car insurance, plus collision car insurance and comprehensive auto insurance. Most lenders require their customers to carry full coverage until the vehicle is paid off to protect their interest.
We highly recommend obtaining a full coverage policy with collision and comprehensive coverage. Collision coverage covers damages due to vehicle/object/rollover collisions, whereas comprehensive coverage protects against things outside your direct control, such as weather-related events and theft.
Outside of your driving record, the average premium paid by drivers in Rhode Island vary based on age, gender, and zip code of residence.
How Much Is It for Cheap Liability Insurance or the Minimum Required Car Insurance in Rhode Island?
The average cost of state-required minimum liability car insurance in Rhode Island is $62 per month.
In Rhode Island, this basic package consists of liability car insurance, plus uninsured motorist coverage (UIM), although drivers may decline the UIM coverage. However, since there are quite a few uninsured drivers running around in Rhode Island, this coverage is cheap for the protection you receive. Adding UIM to your policy may add roughly $50 to $75 annually.
We recommend obtaining a full coverage policy over the state minimum required policy. It provides more coverage under different scenarios, including hitting an animal and rolling your vehicle over. Plus, comprehensive insurance can pay out up to equal cash value for your car in case it is stolen.
Full coverage insurance will always be more expensive than a liability-only policy due to its greater protections. Liability insurance only pays for other people's injuries and the cost of their damages to repair if you cause an accident.
How Do Rates Compare Across Major Cities in Rhode Island?
Where you live can impact how much you pay for auto insurance. For example, if you live in a dense, urban city, expect to pay higher rates than those in sparsely populated areas. Since most of Rhode Island is pretty dense, rates are about the same.
See below for the average monthly car insurance prices across five Rhode Island cities.
| City | Full Coverage Insurance | Liability Insurance Coverage |
| --- | --- | --- |
| Westerly | $139 | $52 |
| Newport | $132 | $49 |
| Tiverton | $140 | $53 |
| North Kingstown | $154 | $57 |
| Coventry | $164 | $59 |
Unless otherwise specified, we use the following methodology to arrive at our average cost in Rhode Island: male, age 30, lowest possible legal coverage allowed by state. Your rates will be determined by several factors, including your age, your gender and the amount of coverage you want to purchase.
Getting a Free Auto Insurance quote with Freeway is easy!
Are There Good Driver Discounts in Rhode Island?
Yes, there are good driver discounts in Rhode Island. They vary from carrier to carrier and can take 20% off your monthly premium with ease. One of the most popular insurer discounts is the good driving discount.
To qualify for good driver discounts, Rhode Island drivers must have a clean driving record for the past three to five years. Some insurers lean more toward rewarding you at the three-year mark, and others prefer to reward you close to the end of the five-year mark.
In addition to good driver discounts, customer loyalty discounts and car safety feature discounts are available for the taking. Other discounts you may be eligible for include:
Using auto-pay or paying your bill upfront
Check with your insurance agent on a regular basis and especially if your circumstances change.
Rhode Island Car Insurance Laws
It's important to maintain the minimum mandatory car insurance in Rhode Island. This will allow you to legally drive in the state and be afforded protection during an accident.
What Are the Mandatory Car Insurance Requirements in Rhode Island?
Here are Rhode Island's state minimum liability requirements:
Motorists can refuse uninsured motorist coverage, but it must be an option given by the insurance agent. For the relatively cheap cost ($50-$75 annually), UIM is a great protection.
What Is the Penalty for Driving Without Insurance in Rhode Island?
Driving without proof of insurance in Rhode Island is classified as a misdemeanor, which assesses fines up to $1,000 and a one-year driver's license and registration suspension until proof of insurance is provided.
If you are a first-time or second-time offender in Rhode Island, expect to pay fines up to $1,000 if you are caught a third or subsequent time. From that point, your premiums will remain elevated until you show proof of good driving behavior with a claims-free, moving violation, and traffic infraction-free record.
Always have proper insurance coverage when driving, even if you go less than a mile a day to and from work.
What Factors Does Rhode Island Law Allow in Determining Your Premiums?
Insurance carriers take many factors into account when determining the cost of car insurance. They look at your age, gender, zip code and type of vehicle. For example, younger drivers are riskier due to having fewer driving records and exhibiting riskier driving behaviors.
Other factors used in determining premiums include:
Driving record
Zip code
Marital status
Make/model of vehicle
Credit score
Remember, the way you structure your policy also affects premiums. Lower deductibles increase your premiums, and higher deductibles decrease your premiums. A deductible is the amount of money paid out of pocket before your insurance company covers the rest.
Am I Required to Report an Accident in Rhode Island to Authorities?
In Rhode Island, both drivers are expected to report accidents that result in injury, death, and damage to property valued at $1,000 or more. According to Statute §31-26-6, an accident report must be filed with law enforcement within 21 days of the accident. Every driver in an accident must file the report unless they are physically unable to make the report. If they are not the vehicle's owner, the vehicle's owner is responsible for filing the report.
Find an office near you to help with your auto insurance
What Is Driving Like in Rhode Island?
How Many Car Accidents Happen in Rhode Island?
For an excellent reason to obtain auto insurance, look no further than the number of car accidents in Rhode Island.
According to the U.S. Department of Transportation's Federal Highway Administration's State Highway Safety Report, there were 57 traffic-related fatalities in the state in 2019. This stat represents a slight decrease over the previous year (59 deaths) and a much-pronounced decrease from the year prior (84 fatalities).
For more information on Rhode Island crash data, visit State Highway Safety Report (2019) – Rhode Island.
See our breakdown below for the number of fatal accidents across key Rhode Island cities in 2019:
| City | Fatal Car Accidents in 2019 |
| --- | --- |
| Providence | 5 |
| Warwick | 3 |
| Cranston | 4 |
| Pawtucket | 4 |
| East Providence | 6 |
How Many Uninsured/Underinsured Motorists Are in Rhode Island?
The Insurance Information Institute estimates that 16.5% of Rhode Island drivers in 2019 were uninsured. This places it in 11th place in the nation. Although no official stats are kept on the exact number, this calculation is based on the ratio of uninsured motorists (UM) claims to bodily injury (BI) claims.
FAQs About Rhode Island Car Insurance
I Am a Low-Income Driver. What Can I Do About Getting the Cheapest Car Insurance in Rhode Island?
There are many ways low-income Rhode Island drivers can save on car insurance.
One method is to carry the state minimum. Another way low-income drivers save on Rhode Island car insurance is to apply for discounts.
Lastly, we highly recommend shopping around and comparing car insurance quotes from different insurance carriers. For example, one carrier could offer you the same policy as a competing carrier for 20% less.
Can an Undocumented Worker Get Cheap Car Insurance in Rhode Island?
Only a handful of states allow undocumented workers to obtain car insurance, and Rhode Island is not one of them.
Is It Possible to Get Low-Cost Car Insurance in Rhode Island With a DUI Mark on my Record?
Yes, getting DUI car insurance in Rhode Island is possible. However, you should expect your rates to double or potentially triple due to your newly classified profile as a high-risk driver. It is also feasible your auto insurance company may decide not to renew your coverage. You may have to shop around and find a carrier that provides DUI solution coverage.
Unlike most states, SR-22 insurance after a DUI is not required in Rhode Island.
Remember, being pulled over with a BAC of .08 or higher is considered a misdemeanor, with first DWUI offenses leading to fines up to $300, along with up to 60 hours of community service and required drug and alcohol counseling. Subsequent violations will see stiffer penalties.
Get an Affordable Quote for Car Insurance in Rhode Island Online Today!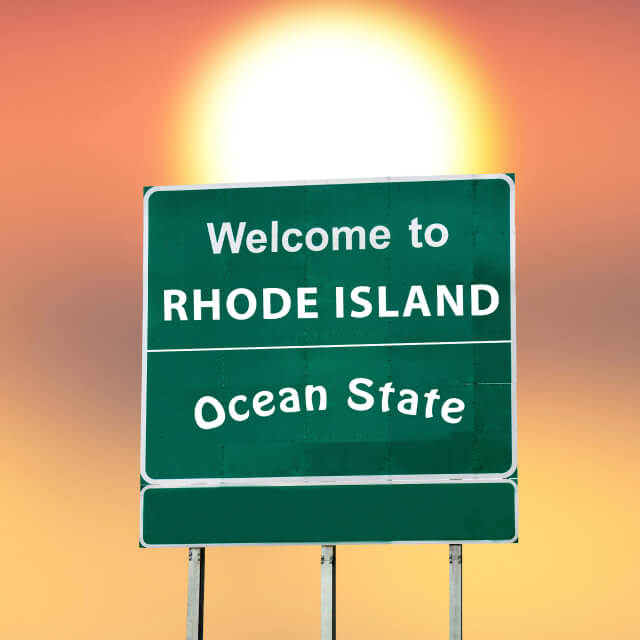 For greater peace of mind while driving, Freeway Insurance is ready to help you compare quotes from multiple carriers.
It is straightforward to get started with Freeway Insurance. Simply request a fast and free car insurance quote online, visit us at a Rhode Island office near you, or call us at 800-777-5620. Reach out to us today!
Select a Product or Service to request a quote
Ready to Get a Quick Quote?