Affectionately known as the "soundtrack of America" and the Volunteer State, Tennessee is full of authentic experiences from world-renowned music venues and museums such as the Grand Ole Opry, the Country Music Hall of Fame and Museum, and Graceland, legendary rock star Elvis Presley's primary residence. Not limited to music, it is also home to off-the-beaten path destinations such as the Cherohala Skyway Byway and the Woodlands Trace Byway that attract hikers and outdoors people from around the world.
Like all states, drivers are required to have car insurance in Tennessee. All vehicle owners are logged using a real-time database letting the state know of any lapses in coverage. Expect a notice to arrive in the mail – even if your car insurance lapses for a day – with threats of suspended registration, fines, and potential court costs.
Quick Facts
As of 2021, Tennessee is the 16th most populated state in the United States, with an estimated 6.95 million people.
Using any electronic device in your vehicle can increase the likelihood of an accident several times over
According to the TN Department of Safety & Homeland Security's Traffic Fatalities Historical Report, there were 1,217 fatal traffic accidents in Tennessee in 2020.
Tennessee is an at-fault state, which means drivers determined to be at fault in an accident are on the hook for damages and injuries incurred by all affected parties.
Minimum required coverage in Tennessee is $25,000 in bodily injury coverage per person, $50,000 in bodily injury coverage for two or more people involved in an accident, and $25,000 in property damage per accident.
How Much Is Car Insurance in Tennessee?
The average cost of full coverage car insurance in Tennessee is $1,338 per year, which is well below the U.S. national average of $1,674 per year. Many factors go into determining your car insurance premiums, including but not limited to age, gender, claims history, location, and credit score.*
Remember, the cleaner your driving record, the lower your auto insurance premiums. Luckily, there are many discounts available that will help you save money on car insurance. Some of these discounts are awarded if you can prove ownership of anti-lock brakes, anti-theft devices, homes, and even a good student record.
Additionally, your car insurance rates could be affected by where you live. Zip codes with lots of car theft and auto accidents are subject to higher insurance premiums than safer and incident-free zip codes.
What Is the Average Premium in Tennessee for Full Coverage Car Insurance?
The average annual premium for full coverage in Tennessee is $1,338, which works out to $112 per month. Full coverage car insurance includes liability, comprehensive, and collision coverage.
Liability pays for expenses incurred by other parties after an accident. Collision coverage goes towards the cost of vehicle repairs, and comprehensive coverage offers non-collision-related damages, such as theft and extreme weather.
Paying an additional $50 to $100 a month with a lower deductible and higher liability limits can result in greater peace of mind in the event of an accident. To find out what discounts you are eligible for, check with your insurance agent.
How Much Is It for Just the Minimum Required Car Insurance in Tennessee?
The average annual cost for state-required minimum insurance coverage is $371 or $31 per month.
Remember, Tennessee is an at-fault state, meaning you will be responsible for paying for all medical and property damages – both yours and any other drivers involved – in the event of an accident if you are found to be at fault. The more liability insurance you can carry, the better.
Once your insurance company has paid its share, you will be responsible out of pocket for the remaining bills due for yourself and the other driver(s).
Note, any driver with lapsed insurance can be subject to a lawsuit, which may result in high legal fees, court appearances, and other methods of extracting penalties, including wage garnishment. Be sure to have the right auto insurance policy for your needs.
How Do Rates Compare Across Major Cities in Tennessee?
Rates vary significantly depending on where you live. For example, residents of Hendersonville pay an average monthly rate of $38 a month for the state-required minimum, whereas residents in denser zip code areas, such as Memphis, pay an average of $59 a month. Generally, residents living in less populated areas pay lower auto insurance premiums due to the reduced risk of an accident and vehicle crime.
| City | Full Coverage Insurance | Liability Insurance Coverage |
| --- | --- | --- |
| Chattanooga | $120 | $41 |
| Franklin | $110 | $37 |
| Greeneville | $118 | $36 |
| Signal Mountain | $114 | $37 |
| Madisonville | $122 | $39 |
Methodology: We use the following methodology to arrive at our average cost: male, age 30, lowest possible legal coverage allowed by Tennessee. Your rates will be determined by several factors, including your age, your gender, and the amount of coverage you want to purchase.
Getting a Free Auto Insurance quote with Freeway is easy!
Is There a Good Driver Discount in Tennessee?
Safe drivers in Tennessee are eligible for all kinds of discounts depending on your insurance carrier. Discounts are awarded to loyal customers and long-term customers. Your discounts will be different from another driver's discounts and discounts rely heavily on your overall driving history. It pays to have a safe driving history free of blemishes.
Here are some examples of discounts you may qualify for:
Customer loyalty discounts are offered with bundled packages (e.g., auto and home), early renewal, or multi-vehicle
Discounts for paperless billing
Demographic-related discounts (e.g., good student, senior, military)
Driver affiliations (e.g., emergency roadside assistance, military personnel, senior programs)
Driving history-related discounts (e.g., accident-free, safe driver, and low mileage)
Contact your insurance agent for your possible discounts and remember to update your agent when your circumstances change.
Tennessee Car Insurance Laws
Tennessee car insurance laws are very strict. A real-time database logs all active and non-active policies. All insurance companies are required to report to the state which vehicles are covered and which ones have lapsed coverage.
If you receive a notice from the Tennessee Department of Revenue alerting you that your car insurance has lapsed, you need to take immediate action. Failure to respond within 30 days will result in a $25 fine, plus a final notice. Failure to respond within 30 days of the final notice will result in your registration being suspended and will cost you a $100 fine. Once your registration is suspended, you can no longer drive that vehicle on the roads in Tennessee.
If you are convicted of driving without insurance, you can lose your driving privileges. It can cost you $65 for the reinstatement fee and $75 for failure to surrender license. These are just the possible penalties for a first-time offence.
In Tennessee, if your license is suspended, you must file an SR-22 certificate for five years once your driving privileges are restored. If you have no other suspensions within three years, you may be able to cancel your SR-22.
What Are the Mandatory Car Insurance Requirements in Tennessee?
The state of Tennessee requires liability coverage to the tune of $25,000 in bodily injury coverage per person, $50,000 in bodily injury coverage per accident, and $25,000 in property damage per accident.
Tennessee is an at-fault state, meaning the driver responsible for the accident is required to pay all damages. For this reason, it is very important to carry appropriate coverage.
The state minimum requirements for Tennessee are:
Bodily Injury Coverage per Person: $25,000
Bodily Injury Coverage per Accident: $50,000
Property Damage Per Accident: $25,000
All registered drivers in Tennessee need to show proof of insurance – no exceptions. If insurance lapses for a day, you may be subject to penalties.
What Factors Does Tennessee Law Allow in Determining Your Premiums?
Several factors go into determining your auto insurance rate. Generally, those with zero claims on their record with an account in good standing over several years pay less in auto insurance premiums than someone with one or more claims on their record.
Some factors used in determining your auto insurance premiums include:
Driving record and claims history
Your zip code and address
Gender
Marital status
Age
Type of vehicle
Credit score
Luckily, there are many ways to save on auto insurance, including purchasing an older vehicle, asking for discounts, increasing deductibles, and lowering coverage limits.
Am I Required to Report an Accident in Tennessee to Authorities?
Any accident that results in death, serious injury, or property damage exceeding $50. Although drivers have 20 days from the crash to report an accident to the Tennessee Department of Safety and Homeland Security, it is highly advised to report the incident immediately. Remember, it is also required by the insurance company.
That's a pretty low bar, so you should report any accident. You can lose your driver's license if you are convicted of failure to report an accident. Take plenty of photos in case the other party disputes your claims.
To report a crash, simply call 911. A police officer will arrive, conduct interviews with all affected parties, and write up a crash report with all details of the incident.
Find an office near you to help with your auto insurance
What Is Driving Like in Tennessee?
How Many Car Accidents Happen in Tennessee?
According to the Tennessee Department of Safety and Homeland Security, there were 1,217 traffic fatalities in Tennessee in 2020. That's slightly more than the 1,136 reported in 2019. According to the Tennessee Department of Safety & Homeland Security, crashes in 2021 through Dec. 6 included:
One in 3 fatal crashes involved a DUI
One in 6 serious injury crashes involved a DUI
DUI crash costs exceeded $907,953,200 in 2018
How Many Uninsured/Underinsured Motorists Are in Tennessee?
It is estimated that 20% of all Tennessee drivers do not have auto insurance. It is one of the leading states in the country when it comes to the number of uninsured drivers.
Even with personal liability car insurance, there is no guarantee you will be covered in the event of an accident. If the person who hits your vehicle is uninsured, your policy may not cover the cost of repairs due to not having uninsured or underinsured motorist coverage.
FAQs about Tennessee Car Insurance
I Am a Low-Income Driver. What Can I Do About Getting Car Insurance in Tennessee?
There are many ways low-income drivers can save on auto insurance.
For starters, low-income drivers can opt for the minimum coverage, while choosing a high deductible. Remember, though, your deductible amount is what you will pay for any bills before your insurance kicks in and starts paying. For example, if there is $2,500 in bills and damages and your deductible is $2,000, you will be responsible for paying that $2,000 before your insurance company picks up the $500 that is left. Since the insurance company is on the line for a smaller amount, you will pay less every month. Just make sure you can afford to pay that deductible if and when it becomes necessary.
Other ways low-income drivers can save money is by purchasing an older make and model vehicle that costs less to insure. If you can swing paying your entire annual premium upfront, you can most likely get a discount.
Lastly, low-income drivers may be eligible for discounts provided their account is in good standing. There are many discounts available, rewarding drivers for everything from owning an electric/hybrid vehicle to being accident-free for seven years.
Can an Undocumented Worker Get Car Insurance in Tennessee?
Tennessee does not allow undocumented workers to obtain a driver's license, so some companies will not issue them insurance. Some companies will allow a non-licensed person to buy insurance for another, licensed person.
Non-US residents may apply for a Temporary Driver's License (TDL). To obtain a driver's license, Tennessee residents must show proof of U.S. citizenship or legal presence using a social security number and proof of Tennessee residence.
Anyone with a valid driver's license can get auto insurance and benefit from rewards for good driving behavior.
Is It Possible to Get Car Insurance in Tennessee With a DUI Mark on my Record?
Yes, Tennessee drivers with a DUI on record can get car insurance. However, there are severe penalties, with annual car insurance costs rising as high as 50% with a single conviction.
The best way to combat DUI convictions is to shop around and compare policies. Review all your insurance choices carefully. Some insurance companies charge higher premiums than others, with average annual rates between different insurers varying considerably.
Get a Tennessee Car Insurance Quote Today!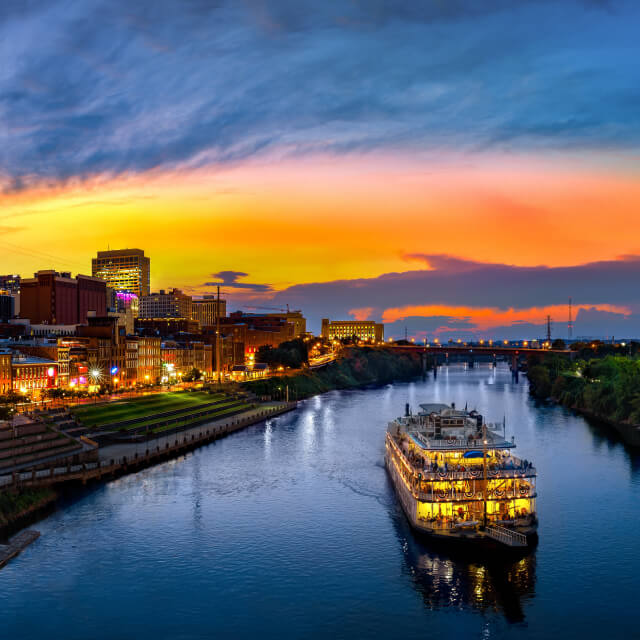 Obtaining car insurance results in greater peace of mind, knowing that you will be covered in the event of an accident. One can benefit from minimum coverage requirements or go all out with lower deductibles and higher coverage limits for the best protection possible.
To obtain a quote, visit us online, at a Tennessee office near you, or give us a call at (800) 777-5620 for a quote. Contact us for a free quote today!
Auto Insurance Info by City
Select a Product or Service to request a quote
Ready to Get a Quick Quote?