Often underrated, Johnson City is one of Tennessee's most intriguing towns. Located in the eastern part of the state, Johnson City is a haven for outdoor enthusiasts. It's also home to top sites like Roan Mountain, Nolichucky River, and Winged Deer Park with all of its impressive hiking trails. Johnson City is also steeped in Revolutionary War history, home to the Tipton-Haynes State Historic Site and the Sycamore Shoals State Historic Area.
Do you want to drive legally in Johnson City? All drivers are required to have car insurance in Tennessee. Keep reading to learn more about car insurance in Johnson City, including penalties for driving without insurance, ways to save on your next bill, and average monthly premiums paid by age and zip code in the region.
Quick facts
Per the Insurance Information Institute, the estimated percentage of uninsured motorists in Tennessee is 23.7 percent (2019)
In 2019, there were five reported fatal car crashes in Johnson City
How Much Does Car Insurance Cost in Johnson City, TN?
The average monthly rate paid by Johnson City drivers is $103 for full coverage, which is a slightly lower amount than Tennessee's state average of $111 and quite a bit lower than the national average of $148. For the cheapest car insurance in Johnson City, the state-required liability averages $33 monthly, which compares to $31 for Tennessee overall and $47 for the nation.
Keep in mind, these average car insurance rates in Tennessee are probably not what you will pay. Auto coverage premiums are very specific to each individual and vary based on age, gender, driving history, zip code and many other factors.
Find an office near you to help with your auto insurance
To learn how other Tennessee cities compare to Johnson City, see our breakdown below for the average monthly premiums paid by other cities in the state:
| City | Full Coverage Insurance | Liability Insurance Coverage |
| --- | --- | --- |
| Johnson City | $103 | $33 |
| Clarksville | $117 | $39 |
| Knoxville | $122 | $42 |
| Memphis | $174 | $61 |
Affordable Auto Insurance Rates by Zip Code in Johnson City, Tenn
Rates from one zip code to another can vary due to their residents' collective claims and record history.
Check out our list below for average monthly car insurance prices by zip code in Johnson City:
| Zip Code | Full Coverage Insurance | Liability Insurance Coverage |
| --- | --- | --- |
| 37601 | $105 | $34 |
| 37604 | $102 | $33 |
| 37614 | $104 | $34 |
| 37615 | $103 | $33 |
Low-Cost Car Insurance Rates by Age in Johnson City, TN
Expect age to be a major factor in determining your car insurance rates. Younger drivers almost always pay more than more mature drivers, up to three times the amount in premiums as drivers in their 50s or 60s. Teenage drivers are considered a higher risk since, as a group, they tend to get into more accidents and file more claims. However, it is possible to find affordable auto insurance for young drivers.
Check out our list below for average monthly car insurance prices by age in Johnson City:
| Age | Full Coverage Insurance | Liability Insurance Coverage |
| --- | --- | --- |
| Teenagers | $438 | $155 |
| 20s | $147 | $48 |
| 30s | $103 | $33 |
| 40s | $93 | $31 |
| 50s | $88 | $29 |
| 60s | $95 | $32 |
| 70s | $129 | $45 |
Unless otherwise specified, we use the following methodology to arrive at our average cost: male, age 30, lowest possible legal coverage allowed by Tennessee. Your rates will be determined by several factors, including your age, your gender and the amount of coverage you want to purchase. 
Driving Conditions in Johnson City, Tennessee
How Many Fatal Accidents Happen in Johnson City?
In 2019, Johnson City saw five fatal road traffic accidents involving eight vehicles and nine people, including two pedestrians.
How Are the Road Infrastructure and Bridges in Johnson City?
Johnson City's Public Works department comprises five departments: engineering, Solid Waste, Stormwater, Streets, and Traffic.
Its street division is responsible for all roadway systems, including right-of-way, pavement, urban forestry, construction/maintenance, and yard waste. With more than 740 lane miles of city streets and 170+ miles of sidewalks, Johnson City Street Division has its work cut out for them.
Another key component of its Public Works is its traffic division, which runs a traffic calming program to reduce driving speeds by introducing speed humps and traffic circles.
For more information on Johnson City's Public Works department, visit Johnson City, Tennessee – Public Works Department.
Getting a Free Auto Insurance quote with Freeway is easy!
Minimum Car Insurance Requirements in Johnson City, TN
All Tennessee drivers must carry the following minimum liability limits:
What Are the Penalties for Driving Without Insurance in Johnson City?
If caught driving without insurance in Tennessee, expect to be served with a Class C misdemeanor, a suspended license/registration, a $300 penalty, and a $65 restoration fee to reinstate your driving privileges. You will also be required to file an SR-22 form to prove you carry the minimum required insurance.
Remember, you must carry minimum liability insurance of $25,000 for bodily injuries per person, $50,000 for bodily injuries per accident, and $25,000 for property damage. We also highly recommend seeking collision and comprehensive coverage to protect yourself, your passengers, and your vehicle.
Note Tennessee is an at-fault state, which means drivers not determined to be at fault for an accident could file personal injury lawsuits against an opposing driver or their insurance company.
Factors Allowed in Johnson City Car Insurance Rates
Factors considered by insurance companies to determine how high or how low your premiums are include:
Education
Occupation
Type of vehicle
Zip code
Credit score
Marital status
One big differentiator between one policyholder to the next is insurance estimates by make and model. For example, a $160,000+ Mercedes G Wagon will cost thousands more annually than a $28,000+ Accord EX-L, thanks to the high cost of parts, labor, and specialized knowledge required by mechanics to perform repairs.
Discounts for Car Insurance in Johnson City, Tenn
There are many ways to save money on car insurance in Johnson City.
One of the best ways to qualify for discounts is to have a clean driving record free of claims/moving violations for the last three to five years. Other popular discounts include usage/policy-based discounts like driving less than 7,500 miles a year or signing up for auto-pay or paperless billing.
Other discounts available to Johnson City drivers include:
Checking in with your auto insurance company regularly to learn about any new discounts you may qualify for is a good idea. For example, depending on the insurer, changes to life circumstances, like switching to an older vehicle or enrolling in a defensive driving course, could easily decrease your annual premium.
Get an Online Quote for Low-Cost Car Insurance in Johnson City Today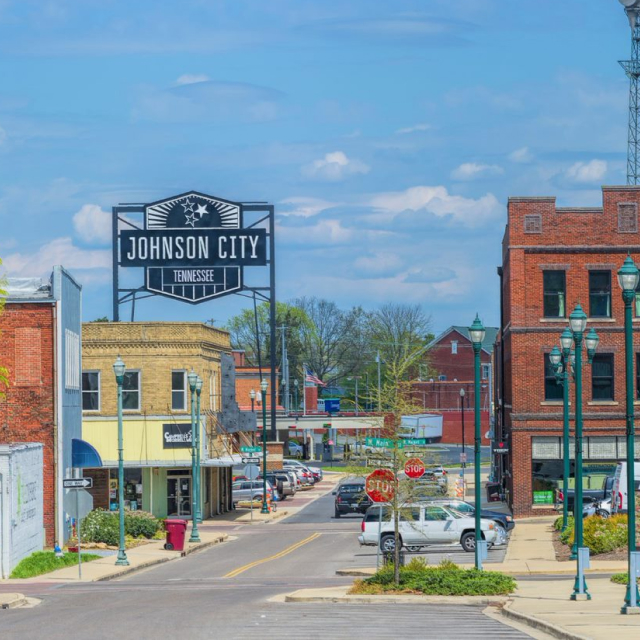 Remain in compliance with Tennessee laws by purchasing an affordable auto insurance policy from Freeway Insurance. If you are not adequately recovered, it only takes one accident with major repair bills and hospital bills to throw your monthly budgets out of whack for the next several years.
Get started with a free and fast quote by visiting us online, at a Johnson City office near you, or call us at 800-777-5620 for a quote today!
Select a Product or Service to request a quote
Ready to Get a Quick Quote?