How Much Is Auto Insurance for Your Honda Accord?
The average annual car insurance premium  is $509 for minimum and $1,773 for full. Premiums vary quite a bit depending on where you live, your age, your driving record and many more factors.
Freeway can provide you and your family with an affordable state-required minimum liability or full policy. Our expert team of advisors is also on hand to help you determine how to find cheap auto coverage, appropriate limits, deductible amounts, and other factors affecting how much you pay in premiums.
Getting a Free Auto Insurance quote with Freeway is easy!
Comparing Costs to Other Vehicles
Costs for your sedan compared to other makes and models may vary wildly based on many factors, including but not limited to the model year, labor/parts costs, and the number of past claims.
| Make/Model | Annual |
| --- | --- |
| Accord | $1,733 |
| CR-V | $1,369 |
| Odyssey | $1,542 |
| Toyota Camry | $1,267 |
| Hyundai Sonata | $1,736 |
Types of Auto Coverage for the Honda
Drivers have choices, including state minimum liability, full and/or plenty of optional packages.
Full Coverage
This includes collision and comprehensive, which offers substantially greater protections than a state minimum liability policy. Expect a full policy to cost north of $1000 extra in annual premiums, depending on your deductible, liability limits, and qualification for discounts.
Collision includes damages caused by vehicle-to-object, and rollover collisions. Comprehensive offers protection against non-collision-related damages caused by events like theft and hail.
State Minimum Liability
Unlike full, state minimum liability is a liability-only policy that pays for damages in the event of bodily injury and property damage.
Each state has its own liability limits. For example, Alabama drivers must carry a minimum bodily injury of $25,000 per person, $50,000 per accident, and property damage liability of $25,000 per accident. On the other hand, Colorado drivers must carry $25,000 per person (bodily injury), $50,000 per accident (bodily injury), and property damage liability of $15,000 per accident.
Other states like California require only $5,000 in property damage liability, one of the country's lowest property damage liability limits. With the average cost of new models more than $20,000, it simply pays to go with a full policy.
Other Coverages Available
There are plenty of choices for optional financial protection drivers can choose from, including GAP, roadside assistance, uninsured motorist and personal injury protection (PIP).
Some states, especially no-fault states like Kansas, require uninsured motorist (UM) coverage. But even if your state doesn't, you should seriously consider getting UM. It's pretty cheap for the protection you get if you are hit by an uninsured driver or a hit-and-run.
GAP, or guaranteed asset protection, can make a difference if your relatively new or new sedan is totaled or stolen and you owe more than your insurer determines is the actual cash value (ACV). It may surprise you, but depreciation is usually faster than your monthly payments total. So, in the event of a total loss, you may owe a couple thousand more than the ACV. GAP helps by paying that amount for you.
PIP is an additional medical plan, required in some states, such as Kentucky. Similar to MedPay, PIP helps cover many of the costs associated with a wreck when

your – or

the

at-fault

driver's – bodily

injury liability runs dry.
Roadside assistance is your 24/7/365 help when something goes wrong, such as a flat tire (no spare), get locked out, run out of gas and minor engine issues.
Your Freeway agent can help you decide what protection you need and want.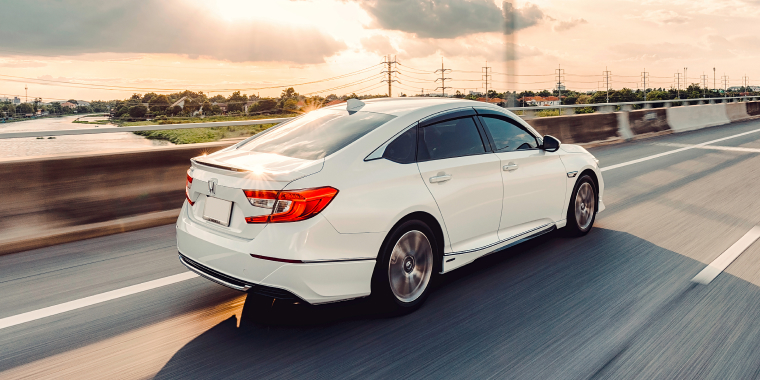 How Does a DUI Affect Rates for a Honda Accord?
All drivers with one or more DUI or DWIs on their records will undoubtedly see higher rates.
Other factors include how your insurer company classifies DUI drivers, the number of DUI offenses, and how much time has elapsed between the first and subsequent offenses.
In some states, filing for SR-22 insurance is required. An SR-22 of a certification providing minimum liability reserved for drivers with DUI/DWI convictions. Failure to keep your SR-22 certificate active will result in the resuspension of your driver's license and registration.
Some carriers will not offer coverage to high-risk drivers, such as those convicted of DUI, so  drivers may need to shop around for some cheap DUI insurance.
What Are Some Discounts for My Car?
Luckily, there are many ways drivers can save on auto premiums. These include multi-policy, vehicle features, policy, and driver history discounts.
Do not forget to call your agent every couple of months to see if you qualify for any discounts. Then, do not be surprised if you start saving 10% off your monthly bill with an agent recommendation.
Find an office near you to help with your auto insurance
What Are Some of the Characteristics of the Accord?
It's a midsize sedan segment. It comes in five trim levels: LX, Sport, Sport SE, EX-L, and Touring, and the choice of one of two engines: a 192-horsepower turbocharged 1.5-liter four-cylinder and a 252-horsepower turbocharged 2.0-liter four-cylinder.
It's entry-level trim, LX, comes with a 192-horsepower turbocharged 1.5-liter four-cylinder engine, 8-inch touch screen, and Honda Sensing Package with several safety features, including forward automatic emergency braking and lane keep assist.
Its main competitors are the Toyota Camry, Hyundai Sonata, Kia K5, and Nissan Altima.
Find the Best Car Insurance Rates Online for Your Honda Accord Today
All drivers can benefit from an affordable auto policy from Freeway. Our agents are ready to provide you with a free, no-obligation car insurance quote online. You are also welcome to call us at 800-777-5620, or visit a Freeway office near you.