Louisiana has a proud tradition of culture, music, and food. There are a variety of cultures with much to offer from rowdy New Orleans Bourbon Street in the south to the Sportsman's Paradise of northern Louisiana and all points in between. It is not unusual to find a steady stream of traffic up and down Louisiana highways with so much to see.
Like with all states, car insurance is mandatory in Louisiana. If you are pulled over without the proper insurance coverage, you could face steep financial consequences. An accident could be even more costly without proper coverage. The good news is that you can obtain affordable car insurance in Louisiana today.
Quick Facts
There are nearly 1.4 million registered vehicles in Louisiana.
The population of Louisiana is more than 4.6 million people.
Each year, there is an average of 681 traffic fatalities on Louisiana roads.
Highway I-10 is the deadliest stretch of roadway in Louisiana.
How Much is Car Insurance in LA?
On average, full coverage car insurance premiums in Louisiana are $2,724 per year. This average is substantially higher than most other states. In fact, Louisiana ranks 47th when it comes to the most affordable states for auto insurance. This rate is roughly 60% higher than the average annual cost of car insurance nationwide.
For the basic state-required minimum liability car insurance, Louisiana drivers pay an average of $975 per year, substantially higher than the national average at $565. Liability car insurance helps to pay for the injuries and damages other people suffer if you cause an accident. It does not pay for any of your injuries or damages. If your liability insurance is too low, and you cause a crash, you'll most likely be paying some money out of pocket. This is why many drivers increase their liability limits.
Different factors impact the cost of your insurance coverage. Louisiana auto insurance is higher than many states because there are a large number of uninsured drivers on the roads, plus a higher than normal number of personal injury lawsuits – and other factors such as extreme weather. Drivers looking for the cheapest car insurance in Louisiana should shop and compare auto insurance quotes.
What is the Average Premium for Cheap Full Coverage Car Insurance in Louisiana?
Full coverage car insurance costs on average $227 per month. Full coverage consists of liability, collision insurance and comprehensive insurance.
Many drivers purchase full coverage to better protect themselves financially in the event of an accident or other event, such as hail or theft. If your vehicle is financed, your lender will most likely require full coverage until your car is paid off.
How Much is it for Cheap Liability Insurance or the Minimum Required Car Insurance in LA?
The average cost of minimum liability coverage in Louisiana is $80 per month. This is the cheapest car insurance in Louisiana and it is reserved for drivers who have excellent driving records and fall into a more mature age category, plus other factors. Drivers looking for cheap auto insurance in Louisiana can also take advantage of car insurance discounts, of which there are plenty.
Basic liability car insurance consists of bodily injury/death liability insurance and property damage liability insurance. It's designed to help pay for the injuries and damages you cause to other people if you are found to be at fault for a car crash.
The cost of insurance coverage might be off-putting for many drivers. The reality is that the consequences of not having coverage could be far most costly. Paying for an accident on your own can be financially devastating, especially on top of fines related to your lack of insurance coverage.
How do Rates Compare Across Major Cities in Louisiana?
The population of Louisiana is spread across the state. While New Orleans is the largest city and the primary population center, many of the state's residents live in smaller towns and cities. Outside of the New Orleans metropolitan area, Baton Rouge and Shreveport are the other major population centers. Here are some monthly average car insurance prices in Louisiana.
| City | Full Coverage Insurance | Liability Insurance Coverage |
| --- | --- | --- |
| New Orleans | $354 | $105 |
| Baton Rouge | $280 | $93 |
| Shreveport | $202 | $60 |
| Lafayette | $234 | $79 |
Unless otherwise specified, we use the following methodology to arrive at our average cost: male, age 30, lowest possible legal coverage allowed by state. Your rates will be determined by several factors, including your age, your gender and the amount of coverage you want to purchase.
Are There Good Driver Discounts in LA?
Yes, there are good driver discounts and plenty of other car insurance discounts in Louisiana. In fact, these discounts are some of the best ways to get cheap car insurance in Louisiana. In addition to a good driver discount, other discounts offered by Freeway include:
Multi-policy discounts

Paperless billing discounts
Getting a Free Auto Insurance quote with Freeway is easy!
Louisiana Car Insurance Laws
As is the case with most states, there are mandatory requirements for Louisiana car insurance. State law not only sets the minimum amount of insurance coverage you are required to carry, it also determines what factors impact your premiums and what you must do following a car accident. There are also penalties written into state law regarding the failure to carry adequate liability insurance.
What are the Mandatory Car Insurance Requirements in LA?
There is a minimum level of liability insurance that every driver must carry in Louisiana. Liability insurance is only one type of insurance coverage available to drivers in the state. This type of coverage is designed to protect you from third-party claims after an accident. In other words, liability coverages pay for any damages you might have caused when an accident is your fault. What liability coverage does not pay for are the losses you suffer. You must purchase additional coverage from your provider to cover your losses after a crash. This type of coverage is not mandatory under state law. Mandatory coverage levels in Louisiana include:
Bodily injury coverage: $15,000 per person and $30,000 per accident
Property Damage: $25,000 per accident
What are the Penalties for Driving Without Insurance in Louisiana?
Getting caught driving without insurance in Louisiana can result in fines between $500 and $1,000, driving privileges taken away, vehicle impounded and more. Even if you get into an accident that is not your fault, you may fall victim to Louisiana's "No Pay, No Play" law. This law means that you cannot collect liability damages from the at-fault driver's insurance company (the first $25,000 property damage and $15,000 bodily injury) if you do not have car insurance.
What Factors Does Louisiana Law Allow in Determining Your Premiums?
There are several factors insurance companies consider when determining your premium rates. The variance that can come with this process could lead to you having very different insurance rates than someone in a position similar to yours. The most important factors they take into account are:
Your driving record, including accidents and tickets
Your age. The younger you are, the higher your premiums are likely to be.
The zip code you live in. The ones with higher accident rates typically result in higher insurance premiums.
Your credit score. You can expect to pay more for insurance if your credit score is low, thanks to a study that suggested drivers with low scores make larger claims.
The type of vehicle you drive. A vehicle that is considered safer is less likely to carry high premiums than a sports car.
Your gender. Male drivers often pay more, especially when they are young.
Your marital status. You might be surprised to learn that your marital status could impact your rates.
Your claims history. The number of insurance claims you have filed in the past is another common factor in determining the premiums you must pay. The more claims you have filed, the higher your premiums are likely to be.
Find an office near you to help with your auto insurance
What is Driving Like in Louisiana?
How Many Car Accidents Happen in LA?
While there is no way to know the exact number of motor vehicle accidents in Louisiana in a given year, the state does track fatal collisions carefully. Out of the 4.6 million residents within the state, there were 681 traffic fatalities in 2019. The number of accidents involving severe injuries or property damage is substantially higher.
How Many Motorists are Uninsured/Underinsured in Louisiana?
It is estimated that nearly 12% of Louisiana drivers lack adequate car insurance liability coverage. This places the state 26th nationally on the list of states with the most uninsured motorists. Although there are strict consequences for anyone caught driving without insurance in Louisiana, that does not entirely prevent individuals from getting behind the wheel without coverage. That said, Louisiana is in the middle of the pack compared to other states regarding the rate of uninsured motorists.
This number might be lower than many other states, but the chances of a collision with an uninsured driver are still substantial. An accident with an uninsured motorist could have devastating consequences, which makes it vital that you secure full coverage for your vehicle. In that case, you could rely on your own policy even if the other driver was uninsured.
That is why many drivers choose to add uninsured motorist coverage to their car insurance policy. UIM is a type of car insurance that can protect you financially if you get into a wreck caused by a driver that has no insurance or not enough insurance to pay for your bills.
FAQs About Louisiana Car Insurance
I am a Low-Income Driver. What Can I Do About Getting the Cheapest Car Insurance in LA?
Being a low-income driver does not preclude you from securing the level of coverage you need. Freeway Insurance is proud to provide affordable options for Louisiana drivers.
It is important to take into account the level of coverage you receive. While paying more for full coverage might seem wasteful, you will be glad you have it following a serious accident.
Also, remember that there are steps you could take to lower your insurance bill. Ask your agent about car insurance discounts. Your premiums could be less than you think, especially with a good driving record.
Can an Undocumented Worker get Cheap Car Insurance in Louisiana?
The State of Louisiana does not permit undocumented immigrants to obtain a driver's license. Without a driver's license, an undocumented immigrant can't secure insurance coverage in the state.
That said, Louisiana will recognize an undocumented driver's license and insurance coverage from another state. For example, a driver that is insured thanks to a Nevada Driver Authorization Card (DAC) could legally drive in Louisiana.
Is it Possible to Get Low-Cost Car Insurance in Louisiana with a DUI Mark on my Record?
Yes. A DUI conviction can impact you in many ways, including affecting your ability to obtain insurance for your car. In the aftermath of a DUI, you could lose your ability to have a license entirely. Once your license is reinstated, you will be able to find the insurance coverage that will fit your circumstances.
If you have a DUI on your record, you will have to meet certain requirements to secure your ability to drive. The most common hurdle for drivers with a DUI on their record is a mandatory SR-22 certificate. While the term SR-22 is often used as a type of insurance coverage, it is technically a certificate your insurance company submits to the state to show you have the required car insurance.
The certificate issued by your insurance company is intended to prove that you have secured the minimum level of liability insurance. An SR-22 is required not only after a DUI conviction but also in other situations, like for drivers caught operating their vehicle without a license. If you fail to maintain your policy, your insurer will notify the state about the lapse.
Mandatory SR-22 coverage can last for years after a DUI conviction. The amount of time an SR-22 certificate is required will often depend on the number of previous DUI convictions on your record. Remember, recovering from a DUI is possible if you follow the court's mandates carefully and maintain a clean driving record.
Get an Affordable Louisiana Car Insurance Quote Online Today!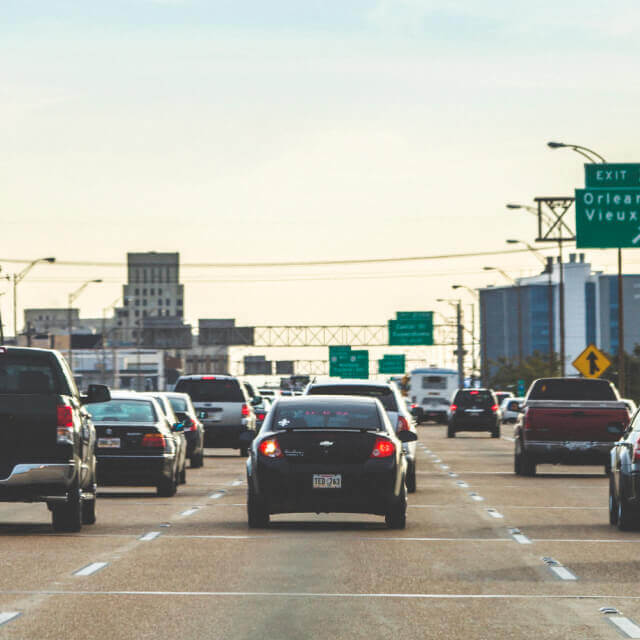 Whether you are a new driver or just seeking the cheapest car insurance in Louisiana, there is no better time to seek out the best price for car insurance quotes in Louisiana. Having the right coverage could ensure your rights are protected and your needs are met in the aftermath of a motor vehicle collision. You can get started with a fast, no-obligation car insurance quote online, visit us at a Louisiana office near you, or call us at 800-777-5620 for a quote.
Auto Insurance Info by City
Select a Product or Service to request a quote
Ready to Get a Quick Quote?