New Orleans is one of the most beautiful and exciting cities you can visit. But the last kind of "excitement" you want is getting into a car accident!
If you want to enjoy visiting the Crescent City with genuine peace of mind, you need to have the right car insurance. Unfortunately, many drivers don't fully understand the car insurance requirements, driving conditions, and other important factors about driving in New Orleans.
Quick Facts
The average cost of car insurance in New Orleans is $3,735.
There were 36 fatal car accidents in New Orleans in 2020.
How Much Is Car Insurance in New Orleans?
Unfortunately, the average cost of car insurance in New Orleans is fairly high. That average cost is $3,735, which is much higher than the average Louisiana car insurance cost of $2,379. In turn, the state average is higher than the national average of $1,548.
To help you better understand the car insurance costs of New Orleans and beyond, the table below has info about different major cities throughout the state and how much you can expect to pay for car insurance. Keep in mind that it covers full coverage costs: If you don't get full coverage, your costs will be lower.
| City | Average Annual Premium for Full Coverage |
| --- | --- |
| Baton Rouge | $3,091 |
| Shreveport | $2,436 |
| Lafayette | $2,819 |
| New Orleans | $4,234 |
As you can tell, getting full-coverage insurance protection in New Orleans can get very expensive. The rest of our guide will help you discover what level of coverage you need and how to save money on your monthly premiums.
New Orleans Car Insurance Rates by Zip Code
Many drivers are surprised to discover that insurance costs can vary from zip code to zip code. Below, we have outlined the average car insurance rates in New Orleans based on certain zip codes.
| Zip Code | Average Annual Premium for Full Coverage |
| --- | --- |
| 70115 | $3,228 |
| 70118 | $3,238 |
| 70122 | $3,462 |
| 70119 | $3,594 |
New Orleans Car Insurance Rates by Age
Car insurance costs are usually higher when you are younger and taper off as you age.
Below, we have outlined the average car insurance rates by age in New Orleans. Costs are particularly high for insuring teenage drivers, but they go down as those drivers age.
| Age | Average Car Insurance Rate |
| --- | --- |
| Teenagers | $17,069 |
| 20s | $4,919 |
| 30s | $3,704 |
| 40s | $3,626 |
| 50s | $3,290 |
| 60s | $3,615 |
| 70s | $3,278 |
Driving Conditions in New Orleans
How Many Fatal Accidents Happen in New Orleans?
In 2020, there were a total of 36 fatal car accidents in New Orleans. This is a fairly large increase compared to the 24 fatal car accidents reported to the police in 2019.
How Are the Road Infrastructure and Bridges in New Orleans?
Obviously, the driving behavior of others on the road can influence how safe it is to drive in a city. But another major factor concerns the state of the road infrastructure and bridges. And in New Orleans, the infrastructure and bridges are something of a mixed bag.
On the one hand, the city is very committed to making the roads safer. In 2020, the city began a $200 million project to fix potholes, improve the drainage system, and even provide better equipment to the city's police and fire departments. And this is part of a previously approved $500 million plan to improve infrastructure, including crumbling roads.
However, that investment is so high, particularly because New Orleans has long needed better infrastructure.
Minimum Car Insurance Requirements in New Orleans
To protect yourself as a driver in New Orleans, you need the right level of insurance coverage. While you are the only one who can determine how much insurance you really need, it's important to get at least the minimum level of insurance required by the state.
Louisiana car insurance minimum requirements are as follows:
Bodily injury liability coverage:

$15,000 per person, $30,000 per accident

Property damage liability coverage:

$25,000

Medical payments:

$1,000

Uninsured motorist bodily injury:

$15,000 per person, $30,000 per accident
Factors Allowed in New Orleans Car Insurance Rates
Several different factors determine your exact insurance premium. Here's a breakdown of the factors allowed in New Orleans car insurance rates:
Driving record
Credit score
Marital status
Age
Occupation
Gender
Your vehicle
Discounts for Car Insurance in New Orleans
Different car insurance companies in Louisiana will offer various discounts for different things. While you'll need to contact your insurance carrier to verify which discounts are available, our list below outlines common discounts available to drivers throughout the state.
Good driver
Customer loyalty
Safety features
Anti-theft systems
Bundled policy
Graduating a defensive driving course (only applicable to drivers over 50)
What Are the Penalties for Driving Without Insurance in New Orleans?
We have outlined the minimum car insurance coverage for driving in New Orleans. But what if you are caught driving without any insurance at all?
For your first offense, the police are likely to suspend your registration, remove your license plates, and impound your vehicle. You may get a Temporary Vehicle Use Authorization sticker that allows you to drive for three days so you can go to the Office of Motor Vehicles with your insurance info.
The same thing happens on your second offense, though the penalties are much worse if you fail to provide insurance paperwork within the three-day period. You will need to pay a $160 reinstatement fee on top of fines for vehicle storage and vehicle wreckage.
The same things will happen on the third offense, but the reinstatement fee is now $510. And if you are in a car accident without insurance, you likely cannot get compensation even if you were the victim and even if this is your first offense.
In this scenario, the only way to get compensation is to pay out of pocket for damages: $25,000 for property damage and $15,000 for your personal injuries. After you meet that threshold, the remaining costs will be compensated by the other driver's insurance if they were at fault.
Get a New Orleans Car Insurance Quote Today!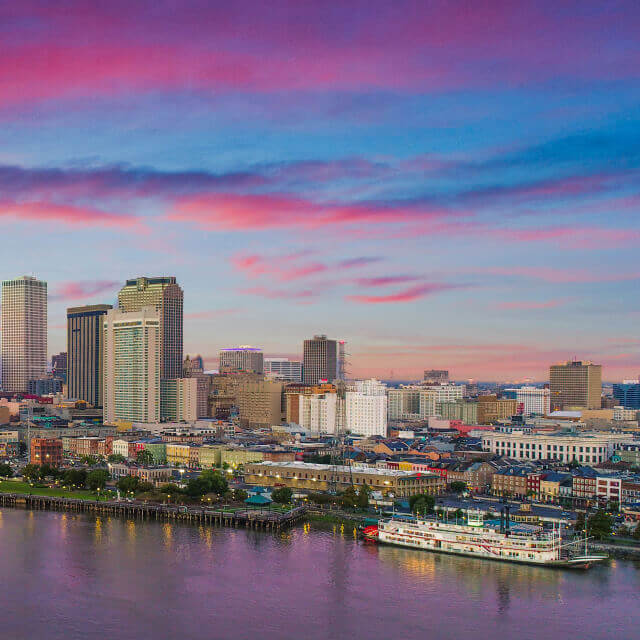 New Orleans is the ultimate city for those who enjoy great music, great food, and great people. But it's important to keep you and your car protected with the right insurance plan.
If you're looking for the best car insurance in New Orleans, Freeway is here to help. Get started with a quote online, or visit us at a New Orleans office near you. You can also call us at (800) 777-5620 for a quote.