There are few states of the union with a richer history than Oregon. However, no drivers in the state can appreciate all this history without having the best cheap car insurance in Oregon.
That is because there is just so much to see and do. From the Portland Art Museum to the headquarters of Nike (right there in Beaverton), drivers can expect constant new sights around every corner.
Of course, turning the corner means running the risk of a car accident. But all it takes is a good insurance policy to protect you. Keep reading to discover everything you need to know about car insurance in Oregon!
Quick Facts
In 2019, the state had a total of 50,128 crashes.
The average cost of car insurance in the state is $789 per year.
How Much Is Car Insurance in Oregon?
Many drivers in Oregon wonder if they are paying too much for their car insurance. And that brings us to the big question: How much money are other drivers paying for their car insurance?
As usual, the answer depends on how much insurance coverage they have and the types of auto insurance coverage they have chosen. Some drivers try to save money by getting the minimum amount of insurance required, though these drivers are at more severe risk in the event of an actual car accident.
The average cost of car insurance in the state is $789 per year, which is much lower than the national average of $1,600. You can expect to pay more for full coverage insurance, but it's never too late to get competitive car insurance quotes for the coverage plan of your dreams!
What Is the Average Premium in Oregon for Full Coverage Car Insurance?
Other drivers try to protect themselves by getting a combination of liability insurance, collision insurance, and comprehensive insurance. This combination is more commonly known as full coverage insurance. And Oregon drivers paying for full coverage pay an average of $1,346 per year for their policies.
How Much Is It for Just the Minimum Required Car Insurance in Oregon?
How much does it cost to only have the minimum liability insurance in the state? The average cost for Oregon drivers who have the minimum car insurance coverage is $610 per year. Such drivers must determine if they are comfortable sticking with a minimum insurance with lowest rates and a higher risk or if they want to play it safe and choose comprehensive coverage with higher rates.
As we noted above, full coverage car insurance combines multiple kinds of coverage to help protect both the driver and the car. However, nobody is actually forced to get this level of coverage.
If you're a driver in Oregon, you must have a minimum-coverage car insurance to ensure you're compliant with the law and adequately protected on the road. Oregon law mandates that all drivers carry a minimum level of liability insurance to cover potential damages caused to others in an accident.
The minimum requirements in Oregon include:
 Bodily Injury Liability Coverage: At least $25,000 per person and $50,000 per accident for injuries to others in an at-fault accident. This coverage compensates for medical expenses, lost wages, and other injury-related costs for the affected parties.

Property Damage Liability Coverage: At least $20,000 per accident to cover damages to another person's property resulting from an at-fault accident, such as repairing or replacing their vehicle or other damaged property.
While these state-minimum coverage limits fulfill the legal requirements, it's important to note that they may not fully protect you in all situations. If you're involved in a major accident with significant damages, this coverage level may not be sufficient, and you could be personally responsible for any excess costs.
To ensure greater protection, consider additional coverage options such as comprehensive and collision coverage, uninsured/underinsured motorist coverage, and medical bills coverage. A reliable insurer provider can help you customize an affordable policy that meets both legal requirements and your specific needs on the road. Remember, having the right auto policy not only keeps you in compliance with the law but also provides invaluable peace of mind for your driver needs.
How Do Rates Compare Across Major Cities in Oregon?
You may have noticed that moving to a different city or state can cause higher insurance rates, and not always the cheapest rates. There is a reason for this: Your location, right down to your zip code, is used by insurance carriers to help determine how much you pay each month.
And different cities in Oregon have different average auto insurance rates. Use the chart below to discover how much drivers in different major cities in Oregon are paying for their insurance each month!
| Cities in Oregon | Average Monthly Car Insurance Rate |
| --- | --- |
| Beaverton | $134.66 |
| Bend | $90.81 |
| Eugene | $103.23 |
| Portland | $138.32 |
| Salem | $125.39 |
Is There a Good Driver Discount in Oregon?
Looking to save money on your car insurance? The easiest way to do so is to contact your insurance carrier and ask about potential discounts you may qualify for.
This is because each carrier offers discounts for a wide range of things, including bundling policies, getting good grades, and completing a defensive driving course. And one of the most common discounts is the good driver discount which is designed to reward clients who have a history of safe driving.
Is there a good driver discount in Oregon? Yes. While you need to contact your carrier to discover the exact discounts they have to offer, you can count on every Oregon car insurance company to offer discounts for safe driving.
Getting a Free Auto Insurance quote with Freeway is easy!
Oregon Car Insurance Laws
The exact laws regulating car insurance can be confusing for many reasons. And one of the simplest reasons is this: The laws can be very different from state to state!
Like other states, Oregon has special laws that govern how much car insurance you must have, whether you have to report accidents you see, and what the penalties are like for driving without insurance. And Oregon also has the final say on which factors your car insurance carrier may examine to determine the cost of your premium.
Keep reading to discover the most important car insurance laws in Oregon!
What Are the Mandatory Car Insurance Requirements in Oregon?
Earlier, we mentioned how much the average cost of car insurance is for those who have only purchased minimum car insurance. That brings us to the next big question: What are the mandatory car insurance requirements in the state of Oregon?
Like most states, Oregon requires that drivers have liability insurance. Such insurance will only pay out when you are liable for an accident, and it will only pay to cover the personal and property damage that you cause to others.
Oregon also takes it a step further and mandates that drivers have personal injury protection coverage and uninsured motorist coverage. PIP insurance provides additional coverage for those injured in your vehicle during an accident while uninsured motorist coverage can protect you in the event that a driver who causes an accident does not have car insurance.
Below, we have a breakdown of how much of each kind of coverage you are legally required to have. Keep in mind that you can always get more coverage to give yourself additional protection.
Required Insurance Amounts:
Bodily injury liability: $25,000 per person and $50,000 total
Property damage liability: $25,000
Personal injury protection: $15,000 per person
Uninsured motorist coverage: $25,000 per person and $50,000 total
What Factors Does Oregon Law Allow in Determining Your Premiums?
Earlier, we touched on the fact that car insurance carriers can use where you live as a factor to determine the cost of your car insurance. But what are the other factors they are allowed to use for a cheap car insurance in Oregon?
Carriers are legally allowed to examine a number of driving factors and personal factors when setting the price for your car insurance. Here are the factors allowed in the state:
Age
Gender
Credit history
Driving history
Education
Employment status
Marital status
Insurance history
Zip code
You can personally change some of these factors over time, including your credit score and your home address. Alerting your carrier of these changes may ultimately reduce your car insurance bill each month.
What Is the Penalty for Driving Without Insurance in Oregon?
Now you know the minimum level of car insurance coverage required by the state of Oregon. But what will happen to you in the state if you are caught driving with no insurance whatsoever?
First, you must pay a fine. This fine can range from a minimum of $130 to a maximum of $1,000 at the discretion of the court (though not all cases make it to the court). Additionally, your car may be impounded and your registration suspended. You may also lose your license for one year or until you can prove you have met the insurance requirements for the state.
The court may require you to get and maintain an SR-22 form for a minimum of three years. This form certifies that you have met the insurance requirements of the state and will likely increase your premium.
Finally, you may be subject to many fees, including reinstatement fees, SR-22 fees, insurance verification fees, and impoundment retrieval fees. But all of this may pale in comparison to the money you owe for personal and property damage that you cause while driving without insurance!
Am I Required to Report an Accident in Oregon to Authorities?
When it comes to car insurance, here is a bit of irony: You need car insurance to help protect you in the event of an accident. However, filing a claim for an accident almost always causes your rates to go up. This is why some drivers hesitate to report accidents and file claims for minor fender-benders because they think the cost of repair will be lower than the cost of an increased rate spread out over months and years.
However, drivers are required to report accidents in some states. So what do the Oregon laws have to say about reporting car accidents?
In short, you must report accidents to the DMV in the following cases:
If someone dies
If the accident causes an injury
If any vehicle has to be towed away
If property damage (including damage to any vehicles) is more than $1,500
After you report an accident to the DMV, they will contact your insurance company. However, if the accident does not meet any of the above criteria, you do not have to report it.
Find an office near you to help with your auto insurance
What Is Driving Like in Oregon?
One of the biggest factors regarding how much car insurance you need is the safety of your area. In short, if you are likely to get into a crash, then it's important to have additional insurance coverage.
That brings us to the next question: what is driving actually like in Oregon? Honestly, it's a mixed bag. The state had a fairly large number of car accidents in 2019. But the mandatory uninsured motorist coverage means you have to worry far less about the damage caused by other drivers.
How Many Car Accidents Happen in Oregon?
While car insurance is here to protect you in the event of a car accident, nobody wants to actually get in a car crash. And that brings us to our next question: how likely are you to get into a car crash in the state of Oregon?
In 2019, the state had a total of 50,128 crashes. Of these, only 456 were fatal crashes, and these resulted in a total of 494. Overall, there were 39,737 people injured in these crashes in 2019.
How Many Uninsured/Underinsured Motorists Are in Oregon?
Oregon is relatively rare in that the state requires that all drivers have uninsured motorist coverage. This insurance is intended to protect you from other drivers who may not have any car insurance at all. But how likely are you to encounter uninsured drivers on the road?
As it turns out, quite likely! The Insurance Research Council recently reported that about 10.7% of Oregon's drivers are uninsured. When more than one out of ten drivers has no insurance at all, it's important to be safe every time you get behind the wheel!
FAQs About Oregon Car Insurance
I Am a Low-Income Driver. What Can I Do About Getting Car Insurance in Oregon?
Because car insurance is mandatory in Oregon, all drivers must have it. Unfortunately, it may be difficult for those who have a low income to get the coverage they need. Fortunately, it is possible to get cheap car insurance!
First, don't hesitate to shop around for a different insurance carrier. This is typically the best way to find better rates and save money on your premium.
Second, ask carriers about possible car insurance discounts. If you can get discounts for things like safe driving and even bundling policies together, you can save a lot of money.
Finally, you can always stick to minimum car insurance to keep your monthly rate down. While we recommend getting more coverage when you can afford it, minimum coverage means you won't have to pay that much at the end of each month.
Can an Undocumented Worker Get Car Insurance in Oregon?
One growing question in the country is whether undocumented workers can get car insurance or not. Is it possible to do so in the state of Oregon? The answer is both yes and no.
The state itself does not offer any special support programs to help make this happen. However, it is possible for undocumented workers to get a driver's license. After that, you simply need to find a car insurance company that offers insurance to undocumented drivers. While not every insurance carrier does this, you will be surprised by how many can accommodate your needs!
Is It Possible to Get Car Insurance in Oregon With a DUI Mark on My Record?
If you get a DUI, it can have a severe impact on both your life and your lifestyle. But is it possible to still get car insurance in Oregon if you have a DUI on your record?
The answer is yes, though having a DUI will dramatically increase your car insurance premium. For example, Oregon drivers pay an average of 38% more for their car insurance after they have a DUI than before.
Additionally, not every insurance carrier will offer insurance to those with a DUI on record. You may need to shop around for different car insurance carriers until you find one that offers you the most competitive price.
Get an Oregon Car Insurance Quote Today!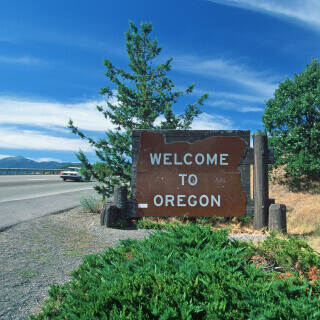 Now you know everything you need to know about car insurance in Oregon. But do you know where you can find the best insurance carrier today?
At Freeway Insurance, we are here to protect you and your family. Get started with a quote online, visit us at an office near you, or call us at (800) 777-5620 for a quote.