Oregon's largest city, Portland, is an urbanite and naturist dream. Sitting on the Columbia and Willamette rivers, Portland is home to thriving arts and culture institutions and a deeply entrenched culinary scene, while holding the honorary distinction of being the city with the most craft breweries in the world.
Some of Portland's most revered attractions include Washington Park, the flora-rich Hoyt Arboretum Park, the Oregon Zoo, and the Pittock Mansion, one of the oldest remaining French chateaus in the United States. On the nature side, residents also enjoy close proximity to wine country. Nearby sits Mount Hood and the Columbia River Gorge, a canyon up to 4,000 feet deep that borders the state of Washington and offers endless hiking opportunities.
With a neat mix of urban fare and nature trails, Portland, Oregon, has something to offer for everyone. And with roughly 3.1 million licensed drivers in Oregon (many of them in Portland), finding cheap car insurance is a priority to keep your family and property safe.
Quick Facts
The average cost of car insurance in Portland is $78 per month*.
In 2019, there were 46 reported fatal vehicle accidents in Portland.
*We use the following methodology to arrive at our average cost: male, age 30, lowest possible legal coverage allowed by state. Your rates will be determined by several factors, including your age, your gender and the amount of coverage you want to purchase.
How Much Does Car Insurance Cost in Portland?
On average, the cost of car insurance in Portland is $78 per month. This is higher than the U.S. national average at $39 and higher than the average car insurance cost in Oregon, which is $51 per month for the state's required minimum coverage.
Many factors go into determining auto insurance premium rates, including but not limited to, driving history, age, gender, and make/model of your vehicle. Motorists with clean driving records generally pay lower premiums than those with affected driving records.
We highly recommend purchasing a comprehensive auto insurance policy that covers you in the event of a crash. Without it, you may be on the hook for all of your injury and personal damage-related expenses.
Get a Quote for Car Insurance in Oregon Today!
Portland Car Insurance Rates by Zip Code
In Portland, Oregon, auto policy premiums vary depending on several factors. One of these factors is the zip code in which one resides. Residents of one zip code may pay more in auto insurance premiums than others based on factors such as auto crime rates, including vandalism and theft, as well as the number of reported accidents or infractions.
Portland, Oregon, has 34 zip codes, each with different insurance rates. Here are the average rates for each zip code:
| Zip Code | Average Monthly Car Insurance Rate |
| --- | --- |
| 97201 | $69 |
| 97202 | $77 |
| 97203 | $79 |
| 97204 | $75 |
| 97205 | $71 |
| 97206 | $86 |
| 97209 | $74 |
| 97210 | $70 |
| 97211 | $81 |
| 97212 | $76 |
| 97213 | $81 |
| 97214 | $74 |
| 97215 | $82 |
| 97216 | $88 |
| 97217 | $79 |
| 97218 | $84 |
| 97219 | $72 |
| 97220 | $86 |
| 97221 | $74 |
| 97222 | $75 |
| 97223 | $70 |
| 97224 | $70 |
| 97225 | $71 |
| 97227 | $75 |
| 97229 | $70 |
| 97230 | $86 |
| 97231 | $71 |
| 97232 | $73 |
| 97233 | $89 |
| 97236 | $89 |
| 97239 | $72 |
| 97256 | $90 |
| 97266 | $90 |
| 97267 | $75 |
Portland Car Insurance Rates by Age
In all states, auto insurance premiums vary depending on age. For example, people in their teens and 20s pay a considerably higher premium than middle-aged drivers, while those in the senior citizen bracket will see their rates begin to climb slightly. Insurance companies base these decisions on statistical driving records.
Regardless of age, keeping your driving record clean is critical. Even one infraction can increase your auto insurance premiums appreciably.
Here is a breakdown of average car insurance premiums paid by age in Portland:
| Age | Average Monthly Car Insurance Rate |
| --- | --- |
| Teenagers | $410 |
| 20s | $179 |
| 30s | $79 |
| 40s | $79 |
| 50s | $79 |
| 60s | $77 |
| 70s | $85 |
Driving Conditions in Portland: How Many Fatal Accidents Happen in Portland?
In 2019, there were 46 fatal vehicle accidents in Portland, Oregon. Of these, there were 49 fatalities and 68 vehicles involved. Twelve accidents involved drunk persons.
How Are the Road Infrastructure and Bridges in Portland?
Portland, Oregon, roads and infrastructure are constantly being revised. As of this writing, Multnomah County (where Portland is) has several projects underway, such as the 238th Drive Improvement Project that focuses on the development of new passing lanes and shared paths for walking and biking.
Many other Portland infrastructure projects focus on developing neighborhood greenways, improving pedestrian/bicycle lanes/bus stops, and upgrading curb ramps to adhere to ADA standards.
Find an office near you to help with your auto insurance
Minimum Car Insurance Requirements in Portland
With more than 90% of Portland households owning one or more vehicles, having a comprehensive auto insurance policy is very important. Oregon is an "at-fault" state. This means motorists at fault for an accident are expected to pay damages to all affected parties. Your insurance policy will dictate what damages are paid and to whom depending on which party was responsible. Motorists who are determined to be at fault can be on the hook for thousands and thousands of dollars' worth of damages, including bodily injury and property damage.
In Oregon, the state minimums are as follows:
$25,000/$50,000 bodily injury per person/accident
$20,000 property damage
$15,000 per person for personal injury protection
$25,000/$50,000 per accident for uninsured motorist coverage bodily injury
Minimum car insurance requirements even extend to leased vehicles. Lease vehicles require full coverage with exact coverage limits determined by the leasing company. This helps them recoup the cost of a damaged or stolen vehicle. To save money on car insurance, drivers can opt for higher deductibles, excluding certain coverages (e.g., car rentals), or lowering coverage limits.
Factors Allowed in Portland Car Insurance Rates
Many factors go into determining what drivers pay for their auto insurance policy. Here are the major ones insurers in Portland are allowed to consider when determining your rates:
Driving record
Age
Gender
Zip code
Marital status
Type of vehicle
Credit rating
Discounts for Car Insurance in Portland
Fortunately, drivers in Portland may be eligible for safe driving discounts depending on their driving record and other factors. Always ask your agent if there are discounts you can take advantage of depending on your circumstances. Some discounts drivers in Portland can ask about include:
To save money on car insurance, we highly recommend calling your auto insurance company regularly to stay on top of all types of discounts you may be able to apply to your premium. Some insurance companies will require you to be in good standing for several months before becoming eligible for any discounts.
What Are the Penalties for Driving Without Insurance in Portland?
Penalties for driving without insurance in Portland, Oregon, are very extensive. Classified as a Class B violation, fines can hit as high as $1,000 depending on the number of offenses and the type of offense committed. In most cases, driving without insurance will result in an automatic driver's license suspension and possible vehicle impoundment. Your auto insurance company also reserves the right to waive future business.
All drivers are required to own vehicle liability policies as determined by minimum split limits. For example, all Oregon drivers must carry minimum coverages, such as $25,000 bodily injury per person per accident and $50,000 bodily injury for all persons per accident.
Keep in mind that driving without auto insurance is a surefire bet your auto premium will increase. In some cases, it can increase as high as 50% depending on the infraction.
Get a Quote for Car Insurance in Portland Today!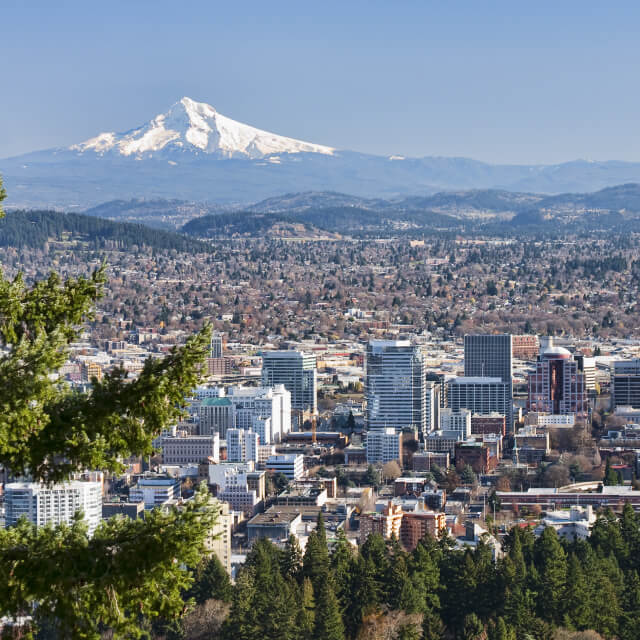 Portland has much to offer for its residents who are lucky enough to live here. Fortunately, Freeway Insurance is here to help you find the cheapest car insurance in Portland, Oregon.
Get started with a quote online, visit us at a Portland office near you, or call us at (800) 777-5620 for a quote.