How Much Is Auto Insurance for a GMC Sierra?
The average annual premium for a GMC Sierra is $489 for minimum coverage and $1,519 for full coverage auto insurance.
Typically, minimum refers to the state-required liability, while full refers to that plus the added protection of collision and comprehensive. Some drivers will have the choice, while others, such as those who are financing or leasing, will most likely have to carry full to satisfy their lender or lease company.
Those who own may choose the cheapest coverage for a Sierra – liability only. At Freeway, our agents can help you sort through all of your options and find the best and most affordable coverage for your situation.
Getting a Free Auto Insurance quote with Freeway is easy!
Comparing Costs to Other Makes and Models
There are many reasons why this truck commands lower – or higher – premiums than competitors, like the Dodge RAM 1500, Ford F-150, Chevrolet Silverado 1500, Toyota Tundra, and Nissan Titan. These reasons include safety/reliability records, recall history, and depreciation rate.
| Make/Model | Annual Full Premium |
| --- | --- |
| GMC Sierra | $1,519 |
| Dodge RAM 1500 | $1,697 |
| Ford F-150 | $1,442 |
| Chevrolet Silverado 1500 | $1,682 |
| Toyota Tundra | $1,716 |
Types of Coverage for Your GMC Pickup
Freeway Insurance offers multiple options, including full coverage and state-required minimum liability.
Full Coverage
This refers to liability, other state-required coverages, and the addition of collision and comprehensive. Liability covers the cost of bodily injuries and property damage to third parties in an accident.
Optional additions like rental car reimbursement, uninsured motorist, gap, and roadside assistance are also purchased separately.
Are you leasing? As your lease company technically owns the car, they may require you to purchase full coverage to better preserve its value.
State Minimum Liability
This refers to the minimum amount of insurance your state requires—usually a liability-only policy that protects against injuries and damage caused to other people and property.
Each state has different liability limits. Some states ask drivers to carry additional coverage in the form of uninsured motorist and medical payment, such as Personal Injury Protection.
For example, California drivers must carry minimums of $15,000 for bodily injury (per person), $30,000 for injury/death (accident), and $5,000 for property damage. At the same time, Texas drivers must meet liability limits of $30,000 for bodily injury (per person), $60,000 for bodily injury (per accident), and $25,000 for property damage liability per accident.
State minimum liability compensates third parties for personal injury or property damage, not first parties. This means that while your insurance will help pay for the other guy's injuries and damages if you cause an accident, it will pay nothing towards yours.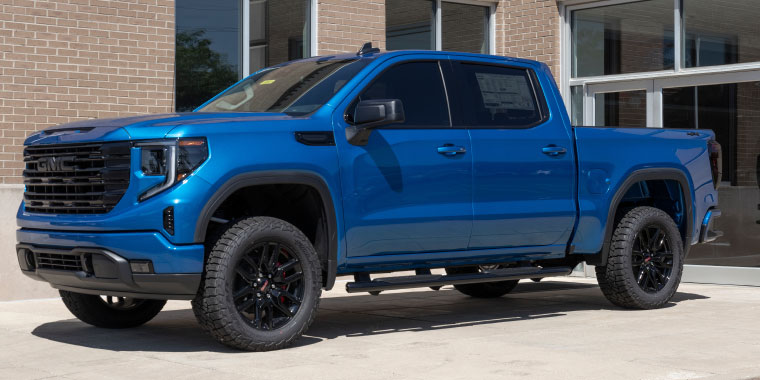 How Does a DUI Affect Rates for My Truck?
If you have been convicted of a DUI, expect your rates to increase drastically.
On top of increased premiums, expect a driver's license/registration suspension and the required filing of an SR-22, a certificate of financial responsibility that lets the state know you carry the minimum required limits. This filing status remains on your record for a minimum of three years.
If you are convicted of multiple DUIs within a short period (e.g., six months), your insurer can cancel your existing policy entirely. Other reasons why an insurer may cancel a policy include a poor driving record or underage DUI convictions.
Although obtaining insurance after DUI convictions may be difficult, we recommend shopping around for cheap DUI insurance. Each provider considers every DUI on a case-by-case basis, so you may be able to find cheaper policies elsewhere.
Find an office near you to help with your auto insurance
What Are Some Auto Insurance Discounts for GMC Pickups?
Fortunately, there are all kinds of discounts available for drivers.
What Are Some of the Characteristics of the Sierra?
This is a vehicle in the full-size pickup truck segment.
It is available in eight trims — Pro, SLE, Elevation, AT4, SLT, Denali, AT4X, and Denali Ultimate. It also has the choice of four engines: a base turbocharged 2.7-liter four-cylinder, a 5.3-liter V8, a turbodiesel 3.0-liter inline-six, and a 6.2-liter V8.
Its base Pro model offers a 7-inch touchscreen and a six-speaker audio system. Its top trim, the Ultimate, offers four-wheel drive, upgraded suspension, a 2-inch lift kit, and GM's autonomous driving system.
Main competitors are the Dodge RAM 1500, Ford F-150, Chevrolet Silverado 1500, Toyota Tundra, and Nissan Titan.
Find the Best Auto Insurance Rates Online for GMC Sierra Today
Are you shopping around for a new truck policy? Freeway Insurance offers no-hassle guidelines with some of the most competitive rates in the industry. To request a free, no obligation quote with one of our friendly agents, visit us online, stop by a Freeway office near you, or call us at 800-777-5620. Reach out to us today!