As the former home of Revolutionary War sites and countless civil rights movements, Georgia has always had an epic place in history, deeply immersed in cultural tradition. Today, it is home to countless attractions, such as the Savannah Historic District, imposing Blue Ridge Mountains, and the Atlanta Botanical Garden. It is also the home of Atlanta, a thriving commercial and industrial hub with many Fortune 500 headquarters located there, including Coca-Cola and CNN.
All drivers are required to have car insurance in Georgia. Using a real-time database monitored by the state, law enforcement is quick to know who has car insurance and who doesn't. Many factors help determine how much auto insurance drivers pay in the Peach State, including but not limited to age, gender, claims history, and zip code of residence.
Quick Facts
In 2019, there were 1,377 fatal accidents with 1,491 deaths in Georgia.
The deadliest road in Georgia is a toss-up between several highways around and through Atlanta and I-20, which runs 202 miles through the center of the state.
Georgia is an at-fault state, meaning drivers who are found to be at fault are expected to cover the costs of the other driver.
How Much Is Car Insurance in Georgia?
The average cost of full coverage car insurance in Georgia is $1,982, higher than the national average by $244. Drivers will pay an average of $756 per year for the state-required minimum liability car insurance, which is much higher than the U.S. national average of $480.
Why is car insurance so high in Georgia? There are several factors, including that insurance companies can raise rates in this state on certain coverage types without the approval of the state insurance commissioner. Although all states set the basic rates insurance companies can charge, your premium will reflect that approved base rate plus all the fees and coverage your insurance company adds on – which is why it makes sense to shop around and compare car insurance quotes.
The amount of insurance you pay depends on several factors, including age, gender, claims history, credit score, location and more.
Another reason auto insurance costs so much in Georgia is that the number of accidents is high, repairs are more expensive, there are many uninsured drivers on Georgia roads and the state has been experiencing more severe weather events.
With this in mind, remember that the cheapest car insurance in Georgia is basic liability auto insurance – but it won't give you as much financial protection as a more robust policy.
What Is the Average Premium in Georgia for Cheap Full Coverage Car Insurance in GA?
Georgia drivers pay an average premium of $165 per month for full coverage insurance. Full coverage is the best protection you can buy to safeguard your family and property, but premiums will be based on a variety of factors, including age, gender, driving history and a host of other items insurance companies consider.
Full coverage car insurance is generally divided into two parts – liability and comprehensive/collision coverage. Liability coverage pays for other people's injuries and property damage in accidents where you are determined to be at fault. Comprehensive car insurance covers non-collision-related events out of your control (e.g., theft and extreme weather), and collision auto insurance coverage pays for your vehicle's damage.
Increasing liability limits and reducing deductibles (e.g., to $1000 from $500) will see higher premiums. Obtaining higher coverage limits and/ or lowering deductibles passes more of the buck to the insurer. For less than an additional $50 a month, you can end up saving thousands of dollars in the event of an accident.
How Much is it for Cheap Liability Insurance or Minimum Required Car Insurance in GA?
Georgia drivers will pay an average of $63 per month for basic liability, which includes bodily injury/death coverage and property damage insurance.
This insurance only covers damages to other drivers if you are found to be at fault in an accident. It will not pay for your damages or anything above your policy limits to the other drivers. You may be left owing money out of pocket. This is why some drivers choose to increase their liability coverage or add other types of car insurance.
Car insurance rates in Georgia depend on many factors, including things you cannot control like your age and gender, and things you can control like your driving history, where in Georgia you live and more.
How Do Rates Compare Across Major Cities in Georgia?
In Georgia, rates vary from city to city. Expect higher overall premiums if you live in neighborhoods with a greater number of car theft and vandalism incidents and in areas where personal injury lawsuits are filed at a high rate.
Here are the 10 cities in Georgia with their average monthly rate for car insurance.
| City | Full Coverage Insurance | Liability Insurance Coverage |
| --- | --- | --- |
| Lawrenceville | $196 | $84 |
| Cumming | $163 | $66 |
| Suwanee | $185 | $81 |
| Atlanta | $223 | $90 |
| Stockbridge | $173 | $71 |
| Alpharetta | $166 | $68 |
| Duluth | $177 | $69 |
| Marietta | $186 | $80 |
| Lilburn | $191 | $80 |
Unless otherwise specified, we use the following methodology to arrive at our average cost: male, age 30, lowest possible legal coverage allowed by state. Your rates will be determined by several factors, including your age, your gender and the amount of coverage you want to purchase.
Are There Good Driver Discounts in Georgia?
Yes, there are many discounts available for Georgia drivers, including good driver discounts. Eligibility depends on your carrier, claims record, policy, deductible amount, coverage limits and more.
Discounts available include but are not limited to accident-free, claims-free, multi-car, anti-lock brake, passive restraint, and alternative fuel discounts. Other discounts focus on renewal discounts rewarding loyalty (account in good standing for a determined number of years), as well as defensive driving, paperless billing, good student discount, and infrequent driving. A popular discount is multi-policy (bundling) – having your insurance company carry all of your insurance needs, including home, car, recreational vehicles, etc.
Other discounts include:
By law, Georgia drivers ages 25 or older are required to be awarded a 10 percent discount if no new claims are on file for three years.
Be sure to consult with your insurance company regularly to check on available discounts so you can find the cheapest car insurance in Georgia. Most insurance companies will require that your account remains in good standing for several years.
Getting a Free Auto Insurance quote with Freeway is easy!
Georgia Car Insurance Laws
What Are the Mandatory Car Insurance Requirements in Georgia?
The state of Georgia requires you to carry liability coverage so that you can pay for another party's injuries and property damage if you cause an accident. However, these limits only represent the minimum. They may not be sufficient to pay for all the damages in a serious accident.
Because Georgia is an at-fault state, the person who causes the car accident must pay for all injuries and damage, even if it exceeds their insurance limits. That's why it's so important to carry appropriate coverage.
Here are the state minimum requirements for Georgia:
Bodily Injury Coverage per Person: $25,000
Bodily Injury Coverage per Accident: $50,000
Property Damage Per Accident: $25,000
To register your vehicle in Georgia, you will need to provide proof of insurance. Leased vehicle drivers are also subject to minimums required by the leasing company. Any lapse in insurance may be followed by a penalty. Remember, insurance companies in Georgia are required by law to report any car insurance lapses, cancellations and new policies to the state via electronic real-time reporting.
What Is the Penalty for Driving Without Insurance in GA?
The penalties for driving without insurance in Georgia can be substantial, especially with repeat offenses. Expect to have your license suspended with no option to renew registration before paying a reinstatement fee. Even if insurance lapses for one day, you could be subject to a fine.
A lapse in insurance in Georgia can result in a $25 fee, plus $60 for reinstatement for first and second offenses and $160 reinstatement for more than two offenses in a 5-year period.
A first offense can result in being charged with a misdemeanor and fines up to $1,000. In addition, expect your registration to be suspended if the lapse in insurance is not corrected within 30 days. Driving with the registration suspended is a criminal offense.
Subsequent offenses will result in more severe penalties, such as the need to carry SR-22 insurance to prove financial responsibility, bigger fines, and longer suspensions. Being ordered to furnish an SR-22 certificate to the state means you have been identified as a high-risk driver in Georgia and your insurance premium will likely increase by quite a bit as a result.
What Factors Does Georgia Law Allow in Determining Your Premiums?
Many factors determine how much a person pays for auto insurance. States mandate what information insurance companies can consider when determining your rates. In Georgia, these factors include, but are not limited to:
Driving record and claims history
Your zip code and address
Gender
Marital status
Age
Type of vehicle
Credit score
Luckily, there are many ways drivers can qualify for lower auto insurance premiums and the cheapest car insurance in Georgia, including driving an older make and model vehicle, maintaining a clean driving record, and opting for higher deductibles and lower coverage limits while meeting minimum state coverage requirements.
If your claims history has several claims or an ongoing investigation, expect car insurance premiums to rocket as high as 50%.
Am I Required to Report an Accident in Georgia to Authorities?
As an at-fault state, Georgia requires you to report car accidents under certain circumstances to the police or the Georgia Highway Patrol if anyone is killed, if there is an injury or if property damage is greater than $500. Be sure to take plenty of photos and videos of the scene to corroborate your case.
Anyone that fails to report an accident can have their driving privileges revoked, resulting in reinstatement fees and plenty of headaches.
Because Georgia is an at-fault state, you always want to get a police report any time there is an accident. Otherwise, another driver could claim you caused the incident even if you didn't, or you could lose important evidence that helps you get the compensation you deserve.
Find an office near you to help with your auto insurance
What Is Driving Like in Georgia?
How Many Car Accidents Happen in Georgia?
According to the Georgia Department of Transportation, there were 1,377 fatal car accidents in Georgia in 2019 with 1,491 deaths. The table below shows how many accidents happened in 2019 in a sampling of the more populated cities in Georgia.
| City | Accidents | Injured | Fatal |
| --- | --- | --- | --- |
| Lawrenceville | 2,773 | 896 | 3 |
| Suwanee | 1,312 | 476 | 2 |
| Atlanta | 42,389 | 14,969 | 46 |
| Stockbridge | 2,093 | 762 | 1 |
| Alpharetta | 2,875 | 942 | 1 |
| Duluth | 1,132 | 382 | 3 |
| Marietta | 6,305 | 2,421 | 11 |
How Many Uninsured/Underinsured Motorists Are in GA?
Georgia ranks 23rd among the states for number of uninsured motorists (in 2019). There are an estimated 12.4 percent of drivers on the roads in Georgia who do not have car insurance. A larger percentage is estimated to carry only the minimum requirements, which could identify them as uninsured in the event of an accident.
Because Georgia has a high population on uninsured and underinsured drivers, many drivers choose to carry uninsured motorist coverage and/or underinsured motorist coverage. It's not very expensive (about $50-$75 per year on average) and it will come in very handy if you are hit by a driver who does not have insurance – or who doesn't have enough insurance to pay for all your injuries and damages.
FAQs About Georgia Car Insurance
I Am a Low-Income Driver. What Can I Do About Getting the Cheapest Car Insurance in Georgia?
Low-income drivers can benefit from seeking the state's minimum insurance requirements. Other ways to save on car insurance include purchasing an older vehicle and calling your agent to learn of any discounts. Note, any discounts require that your account remains in good standing for a number of years. Some discounts are tenure-based, while others are performance-based.
Can an Undocumented Worker Get Car Insurance in GA?
It can be difficult to get, but the short answer is that some insurers will issue car insurance to someone who does not have a valid driver's license. Most insurers will require a valid driver's license. You cannot legally drive without a driver's license in Georgia, but you can purchase car insurance for someone else who is legally able to drive in Georgia.
It's recommended that undocumented workers begin the process to become legal residents, so they can receive a driver's license.
Is It Possible to Get Car Insurance in Georgia With a DUI Mark on my Record?
Yes, Georgia drivers with a DUI on record can still obtain DUI auto insurance. Georgia is one of a few states that does not require an SR-22 proof of insurance after a DUI conviction. However, there are stiff penalties, even for a first-time DUI offense. Expect to face possible jail time on top of a suspension of driving privileges for varying lengths of time depending on age and number of offenses . You will be required to attend a defensive driving course and you will pay substantial fees and fines. A DUI conviction remains on your record forever in Georgia.
Your car insurance will likely go up after a DUI conviction, but you can find insurance companies who will offer you DUI auto insurance solutions to get you back on the road legally.
Get a Georgia Car Insurance Quote Today!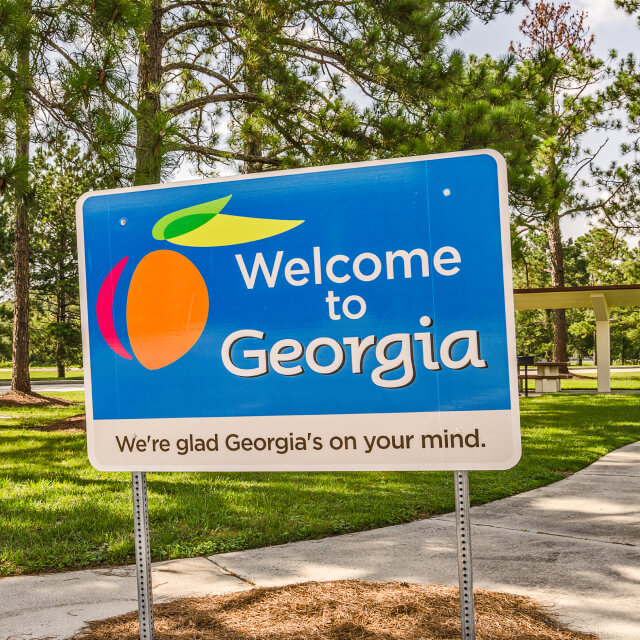 When you are on the hunt for good, but cheap, car insurance in Georgia, let Freeway Insurance help you find the appropriate coverage. Now that you know what the state of Georgia requires, you can decide what works best for you and your family.
Comprehensive insurance offers the best protection and you can lower the premiums by choosing a higher deductible and applying any eligible discounts. You also have the choice of purchasing the state's minimum requirements – and anything in between. Your coverage is up to you.
Learn all of your coverage options by requesting a fast and free car insurance quote online or visit us at a Georgia office near you. You can also call us at 800-777-5620 for a quote. Contact us for a free quote today!
Auto Insurance Info by City
Select a Product or Service to request a quote
Ready to Get a Quick Quote?