Nestled in the heart of Georgia, Macon exudes Southern charm with its rich history and captivating architecture. Aptly named "Where Soul Lives," the city has hosted music legends like Little Richard, Otis Redding, and the Allman Brothers band.
Amid its allure lies treasures such as the Hay House, Ocmulgee National Monument, and the serene Ocmulgee River. However, navigating Macon's roads requires adherence to Georgia's insurance mandate.
Explore the world of car insurance in Macon as we delve into insights, from average rates by age group and zip code to penalties for non-compliance. Uncover the crucial state minimums and discover how to find the cheapest car insurance company without compromising the insurance essentials. 
Let's embark on this journey towards budget-friendly and comprehensive protection for Macon drivers.   
Quick Facts
Macon witnessed 46 fatal crashes in 2021, resulting in 47 lives lost. 

The local

Georgia Department of Driver Services

office, vital for licenses and registrations, is conveniently located in the historic train station near the Georgia Music Hall of Fame in downtown Macon.
How Much Does Car Insurance Cost in Macon, GA?
The average monthly rate for full coverage car insurance in Macon, GA is $172, which is much higher than the national average monthly rate of $138, and just slightly higher than the state average of $165. Liability-only car insurance costs on average $69 per month in Macon, which is quite a bit higher than the national average of $40 and about the same as the state of Georgia at $63.  
For the average monthly premium paid by other Georgia cities, see our breakdown below:
| City | Full Coverage Insurance | Liability Insurance Coverage |
| --- | --- | --- |
| Macon | $172 | $69 |
| Atlanta | $223 | $90 |
| Savannah | $175 | $68 |
| Columbus | $157 | $58 |
| Augusta | $148 | $57 |
Georgia is an at-fault state, which means the driver at fault in an accident will be responsible for the injuries and damages of the other driver(s) and their passengers. The state-required minimum car insurance will pay up to policy limits for that, but will pay nothing for the at-fault driver's bills. Additionally, in many cases with today's rising costs, the minimum liability is not enough to cover all the costs associated with a car crash, leaving many drivers with bills to pay out of pocket.
This is why many drivers decide to buy more than the required amount and/or full coverage car insurance.
Exploring Key Determinants of Macon Car Insurance Premiums
Macon car insurance rates are influenced by different factors such as age, gender, vehicle, and driving record. Here is a list of some other factors:
Zip code

Credit score

Make/model of vehicle

Marital Status
Car Insurance Rates by Zip Code
Zip codes affect auto insurance rates significantly. The higher the number of accidents in a zip code, the higher the rates compared to zip codes with fewer accidents.
Here's a comparison of the average monthly premium by zip code in Macon:
| Zip Code | Full Coverage Insurance | Liability Insurance Coverage |
| --- | --- | --- |
| 31201 | $172 | $69 |
| 31204 | $173 | $71 |
| 31206 | $171 | $69 |
| 31207 | $171 | $69 |
| 31210 | $172 | $71 |
| 31211 | $168 | $64 |
| 31216 | $163 | $65 |
| 31217 | $167 | $63 |
| 31220 | $163 | $64 |
Car Insurance Rates by Age
It's no secret — younger drivers see higher insurance premiums than older adults due to a riskier collective driving profile that includes more claims and limited experience. Fortunately, this expensive insurance will level out in a few years if young drivers keep their records free of claims and tickets.
For the average monthly premium by age in Macon, see our breakdown below:
| Age | Full Coverage Insurance | Liability Insurance Coverage |
| --- | --- | --- |
| Teenagers | $565 | $236 |
| 20s | $220 | $86 |
| 30s | $163 | $64 |
| 40s | $149 | $56 |
| 50s | $143 | $55 |
| 60s | $148 | $58 |
| 70s | $182 | $75 |
Unless otherwise specified, we use the following methodology to arrive at our average cost: male, age 30, lowest possible legal coverage allowed by state. Your rates will be determined by several factors, including your age, your gender and the amount of coverage you want to purchase.
Get a Quote for Car Insurance in Georgia Today!
Minimum Car Insurance Requirements in Macon, Georgia
Georgia state minimums for auto insurance liability are as follows:
Bodily Injury Coverage per Person: $25,000
Bodily Injury Coverage per Accident: $50,000
Property Damage per Accident: $25,000
Remember, all states require that drivers show proof of financial liability following an accident. We highly recommend seeking coverage higher than the minimum level of insurance coverage for greater peace of mind. State minimum policies may result in excessive out-of-pocket costs with a single accident.
What Are the Penalties for Driving Without Insurance in Macon?
In Georgia, driving without car insurance is a disastrous decision leading to high reinstatement fees, revoked driving privileges, possible jail time, and skyrocketing monthly premiums.
Penalties for a driver's first offense are severe. Expect a 60-day license and registration suspension along with a $25 lapse fee and a $60 reinstatement fee. Second offenses see the same lapse fee and reinstatement fee. However, your driver's license and registration suspension bump to 90 days, three times as long as a first offense.
Third and subsequent offenses will see a $25 lapse fee, a $160 reinstatement fee, and a six-month driver's license and registration suspension.
On top of fees and suspended driver's license/registration, serious offenders can face an up-to-12 month jail sentence, depending on the situation.
Smart Ways to Get Cheap Car Insurance
Securing affordable car insurance in Macon, Georgia involves considering a number of factors to find the best deal tailored to your personal needs. Macon residents can explore these aspects to get the most out of their auto insurance:
Driving Record Matters:

A clean driving record plays a crucial role in obtaining lower rates. Good drivers with no accidents or violations are often rewarded with better premiums.  A good driving record can also unlock various discounts from insurance providers. Ensure you inquire about these discounts to maximize your savings.

Coverage Options:

Whether you're considering minimum coverage, full coverage, or other types of insurance, comprehending your personal requirements is vital for choosing the right level of protection.  Evaluate factors like the number of drivers in your household, your vehicle's make/model, and your driving habits.

High-Risk Situations:

Factors like

DUI

convictions can label you as high-risk, leading to higher premiums. However, many independent insurance agents specialize in finding the best insurance companies offering competitive rates for high-risk drivers.

Agent Assistance:

Insurance agents can be your guide in navigating the complexities of Georgia auto insurance. They help you tailor your policy based on your unique situation, potentially leading to a more affordable premium.

Explore Best Insurance Companies:

Research and compare rates from different insurance companies. Look beyond the cost to the coverage they offer and their reputation for customer service.
By focusing on these factors, Macon residents can secure a cost-effective and comprehensive auto insurance plan that meets their requirements.
How to Choose the Right Cheap Car Insurance Coverage? 
Choosing the right affordable car insurance in Macon, Georgia involves several steps to ensure you're getting both adequate coverage and cost savings: 
Assess Your Needs:

Begin by evaluating your coverage requirements, keeping in mind Georgia law. This will help you determine the most affordable option that provides adequate coverage for your situation.  

Compare Quotes for Lowest Rates:

When seeking the right cheap car insurance, it's a good idea to explore coverage options that offer the best rates. With numerous car insurance companies vying for your attention, it's crucial to compare quotes. Car insurance premiums can vary greatly among auto insurance companies, so obtaining quotes from different rates is essential. 

Check Discounts:

Look for discounts that make insurance a more budget-friendly choice. Freeway Insurance offers options that help even high-risk drivers secure a low rate.  

Read the Fine Print:

Thoroughly review policy terms and exclusions before committing to ensure you're making a good choice that aligns with your needs.

Prioritize Customer Service:

In the search for the best way to balance cost and coverage, prioritize excellent customer service and claims support. 
Freeway Insurance can be your valuable partner in this process, helping you secure the comprehensive coverage you need at the most affordable rates. 
Discounts for Car Insurance 
All Georgia drivers should look into different discounts available to bring the cost of car insurance down to a manageable monthly expense. There are all types of discounts available, including but not limited to the following:
Good student discount

Driver education discount

Customer loyalty discount

Vehicle safety discount

Paperless billing discount

Bundling policies discount
Note, all drivers with no moving violations or at-fault accidents within the last few years should see monthly premiums decrease over time. However, to find out what discounts you qualify for, we highly advise calling your insurance company every year.
Get an Online Quote for Low-Cost Car Insurance in Macon, Georgia Today!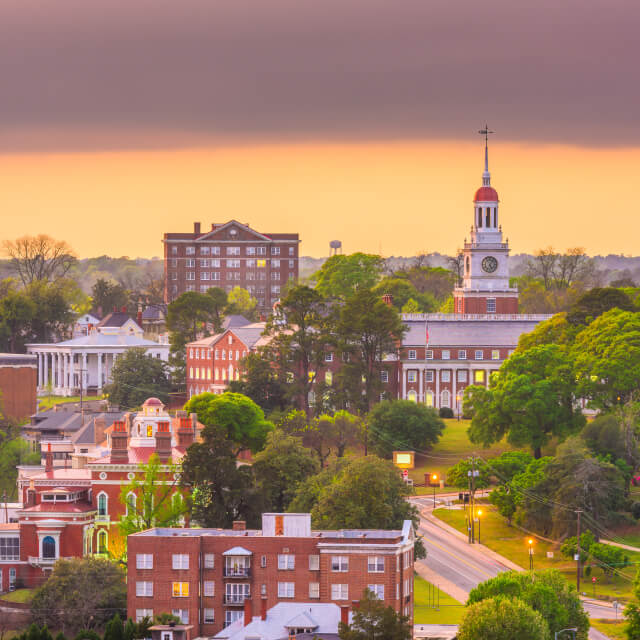 Driving without the required car insurance coverage could result in severe consequences. Let Freeway Insurance help you find the best car insurance policy for you and your family.
You can get a fast and free car insurance quote online, visit us at a Macon office near you, or call 800-777-5620 for a no-obligation quote by one of our friendly customer service representatives.
Select a Product or Service to request a quote
Ready to Get a Quick Quote?