South Carolina is home to more than five million residents and has a few urban population centers, including Greenville and Charleston, where many car accidents occur.
To protect against said accidents, South Carolina requires drivers to maintain car insurance. This insurance protects drivers from liability claims from other drivers following an accident. Since this coverage is mandatory, everyone could benefit from finding great coverage at affordable rates.
Quick Facts
According to the 2020 census, the population of South Carolina is 5.1 million people.
There are more than 1.8 million registered vehicles in South Carolina.
South Carolina hit a record high for distracted driving deaths in 2015 with 64 fatalities.
South Carolina ranks fourth nationally for pedestrian deaths.
How Much Is Car Insurance in South Carolina?
South Carolina has some of the highest car insurance rates in the country. This is due in part to the high number of fatal accidents. According to the Insurance Institute of Highway Safety (IIHS), the state's 19.4 deaths for every 100,000 residents makes it one of the deadliest states to drive in. It's no wonder it is difficult to find cheap car insurance in SC.
The amount of annual car insurance premiums in South Carolina depends largely on whether a driver only has the minimum level of liability insurance or if they have invested in full coverage for their vehicle. The annual cost of car insurance for the minimum coverage level is $558 in South Carolina. For full coverage, the annual amount is $1,512.
These figures are only an average. Other factors outside of the type of policy could increase or decrease the annual cost dramatically. For example, drivers who live in zip codes with a high rate of vehicle accidents could pay more, while drivers in their 50s might pay less than younger motorists.
An insurance agent from Freeway Insurance could put together a quote that takes into account all of the relevant factors. You might be surprised at how affordable these quotes can be, even if your driving history is not perfect.
What Is the Average Premium in South Carolina for Full Coverage Car Insurance?
The average premium for full coverage in South Carolina is $1,512 annually. Full coverage car insurance goes beyond simple liability coverage. This type of insurance not only protects you from liability claims from other drivers but also offers benefits that will cover your losses in an accident. These benefits are available even if you are ultimately responsible for the accident.
Full coverage benefits include medical payments insurance that covers the cost of your medical bills following a car wreck. It could also include collision insurance that pays for your vehicle damage when you are involved in a crash. Full coverage also frequently contains uninsured motorist coverage or UIM, which is designed to pay for your damages when the driver who caused the crash is uninsured.
Every driver has different insurance needs. Before you select a policy, consider discussing your options with an agent from Freeway Insurance. You might be surprised at the coverage available within your budget.
How Much Is It for Just the Minimum Required Car Insurance in South Carolina?
Your annual premiums will be much less if you choose to only purchase the minimum level of liability insurance required under the law. In South Carolina, these policies cost an average of $558 per year.
The minimum amount of coverage required is $25,000 for bodily injuries per person, $50,000 for injuries per accident, and $25,000 for property damage per accident. This might seem like a lot at first glance. The reality is that the minimum amount of coverage will not pay for all of the damages in many cases. If the claims against you are greater than your policy limits, you can expect to pay the remaining dollar amount out of your own pocket.
How Do Rates Compare Across Major Cities in South Carolina?
Much of the population in South Carolina live in rural areas. That said, there are several larger population centers, including Columbia, Charleston, and Greenville. On average, the annual premiums are higher for drivers who live in larger cities than less-populated areas. This is because accidents are also more common in densely populated areas.
| City | Average Annual Premium |
| --- | --- |
| Columbia | $1,547 |
| Charleston | $1,626 |
| Greenville | $1,410 |
| Florence | $1,680 |
Is There a Good Driver Discount in South Carolina?
There is a good driver discount for Freeway Insurance customers in South Carolina. A good driver discount takes into account your clean driving record and your lack of speeding tickets or moving violations. This discount can be substantial, but it is only one of the discounts that could be available to you. Other discounts include:
Good student discounts for high school drivers with B average grades or better
Discounts for anyone who takes a defensive driving course
Discounts for policyholders who do not drive often
Paperless billing discounts
Bundling discounts for multiple vehicles or policies
Renewal discounts
It can be difficult to keep track of all of the discounts offered by Freeway Insurance. Your best bet is to discuss your options directly with an insurance agent. Your agent might be able to identify discounts you had never considered.
South Carolina Insurance Laws
South Carolina car insurance laws are in place for a reason. Few drivers have the financial means to pay out of pocket when they cause a major accident. These insurance requirements protect everyone involved in the accident by spreading the risk to insurance companies with substantial assets.
What Are the Mandatory Car Insurance Requirements in South Carolina?
Every state has some form of financial responsibility requirement for drivers, and South Carolina is no exception. Like most states, this requirement comes in the form of mandatory liability insurance coverage.
South Carolina is an "at-fault" state. As such, drivers who cause an accident due to negligence are responsible for damages. The minimum levels of liability insurance in South Carolina include:
$25,000 for bodily injuries per person
$50,000 for bodily injuries per accident
$25,000 for property damage per accident
It is important to remember that these are only the minimum levels of coverage required by the state. You have the option to purchase more coverage in an effort to protect yourself from personal liability following a crash. Whether or not additional coverage is in your best interest depends on your financial situation.
It is not enough to have the minimum amount of insurance coverage. You must also carry proof of your insurance with you when you drive. If you fail to do so, you could receive a ticket.
What Factors Does South Carolina Law Allow in Determining Your Premiums?
Average premium information can be helpful when determining what your liability insurance might cost from one month to another. That said, the cost of these policies can vary dramatically based on your circumstances. Some of the factors that can determine what your policy will cost each month include:
Personal Information. Your age, gender, and marital status are all important factors that could impact your premium. For example, young, single, male drivers are likely to pay far more than married women in their 50s.
Driving Record. Your driving record will also play an important role in determining your insurance rates. If you have a history of accidents or moving violations, you can expect to pay more each month.
Vehicle Use. The more you drive, the more likely you are to get into an accident. If you spend very little time behind the wheel, your premiums are likely to be less than if you traveled extensively.
Zip Code. Accidents are more likely to occur in some zip codes than others. Insurance companies take this fact into account, often charging higher premiums in zip codes where more accidents occur.
What Is the Penalty for Driving Without Insurance in South Carolina?
There are a series of potential penalties that can come with driving without insurance. These penalties could apply if you lack insurance entirely or if you simply forgot to carry your proof of insurance with you when you drove. These penalties include jail time, fines, and the suspension of your license.
The severity of these penalties depends on whether you have prior convictions or not. A first-time offender could face up to 30 days in jail, a fine of up to $100, and a license suspension. For a second offense, the fine increases to $200. The fine is $500 for third and subsequent offenses every day you lack insurance, and the jail term lasts between 45 days and six months.
If you are caught driving without proof of insurance but you had coverage at the time, there is a chance you could receive leniency. This is especially true if you can show you had insurance coverage at the time you were pulled over.
Am I Required to Report an Accident in South Carolina to Authorities?
The requirement for calling the police after a car accident is lower in South Carolina than in other states. That said, there are additional requirements for self-reporting accidents when injuries are not involved.
According to state law, it is only necessary to call the police and remain at the scene of an accident if bodily injuries or death are involved in the crash. Otherwise, the drivers may leave the scene after exchanging information.
There are additional requirements for reporting an accident to law enforcement when injuries are not involved. A driver must self-report a property damage accident within 15 days of the collision by completing a form and sending it to the South Carolina Department of Motor Vehicles.
What Is Driving Like in South Carolina?
How Many Car Accidents Happen in South Carolina?
Each year, there are more than 140,000 motor vehicle accidents in South Carolina. More than 60,000 of these resulted in some form of bodily injury. South Carolina also faces some of the highest levels of fatal accidents based on the population. In 2019, the state saw 922 fatal crashes with a total of 1,001 traffic fatalities.
How Many Motorists Are Uninsured/Underinsured in South Carolina?
Driving without liability insurance is both risky and illegal. That said, motorists continue to do so every year in South Carolina. When it comes to uninsured drivers, South Carolina is in the middle of the pack compared to other states. Roughly 10.9 percent of all motorists drive without insurance coverage, according to the Insurance Information Institute (III).
FAQs About South Carolina Car Insurance
I Am a Low-Income Driver. What Can I Do About Getting Car Insurance in South Carolina?
You deserve affordable and reliable car insurance regardless of your financial situation. The good news is that you could obtain auto insurance in South Carolina even if you are a low-income driver. Freeway Insurance is dedicated to finding the best price for the best coverage for all of our customers.
If the low cost of your monthly premiums is your top priority, your best option might be to select a policy that only covers the minimum level of liability insurance mandated by law. However, you might be surprised by how affordable full coverage options can be.
These policies are especially affordable when you take advantage of all the discounts Freeway Insurance offers. From safe drivers to paperless billing, there are numerous ways you could reduce the cost of your insurance policy. Talk to an agent right away to learn what discounts might work in your situation.
Can an Undocumented Worker Get Car Insurance in South Carolina?
Undocumented workers cannot get car insurance in South Carolina. This is because state law prohibits undocumented workers from obtaining a driver's license. Without a valid license, insurance companies will not offer you coverage of any kind.
There are some states that are experimenting with driving licenses for undocumented immigrants. For example, Nevada offers a Driver Authorization Card that is not a full driver's license, but it does extend certain rights to undocumented workers to legally drive within the state. Insurers will typically sell policies to the holders of these cards. That said, South Carolina currently does not offer undocumented workers this option.
Is It Possible to Get Car Insurance in South Carolina With a DUI Mark on My Record?
While having a DUI on your record might increase the potential cost of your car insurance, it will not prevent you from securing coverage entirely. Insurance coverage is more important than ever if you have a DUI conviction in your past.
In fact, if you have been convicted of a DUI, you are considered a "high-risk" driver who requires additional insurance coverage. According to state law, you must secure an SR-22 to drive in South Carolina legally.
An SR-22 is often thought of as a type of insurance policy. This is not the case. Instead, it is a certification provided by an insurance company to the state's department of motor vehicles. An SR-22 certifies that you have secured an insurance policy that covers a high-risk driver. Part of having an SR-22 is that if you fail to make all of your premium payments, your insurer is required to notify the state that you are no longer covered.
Get a South Carolina Car Insurance Quote Today!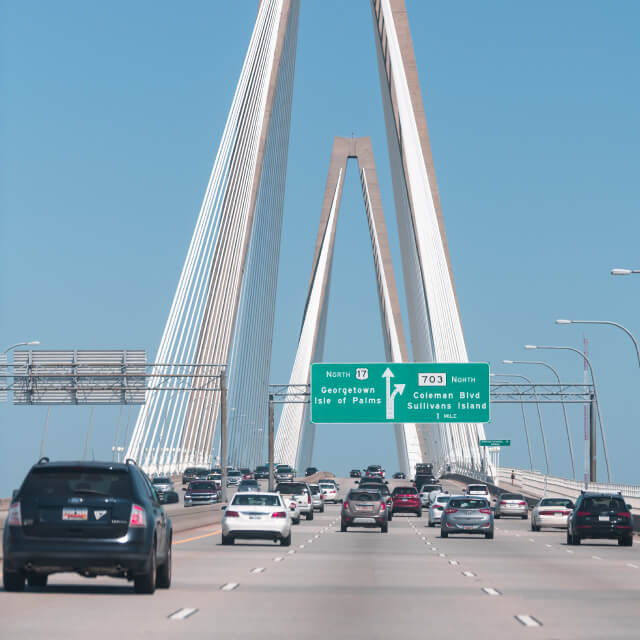 If you are a South Carolina driver, you must carry the minimum amount of car insurance required by law. Depending on your circumstances, you might benefit from additional coverage above and beyond the minimum amount of liability insurance. Other policies could increase those limits or provide coverage even if you were at fault in an accident.
If you are ready to learn about your options, you can get started with a quote online or visit us at a South Carolina office near you. Or, you could call us at (800) 777-5620 for a free quote.
Auto Insurance Info by City