As the capital city of South Carolina, Columbia is a city known for everything from military service to football. The city is home to Fort Jackson—the nation's largest Army basic combat training installation—and the University of South Carolina.
The city of South Carolina has a lot to offer, and residents stay business with a wide range of activities, including collegiate sports or the arts. With that activity comes the constant presence of vehicle traffic. Freeway Insurance is proud to provide many of those drivers with the protection they need.
Quick Facts
The average cost of car insurance in Columbia is $1,438.
The population of Columbia is 131,674 as of 2019.
How Much Is Car Insurance in Columbia?
On average, the annual cost of car insurance in Columbia is $1,438. It is worth noting that the rate is below the national average of $1,548. The cost of coverage throughout the state of South Carolina is similar to the price in Columbia. Of course, your rate could differ from the average cost of insurance. The South Carolina insurance rate you pay will depend on several factors.
| City | Average Annual Premium |
| --- | --- |
| North Charleston | $1,508 |
| Summerville | $1,496 |
| Charleston | $1,470 |
| Columbia | $1,438 |
Your specific insurance rate will depend on several factors, starting with your driving history. In addition to your driving history, other important factors include your zip code, age, and gender.
The critical thing to remember is that having the right coverage is worth the price. If you are involved in an accident and lack the proper coverage, you could find yourself personally liable for the damage that occurs. Fortunately, you could reduce the cost of your insurance while maintaining the coverage you require.
Columbia Car Insurance Rates by Zip Code
The zip code you live in will play a part in determining your insurance rate. Insurance companies pay attention to zip codes, as they can predict things like accidents or theft. The more accidents a zip code has, the more people in that area will pay for their insurance.
Columbia has 34 zip codes, and every one of them could offer a different average rate for auto insurance. While your zip code brings the cost of your insurance up, other things like discounts could help bring it back down.
Columbia Car Insurance Rates by Age
Some age groups are more likely than others to be involved in a motor vehicle collision. For that reason, many age groups pay more for car insurance than others. Typically, teenagers spend much more than everyone else. As they age, their rates fall until leveling off in their 30s. Drivers in their 70s will see their rates increase again.
| Age | Average Car Insurance Rate |
| --- | --- |
| Teenagers | $4,944 |
| 20s | $1,903 |
| 30s | $1,411 |
| 40s | $1,354 |
| 50s | $1,282 |
| 60s | $1,320 |
| 70s | $1,599 |
Unless otherwise specified, we use the following methodology to arrive at our average cost: male, age 30, lowest possible legal coverage allowed by South Carolina. Your rates will be determined by several factors, including your age, your gender and the amount of coverage you want to purchase. 
Driving Conditions in Columbia
How Many Fatal Accidents Happen in Columbia?
In 2019, there were 14 fatal accidents in Columbia, South Carolina. Out of those accidents, there were 15 fatalities involving 21 vehicles. Six of those deaths were linked to driving while under the influence of drugs or alcohol.
How Are the Road Infrastructure and Bridges in Columbia?
Given the growth of the city, road construction is a common sight in Columbia. Compounding this issue is the presence of a large university that brings extensive traffic in and out of the city. Improvements may be on the horizon, given that the city is targeted for expanded bike and pedestrian lanes using federal funding.
There are also issues with infrastructure throughout the state of South Carolina. In 2021, the state received a grade of C- for its infrastructure. This is the same score that most other states received.
Get a Quote for Car Insurance in South Carolina Today!
Minimum Car Insurance Requirements in Columbia
Every state has a form of financial responsibility requirement, and South Carolina is no different. State law requires drivers to carry a minimum amount of liability insurance at all times when they get behind the wheel. This insurance protects a driver from a lawsuit should they cause a collision. Given the high cost of motor vehicle accidents, it is important to have the right amount of coverage. The minimum coverage required under state law includes:
$25,000 for bodily harm per person
$50,000 for bodily harm per accident
$25,000 for property damage per accident
While the state does not require full coverage for your vehicle, your lender might. Many lenders require additional coverage, including comprehensive or collision that would provide you with compensation if you are in an accident. This is true even if you were at fault for the crash.
Factors Allowed in Columbia Car Insurance Rates
There are different factors that go into setting your car insurance rates. Given the number of factors that could affect the cost of your policy, it should be clear why rates can differ from one Columbia resident to another. Some of the most important factors include:
Driving record
Accident history
Gender
Age
Credit score
Marital status
Type of vehicle
Condition of vehicle
Zipcode
Discounts for Car Insurance in Columbia
The good news for Columbia residents is that there are numerous ways to save money on car insurance. There are several discounts that might be available to you. Some popular examples of discounts include:
Good driver discount

Good student discount

Military discount

Anti-theft discount

Multi-policy discount
What Are the Penalties for Driving Without Insurance in Columbia?
The penalties for a conviction of driving without insurance are steep in Columbia. These penalties vary depending on the number of previous convictions you have. You could face a $200 fine for a first offense or up to 30 days in jail. For a second offense, you face both the possibility of fines and jail time. For third and subsequent offenses, you could be sentenced to between 45 days and six months in jail. You might also be required to maintain SR-22 insurance.
Get a Columbia Car Insurance Quote Today!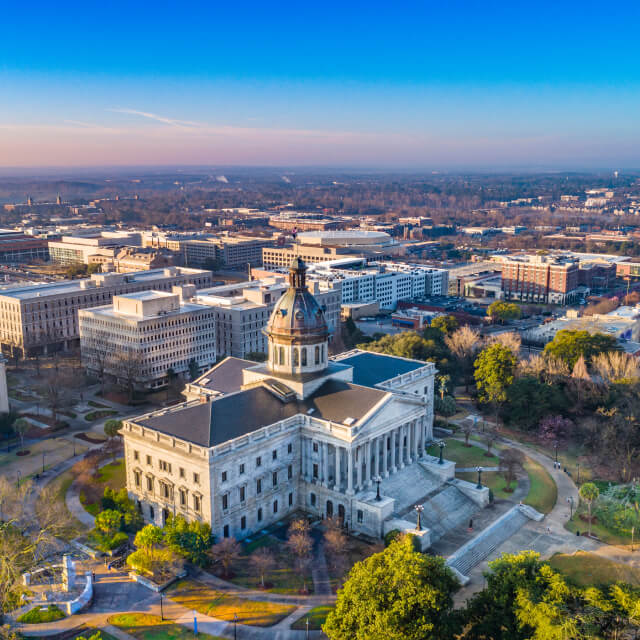 Liability insurance can protect you from an accident, even if it was ultimately your fault. Not only does the law require that you carry insurance, but it could save you significant money in the long run.
Freeway Insurance is ready to help you find the best rates in Columbia. Get started with a quote online or talk to someone at a Columbia office near you. You can also call us at (800) 777-5620 for your quote.