Located in the western U.S., Utah is one of the most captivating scenic destinations in the country. It is an outdoor-lover's paradise, flush with a diverse topography from the crumbling Colorado Plateau and endless hiking trails to snowboarding opportunities.
Visitors and residents can enjoy Zion National Park with its breathtaking Zion and Kolob canyons, along with Arches National Park and thousands of interesting rock formations. The majestic Monument Valley is also a stunning desert masterpiece, paying tribute to the old-style American West. For a break from nature, head to Salt Lake City, its capital city bustling with entertainment and cultural attractions.
Quick Facts
According to the Utah Department of Public Safety's Highway Safety Office, there were 256 fatal crashes in 2020.
Utah is a no-fault state, meaning your insurance provider covers the cost of your damages related to an accident up to your limit, regardless of who is at fault.
The average cost of full coverage car insurance in Utah is $1,186 per year.
How Much Is Car Insurance in Utah?
The average cost of car insurance in Utah is $1,186 per year for full coverage, which is much lower than the U.S. national average of $1,674. The state-required minimum is $332 per year.
Many factors are used to determine the price of premiums paid, including your age, gender, driving history, make and model of the vehicle you drive, and discount eligibility.
Our best recommendation is to maintain a safe driving record with no claims. Even a single claim could cause your premiums to rise by as much as 100%.
What Is the Average Premium in Utah for Full Coverage Car Insurance?
Utah drivers pay an average monthly rate of $99 a month for full coverage car insurance. Age, gender, marital status, driving history, and more than 10 other qualifiers are used to determine the price of premiums paid.
Full coverage car insurance covers three areas and gives you the most protection. With full coverage auto insurance, you'll be getting the bodily injury (personal injury protection) and property damage liability required, but also coverage for events outside of car crashes (comprehensive) and collision. Comprehensive liability covers losses due to natural disasters, theft, vandalism, and other acts outside of one's control. Collision covers the cost of damages where there is a collision with another vehicle or object.
One way to save money on full car insurance coverage is to opt for higher deductibles and lower liability limits. It reduces the risk to the insurer, passing it on to the driver. Increasing a $500 to $1,000 can possibly shave off $30 or more from your monthly premium.
How Much Is It for Just the Minimum Required Car Insurance in Utah?
The state-required minimum insurance in Utah is $28 a month. State-required minimum liability is $25,000 bodily injury coverage per person, $65,000 bodily injury coverage per accident, $15,000 property damage per accident and $3,000 personal injury protection.
Avoid high out-of-pocket costs and countless headaches by opting for higher collision, comprehensive, and property damage limits. Even a single accident can exceed state minimum liability amounts, passing the rest of the expenses onto you.
How Do Rates Compare Across Major Cities in Utah?
Rates vary between different cities in Utah, large and small. For example, Salt Lake City sees an average monthly rate of $100 a month, 40% more than the smaller, less densely populated cities of Vernal ($60) and Tooele ($70).
Here are some of the zip codes in Utah with their average minimum rate per month.
| City (Zip)/Population | Average Full Coverage/Minimum Car Insurance Rates Per Month |
| --- | --- |
| Salt Lake City (84119)/47,800 | $148/$63 |
| Provo (84604)/48,492 | $134/$56 |
| Roy (84067)/34,657 | $124/$51 |
| American Fork (84003)/30,441 | $131/$56 |
| Syracuse (84075)/10,405 | $121/$52 |
Methodology: To figure out the average cost per insurance, we used the following demographic profile: male, age 30, lowest possible legal coverage allowed by state. The price of car insurance premiums vary based on age, gender, zip code, the type of vehicle driven, and driving history/claims record.
Are There Good Driver Discounts in Utah?
Yes, there are many good driver discounts in Utah. They fall under one of four categories: defensive driving, accident-free, safe driver, and low mileage discounts.
Defensive driving discounts reward drivers for attending state-certified classes covering everything from tailgating to assessing slippery road conditions. Accident-free and safe driver discounts reward drivers for having a claims-free history for anywhere from three to five years. Low mileage discounts kick in when drivers drive fewer than 12,000 miles a year, with greater savings offered when driving at or less than 7,500 miles per year.
You may qualify for one or more discounts. We highly recommend calling your insurance company regularly to find out. Some other discounts include:
Military (past or present)

Good student

Bundling policies

Autopay
Remember, you can also exclude certain miscellaneous coverages, such as rental car reimbursement, or increase deductibles from $500 to $1,000 or more to lessen the impact of your monthly payment.
Getting a Free Auto Insurance quote with Freeway is easy!
Utah Car Insurance Laws
Per Utah car insurance laws, all drivers are required to carry insurance. Insurers maintain a real-time database of coverage lapses, shared by the state. Even a single lapse of a few days could result in a suspended license and registration, on top of fines and administrative costs.
What Are the Mandatory Car Insurance Requirements in Utah?
Here are the state minimum liability coverage requirements for Utah:
Bodily Injury Coverage per Person: $25,000
Bodily Injury Coverage per Accident: $65,000
Property Damage per Accident: $15,000
Personal Injury Protection: $3,000
Utah is a no-fault insurance state, meaning each party files claims on their own insurance carrier, who pays for qualifying expenses up to coverage limits. In some cases, a lawsuit against the at-fault driver can be filed if injuries are sustained that meet the statutory threshold.
Note, obtaining insurance with state minimums may not be enough in the event of a serious accident. Opt for lower deductibles and higher liability limits whenever possible.
If you are thinking of leasing a vehicle, check with your finance company to be aware of any minimum requirements. Sometimes, lenders or finance companies demand more than the state minimum liability limits to better preserve their vehicle's residual value.
What Is the Penalty for Driving Without Insurance in Utah?
Penalties for driving without insurance in Utah are very steep. The offense is classified as a Class B misdemeanor and will result in a driver's license/registration suspension, impoundment, and a $400 minimum fine on your first offense. Any subsequent offenses face large fines, starting at $1,000, loss of license/registration and possible mandating of SR22 insurance proof.
If you are involved in a car accident without insurance, expect to pay exorbitant out-of-pocket costs.
Fortunately, Utah has one of the lowest uninsured motorist rates in the country at under 8%. With some states carrying high uninsured motorist rates at 20% or greater, this is a significant feat.
Remember, driving without insurance and having your license and registration suspended will bring forth tons of hidden costs, including reimbursement for a rental vehicle (if not included in the policy) and taking public transportation.
What Factors Does Utah Law Allow in Determining Your Premiums?
Your age, gender, zip code of residence, and claims record are some factors used to determine the price of premiums.
Many discounts are driver opt-in style. By opting into autopay, paperless billing, defensive driving classes, as well as installing anti-theft devices and anti-lock brakes, you can expect savings. Do not forget that driving an older make and model vehicle, with cheaper all-around repair costs, is a favorite for insurance companies.
Another way to qualify for lower premiums is to increase your deductible and seek lower comprehensive and collision coverage, as well as choose liability limits at the state minimum.
Am I Required to Report an Accident in Utah to Authorities?
Yes, Utah requires all drivers to report car accidents if the accident results in injury/death or contributes to property damage estimated to be worth $1,500 or greater. Failing to report a car accident in Utah is a class C misdemeanor.
All accident reports must mention all involved parties (including vehicles), crash conditions, and other important details.
Find an office near you to help with your auto insurance
What Is Driving Like in Utah?
How Many Car Accidents Happen in Utah?
According to the Utah Department of Public Safety's Highway Safety Office, there were 256 fatal crashes in 2020. There were 51,630 total reported crashes in 2020.
How Many Uninsured/Underinsured Motorists Are in Utah?
There is no official documentation or real-time reporting that tracks the number of uninsured and underinsured motorists in Utah. However, the Insurance Information Institute estimates that Utah has one of the lowest percentages of uninsured motorists in the country at 6.5%. It only trails eight other states, with New Jersey having the lowest at 3.1% uninsured. All numbers are based on 2019 data.
Any drivers who are caught driving without insurance will face a suspended license, suspended registration, and heavy reinstatement fees ($400 minimum fine for a first offense and a minimum fine of $100 for subsequent offenses).
To learn more on the estimated percentage of uninsured motorists by state (2019), visit https://www.iii.org/fact-statistic/facts-statistics-uninsured-motorists.
FAQs about Utah Car Insurance
I Am a Low-Income Driver. What Can I Do About Getting Car Insurance in Utah?
There are many ways low-income drivers can save money on car insurance. For starters, seek the state's minimum insurance requirements ($25,000 bodily injury coverage per person, $65,000 bodily injury coverage per accident, $15,000 property damage per accident and $3,000 personal injury protection). Additionally, low-income drivers can opt for higher deductibles and apply for good driver discounts.
Low-income drivers may be eligible for discounts and should call their insurance provider regularly to report any changes that may result in lower premiums. If an account remains in good standing for 3-5 years (no claims or legal incidents), then a discount is likely.
Is It Possible to Get Car Insurance in Utah with a DUI Mark on My Record?
Utah drivers with a DUI on record can obtain car insurance. It's going to cost more money than regular insurance. Plus, first-time offenders can expect anywhere from two days to six months in jail, up to $1,000 in fines, a 90-day license revocation period, and the potential use of an ignition interlock device for alcohol monitoring. A second and third offense will increase penalties across the board, with up to $5,000 in fines for a third offense.
A 10-year DUI lookback period also goes into effect immediately after your first offense. Multiple DUI offenses within 10 years are subject to higher penalties and fines on top of rate increases.
Get a Utah Cheap Auto Insurance Quote Today!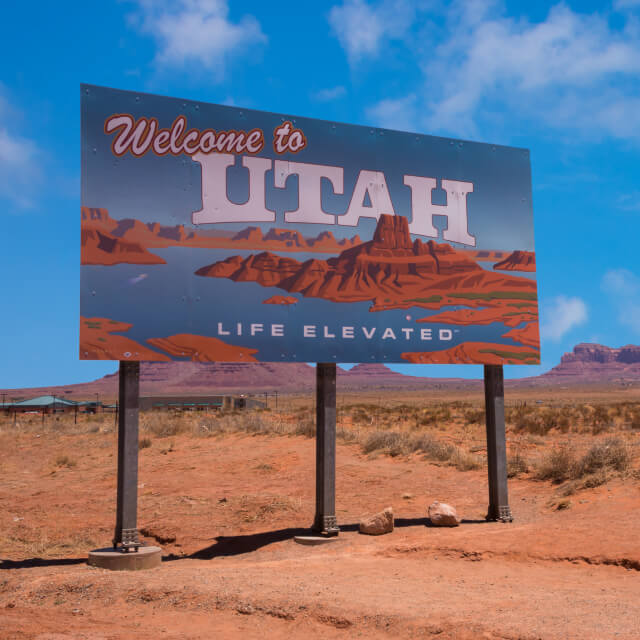 Freeway Insurance provides affordable car insurance for Utah residents. Keep costs in mind with state minimum liability or go for higher liability limits with a customized plan.
To request a quote, visit us online, at a Utah office near you, or call (800) 777-5620 for a free, no-obligation consultation on all of your best options.
Auto Insurance Info by City
Select a Product or Service to request a quote
Ready to Get a Quick Quote?