Located in the Mountain West, Wyoming is the least densely populated state in the country. Think sprawling plains, prairie towns, and many nature opportunities led by world-renowned sites like Yellowstone National Park, Grand Teton National Park, and the Bridger-Teton National Forest.
No trip to Wyoming is complete without a trip to Yellowstone National Park, the oldest national park in the world. Steaming hot springs, gushing waterfalls, and a large maze of hiking trails makes this park one of the most interesting in the country.
All Wyoming drivers must have auto insurance to drive in the state. Keep reading to learn about car insurance in Wyoming, including average annual premiums paid for the state minimum required coverage, and ways to save on your next auto insurance policy.
Quick Facts
Wyoming has three

nicknames – Equality

State, Cowboy State, and Big Wyoming.
The word 'Wyoming' is a Lenape Indian word meaning "on the big plain".
The United States government owns almost half of the state of Wyoming.
The most dangerous road in Wyoming is Interstate 80, which sees an average of 21 fatalities a year.
How Much Is Car Insurance in Wyoming?
The average monthly cost of full coverage car insurance in Wyoming is $187, which is a tad bit more than the national average of $140. The state-required minimum liability car insurance is $72, considerably higher than the national average of $47.
You might be surprised to learn that, even though the state is not heavily populated, it has the second highest rate of traffic fatalities in the nation. Some attribute this to a stretched-thin law enforcement presence, as well as high speeds.
What Is the Average Premium in Wyoming for Cheap Full Coverage Car Insurance?
In Wyoming, drivers pay an average of $2,244 per year for full coverage car insurance.
Full coverage combines liability insurance with collision car insurance and comprehensive auto insurance coverage. Collision coverage covers damages due to vehicle-to-vehicle, vehicle to object, and rollover events. In contrast, comprehensive coverage covers damages due to theft, hail, fire, and other events outside your direct control.
Luckily, drivers can lower the cost of full coverage insurance by opting for a higher deductible, applying for discounts, comparing rates across different insurance providers, and maintaining a claims-free driving record. Keep a clean driving record for three to five years and you have a good chance to secure the cheapest car insurance rates in Wyoming.
How Much Is It for Cheap Liability Insurance or the Minimum Required Car Insurance in Wyoming?
The average cost of the required minimum car insurance in Wyoming is $864 per year.
Although being covered by the minimum required insurance is enough to be able to drive legally in the state, we recommend going for full coverage. Liability car insurance in Wyoming consists of bodily injury/death liability insurance and property damage liability insurance.
How Do Rates Compare Across Major Cities in Wyoming?
Different cities in Wyoming pay different rates based on the demographic composition and collective driving record of all drivers within each location.
See the breakdown below for five Wyoming cities' average monthly premiums.
| City | Full Coverage Insurance | Liability Insurance Coverage |
| --- | --- | --- |
| Casper | $145 | $32 |
| Cheyenne | $154 | $31 |
| Laramie | $149 | $28 |
| Rawlins | $141 | $26 |
| Jackson | $152 | $29 |
Unless otherwise specified, we use the following methodology to arrive at our average cost: male, age 30, lowest possible legal coverage allowed by state. Your rates will be determined by several factors, including your age, your gender and the amount of coverage you want to purchase.
Getting a Free Auto Insurance quote with Freeway is easy!
Are There Good Driver Discounts in Wyoming?
There are many good driver discounts available to Wyoming drivers.
Some good driver discounts include accident-free discounts (no accidents in the past three to five years) and violation-free discounts. Some insurers also offer telematics discounts, which use a tracking device in your vehicle to monitor your driving behaviors, awarding discounts based on healthy driving habits.
Do not forget to enroll in defensive driving courses. Defensive driving courses take a few hours at most, covering best practices around tailgating, driving on slippery roads, and other driving scenarios. Be sure to present your certificate of completion to the insurer. Other discounts include:
Bundling your home insurance with your car insurance
Auto-pay or paying upfront
Wyoming Car Insurance Laws
All Wyoming drivers must have an active auto insurance policy to drive legally in the state.
What Are the Mandatory Car Insurance Requirements in Wyoming?
Here are Wyoming's minimum auto insurance liability requirements:
$25,000 per person for bodily injury
$50,000 per accident for bodily injury
$20,000 per accident for property damage
Liability car insurance provides financial help to other drivers if you cause an accident, but it won't pay for your own injuries and damages.
What Is the Penalty for Driving Without Insurance in Wyoming?
Expect some stiff penalties for driving without insurance in Wyoming.
First-time offenders can expect to pay fines up to $750. After that, penalties increase with second and third offenses up to $1,500, depending on the violation. In addition, your driver's license and registration will be suspended for a minimum of 30 days until proof of insurance is provided.
Other applicable fees include reinstatement fees ($50), registration renewal fee ($30), record review ($15), probationary license fee ($25), and re-issuance fee if you wish to attend a hearing ($25).
Worst of all, you will be required to file an SR-22 certificate that proves to the state that you are adequately insured with the state's minimum liability requirements. This SR-22 will remain on file for three years. During this period, your premiums may double or triple.
What Factors Does Wyoming Law Allow in Determining Your Premiums?
Some factors used to calculate insurance premiums include:
Age
Gender
Driving record
Zip code
Make/model of vehicle
Credit score
Claims history
Premiums vary from person to person. Each person has his/her own risk profile, consisting of age, gender, driving record, deductible amounts, and the amount of coverage.
Am I Required to Report an Accident in Wyoming to Authorities?
According to Wyoming statute §31-5-1101 to 31-5-1104, drivers involved in an accident resulting in injury, death, or property damage of $1,000 or more must notify law enforcement. Crash reports must be made in writing and provided to the state highway patrol or county sheriff.
Failure to file a crash report could have you serve a one-year jail sentence and/or a $5,000 fine. In addition, any insurance claims require a police report, which can also be used for car accident settlement negotiations.
Remember, all Wyoming drivers must carry a minimum amount of insurance – $25,000 per person for bodily injury, $50,000 per accident for bodily injury, and $20,000 for property damage.
Find an office near you to help with your auto insurance
What Is Driving Like in Wyoming?
How Many Car Accidents Happen in Wyoming?
According to the Wyoming Department of Transportation, 112 fatal crashes in 2020 resulted in 127 fatalities. Statewide, there were 13,172 total crashes.
For total crashes by year in Wyoming, visit Standard Crash Data – Wyoming Department of Transportation.
See our breakdown below for the number of fatal crashes since 2016:
| Year | Fatal Car Accidents |
| --- | --- |
| 2016 | 100 |
| 2017 | 105 |
| 2018 | 100 |
| 2019 | 120 |
| 2020 | 112 |
How Many Uninsured/Underinsured Motorists Are in Wyoming?
The Insurance Information Institute projects that 5.8% of all Wyoming drivers drive without insurance. This places the state in 47th place in the nation, only beaten by Maine (4.9%), New York (4.1%), Massachusetts (3.5%), and New Jersey (3.3%).
To make this projection, the Insurance Information Institute uses the ratio between uninsured motorist claims to bodily injury claims. Unfortunately, there are no official stats on the number of uninsured and underinsured motorists, as it is impossible to self-report.
FAQs About Wyoming Car Insurance
I Am a Low-Income Driver. What Can I Do About Getting the Cheapest Car Insurance in Wyoming?
There are many ways low-income Wyoming drivers can save on car insurance.
One of our favorite savings recommendations for your next policy is to raise your deductible. The bigger the deductible, the smaller the premium. For example, it is not uncommon for drivers to save as much as 14% off of their premium by raising a deductible from $500 to $2,000.
Another way is to ask for discount options. Many special discounts are available for the taking, specific to policy adjustment (e.g., bundling auto and homeowners insurance) and enrolling in autopay/paperless billing. Other discounts are available for the military and members of notable trade organizations, including alumni associations.
Be sure to call your insurance provider every six months to see if you can apply for any discounts. With strategic discounts, it only takes a single phone call to drop $20 off your monthly bill.
Can an Undocumented Worker Get Cheap Car Insurance in Wyoming?
Regrettably, Wyoming does not allow undocumented workers to apply for a driver's license.
For more information on which states allow undocumented workers to obtain driver's licenses, as well as the latest on enacted legislation news by the NCSL Immigrant Policy Project, visit States Offering Driver's Licenses to Immigrants.
Is It Possible to Get Low-Cost Car Insurance in Wyoming With a DUI Mark on my Record?
Wyoming drivers can obtain DUI car insurance with a DUI on their records. After a DUI conviction, however, auto insurance will become much more expensive. Expect your annual car insurance premium to rise by nearly $1,000, a rate hike on par with the national mean premium hike for first-time DUI offenders. Some insurers won't offer car insurance to high-risk drivers, so you may have to shop around for one that provides DUI solution coverage.
Note: you will be automatically convicted of a DUI if your blood alcohol concentration is 0.08% or higher. Commercial drivers are held to greater scrutiny (0.04% or higher) and drivers under 21 years old (0.02% or higher).
Get an Affordable Car Insurance Quote Online in Wyoming Today!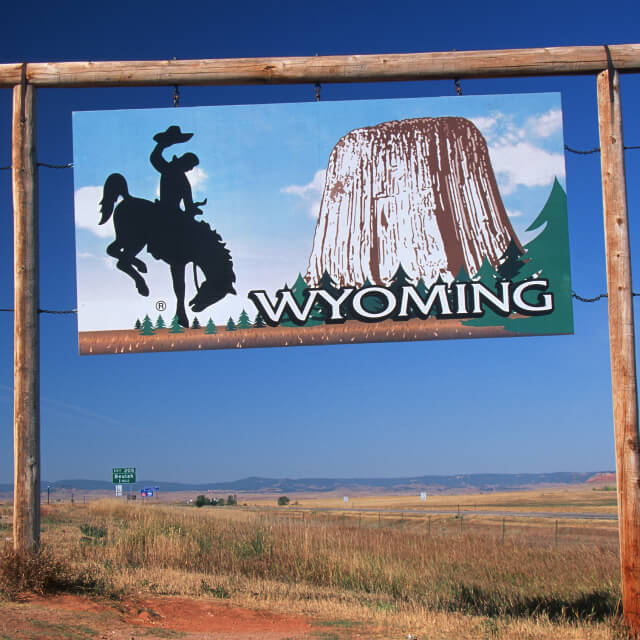 All Wyoming drivers must carry auto insurance to drive legally in the state. Save yourself the aggravation and the financial hardship that may occur from an accident with a minimum liability or full coverage policy from Freeway Insurance.
Freeway Insurance is ready to help all Wyoming drivers find the right amount of coverage. To learn more about Freeway's offerings, request a free car insurance quote online, visit us at a Wyoming office near you, or call 800-777-5620 to speak with an agent about all of your options.
Select a Product or Service to request a quote
Ready to Get a Quick Quote?