Get a Quote for Cheap Motorcycle Insurance Today!
Looking for cheap motorcycle insurance? Freeway Insurance can find you great rates on motorcycle insurance or scooter insurance coverage.
Whether you're riding your motorcycle for pleasure or to save money on gas, knowing that you and your bike are protected with proper insurance coverage will put your mind at ease. Get a motorcycle insurance quote online by entering your zip code in the form above or call to talk to one of our insurance experts. We offer competitive rates on the best motorcycle insurance policies no matter what type of bike you ride.
Discounts on motorcycle insurance are also available for more experienced riders. Ask a Freeway Insurance advisor about discounts for insuring multiple motorcycles or scooters, completing an approved motorcycle training and safety course, or for being a mature rider. Protect yourself and your investment with our wide range of bike insurance options at great rates.
How Does Motorcycle Insurance Work?
The answer is – much like insurance for a car works. The policy holder decides how much coverage they want and how much they want to pay for that coverage. The key is to choose motorcycle insurance that you can afford, while at the same time making sure you have sufficient protection in the event of a crash or other incident, like motorcycle theft. The experts at Freeway Insurance can help you make the right decisions.
Motorcycles are subject to the same mandatory insurance laws as other types of vehicles. Every state determines a minimum amount of coverage that every driver on the road needs to carry in order to provide some monetary compensation to those who are injured or who sustain property damage in a wreck. States have different requirements, so make sure you understand the laws of your state before heading out to feel the wind in your hair.
How Much Does Motorcycle Insurance Cost?
Average rates for drivers who are between 25 to 60 years old and choose the basic liability coverage for a touring bike are typically between $100-$500 annually. Yes, that is a large gap. That's because rates vary widely from state to state, as well as from bike to bike – and, of course, age plays a big part.
For example, a 16-24 year-old motorcyclist with full coverage on a sports bike is looking at rates between $1,000-$3,000. Quite a jump!
As with all vehicle insurance, factors such as age, driving history and where you live will impact your motorcycle insurance cost. Rates can be higher in warmer states because more people are out riding their bikes and potentially getting into wrecks and filing claims.  States that experience colder weather that limits motorcycle riding to only the most hardcore and generally more experienced riders will have lower rates because less people are out riding for a large part of the year.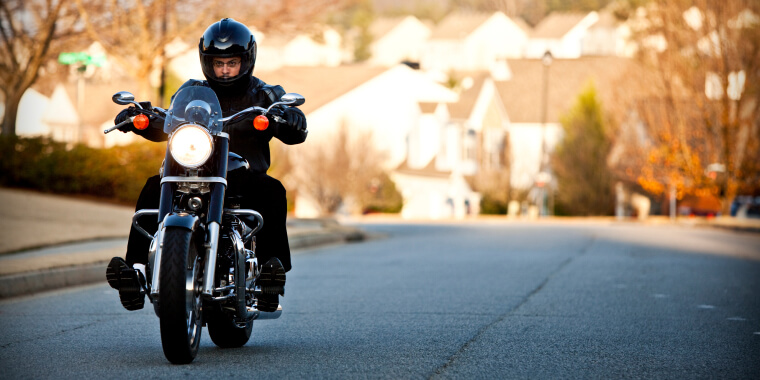 Younger drivers will pay more than older drivers, even if their individual driving history is the same.
As with all insurance rates, the state sets acceptable rates for what all types of insurance costs. These rates are non-negotiable. Insurance companies have the ability, however, to decide if a policy applicant qualifies for discounts and other pricing factors that may lower their premium. It should be noted that insurance companies base these decisions on several items, including the amount of time someone has been a customer, as well as a driver's past driving and claims record.
However, as compared to vehicle insurance, motorcycle insurance is generally substantially cheaper – almost half. At Freeway Insurance, we have great rates for all motorcyclists.
What is Covered in a Motorcycle Insurance Policy?
It depends on how much insurance you choose to carry – and a couple of other things. As with car insurance, basic state-required liability will cover another driver's medical and property bills up to your policy limits if you are found to be at fault in an at-fault state. In a no-fault state (Florida, Michigan, New Jersey, New York, Pennsylvania, Hawaii, Kentucky, Massachusetts, Minnesota, North Dakota and Utah), your basic liability coverage will pay for your own medical and property damage bills – up to your policy limits.
Many car insurance policies offer additional personal injury protection (PIP) options in states where it is not required, generally at-fault states. States that are no-fault states typically require some level of PIP. This coverage provides another level of medical protection for injuries you may sustain in a car accident. However, you may find as a motorcyclist that you cannot get PIP, because injuries sustained in a motorcycle accident can be severe.
Of course, at Freeway Insurance, we offer motorcycle insurance coverage options including bodily injury and property damage liability, comprehensive and collision, uninsured/underinsured, roadside assistance and more.
Helmet Laws in the U.S. and Motorcycle Insurance
Some states require motorcyclists to prove they carry a sufficient amount of health insurance in order to ride without a helmet. For example, Florida's no-fault car accident policy does not apply to motorcycle accidents, only to vehicles with four (4) or more wheels. Therefore, even though car drivers must purchase PIP as part of their required insurance, motorcyclists do not have the same requirement.
You will find a wide variety of helmet laws in the U.S. and in some cases, this may impact your motorcycle insurance coverage. Here's a look at the motorcycle helmet laws by state:
| State | Motorcycle Helmet Law |
| --- | --- |
| Alaska, Arizona, Colorado, Connecticut, Hawaii, Idaho, Indiana, Kansas, Maine, Minnesota, Montana, New Mexico, North Dakota, Ohio, Oklahoma, South Dakota, Wisconsin and Wyoming | 17 and younger |
| Alabama, District of Columbia, Georgia, Louisiana, Maryland, Massachusetts, Mississippi, Nebraska, Nevada, New Jersey, New York, North Carolina, Oregon, Tennessee, Vermont, Washington and West Virginia | All riders |
| Arkansas, Florida, Kentucky, Michigan, Pennsylvania, Rhode Island, South Carolina, Texas and Utah | 20 and younger |
| Delaware | 18 and younger |
| Illinois, Iowa, New Hampshire | No law |
Is My Ride Covered?
Freeway Insurance offers low-cost insurance for all types of motorcycles, bikes and motorbikes, including:
Custom Choppers
Vintage Bikes
Antique Motorcycles
Motorcycles 25 Years and Older
Cruisers
Limited Production Cruisers
Street Sport Bikes
High-Performance Motorcycles
Race Bikes
Touring Bikes
Super Bikes
Sport Touring Bikes
General Purpose Motorcycles
Dual Purpose or Enduro Motorcycles
Motocross and Dirt Bikes
Mopeds
Scooters
Trikes
Are There Discounts for Motorcycle Insurance?
As with most types of vehicle insurance, there are discounts available to help lower your annual motorcycle insurance premium. Discounts are typically offered to long-standing customers who have presented with an excellent driving record. At Freeway Insurance, we offer several discounts, including:
Loyalty discount

Multiple policies

Mature, experienced riders

Defensive and rider safety courses
You can lower the possibility of having to file a claim for a stolen bike by following some simple tips to keep your motorcycle safe.
Protect Yourself and Your Motorcycle
Now you know the most important things about getting cheap motorcycle insurance quotes and how to lower your bill. But do you know who can provide the best low-cost motorcycle insurance and great coverage you deserve? Here at Freeway Insurance, we specialize in offering great coverage at awesome prices. Come get started with a quote online, visit us at an office near you, or call us at 800-777-5620 for a quote today!