The state of New Hampshire offers an impressive variety of nature opportunities. Its topography is diversified with scenic mountains, quick access to the seacoast, and thousands of miles of wilderness. We are big fans of the White Mountains with their black bear population and the White Mountain National Forest, known for its fantastic skiing opportunities. Don't forget its extensive granite formations and Mount Washington, the state's highest peak.
Some of our favorite attractions in New Hampshire include the Lost River Reservation, Franconia Notch State Park, the Conway Railroad, and the Strawberry Banke Museum, which pays homage to the early Portsmouth settlers.
Car insurance in New Hampshire is not mandatory. If you choose to purchase auto insurance in New Hampshire, you are required to purchase a minimum amount of liability insurance. If you are the at-fault driver in a car wreck and you have no car insurance, you will be financially responsible for injuries and damages suffered by the other people involved in the crash. Keep reading to learn more about how insurance works in New Hampshire, including average monthly rates paid by county, traffic crash data, and how you can save on their next policy—even if you are undocumented or have a spotty driving record.
Quick Facts
I-93 is the most dangerous road in New Hampshire, with 19 fatalities in two years.
Seatbelts are not mandatory in New Hampshire for anyone over the age of 18.
Car insurance is not required by law in New Hampshire.
In 2019, New Hampshire saw 101 total traffic fatalities, a steep decline from the year prior (147).
How Much Is Car Insurance in New Hampshire?
The average cost of full coverage car insurance in New Hampshire is $1,275 per year. This is significantly cheaper than the national average at $1,674. For those who choose the state-required minimum liability car insurance, they'll be looking at $389 per year, again much lower than the national average of $565.
Unlike the rest of the US, drivers in New Hampshire are not required to purchase car insurance. If drivers choose to purchase accident and other event protection in the form of car insurance, then they must purchase liability insurance, as well as uninsured motorist coverage (UIM) and MedPay.
Those who choose not to purchase auto insurance must prove to the DMV they can come up with the financial means to pay for an accident, should they be responsible. They are subject to having their assets seized through a court order if they cause an accident and cannot pay for it. They are legally responsible for the other party's injuries and damages up to $25,000 in bodily injury/death for one accident, $50,000 in bodily injury/death for two or more and $25,000 in property damage. If you cannot come up with that kind of money out of pocket, you should seriously consider buying the state-required minimum at the very least.
Those who are convicted of driving without insurance, DUI and/or traffic citations and accidents may be forced to file an SR-22 in New Hampshire. This document tells the state that the driver is paying for the required minimum amount of car insurance.
Drivers will find some of the cheapest car insurance in New Hampshire, thanks to its low population density, collective driving record of its residents, and other factors influencing rates in the region.
What Is the Average Premium for Cheap Full Coverage Car Insurance in New Hampshire?
New Hampshire drivers pay a monthly average of $106 for full coverage insurance.
Full coverage includes basic liability car insurance, plus comprehensive auto insurance and collision car insurance coverage. Although not mandated under the state-required minimums, these coverages protect you in vehicle-to-vehicle collisions or damages due to non-collisions, such as theft, hail, and vandalism.
Many factors determine the cost of car insurance in New Hampshire, including your age, zip code, driving record, insurer, and selected coverage limits. Your deductible—the amount you pay before insurance kicks in and covers the rest—is also a factor. Most insurers allow deductibles anywhere from $250 to $1,000.
How Much Is It for Cheap Liability Insurance or the Minimum Required Car Insurance in New Hampshire?
The minimum monthly cost of car insurance in New Hampshire is $33 per month. This consists of bodily injury/death liability car insurance and property damage liability auto insurance, plus UIM and PIP.
Rates for the state-required minimum insurance are subject to change based on your individual factors mentioned above. We do not recommend carrying the state's minimum required insurance. New Hampshire's property damage limit is only $25,000, below the average cost of many new vehicles. Totaling another vehicle in a collision could result in damages exceeding $25,000, which will come out of your pocket.
How Do Rates Compare Across Major Cities in New Hampshire?
Different cities pay different rates in New Hampshire.
Check out our breakdown below for the average monthly premiums paid in different cities within New Hampshire.
| City | Full Coverage Insurance | Liability Insurance Coverage |
| --- | --- | --- |
| Manchester | $107 | $47 |
| Merrimack | $92 | $39 |
| Hudson | $96 | $42 |
| Concord | $87 | $37 |
| Nashua | $100 | $43 |
Unless otherwise specified, we use the following methodology to arrive at our average cost: male, age 30, lowest possible legal coverage allowed by state. Your rates will be determined by several factors, including your age, your gender and the amount of coverage you want to purchase.
Are There Good Driver Discounts in New Hampshire?
Yes! New Hampshire drivers can take advantage of good driver car insurance discounts, in New Hampshire provided they maintain a clean driving record for 3-5 years.
Do not forget car insurance discounts for other aspects, such as your policy. For example, bundling your auto and homeowners insurance can help you save 5% off on each policy.
Insurers look upon defensive driving courses favorably as well. So look to enroll in defensive driving courses, installing anti-theft devices or anti-lock brakes to offer assurance you are reducing the likelihood of theft.
Other car insurance discounts include:
Find out what car insurance discounts you may be eligible for by asking your agent.
Getting a Free Auto Insurance quote with Freeway is easy!
New Hampshire Car Insurance Laws
New Hampshire is one of two states that do not require auto insurance. However, you must be able to prove to the DMV that you have sufficient financial resources to equal the state's minimum recommendation. If you choose not to purchase car insurance and you are at fault for a wreck, you will be responsible for all injury and damage costs up to the minimum recommendation. A court can order your assets seized to help pay for the damage.
What Are the Mandatory Car Insurance Requirements in New Hampshire?
If you choose to purchase car insurance in New Hampshire, you must meet the following liability minimums:
Bodily injury liability coverage: $25,000 per person
Bodily injury liability coverage: $50,000 per accident
Property damage liability coverage: $25,000
Uninsured motorist coverage: $25,000/$50,000
MedPay: $1,000
All drivers must show that they can meet Motor Vehicle Financial Responsibility Requirements designated by Delaware. Additionally, New Hampshire is an at-fault state, which means those determined to be at fault for an accident are responsible for compensating all affected drivers and passengers, including vehicle damage. This setup enables third-party claims with another person's insurance provider.
If you are determined to be partially at fault for an accident, you are expected to pay your percentage of fault. For example, if a collision resulted in $200,000 worth of damages and a court decides you were 20% responsible for the crash, your expected contribution is $20,000.
What Is the Penalty for Driving Without Insurance in New Hampshire?
Potentially, financial disaster. Since New Hampshire does not require car insurance, your penalty comes if you are at fault in an auto accident and do not have the minimum amount of funds available that you said you did.
You don't have to show proof of car insurance if you are stopped by a law enforcement officer. However, if you cause a wreck you will be responsible for the other drivers' and passengers' medical and property damage bills up to the 25/50/25 recommended coverage. You'll also be paying for your own costs out of pocket. Remember, a court can order your assets to be seized to help pay for any damages you cause.
If you cause an accident in New Hampshire and end up not being able to offer the financial coverage out of pocket, the least of your troubles will be having your license plate, vehicle registration, and driver's license revoked, along with a $100 reinstatement fee and a $25 registration restoration fee upon showing proof of insurance.
Remember, the cheapest policy in New Hampshire consists of $25,000 for bodily injury liability per person, $50,000 for bodily injury liability per accident, and $25,000 for property damage, $25k/$50k UIM and $1k MedPay.
What Factors Does New Hampshire Law Allow in Determining Your Premiums?
Different drivers pay different rates. Factors that influence the amount of premiums you pay include but are not limited to:
Age
Gender
Zip code
Driving record
Claims history
Coverage limits
Deductible
Am I Required to Report an Accident in New Hampshire to Authorities?
If you are involved in an accident in New Hampshire, you are expected to report the accident to the state's Division of Motor Vehicles. All accidents causing injury, death, or $1,000 or more in property damage must be reported within 15 days in writing.
For more information on your civic responsibility after an accident, visit the New Hampshire Department of Safety – Division of Motor Vehicles Accidents and Crashes page.
Find an office near you to help with your auto insurance
What Is Driving Like in New Hampshire?
How Many Car Accidents Happen in New Hampshire?
According to the New Hampshire State Police, there were 104 traffic fatalities in 2020 and 116 in 2021. These figures represent a decrease over 2018, which saw 143 deaths. There were also significant disparities by county. For example, Hillsborough saw 12 deaths versus no deaths in Strafford and Sullivan counties (2019). In 2019, Hillsborough County accounted for 17.83% of all deaths.
See our breakdown below for the number of fatalities by county for the top four counties in 2020:
| County | Fatal Car Accidents in 2020 |
| --- | --- |
| Hillsborough | 12 |
| Merrimack | 4 |
| Rockingham | 9 |
| Grafton | 4 |
How Many Uninsured/Underinsured Motorists Are in New Hampshire?
According to the Insurance Information Institute, 6.1% of New Hampshire motorists do not carry insurance. With no official stats as to the exact number, this percentage is estimated based on the ratio of uninsured motorists (UM) claims to bodily injury (BI) claims frequencies.
Compared to other states, 6.1% is respectable. This places New Hampshire among the top state (lowest percentage of uninsured). For perspective, Mississippi leads the nation with the highest rate of uninsured drivers (about one in three), and New Jersey beats all states at a whopping low 3.1%.
For more information on the estimated percentage of uninsured motorists by state for 2019, visit Insurance Information Institute: Facts + Statistics: Uninsured motorists.
FAQs About New Hampshire Car Insurance
I Am a Low-Income Driver. What Can I Do About Getting the Cheapest Car Insurance in New Hampshire?
There are many ways low-income drivers can benefit from an affordable auto insurance policy, including taking advantage of car insurance discounts in New Hampshire.
We highly advise maintaining a clean driving record with no claims for three to five years with the same insurer. Then, expect your monthly rates to slowly drop over time or see steeper drops when executing multiple policy-related changes, such as enrolling in autopay/paperless billing and bundling your auto and homeowner's insurance policy. Bundling your auto and homeowner's insurance policy may result in decent savings on each policy type.
Do not forget to contact your insurance agent every six months to learn all of the discounts you are eligible to receive, or as soon as your life circumstances changes (e.g., switching to an older make and model vehicle). Finding the best auto insurance for you is key.
You can also get cheaper car insurance in New Hampshire by shopping around and comparing car insurance quotes. Another way is to increase your deductible – this will give you a lower payment. Just be sure you can come up with the money to cover the deductible if necessary.
Can an Undocumented Worker Get Cheap Car Insurance in New Hampshire?
Unfortunately, New Hampshire does not allow undocumented workers to apply for driver's licenses. Most car insurance companies require a driver's license to get auto insurance.
Only 16 states allow undocumented workers to obtain driver's licenses. They include California, Colorado, Connecticut, Delaware, Hawaii, Illinois, Maryland, Nevada, New Jersey, New Mexico, New York, Oregon, Utah, Vermont, Virginia, and Washington.
For more information on legislation and a helpful map of which states allow and do not allow undocumented workers to obtain driver's licenses, visit https://www.ncsl.org/research/immigration/states-offering-driver-s-licenses-to-immigrants.aspx
Is It Possible to Get Low-Cost Car Insurance in New Hampshire With a DUI Mark on my Record?
Unfortunately, New Hampshire drivers with a DUI mark on their record will see steep rate hikes, fines, license revocation, and possibly the need to install an ignition interlock device.
If caught driving under the influence, you will be shopping for DUI car insurance. Expect your annual rate to go up by ~ $1,822, resulting in a ~76% increase. It may be more or less depending on your driving record. Additionally, first-time offenses will see at least $500 in fines, license revocation for two years, and mandatory impaired driver intervention program attendance.
Second and third offenders will see even steeper fines (e.g., up to $750). Some auto insurance companies do not offer DUI solution coverage, so you may need to switch carriers.
Get an Affordable Online Car Insurance Quote Today in New Hampshire!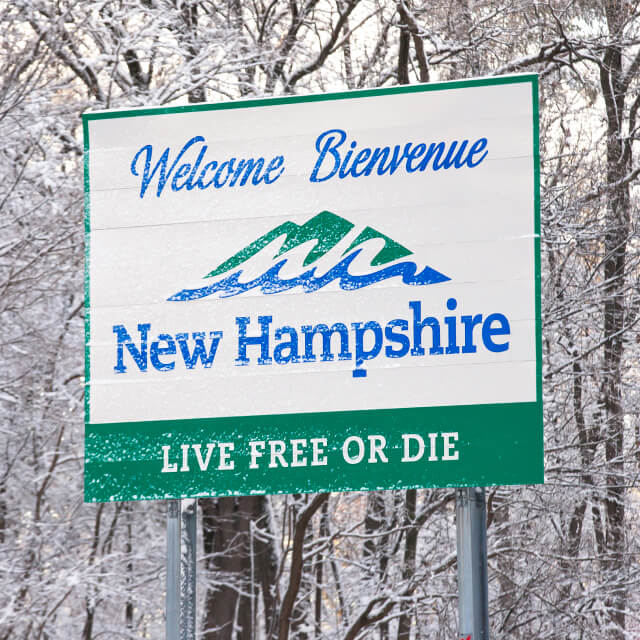 Take advantage of the most competitive car insurance rates with a no-hassle policy from Freeway Insurance.
To learn more about your insurance options with Freeway Insurance, request a fast and free car insurance quote online, visit a New Hampshire office near you, or call us at 800-777-5620 for a quote. Contact us today!
Auto Insurance Info by City
Select a Product or Service to request a quote
Ready to Get a Quick Quote?