What Is a Senior Citizen Auto Insurance Discount?
A senior citizen discount is one that your car insurance carrier offers based on your age. While the exact age requirement can differ from state to state and carrier to carrier, you usually have to be 55 years or older to take advantage of these discounts.
As you get older, you may qualify for special car insurance discounts at a number of different places. However, many who are older and/or retired don't realize they can get special discounts on their car insurance.
How Can I Qualify For a Mature Driver Discount?
In most cases, you'll need to have reached at least age 55, although the exact age is dependent on the insurance company. With certain senior discounts, you may also have to pass a driving safety course to receive the benefit.
You may have already benefited from certain car insurance discounts over the years, including discounts for good driving habits or for bundling different policies together. In most cases, getting such a discount is as simple as contacting your insurance company and requesting it.
While typically referred to as a senior driver discount, these discounts sometimes include mature driver discounts, retired driver discounts or older driver discounts.
Here at Freeway Insurance, we offer the kinds of discounts to help you save money each and every month. So keep reading to learn how you can start saving and find affordable rates today.
How Much Will I Save with the Older Driver Discount?
While it varies from carrier to carrier, a senior driver discount usually helps you save between 5% to 15% off your monthly premium. And you can save even more money by pursuing other discounts through your insurance carrier.
For example, you can save money by bundling your car insurance and your spouse's car insurance through the same carrier (multi-car discount). Similarly, you can save money by getting your car insurance and your homeowner insurance through the same carrier. Finally, if you have a solid driving record, you should definitely ask your insurance carrier about the good driving discount.
As you get older, you may experience a rollercoaster when it comes to your car insurance premium.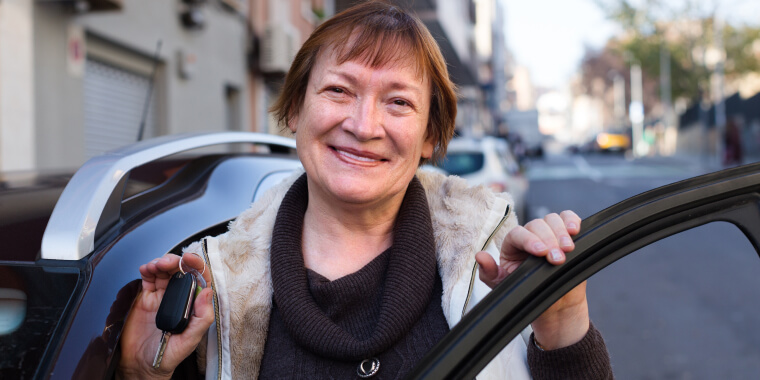 For example, starting around the age of 54, you are likely to pay less for car insurance than ever before. When you see your monthly premiums, you might think that you don't really need to seek out any special discounts.
However, your car insurance premium is going to increase once you turn 64. It will significantly increase once you turn 80 too. Pursuing a discount as soon as possible can help you get a jumpstart on affordable rates for car insurance savings while also helping you put back more money to enjoy your retirement years.
How Can Mature Drivers Get These Discounts?
While the exact procedure can be different for different carriers and different states, you must typically pass a driving safety exam in order to get a senior insurance discount. These exams are usually more specialized versions of the standard defensive driving course.
Incidentally, you don't necessarily have to wait until you turn 55 to start saving. Anyone who completes a driving safety course is eligible for savings from their insurance carrier. However, taking the more specialized exam once you are old enough can qualify you for the special senior discount on your monthly insurance premium.
Best of all, these driving safety courses are typically available online. That means you don't have to go down to the DMV and can actually qualify for these savings without having to leave the house.
How Can I Prepare for Driver Safety Courses?
It's always helpful to review the basics of defensive driving and driving safety before you take the exam, but you don't necessarily have to study anything beforehand. That is because the exams are given after you take a course online. Much like a test in school, the exam you take mostly assesses how much you learned in the course itself rather than other subjects outside of the course.
We still recommend you take the time to review defensive driving and driving safety tips beforehand, though. Keep in mind that by the time you qualify for a senior driving discount, it will most likely have been nearly four decades since you first passed your driving exam, and it never hurts to refresh your memory. Keeping up good driving habits throughout your time behind the wheel is always the best idea.
Save Money Online With Cheap Car Insurance Quotes Today
Saving money with a mature driver, retired driver, or senior driver discount is only the beginning. To experience major savings and find affordable rates, you need to switch to an insurance carrier that offers the services you need at the prices you deserve.
Freeway Insurance is here to provide seniors with the automobile insurance coverage and discounts you need. We can quickly and easily provide you with a car insurance quote online. Or feel free to give us a call at 800-777-5620. Finally, you can also visit us at an office near you.