You may have already heard that Minnesota is known as the "Land of 10,000 Lakes." But did you know its other nickname is "North Star State"? This "official" nickname was established in 1861 because Minnesota is the northernmost state in the U.S. If you are visiting for the largest state fair in the U.S. by attendance (The Great Minnesota Get-Together) or for more nature-centric pursuits (67 state parks with 8 of them located on the shore of Lake Superior), you've come to the right place.  You might have a need for a tax-free footwear and clothing shopping trip at the largest mall in the Western Hemisphere, the Mall of America, which is located in Minnesota.
Don't forget to check out the many museums, including the Center for Lost Objects and the Museum of Quackery and Medical Frauds, as well as Paisley Park, famous artist Prince's recording studio turned museum.
Minnesota has an old law on the books that says it is illegal to drive a red car down Lake Street in Minneapolis. Although that's probably not enforced, what is enforced is that all drivers must have car insurance in Minnesota to legally be on the roads. Keep reading to find out more about driving in Minnesota, including average prices and minimum insurance requirements.
Quick Facts
The population of Minnesota is more than 5.7 million, making it the 12th largest state in terms of residents
The Minneapolis-Saint Paul metro area is often called the "Twin Cities"
The most dangerous road in Minnesota is US Highway 169 with an average of 6 people dying on it every year.
In 2020, there were 57,127 traffic crashes on Minnesota roads. A total of 394 people died and 20,529 people were injured in those crashes.
Minnesota is a no-fault state. This means your property damage liability will help pay for your car repairs after an accident, regardless of who is at fault.
How Much is Car Insurance in Minnesota?
The average cost of full coverage car insurance in Minnesota is $1,643 per year, just slightly less than the national average of $1,771. The state's minimum will set back most drivers an average of $537 annually, very close to the national average of $565.
What individual drivers pay for their coverage varies widely and is based on many factors, including age and driving record most importantly, but even their zip code of residence.
Mature drivers with a blemish-free driving history can expect to find the cheapest auto insurance rates in Minnesota.
What is the Average Premium in Minnesota for Cheap Full Coverage Car Insurance?
The average rate is $137 per month. This type of auto insurance includes Minnesota's required minimum, as well as collision and comprehensive. For complete peace of mind, full coverage offers protection against damages due to collisions, as well as those out of your control, such as a tree limb falling on your vehicle.
Full coverage may also be required if you have financed your ride or are in a lease.
How Much Is It for Cheap Liability Insurance or the Minimum Required Car Insurance in Minnesota?
It will cost, on average, $45 per month. Most people will pay a little more or a little less than that for the state-required minimum. Because Minnesota is a no-fault state, the minimum consists of the usual liability (bodily injury and property damage), as well as uninsured motorist coverage (UM), underinsured motorist coverage (UIM) and personal injury protection (PIP).
If you get into an accident or are hit by a hit-and-run, your own insurance will kick in to help pay for your property damage. Your PIP will be available for your medical costs. If someone who is not insured or who doesn't have enough insurance causes an accident, your UM/UIM will kick in.
How Do Rates Compare Across Major Cities in Minnesota?
Rates vary depending on where you live. Generally, residents living in less populated areas pay lower auto insurance premiums due to the reduced risk of an accident and vehicle crime. Here is a comparison of average monthly costs between some populated and rural areas in Minnesota.
| City | Full Coverage Insurance | Liability Insurance Coverage |
| --- | --- | --- |
| Minneapolis | $165 | $79 |
| Rochester | $122 | $50 |
| Coon Rapids | $143 | $67 |
| Hopkins | $132 | $60 |
| Wayzata | $133 | $59 |
Unless otherwise specified, we use the following methodology to arrive at our average cost: male, age 30, lowest possible legal coverage allowed by Minnesota. Your rates will be determined by several factors, including your age, your gender and the amount of coverage you want to purchase.
Are There Good Driver Discounts in Minnesota?
As with most states, Minnesota insurers offer their customers a plethora of car insurance discounts. Are you a new customer? Have a new customer discount! Are you an old customer? Have a loyalty discount! And, as always, safe drivers are rewarded with some of the best price reductions around. Here are a few others, but it's recommended to check in with your agent at least once a year and whenever your circumstances change to see what you might add to your list of discounts.
Getting a Free Auto Insurance quote with Freeway is easy!
Minnesota Car Insurance Laws
It's not a good idea to drive in Minnesota without auto insurance. A real-time database logs all active and non-active policies. All insurance companies are required to report to the state which vehicles are covered and which ones have lapsed coverage.
Even though first and second offenses are only considered a misdemeanor, you may still face fines of $200-$1,000. A third offense could be considered a gross misdemeanor, which results in fines up to $3,000.
For first and second offenses, you will face losing your drivers license, registration and plates for up to 30 days. For a third or more, that period could be one year, plus a jail term of up to 90 days.
In all of these examples, you'll most likely need to have an insurance company file an SR-22 certificate for you with the state. An SR-22 certifies that you carry at least the minimum required insurance. However, having an SR-22 requirement alerts insurers that you are a high-risk driver and your premiums could double and even triple.
What Are the Mandatory Car Insurance Requirements in Minnesota?
As a no-fault state, Minnesota requires its motorists to carry liability, plus uninsured motorist and PIP.
These are required in the following amounts:
$30,000 bodily injury per person
$60,000 bodily injury per accident
$10,000 property damage
$25,000/$50,000 uninsured
$25,000/$50,000 underinsured
$40,000 PIP
All registered drivers in Minnesota need to show proof of insurance – no exceptions. If insurance lapses for even a day, you may be subject to penalties.
What Factors Does Minnesota Law Allow in Determining Your Premiums?
Several factors go into determining your auto insurance premium. Generally, those with zero claims on their record with an account in good standing over several years pay less in auto insurance premiums than someone with one or more claims on their record.
Some factors used in determining your auto insurance premiums include:
Driving record and claims history
Your zip code and address
Gender
Marital status
Age
Type of vehicle
Credit score
Luckily, there are many ways to save on auto insurance, including purchasing an older vehicle, asking for discounts, increasing deductibles, and lowering coverage limits.
Am I Required to Report an Accident in Minnesota to Authorities?
Any accident that results in death, serious injury, or property damage exceeding $1,000 needs to be reported by calling 911. Motorists do not need to file an accident report with the state. The responding law enforcement officer will file a report.
If you are in an accident, remove your vehicle, yourself and others to a safe place if possible. If you cannot move you vehicle, stay in your vehicle. Call 911 to report the wreck and check yourself, your passengers and any other people involved for injuries, if you can do so safely. Take pictures if possible and make sure to get everyone's contact information. Call your insurance company or use your app to report your crash.
Find an office near you to help with your auto insurance
What Is Driving Like in Minnesota?
How Many Car Accidents Happen in Minnesota?
According to the Minnesota Department of Public Safety, there were 394 traffic fatalities in Minnesota in 2020, resulting from 369 crashes. The total number of crashes for that year was 57,127.
FAQs about Minnesota Car Insurance
I Am a Low-Income Driver. What Can I Do About Getting the Cheapest Car Insurance in Minnesota?
There are many ways low-income drivers can save on auto insurance.
For starters, low-income drivers can opt for the minimum coverage, while choosing a high deductible. Remember, though, your car insurance deductible amount is what you will pay for any bills before your insurance kicks in and starts paying. For example, if there is $2,500 in bills and damages and your deductible is $2,000, you will be responsible for paying that $2,000 before your insurance company picks up the $500 that is left. Since the insurance company is on the line for a smaller amount, you will pay less every month. Just make sure you can afford to pay that deductible if and when it becomes necessary.
Other ways low-income drivers can save money is by purchasing an older make and model vehicle that costs less to insure. If you can swing paying your entire annual premium upfront, you can most likely get a discount.
Lastly, low-income drivers may be eligible for discounts provided their account is in good standing. There are many discounts available, rewarding drivers for everything from owning an electric/hybrid vehicle to being accident-free for seven years.
Can an Undocumented Worker Get Cheap Car Insurance in Minnesota?
Minnesota does not allow undocumented workers to obtain a driver's license, so some companies will not issue them insurance. Some companies will allow a non-licensed person to buy insurance for another, licensed person.
Non-US residents may apply for a Temporary Driver's License (TDL). To obtain a driver's license, Minnesota residents must show proof of U.S. citizenship or legal presence using a social security number and proof of Minnesota residence.
Anyone with a valid driver's license can get auto insurance and benefit from rewards for good driving behavior.
Is It Possible to Get Low-Cost Car Insurance in Minnesota With a DUI Mark on my Record?
Yes, Minnesota drivers with a DUI on record can get car insurance. However, there are severe penalties, with annual DUI car insurance costs rising as high as 50% with a single conviction.
The best way to combat DUI convictions is to shop around and compare policies. Review all your insurance choices carefully. Some insurance companies charge higher premiums for DUI solution coverage than others, with average annual rates between different insurers varying considerably.
Find an Affordable Car Insurance Quote Online in Minnesota Today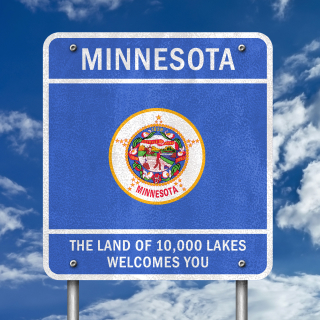 Obtaining car insurance results in greater peace of mind, knowing that you will be covered in the event of an accident. One can benefit from minimum coverage requirements or go all out with lower deductibles and higher coverage limits for the best protection possible. At Freeway Insurance, we can help find the best possible coverage for your needs and budget.
Visit us to get a fast and free car insurance quote online, stop in at a convenient office near you, or give us a call at 800-777-5620 for a quote.
Auto Insurance Info by City
Select a Product or Service to request a quote
Ready to Get a Quick Quote?