Spanning from the Mississippi River to the Great Plains, Missouri is an expansive state with a large number of drivers. From rural farmland to major metropolitan areas like St. Louis, Missouri is home to millions of registered vehicles. With that many drivers on the road, having the best car insurance is important.
According to state law, every driver in Missouri is required to have proof of liability insurance each time they get behind the wheel. This coverage is important, as it protects drivers from lawsuits should they cause a collision.
Quick Facts
There are more than 2.25 million registered vehicles in Missouri
Missouri is an at-fault state, meaning that drivers are responsible for any damage their negligence causes.
While I-64 only spans 14 miles, it has the highest rate of fatal accidents per mile in the State of Missouri.
Distracted driving is one of the most common causes of accidents in Missouri.
How Much is Car Insurance in Missouri?
The cost of car insurance in Missouri averages $39 per month*. The amount you are likely to pay for coverage could be above or below that average based on several factors.
For example, you could pay less than average if you have a good driver discount. Alternatively, you could pay above the state average if you have a poor driving record. Other factors like the type of auto insurance you choose will also come into play.
*We use the following methodology to arrive at our average cost: male, age 30, lowest possible legal coverage allowed by state. Your rates will be determined by several factors, including your age, your gender and the amount of coverage you want to purchase.
What is the Average Premium in Missouri for Full Coverage Car Insurance?
In general, full coverage car insurance is substantially more expensive than basic liability coverage. This is understandable given that the coverage also greatly exceeds what is offered by liability policies. Unlike liability-only policies, full coverage car insurance pays for your damages, as well as the losses of the other driver.
The average premium for full coverage in Missouri is $1,661 annually. While this is substantially more than the cost of minimum-level liability coverage, the added coverage could save you from financial hardship after an accident. Whether or not the peace of mind is worth the higher price tag is up to you.
How Much is it for Just the Minimum Required Car Insurance in Missouri?
While you do have options on the type of car insurance you carry, Missouri law does require a minimum level of liability coverage. Your policy must meet at least these limits for you to drive legally. In Missouri, the liability limits require at least $25,000 for bodily injury coverage per person, $50,000 for bodily injury coverage per accident, and $25,000 for property damage per accident. All told, this coverage costs on average $468 annually.
While this level of coverage is relatively inexpensive, it is important to understand the limitations that come with this type of policy. For starters, liability coverage only pays to protect you from third-party claims filed by other drivers. If you also suffered injuries in the crash, your liability insurance will not provide for your medical care or property damage.
What's more, the minimum coverage levels are often inadequate. Vehicle accidents have the potential to be costly, and your insurance will only pay out benefits up to the policy limits. If the other driver's damages exceed the limits on your policy, you could be left holding the bag.
In these situations, it is not uncommon for the other driver to file a lawsuit against you directly. In those moments, the additional coverage that comes with those higher premiums can be a lifesaver.
How Do Rates Compare Across Major Cities in Missouri?
Missouri is anchored by two large metropolitan areas: St. Louis and Kansas City. While these population centers are large, much of the state's population is spread across small to medium towns for the rest of the state. Here's glance at what the average rates are across the state.
| City | Average Monthly Premium |
| --- | --- |
| Saint Louis | $73 |
| Kansas City | $61 |
| Independence | $57 |
| Springfield | $55 |
Is There a Good Driver Discount in Missouri?
Drivers have numerous discounts available in the State of Missouri. A good driver discount is one of them. This discount could lower your rate based on the lack of accidents or traffic violations on your driving record.
Good driver discounts are only one of the ways you could save money on Missouri car insurance. Some of the other commonly-used deals include:
WFH? You may be able to get reduced rates for driving fewer miles on average
Got an A+? Good student discounts for younger drivers are available
Own a home? Own a boat? You can bundle your policies for a discounts
Online billing and pay – Sign up and receive paperless billing discounts
Renewal discounts to award customer loyalty
Numerous discounts might be available to you, some of which you may not have ever considered. When you discuss your options with an insurance agent, they can provide you with a comprehensive list of the discounts available to you.
Getting a Free Auto Insurance quote with Freeway is easy!
Missouri Car Insurance Laws
Missouri aggressively enforces the state car insurance laws. Chief among these requirements is the mandatory minimum level of liability insurance every driver must maintain. There are steep consequences for drivers who operate a motor vehicle without appropriate insurance coverage.
What Factors Does Missouri Law Allow in Determining Your Premiums?
Multiple factors could be used to determine your car insurance premiums in Missouri. Generally built upon circumstances in your life and demographics, the result is that drivers who have a larger total of "risky" elements will most likely pay a higher premium. This isn't to say that such high-risk drivers cannot get insurance – they most certainly can. And with time, violations will drop off of records, a credit score can be repaired – and drivers can realize a drop in their insurance premium as a result.
The rating factors commonly used in Missouri include:
Your age
Your driving history
Your accident history
Your marital status
The ZIP code you live in
Your credit score
Your gender
Out of all of these factors, your driving record is likely the most important. A clean driving record could earn you a discount on your premium. Alternatively, a long track record of accidents and speeding tickets could cause your premiums to skyrocket.
What is the Penalty for Driving Without Insurance in Missouri?
There can be steep penalties for driving without insurance in the State of Missouri. Because there is no grace period, these penalties could be assessed the day you get your vehicle if you have not properly insured it prior to driving. The same is true for lapsed policies, even if you have only been without coverage for a day.
The penalties associated with driving without insurance vary in Missouri. State law applies a shifting scale of penalties depending on any past convictions for driving without insurance.
For first-time offenders, there is a suspension of driving privileges until adequate insurance is secured. There is also a reinstatement fee, and four points are added to your driving record. If you accumulate enough points, your license can be suspended by the state.
The consequences for a second offense are substantially higher. Chief among those potential penalties is a maximum jail term of up to 15 days and a fine of no more than $500. Additionally, you could face 4 points on your license and a suspension of driving privileges for up to 90 days.
The steepest penalties are reserved for third or subsequent offenses. In addition to 15 days in jail and a fine of up to $500, you could also see your license suspended for up to a year. On top of that, you can expect four points on your license and a reinstatement fee of $400.
If you are convicted of driving without insurance, you could also be required to jump through additional hoops to secure coverage in the future. This could involve the requirement to secure SR-22 insurance.
Am I Required to Report an Accident in Missouri to Authorities?
There are situations where state law requires you to report an accident to Missouri law enforcement. The failure to do so could result in criminal consequences, including jail time. In Missouri, it is necessary to report an accident to the police when it results in:
A bodily injury
A fatality
Property damage in excess of $500
Keep in mind that $500 of property damage is a low threshold. Even minor accidents could require upwards of $1,000 in repairs. That means that the vast majority of vehicle collisions will require you to report the crash to authorities.
The police will generally respond to these accidents in short order. In cases where the police do not respond—specifically when there is only property damage—drivers must report the crash to the Missouri Department of Revenue. This official car accident report must be reported to the state within 30 days of the collision.
Reporting an accident could also benefit your future insurance claims. When the police respond to the scene of a crash, they typically make a report that can be used by your insurance adjuster to evaluate your claim.
What is Driving Like in Missouri?
How Many Car Accidents Happen in Missouri?
There is limited data related to the total number of accidents that occur in Missouri each year. However, statistics are available for traffic fatalities that happen within the state. In 2019 alone, there were 881 traffic fatalities.
The table below shows the fatal car accidents by county for the top four cities in 2019.
| City | Fatal Car Accidents in 2019 |
| --- | --- |
| Kansas City | 60 |
| St. Louis | 57 |
| Jefferson City | 4 |
| Joplin | 4 |
How Many Uninsured/Underinsured Motorists Are in Missouri?
Despite the requirement for motorists in Missouri to carry liability insurance, there are a substantial number of drivers that entirely lack car insurance. According to the Insurance Information Institute (III), Missouri has one of the highest rates of uninsured drivers in the nation. III research shows that 16.4 percent of all Missouri drivers are uninsured, ranking it 14th among the states with the highest rate of uninsured drivers.
What these figures do not take into account is the presence of underinsured motorists in Missouri. Underinsured motorists might comply with state law, but the policy limits they carry offer an inadequate amount of coverage for most accidents.
One of the ways to avoid the risk of an accident with an uninsured driver is to purchase additional insurance. Uninsured motorist coverage—commonly known as UIM coverage—will pay for your damages if you are involved in an accident with an uninsured or underinsured driver.
Find an office near you to help with your auto insurance
FAQs About Missouri Car Insurance
I Am a Low-Income Driver. What Can I Do About Getting Car Insurance in Missouri?
Everyone deserves affordable car insurance. Thankfully, there are many options for low-income drivers in Missouri. One of the most important items for these drivers to consider is the large number of discounts that could be available to them.
Never assume that you do not qualify for discounts on your car insurance purchase. A discussion with your insurance agent could provide you with helpful information on saving money on your car insurance.
Can an Undocumented Worker Get Car Insurance in Missouri?
At the current time, the short answer is no.
Insurance companies will only offer liability policies to individuals who are licensed to drive in their home state. As a matter of fact, the terms included in all liability policies require drivers to maintain a license at all times.
Some states have adopted a program known as the Driver Authorization Card (DAC) that allows undocumented workers to obtain driving privileges. These cards do not indicate citizenship or allow an individual to vote, but it does grant them the right to legally drive. Insurance companies will provide coverage to drivers with a DAC.
Missouri is not one of the states that offer this option to undocumented workers. For that reason, there is no option for undocumented workers to secure vehicle liability coverage in the state.
Is It Possible to Get Car Insurance in Missouri With a DUI Mark on my Record?
If you have been convicted of DUI in the past, your criminal record will not bar you from obtaining car insurance in the future. That said, a DUI on your record could make finding a policy difficult. You can also expect to pay substantially more, given that you are considered a high-risk driver.
If you have a DUI on your record, you will require an SR-22 to prove to the state that you have adequate liability coverage. An SR-22 is not a type of insurance, but a notice of coverage provided by the carrier.
The idea of finding car insurance after a DUI might be intimidating, but there might be options for you that are within your budget. Some insurance companies offer policies tailored to individuals with DUI convictions. Talk to an insurance agent to learn if this option is right for you.
Get a Missouri Car Insurance Quote Today!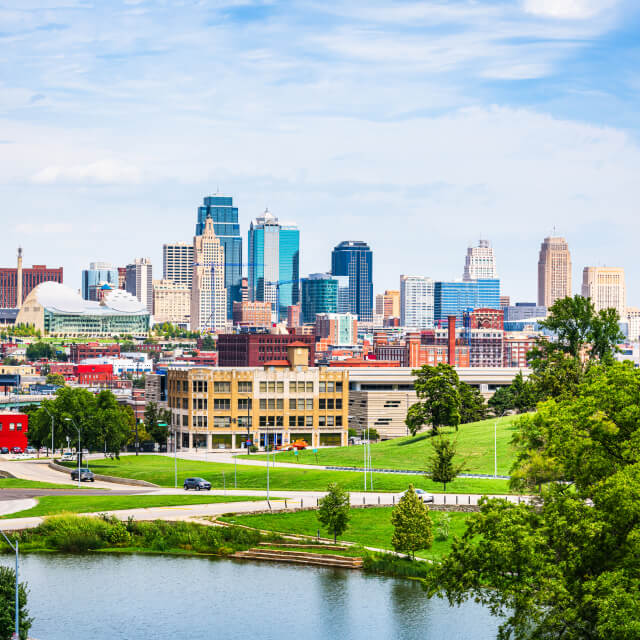 The law requires that you maintain liability insurance if you intend to drive in Missouri. There are serious consequences for driving without coverage, including jail time, fines, and the loss of your license. What's more, driving without adequate coverage could leave you in severe financial straits if you cause an accident.
You can protect yourself by securing car insurance with Freeway Insurance. To get started, contact us online or visit a Missouri office near you. You can also call us at (800) 777-5620 for a free quote. Contact us today!
Auto Insurance Info by City