Known as the Gem State, Idaho was first admitted into the Union in 1890. This beautiful state offers distinct geographical regions, from the Snake River Plain to the Rocky Mountains. There is plenty of natural beauty in the state, 38 percent of which is held by the United States Forest Service.
Like all states, Idaho drivers are required to carry car insurance. The failure to carry adequate coverage not only puts you at risk of getting a ticket, but it also increases the likelihood that you will be on the hook financially if you cause an accident.
Quick Facts
With 21 residents per square mile, Idaho has one of the lowest population densities in the United States.
There are more than 600,000 registered cars in Idaho.
Idaho's US-95 is one of the most dangerous highways in the country.
Texting while driving increases the risk of a crash in any state.
How Much is Car Insurance in Idaho?
The average cost of the required state minimum car insurance is $307 per year—lower than the national average of $564. Of course, you can only learn so much from what the average cost of car insurance is in Idaho. There are numerous factors that will determine your rate, including your age, zip code, type of car insurance, and incident history.
It is worth remembering that the number of prior traffic tickets and accidents can dramatically increase the cost of your insurance. Individuals with a poor driving history generally pay more for auto insurance than someone with a clean record.
What is the Average Premium in Idaho for Full Coverage Car Insurance
Because the annual cost of full coverage car insurance in Idaho is $1,045, the average monthly premium is $87. Full coverage car insurance provides for more than just protection against liability claims made by other drivers. It also includes collision and comprehensive coverage that pays your bills up to the covered limit if your vehicle is damaged in an accident that is considered to be your fault.
The major drawback of full coverage is that it is substantially more expensive than the minimum level of mandatory liability insurance. Unlike liability coverage, full coverage is entirely voluntary in Idaho.
While it might cost more up front, this coverage is invaluable for your peace of mind. It can also save you from a financial disaster if you have caused a motor vehicle accident. Not only will this coverage protect you from claims made by the other driver, but it will also pay for your bills as well.
How Much Is It for Just the Minimum Required Car Insurance in Idaho?
Compared to full coverage, the cost of minimum coverage liability policies is much cheaper, as the coverage offered by these policies is substantially less. If you carry the minimum level of liability insurance in Idaho, your policy on average will cost $307 per year.
The minimum level of liability insurance required under the law is relatively low. In Idaho, you must carry at least $25,000 in bodily injury coverage per person and $50,000 in bodily injury coverage per accident. You must also carry at least $15,000 in property damage liability coverage per accident, as well.
These coverage levels are the minimum required under the law, not the maximum. For many people, additional coverage is a good idea. This is because if you cause a collision and the resulting damage is more than your policy limits, you are personally responsible for any damages that are left over. For example, if you cause $25,000 in property damage and your policy limit is $15,000, you could be liable for the remaining $10,000.
How Do Rates Compare Across Major Cities in Idaho?
With more than 240,000 residents, Boise is the largest city in the State of Idaho. Idaho is not known for large metropolitan areas, which means Boise only represents a small portion of the entire state population. The towns and cities with the lowest insurance rates in Idaho include:
| City | Average Monthly Premium for Minimum Requirements |
| --- | --- |
| Mountain Home | $31 |
| Meridian | $35 |
| Boise | $36 |
| Glenns Ferry | $30 |
*We use the following methodology to arrive at our average cost: male, age 30, lowest possible legal coverage allowed by state. Your rates will be determined by several factors, including your age, your gender and the amount of coverage you want to purchase.
Is there a Good Driver Discount in Idaho?
There are numerous discounts available for drivers in Idaho, and a good driver discount is only one of them. While a good driver discount is one of the best ways to save money on your car insurance, there are multiple options that could combine to reduce your monthly payment substantially. In addition to your good driving record, other discounts potentially available to you include:
Deductions for driving less
Discounts for bundling policies for multiple vehicles
Good student discounts
Discounts for completing a defensive driving course
Loyalty and renewal discounts
Paperless billing discounts
Automatic renewal discounts
There are a lot of possible discounts available to you—some of which you might have never considered before. To ensure that you get the most out of your policy, talk to your agent to learn what discounts apply to you. You might be surprised by all the ways you could save money every month.
Getting a Free Auto Insurance quote with Freeway is easy!
Idaho Car Insurance Laws
Just like with most states, Idaho car insurance laws are strictly enforced. Law enforcement will actively investigate to determine if every driver they stop has the mandatory level of coverage. Failure to comply with these insurance laws can have steep consequences.
Remember, these laws only apply to the minimum level of liability insurance mandated by the state. Other types of coverage, including uninsured motorist coverage, is purely voluntary.
What are the Mandatory Car Insurance Requirements in Idaho?
Every state has a minimum degree of mandatory liability insurance coverage, and Idaho is no exception. According to state law, drivers must carry a minimum level of liability coverage in order to legally drive in the state. This requirement is designed to protect motorists from the negligence of other drivers.
The minimum coverage levels for Idaho include:
$25,000 for bodily injuries per person
$50,000 for bodily injuries per accident
$15,000 for property damage liability coverage per accident
Idaho is an at-fault state. That means that when a driver causes a motor vehicle accident, they are responsible for covering any property damage and medical bills that occur. Liability insurance policies are designed to protect those drivers from third-party claims and pay for damage that they cause up to their policy limit.
Insurers are required to offer uninsured driver coverage, although drivers may waive these requirements. This type of coverage provides you with benefits if you are injured in an accident with an uninsured or underinsured driver.
What Factors Does Idaho Law Allow in Determining Your Premiums?
There are numerous factors that an insurance company can rely on when determining what your policy will cost each month. Your premiums could differ dramatically from other people with life factors similar to yours. A single factor could cause the cost of your premiums to drop or jump in a dramatic fashion. Some of these factors include:
Marital status
Driving history
Age
Type of vehicle
Age of vehicle
Credit score
Gender
ZIP code
Insurance claims history
While these factors could combine to cost you a high rate, the good news is that there are numerous ways you might be able to secure a discount. From being a good driver to driving an older vehicle, finding the right discount could make a big difference when it comes to the cost of your insurance coverage.
What is the Penalty for Driving Without Insurance in Idaho?
The requirement under Idaho law to carry a minimum level of liability insurance is more than just a suggestion. It is mandatory under the law, and the failure to do so could carry steep consequences. In Idaho, the failure to carry adequate insurance is a criminal offense that could result in your imprisonment.
The penalties for a first-time offense do not require jail time, but they can be costly in other ways. A first-offense conviction for driving without insurance carries a fine of $75 as well as administrative fees. Even more costly, you must maintain SR-22 compliance for a year after your ticket. You can also expect the court to suspend your driving privileges until you can show proof of liability coverage.
The consequences for a second and subsequent offense are far more severe. A conviction carries a fine of as much as $1,000 and mandatory SR-22 compliance for at least three years from the date of the conviction. The steepest penalty associated with a second or subsequent offense is the possibility of jail time. If you are convicted, you could face up to six months behind bars.
Am I Required to Report an Accident in Idaho to Authorities?
Under Idaho state law, there are situations where it is necessary to report an accident to the authorities. The failure to report an accident under these circumstances could have steep consequences including hefty fines and the suspension of your driving privileges.
There are three circumstances in which state law requires you to report your accident to the police. First, you must report your accident if a person suffers bodily injuries. Second, you must report the accident if there is a fatality. Finally, you must report the accident if there is more than $1,500 in property damage that occurs due to the accident.
The property damage requirement applies to more vehicles than you might think. Car repairs are expensive, and most minor repair work costs at least $1,000. The end result is that a large number of vehicle accidents must be reported to the police.
Find an office near you to help with your auto insurance
What is it Like to Drive in Idaho?
How Many Car Accidents Happen in Idaho?
Each year, thousands of car accidents happen in Idaho. While the state tracks the number of car accidents that occur, the most recent data available is from 2020. In total, there were 22,528 accidents in Idaho that year.
The table below shows the fatal car accidents in some cities in 2020.
| City | Fatal Car Accidents in 2020 |
| --- | --- |
| Boise | 7 |
| Butte | 4 |
| Canyon | 22 |
| Twin Falls | 10 |
How Many Uninsured/Underinsured Motorists Are in Idaho?
Although state law requires every driver to carry liability coverage, not all motorists comply with the law. Every day, countless Idaho residents operate motor vehicles without liability coverage or with other insurance levels that are inadequate.
According to the Insurance Information Institute, 13.2 percent of all drivers in Idaho are uninsured. This is higher than the national average, ranking Idaho 20th for the highest level of uninsured drivers compared to other states.
This high level of uninsured motorists in Idaho is one reason why uninsured motorist coverage is so valuable. When the driver responsible for your accident does not have enough coverage to pay for your damages, you can rely on your own insurance policy to pay your bills. While the premiums might be higher, this added coverage could pay off in a big way if you are injured by an uninsured or underinsured driver.
FAQs About Idaho Car Insurance
I am a Low-Income Driver. What Can I Do About Getting Car Insurance in Idaho?
Car insurance is available even for drivers who live on a low monthly income. This is good news, as driving without the minimum level of insurance coverage can have steep consequences.
There are a few ways that a driver can lower the cost of their insurance policy. Discounts related to your history of safe driving are a common example. Other examples include good student discounts, paperless billing discounts, and automated billing discounts. Talk to an agent to learn about all the ways you could save money on your policy.
Can an Undocumented Worker Get Car Insurance in Idaho?
The short answer is no. Since undocumented workers cannot obtain a driver's license in Idaho, most insurance companies will not sell them an auto insurance policy. It's worth noting that some insurance companies will allow an unlicensed, undocumented person to purchase car insurance for another – more legal – driver.
Some lawmakers in Idaho have been engaged in a years-long push for legislation allowing undocumented immigrants to secure driver's licenses. Until this legislation passes, there remains no option for undocumented workers in the State of Idaho to obtain driving privileges.
Is It Possible to Get Car Insurance in Idaho With a DUI Mark On My Record?
A conviction for DUI will not bar you from securing car insurance, but it will make the process far more expensive. This is because insurance companies consider anyone with a DUI conviction on their record to be a high-risk driver. You can expect to be required to maintain SR-22 coverage in order to secure car liability insurance following your DUI conviction.
The term SR-22 does not relate to a specific type of car insurance. Instead, it is a document provided by the insurance company to the state to ensure that you are carrying adequate levels of insurance. If you fail to maintain your policy, the insurance company is required to notify the state.
The end result for drivers with a DUI conviction on their record is that these policies are far more expensive than they might be otherwise. As is the case with speeding tickets or accidents, criminal convictions for DUI are one of the many factors that the state can take into account when setting your policy rate.
Get an Idaho Car Insurance Quote Today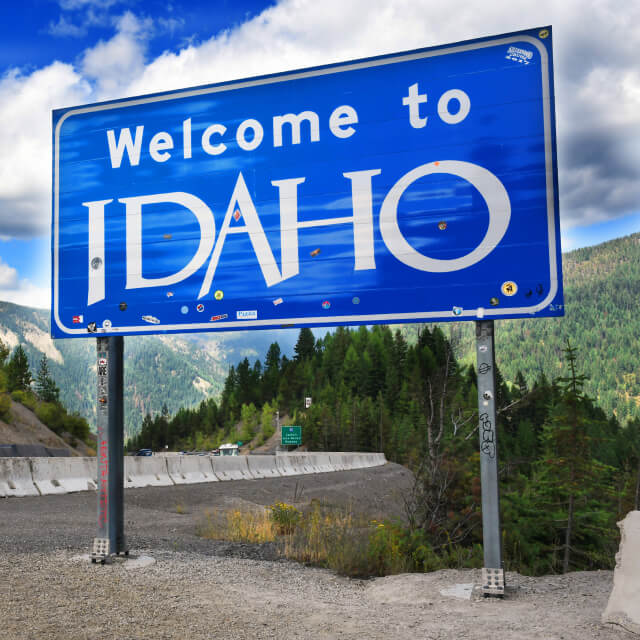 Under Idaho law, car insurance is a necessary requirement before you get behind the wheel. More than that, car insurance can protect you from financial hardship should you cause a vehicle collision. In addition to the liability insurance required by law, you might also benefit from the protection of a full coverage policy.
There is no good reason for you to take the risk of driving without adequate insurance coverage. At Freeway Insurance, we help all kinds of drivers obtain the car insurance necessary to drive in Idaho. To get started contact us online for a free quote or visit an Idaho office near you. You can also reach us by telephone at (800) 777-5620 for a free quote. Contact us right away!
Auto Insurance Info by City
Select a Product or Service to request a quote
Ready to Get a Quick Quote?