Coeur d'Alene started as a small mining town where prospectors came with hopes of striking it rich on gold and silver. Today this city located in northern Idaho is a draw for tourists looking to golf, ski, hike, and enjoy the fresh mountain air.
Often referred to as "Lake City" or simply "CDA," Coeur d'Alene is the largest city in North Idaho with over 53,300 people calling it home. The sheer beauty of this region has drawn many people from other states to relocate to this "City with a Heart" that is situated between Lake Coeur d'Alene and the Coeur d'Alene Mountains.
Whether you live in Coeur d'Alene or are just visiting, you want to ensure you have adequate car insurance coverage if you plan to drive in the area.
Quick Facts
The average cost of insurance in Coeur d'Alene is $32 per month for the basic state-required minimum.*
In 2019, there were two fatal crashes, 232 injury crashes and 884 total crashes in Coeur d'Alene.
How Much Does Car Insurance Cost in Coeur d'Alene, Idaho?
Car insurance in Coeur d'Alene is very affordable. Drivers pay an average of $1,212 per year for full coverage car insurance. That's on par with the state average of $1,045 and less than the national average of $1,674. For the minimum state-required car insurance, Coeur d'Alene drivers will pay an average of $384 per year, while the state average is $307 and the national average cost is $564.
| City | Average Annual Full Coverage Car Insurance Cost |
| --- | --- |
| Boise | $1,164 |
| Idaho Falls | $1,296 |
| Eagle | $1,224 |
| Burley | $1,248 |
Coeur d'Alene Car Low Cost Insurance Rates by Zip Code
There are two different zip codes in Coeur d'Alene, and the difference in cost for car insurance between the two zip codes is only a few dollars. Drivers in zip code 83815 pay about $1,224 per year for car insurance, while those in zip code 83814 pay about $1,248 per year. For the state-required minimum, drivers in both 83815 and 83814 pay an average of $384 annually.
Coeur d'Alene Car Affordable Insurance Rates by Age
Besides where you live, your age also has a big impact on what you pay for car insurance in Coeur d'Alene. Age groups that have a higher risk of getting into an accident, such as teens and seniors over age 70, will have to pay higher premiums than drivers in their 50s and 60s. In the table below, we are showing full coverage options/minimum requirements.
| Age | Average annual rate for car insurance |
| --- | --- |
| Teenagers | $6,336/$2,172 |
| 20s | $2,760/$924 |
| 30s | $1,212/$384 |
| 40s | $1,164/$372 |
| 50s | $1,068/$348 |
| 60s | $1,020/$336 |
| 70+ | $1,140/$384 |
*Unless otherwise specified, we use the following methodology to arrive at our average cost: male, age 30, lowest possible legal coverage allowed by state. Your rates will be determined by several factors, including your age, your gender and the amount of coverage you want to purchase.
Driving Conditions in Coeur d'Alene
How Many Fatal Accidents Happen in Coeur d'Alene?
Of the 884 car accidents in Coeur d'Alene in 2019, only two resulted in fatalities. One of the area's most dangerous roadways is U.S. Highway 95, a 538-mile stretch of highway that goes through Idaho from Oregon to the Canadian border.
How Are the Road Infrastructure and Bridges in Coeur d'Alene?
The city's Street Department manages over 250 miles of roads in Coeur d'Alene. The city has 59 bridges, most of which were built in the 1960s.
The American Society of Civil Engineers (ASCE) gives Idaho a C- on its roadways and a D for its bridges, many of which are older than 50 years.
Get a Quote for Car Insurance in Idaho Today!
Minimum Car Insurance Requirements in Coeur d'Alene
In Idaho, drivers are required to carry liability coverage. The state's mandatory car insurance requirements follow the 25/50/15 rule, which is:
$25,000/$50,000 Bodily Injury Liability per person/accident
$15,000 for Property Damage Liability
Insurance carriers are also required by state law to offer uninsured and underinsured motorist coverage. Although you can reject this coverage, you might want to consider keeping it because about 13% of drivers in Idaho are uninsured.
Medical bills from an injury suffered in a car accident can easily exceed $25,000, so the minimum insurance coverage may not be sufficient. Also, the required liability insurance only covers other people involved in an accident, not you. To ensure your medical bills and property damage will be paid for, you should consider adding collision and comprehensive coverage to your policy.
Factors Allowed in Coeur d'Alene Car Insurance Rates
Many different factors can impact your costs for car insurance in Coeur d'Alene. For example, if you are driving a brand-new BMW, then your insurance will be higher than someone driving an older Subaru, because the replacement costs will be quite different.
Other factors that can affect your car insurance rates in Coeur d'Alene are:
Age
Gender
Driving record
Zip code
Marital status
Education
Occupation
Discounts for Car Insurance in Coeur d'Alene
Even though car insurance premiums in Coeur d'Alene are pretty low, you can save even more money if your insurance carrier offers certain discounts on your car insurance. For example, many insurance companies offer discounts if you purchase or bundle multiple policies such as your car and homeowners' insurance. A Good Driver Discount rewards drivers with lower premiums if they haven't had any moving violations or accidents within the last three years.
Other discounts that could be available to Coeur d'Alene residents include:
Military Service – Have you served in a branch of the Armed Forces?
Vehicle Safety Discount – You could be eligible for a discount if your car has certain vehicle safety equipment such as anti-lock brakes, airbags, and anti-theft devices.
Good Student Discounts – These discounts are given to young drivers who maintain a "B" average or higher in school.
Defensive Driver Discount – Drivers may qualify for a discount on their car insurance if they complete a defensive driving course.
Be sure and check in with your insurance agent on a regular basis for possible discounts. If your circumstances change, your eligibility for discounts may increase.
What Are the Penalties for Driving Without Insurance in Coeur d'Alene?
The state of Idaho has an Online Insurance Verification System that law enforcement officers can use to check if you have at least the minimum car insurance coverage required by law. If you don't, you could face fines, imprisonment, and the suspension of your driver's license. Although the first offense may seem like a slap on the wrist, if you're caught without insurance a second or third time, the fine is up to $1,000, and you could be sent to jail for up to six months.
Get a Quote for Cheap Car Insurance in Coeur d'Alene Today!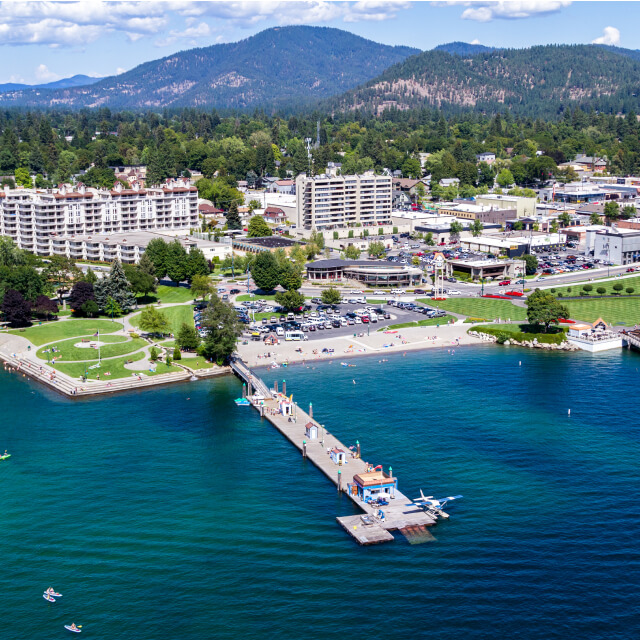 With the low cost of car insurance premiums in Coeur d'Alene, it's a good idea to explore all of your available options with a Freeway Insurance agent.
Get started with a quote online, visit us at one of our locations or call us at (800) 777-5620 for a quote.
Select a Product or Service to request a quote
Ready to Get a Quick Quote?